Frazer Campground
Looking for a secluded campsite by the beach near Sydney?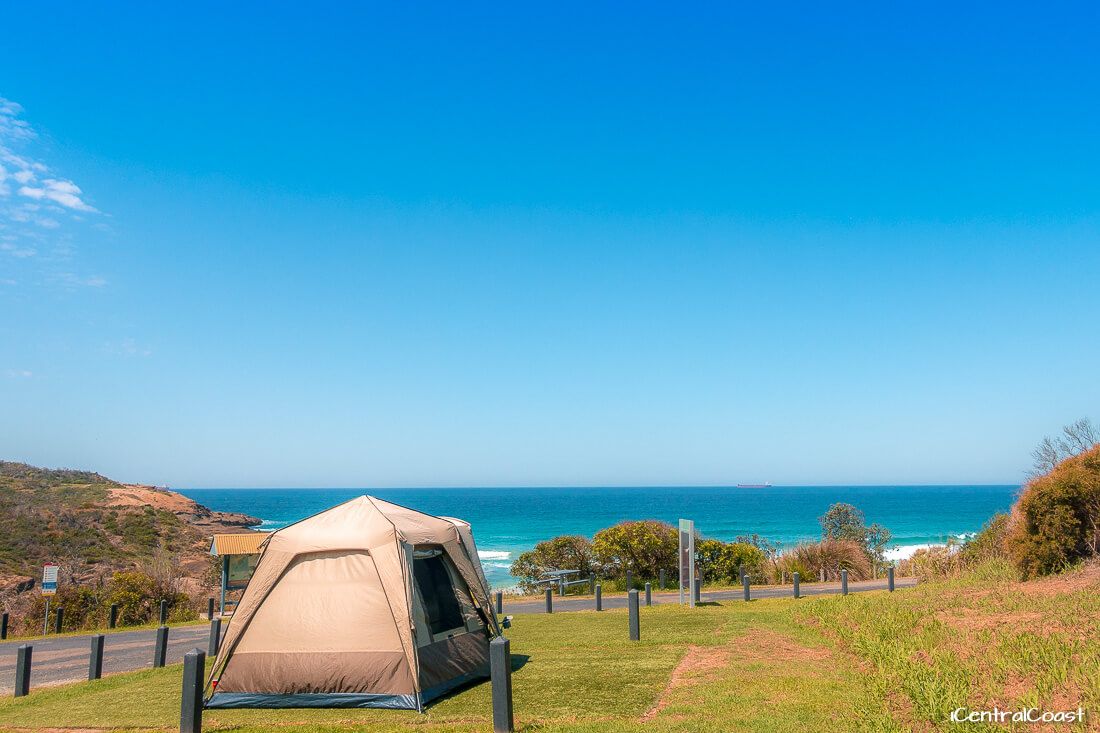 Frazer Campground is located at Frazer Beach and in the bushland of Munmorah State Conservation Area.

The camping ground is right in the bush, it overlooks the ocean and you fall asleep to the sound of crashing waves.
There are 6 grassy, shoulder-to-shoulder, unpowered tent sites. If you camp outside school holidays or weekends, you may have the whole campground to yourself.
Site 1 (and site 2 if site 1 is empty) is in a great position. It's the closest to and has a clear view of the beach. But it may also get more traffic coming in and out since it's beside the entrance of the campsite. Site 6 is at the very back of the campground next to the Frazer Valley.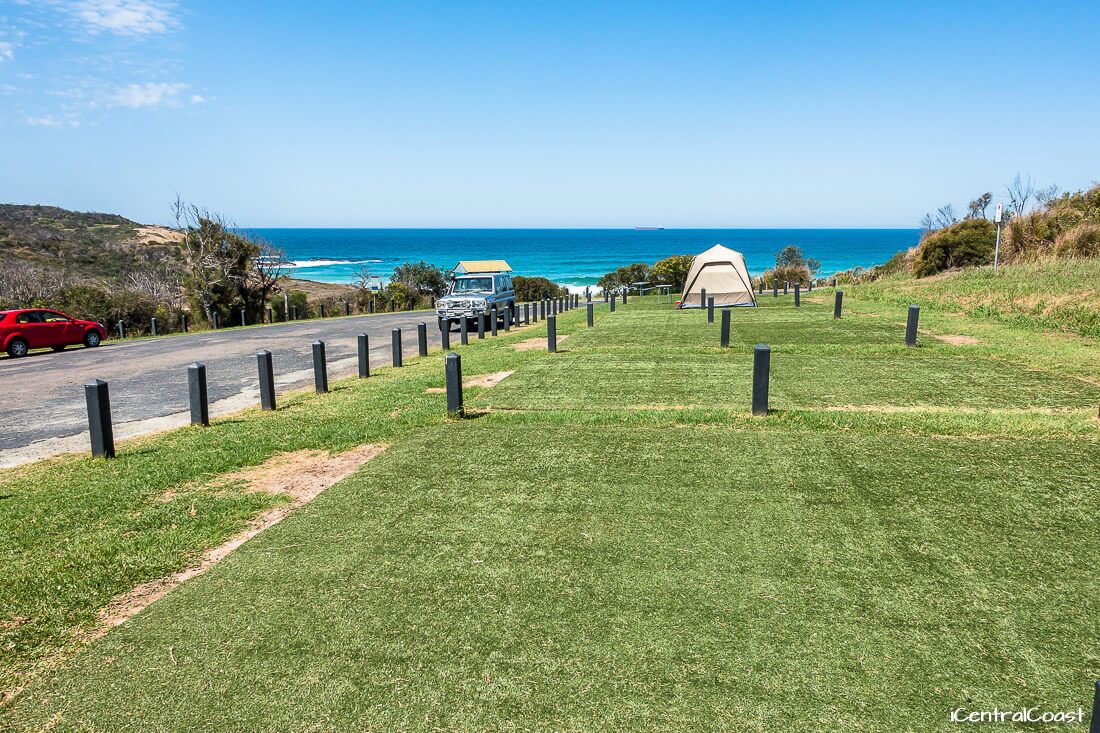 You can access the campground with your car. All roads are sealed.
There are barbecue and picnic tables right beside the campground. Toilets and cold showers are a few metres away. You need to be self-sufficient with food and drinking water (but bore water is available). The closest supermarket is Woolworths Lake Munmorah 15 minutes away.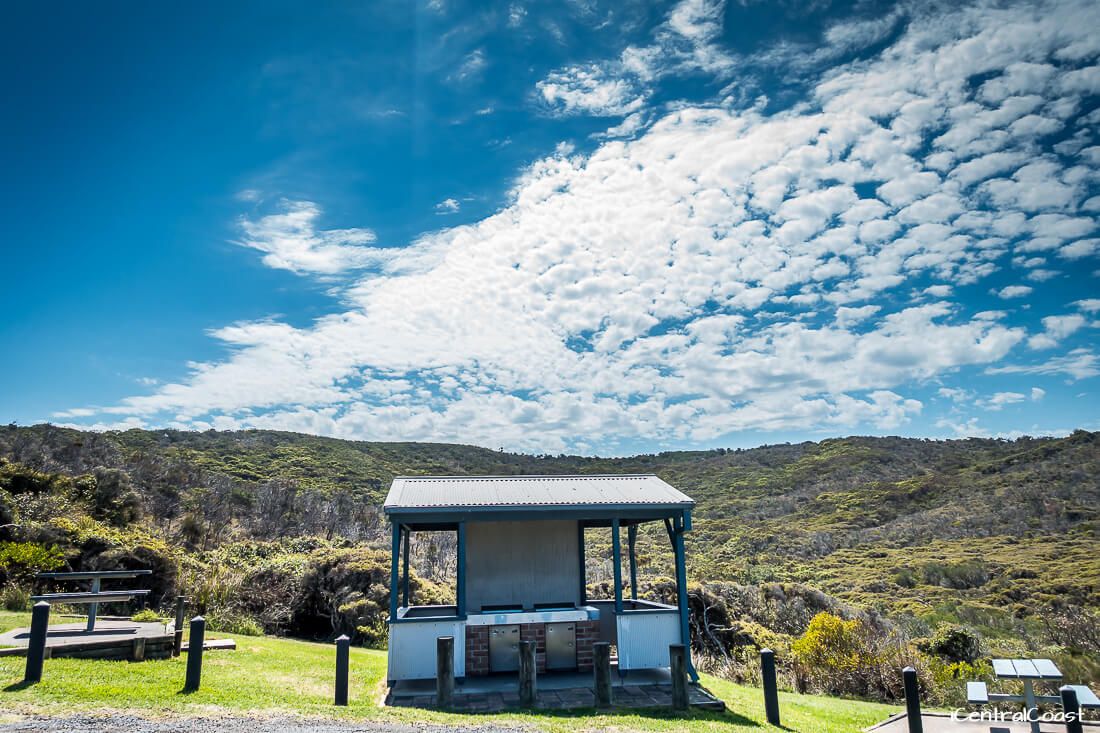 Keep in mind that mobile reception is limited. I couldn't use my phone when I visited. But there's an emergency phone in case you need it.

And unfortunately, pets and campfires are prohibited. Make sure you keep warm in winter.
On a positive note Frazer Beach is only metres away from your tent. Find out more about Frazer Beach here.
Fishing is a popular activity around here. You can fish on the rock platform at Frazer Beach. But an even more popular fishing spot is Snapper Point. Be very careful if you fish there. It's notoriously dangerous as the memorial plaques for drowned rock fishermen attest. Take the written warnings seriously.
Snapper Point is also a great lookout. You see the famous blowhole and Frazer Beach in the distance. And you can see whales during the migration season.
To get to Snapper Point, drive to the carpark at the end of Snapper Point Road.
If you like bushwalking, several bushwalks are located nearby…
Moonee Beach Trail (3 km return) – starts from Snapper Point Rd and finishes at Moonee Beach. You get great views of Timber Beach and Ghosties Beach along the way.
Palms Circuit Track (1.5 km return) – starts at the Palms Picnic Area and loops back to the start. You walk underneath cabbage tree palms.
Melaleuca Track (14.4 km return) – stretches from Birdie Beach Drive to Frazer Beach.  
The lookout at Wybung Head is another spot worth visiting. The lookout offers spectacular views up and down the coast. It's a great spot for whale watching. It's located at the end of Wybung Head Road.
Here's the official guide for visiting Munmorah State Conservation Area. It's a well-detailed map of the national park. 
How to Get to Frazer Campground
Located 1 hr 40 min north of Sydney via the M1 or 50 min south of Newcastle via Pacific Highway. Once you enter the national park the directions to the camping spot are well signposted. Parking in the national park costs $8. Follow the directions on Google Map here.