The Grand Canyon Walk
Disclaimer: I may receive a small commission from some of the links on this page. 

The Grand Canyon track provides one of the best hiking experiences in the Blue Mountains. 

This historic loop walk is truly enchanting. You'll see breathtaking views towards Grose Valley at Evans Lookout before you set out for the walk.
Then, you'll descend to the valley's floor past amazing rock formations, canyon walls, ferns, creeks and waterfalls. 

It's like walking in a fairy tale. 
Visitor Information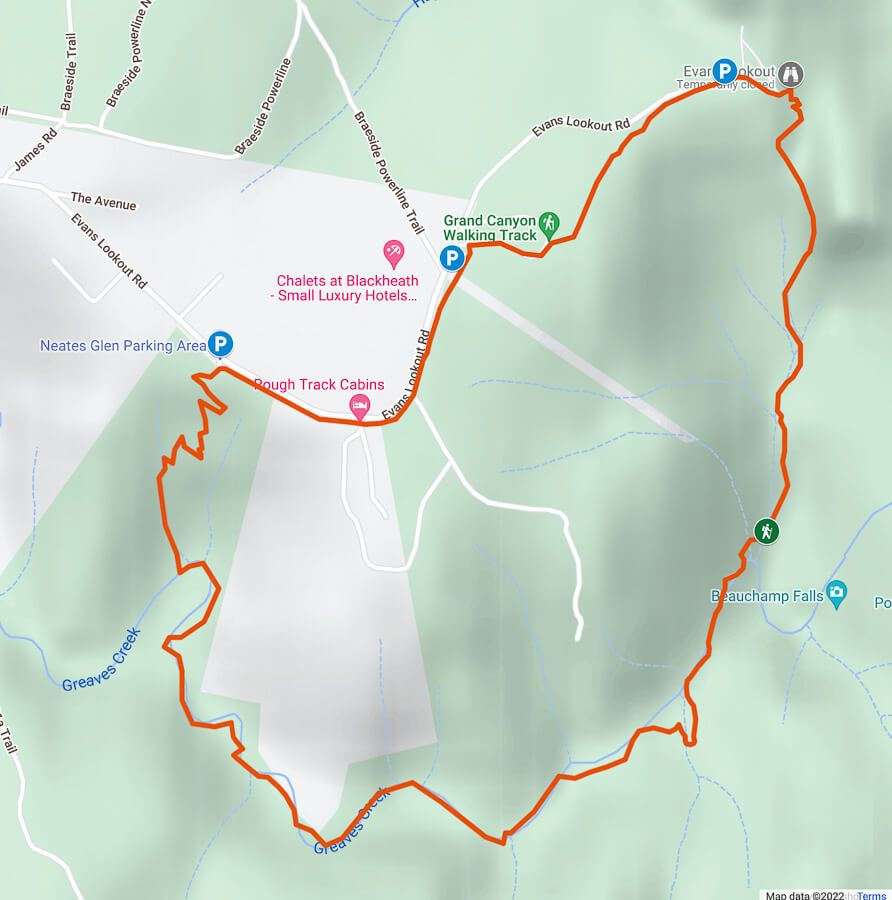 Map - Grand Canyon Walk
This Grand Canyon circuit walk is 6 kilometres and should take around 3 hours to complete. 

The hike is graded 3, so it's suitable for most ages and fitness levels and comprises steep hill sections with many steps. The final ascent is challenging because of the steep climb.
But the track is well maintained and you don't need any bushwalking experience. Take your time to catch your breath. And bring plenty of water. 
The track can get muddy so wear non-slippery and good walking shoes. Particularly in wet weather.
Check the weather and current alerts before you leave because he creek can sometimes flood after rain.

Dogs are not allowed. 
You can walk in any direction - clockwise or anticlockwise. It doesn't matter. 
How to Get There
The Grand Canyon track is in the Blue Mountains National Park.  It starts at Evans Lookout on Evans Lookout Rd, about 6km from Blackheath. Click here for directions. 
The road is suitable for 2WD. 
Follow Great Western Highway toward Blackheath and turn into Evans Lookout Rd. Then follow Evans Lookout Rd for about 4km to the end.

You can park at three different spots. They're all at walking distance to the track.   
The first carpark you'll drive past is Neates Glen Parking Area. It's a good spot to park because you can get the most boring section done first (if you walk in the clockwise direction). And you arrive straight at your car after the last strenuous ascent. 
Neates Glen Parking Area
The second carpark, 700 metres further away, is the Grand Canyon Carpark. It's also a great spot to park because there are toilets, which come in handy after the walk.

The last carpark at the end of the road is Evans Lookout Parking Area. This carpark is right beside Evans Lookout. 
Discover the Grand Canyon Walk
As I said, the first 1.4km walk from Neates Glen Parking Area is rather dull because you just follow a road. 

Then you arrive at Evans Lookout, which offers spectacular views towards Grose Valley.
View from Evans Lookout
Then from Evans Lookout, you head straight down to the valley floor. The route winds down the escarpment via stairs.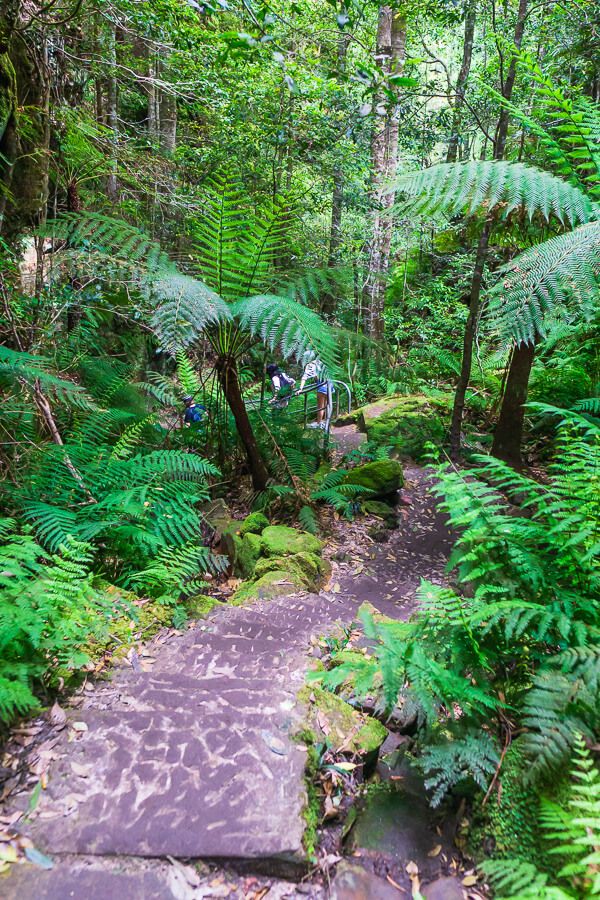 Walking down to the valley floor
Once at the bottom of the valley, you follow a meandering path through the lush rainforest. The walking track follows Greaves Creek. There are heaps of creek crossings.
We even saw a crayfish.
You walk past impressive rock formations, sandstone walls and waterfalls and underneath rock overhangs.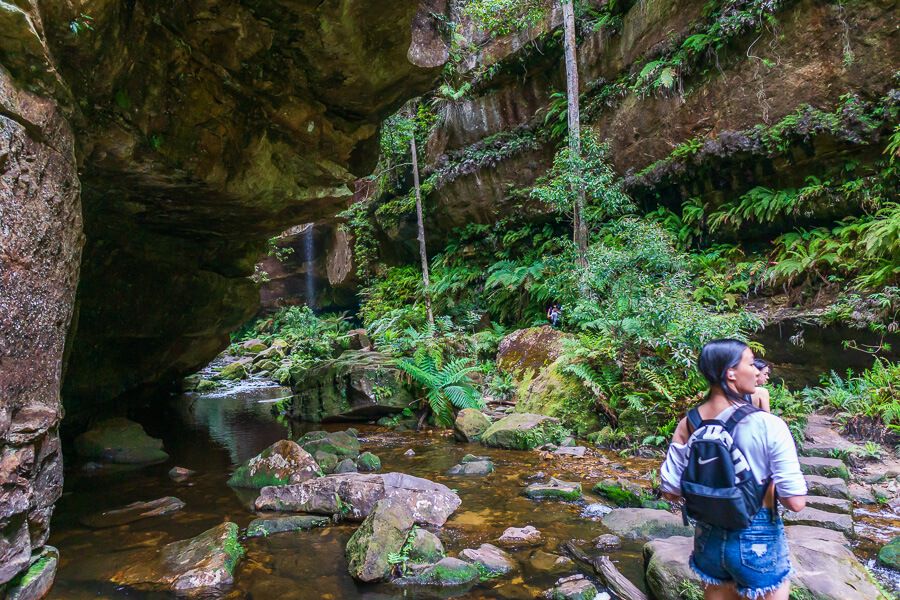 There are abundant native plants and golden wattles. Large ferns are everywhere. The well-shaded track keeps you cool in the summer months. 

On the last section of the walk, you go up and down. Then a sign reads that the final climb takes 45 minutes to complete.  It's a steep ascent.
A small price to pay for having experienced such a fantastic hike.
Where to Eat After the Grand Canyon Walk
Nothing beats a tasty meal after strenuous exercise. 
These are great restaurants in Blackheath:
Ates Blackheath - open from Thu to Sun; serves Mediterranean share plates. 
Cinnabar Kitchen - open from Wed to Sat; run by Corinne Evatt and Mary-Jane Craig, who previously ran the award-winning restaurant Ashcrofts. 
BLAQ Restaurant & Bar - open from Wed to Sun; serves quality regional produce. 
There's also Thai Silk Restaurant, Birdies Bistro and Blackheath Kebab House.
If you're staying in Katoomba, I highly recommend an elevated burger at Aunty Ed's Restaurant and Bar.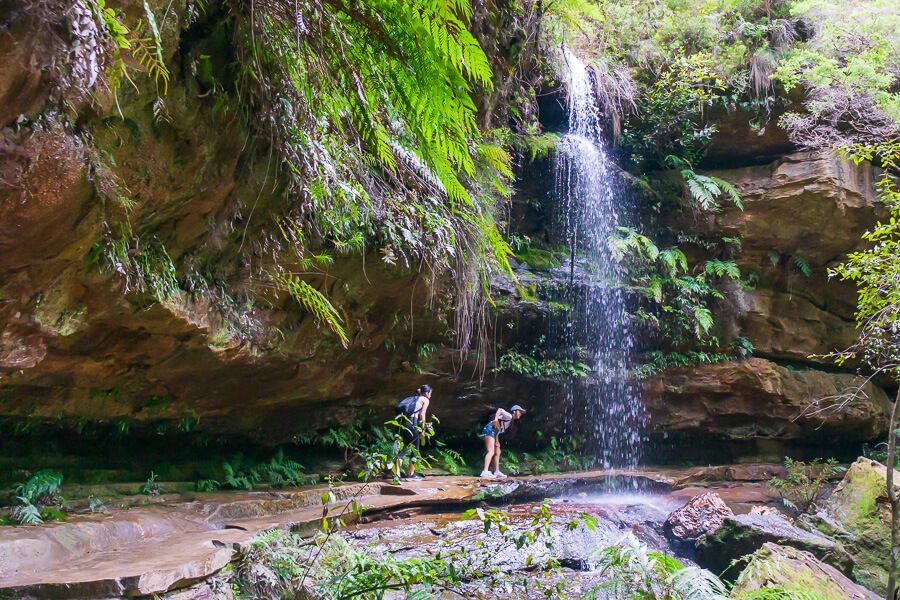 Grand Canyon Walk History
Water carved its way over millions of years to form the Grand Canyon. 
In 1907, locals constructed the Grand Canyon walking track as an effort to draw visitors to their locality.
During that period, the villages of Katoomba, Blackheath and Wentworth Falls competed to attract tourists so built hundreds of kilometres of tracks in the Blue Mountains. 
The track has since then been restored.
Enjoy this awesome Grand Canyon walk. It's undoubtedly one of the best hikes in the Blue Mountains!