Hawkesbury River
The Hawkesbury River is located just north of Sydney. Yet the contrast between the fast-paced city and the serene river couldn't be sharper. It strikes me every time I reach the river by train from Sydney. It's like stepping into another world… see how hectic it is?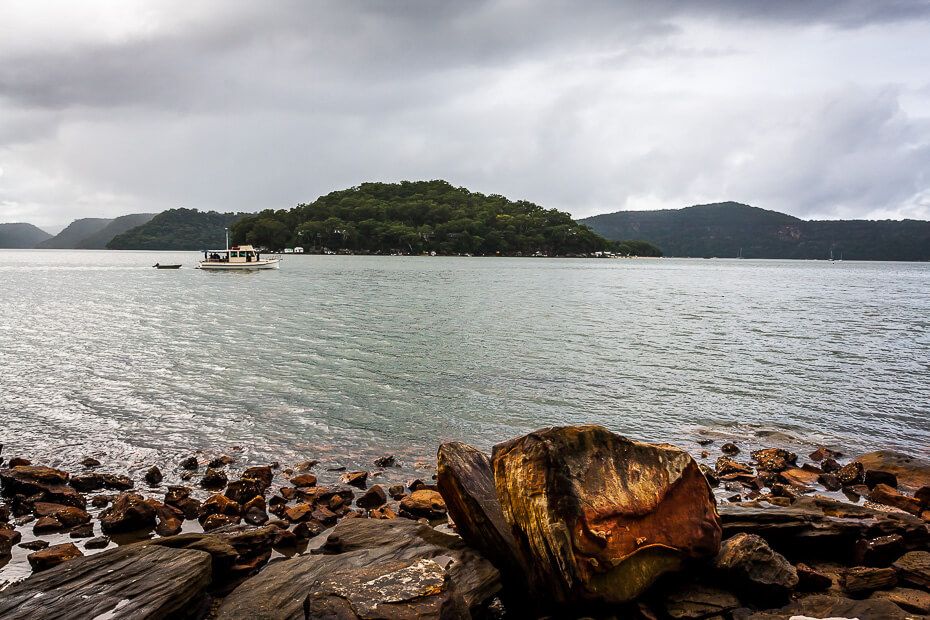 The Hawkesbury River begins at the Great Dividing Range, meanders for about 120 km and flows out to sea at Broken Bay.
Governor Arthur Phillip was the first European to explore the waterway in 1789. He named the river 'Hawkesbury' in honour of the Baron of Hawkesbury. The original aboriginal name was Deerubbun, which means 'wide, deep water'.
The waterway doesn't seem to have changed much since the first settlers arrived. Well… maybe apart from ritzy cottages, fine waterfront restaurants and no aboriginals in sight.

Today the fishing and oyster farming industries are still important in Hawkesbury River. (Though the Pacific Oyster Mortality Syndrome wiped out the oyster industry in 2013. They're still trying to recover today).
Find out about...
Because the land on each side of the lower Hawkesbury River was too rugged to colonise for farming, the river is now only bordered with National Parks and a few old townships. Thus it's a great spot to relax.  
So if you're feeling stressed-out, come and spend some time near the Hawkesbury River. You'll feel much more relaxed at the end of the day.
So what can you do to explore the Lower Hawkesbury River? Here are some tips to get you started...
---
Cruising the Hawkesbury River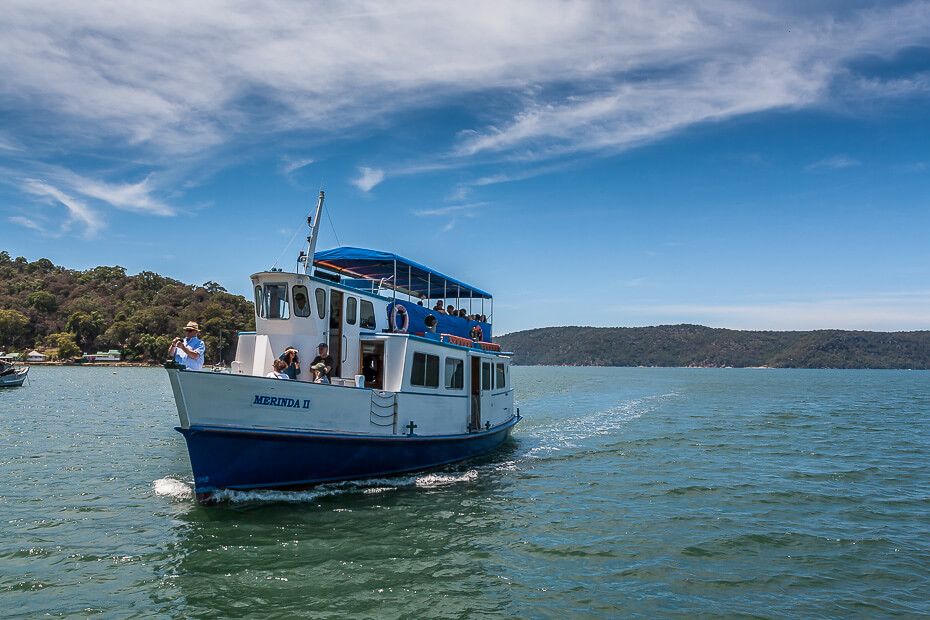 If you'd like to explore the river, a few day cruises depart from Brooklyn, Palm Beach and Gosford. And they're all excellent. These are great options...
The Riverboat Postman delivers mail to the isolated communities that can only be accessed by boat. Sunday on the Hawkesbury cruises seven islands. Palm Beach and Hawkesbury River Cruises includes a hop off at Bobbin Head in Ku-ring-gai Chase National Park. Starship Cruises offers a full-day cruise aboard M.V. Lady Kendall II timber cruiser. 
Aboard you learn about the history of the Hawkesbury River, see stunning landscapes and eat yummy food.  
More on Hawkesbury River cruises
---
Hiring a Houseboat
Many people hire houseboats to explore the river while enjoying a holiday.
Most of the Houseboat rentals are located at Brooklyn. But you can also find houseboats in Wisemans Ferry, Newport and Gosford.
The houseboats range from simple 2 berth boats to large 12 berth deluxe home cruisers. Houseboats are equipped with kitchen facilities, fridge, music system, toilet.
You need to pay for the hire and the fuel consumed and you don't need a boat license.
You can anchor the houseboat at several bays and beaches for swimming (DON'T swim in the middle of the river. The current is too strong).
And head to one of these great waterfront restaurants...
Peats Bite can only be reached by boat! (Sunny Corner on Berowra Creek; 02 9985 9040); Berowra Waters Inn (Berowra Creek near Berowra Waters; gps S33.35.7 E151.07.4; 02 9456 1027); The Riverbend Restaurant (5564 Old Northern Rd, Wisemans Ferry; 02 4566 4422). Call to make sure they're open or book before turning up.
I'm not a fishing enthusiast, but I was told that fishing here is great. You can catch jewfish or mulloway. A good spot for catching one is near the road and railway bridges. Also mullet, bream, flathead, snapper and whiting.
Houseboat rental locations: 
IN BROOKLYN – Holidays Afloat & Ripples (02 9985 5555; 87 Brooklyn Rd), Bentley's Luxury Afloat (02 9987 4740 or 0414 624 731; 31 Brooklyn Rd), Luxury Afloat (02 9985 7344; Kangaroo Point Cruise Terminal, Pacific Highway) and Hawkesbury Afloat (02 9985 7722; 45 Brooklyn Rd).
IN WISEMANS FERRY – Able Hawkesbury River Houseboats (1800 024 979; 02 4566 4308; 3008 River Road)
IN NEWPORT – Church Point Charter (0411 644 630; booking 02 9999 4188 or 02 9999 4904; Princes Street Marina, 16 Princes Street)
IN GOSFORD – Central Coast Houseboat Holidays (0422 466 826 or 02 4369 5444; public jetty at Gosford Harbour near the Blue Tongue Stadium)
---
Visiting the Hawkesbury River by Seaplane
A cruise or houseboat is not a high enough adrenaline activity for you? Then embark on a seaplane from Sydney.  
You'll fly over Sydney Harbour and the east coast.
Twenty minutes later you'll land at the award-winning Cottage Point Inn restaurant for a 3-course lunch.
Cottage Point Inn is a fine waterfront restaurant located on Cowan Creek in Ku-ring-gai Chase National Park.
Then you'll fly back to Sydney with scenic views of the Harbour Bridge and the Opera House.
---
Patonga Beach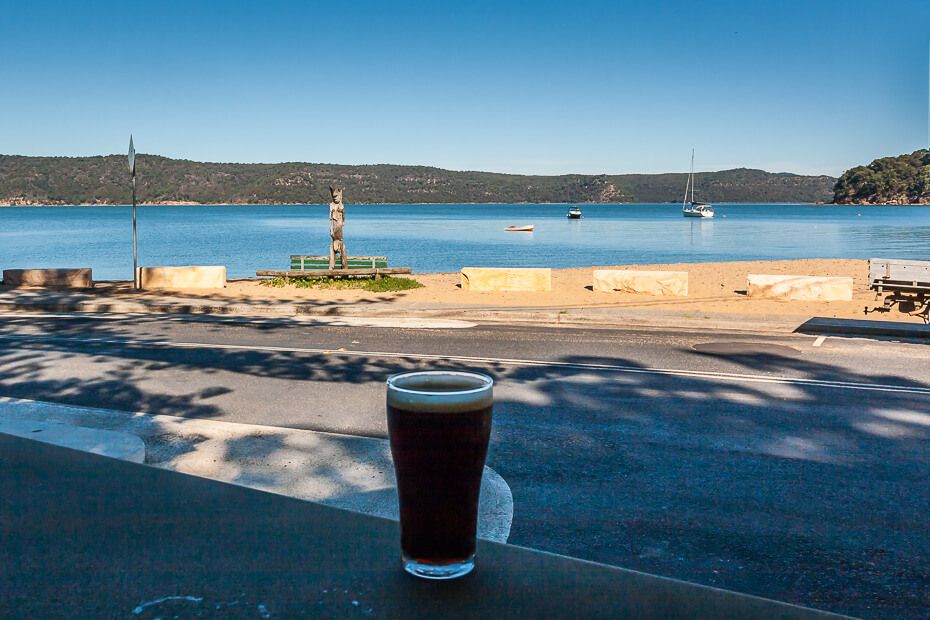 Patonga is located on the Central Coast side at the mouth of the Hawkesbury River.
The village is a popular destination with Sydney siders. Visitors and locals eat at Patonga Beach Hotel. The Council-owned Camping Ground next to the creek is very popular as well.
In Patonga we like to swim in the ocean and in the creek. Fish with the kids. Walk to Pearl Beach and back over the headland on the Great North Walk. And finish the afternoon with a beer on the terrace at Patonga Beach Hotel overlooking the water.
You can get to Patonga by car from the Central Coast through Brisbane Water National Park or by ferry from Palm Beach.
---
Brooklyn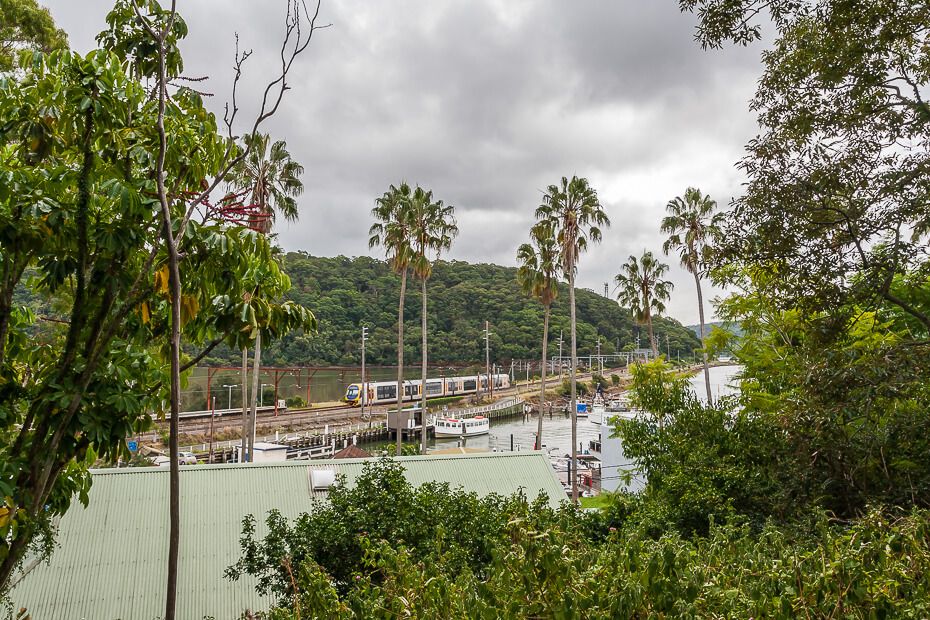 Brooklyn is located on the bank of the river along the Sydney-Newcastle railway line.
Brooklyn is a perfect location for a getaway lasting from a few hours to a couple of days. A variety of restaurants and cafes are located in the village. Most visitors spend their time around the picnic area and the protected baths. Kids can play in the fully-fenced playground.
Brooklyn is also where the Riverboat Postman and most houseboat rentals are located. 
If you're a fit bushwalker you can walk to Brooklyn on the Great North Walk from Cowan.
You can get to Brooklyn by train from Sydney or from the Central Coast. Stop at the Hawkesbury River Station.
---
Dangar Island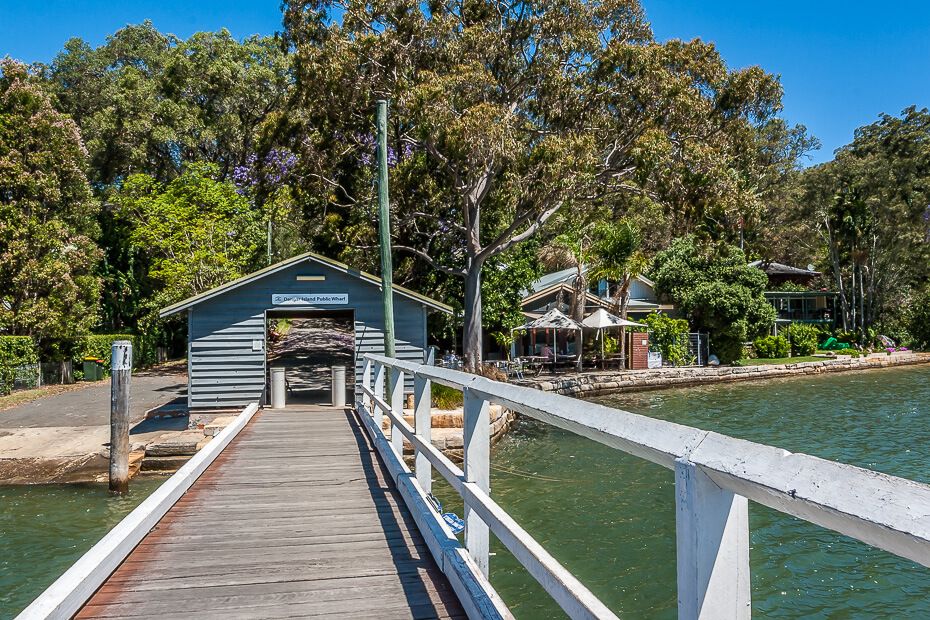 Dangar island is my definition of a perfect place to live. You can only get there by ferry or boat. No cars circulate on the island. People must walk everywhere while carrying their supplies in a wheelbarrow and cross the roads without even worrying about cars…
Apart from the idyllic car-less lifestyle, there is little else to do than eating and drinking excellent coffee at Dangar Island Cafe and walking around the island – the 3 km walk takes about 1hr. 
Also the bowling club opens on weekends.
So visit Dangar Island if you want to chill out and let the time go by. Dangar Island is a step more isolated than other places.
To get to Dangar Island, take the ferry across from Brooklyn. The ferry departs several times a day.
---
Hawkesbury River Accommodation
Find accommodation on the Hawkesbury River here. To see where the accommodations are located, click on the Map view on the top right of the screen. 
---
Map of the Hawkesbury River