See Kangaroos at Morisset Park 
Morisset Park is known to be a top spot near Sydney to see kangaroos.
No wonder: 
The kangaroos live in the wild and you can almost be sure to spot them. It's free, and the place is easily accessible by car or by train from Sydney.  
Before I can tell you more about the place, I have to tell you something important...
If you're planning to visit:  
Morisset Park is not an official tourist site. It's located right beside the private grounds of a mental health facility. You're not allowed to enter the hospital grounds, and there are no toilets, water, rubbish bins or other facilities.
No matter what you've read on TripAdvisor or other social media or what photos you've seen on the internet…
Hi it's Christine from iCentralCoast.com... 
Thank you for taking this survey here. It's really quick (only 4 questions). I want to use your answers to make sure I'm offering you the best information I possibly can.
DON'T feed the kangaroos!!
It's BAD for them and DANGEROUS for you.
Kangaroos normally eat grass. Not carrots, bananas or other junk food. They can get very sick if they eat human food.
One of the diseases they can get is called Lumpy Jaw. It's a fatal disease. Lumpy Jaw is caused by bacteria that gets in the cuts of the mouth. These cuts happen when kangaroos eat food they shouldn't. Like carrots.
The kangaroos at Morisset Park have been fed by tourists for such a long time that they've become addicted to human food. So the kangaroos will come near you to get a meal. And they can become aggressive, particularly the males.
It's true:
I saw a kangaroo try to snatch a woman's bag from her hands...
I also saw a kangaroo try to snatch a banana from a little boy's hands. Luckily the boy dropped his banana on the ground before the kangaroo could get to him. This could have ended badly.
This was trivial compared to what happened to other tourists recently. Some were injured. Kangaroos have long sharp claws and powerful kicks. They can hurt.   
So even if you see other tourists feed the kangaroos, don't do it. I know it's easier said than done – They're cute and cuddly.
Resist the temptation!
And take your rubbish with you.
To report:
Animal cruelty: click here 
Injured kangaroo: phone 0418 628 483
So let's get back into the interesting part...

Kangaroos at Morisset Park… An Exciting Experience
Morisset Park is a top spot to see kangaroos in their natural habitat, particularly if you have limited time in Australia. It's also a great place to take friends and family from overseas if they haven't yet seen kangaroos.
I was surprised to see so many visitors and kangaroos…
When we visited there were at least a hundred tourists at the site, and several more walking along the road from the train station.
And there were many more kangaroos. It was a cool winter day, so the kangaroos were certainly coming out of hiding to seek the warmth of the sun.
The kangaroos at Morisset Park let you approach them – they're not scared at all. It's amazing.
There are some of all sizes, from big roos to joeys. And cute joeys in the mother's pouch.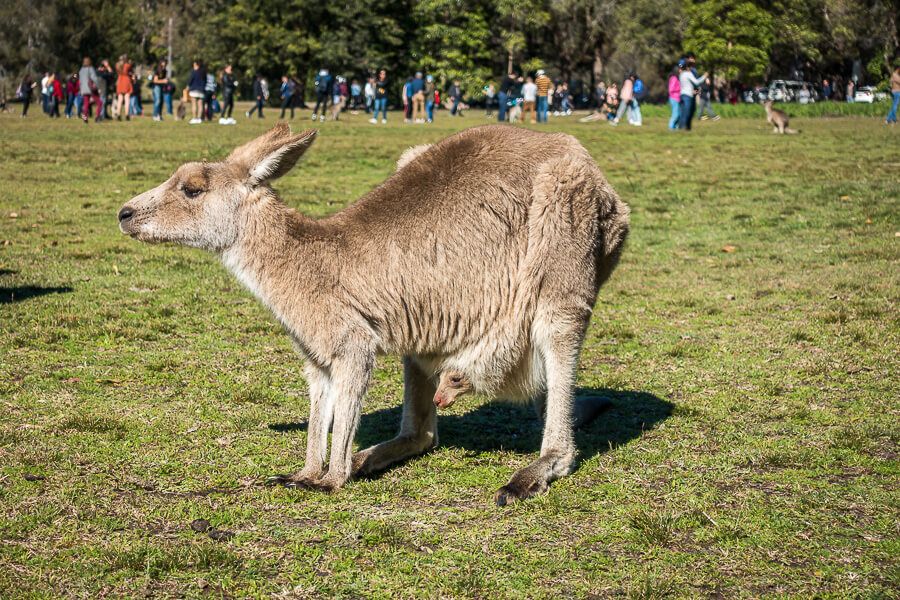 It's a memorable experience.

Picnic & Toilets
If you'd like to have a picnic nearby, drive to Shingle Splitters Point. it's a nice spot on the water. There are toilets, picnic tables, playground, barbecues and a nice view. Located at the end of Queen Street.
Also, the closest toilet block to the kangaroo site is on Dora Street near the train station, before the turn off to Acacia Avenue.  
How to Get to Morisset Park
By car

Follow the M1 and exit at Mandalong Road.
Continue along Dora Street for about 3 km.
Turn right into Acacia Avenue. 
Drive until you get to the entrance to Morisset Hospital. The site is on the left before the entrance to Morisset Hospital. You should see plenty of kangaroos there.
DON'T enter the hospital grounds. The facilities at Morisset Hospital are not accessible to the public.
By train

The train trip from Central Station in Sydney is about 2 hours. The trip from Gosford Station is about 50 minutes.

Plan your train trip with this trip planner. 
Take the Central Coast & Newcastle Line

 

Alight at Morisset Station.
The kangaroo site is about 4.5 km from Morisset Station.
The best way to get to the kangaroo site from the train station is by shuttle bus. Check out Kroosn Shuttle Service. Book on 0490 268 457. It's $3 each way.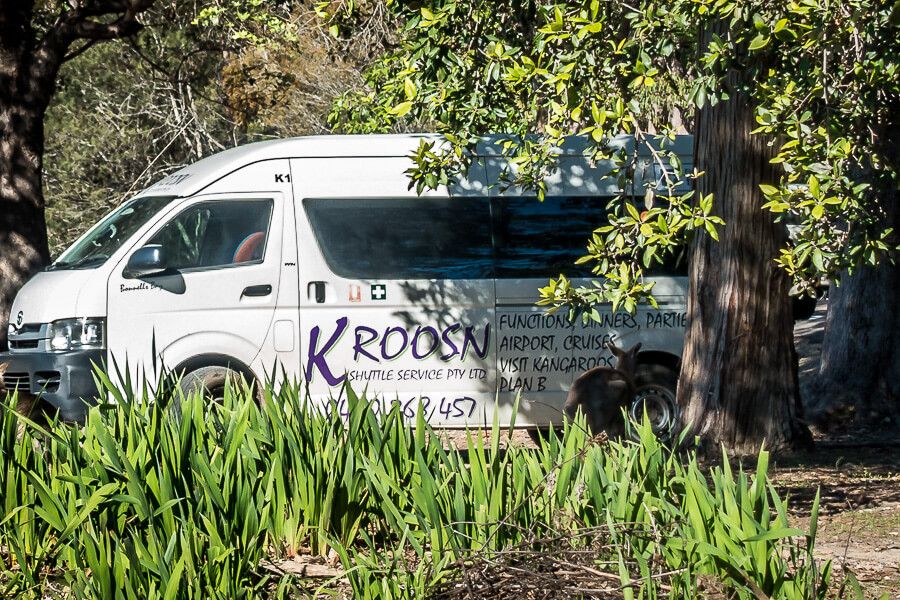 You can also call a taxi on 49 705 111.
Or you can walk from the train station to the kangaroo site. Many people walk there each day. The walk takes about 1 hour each way. It's along a nice road in the bush. Be aware there are no toilets, rubbish bins or water along the way or at the destination.
I hope you enjoy seeing the kangaroos!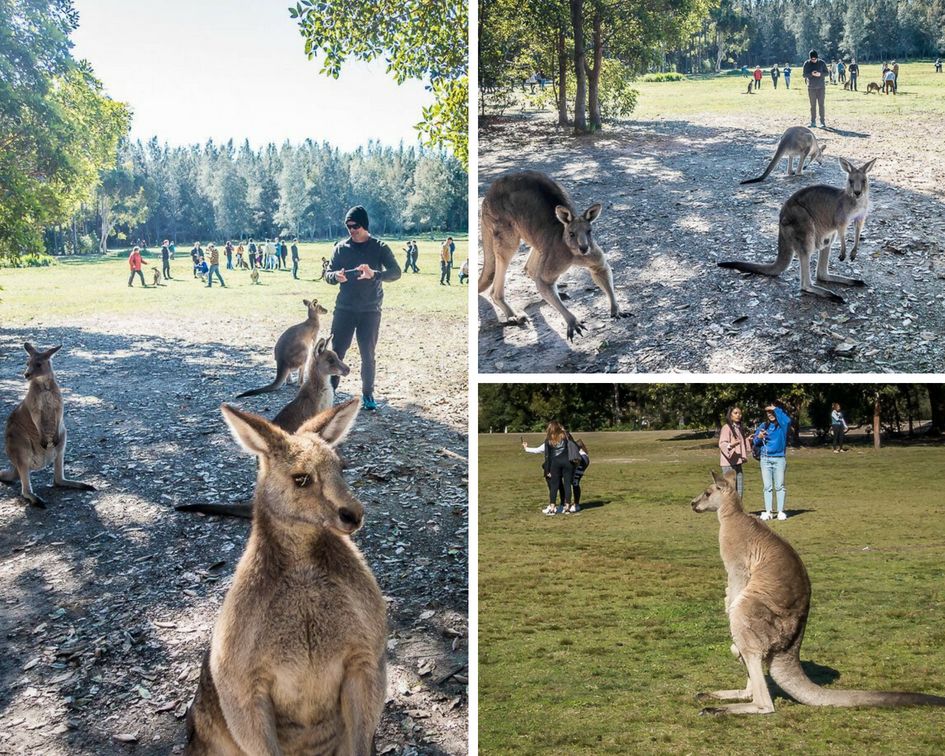 Map
Check Out These Other Wildlife Experiences on the Central Coast...
Wondering what to do on the Central Coast? 
JOIN OUR NEWSLETTER and keep up to date. Just fill in the form...
Are You Liking It?