Taronga Zoo Sydney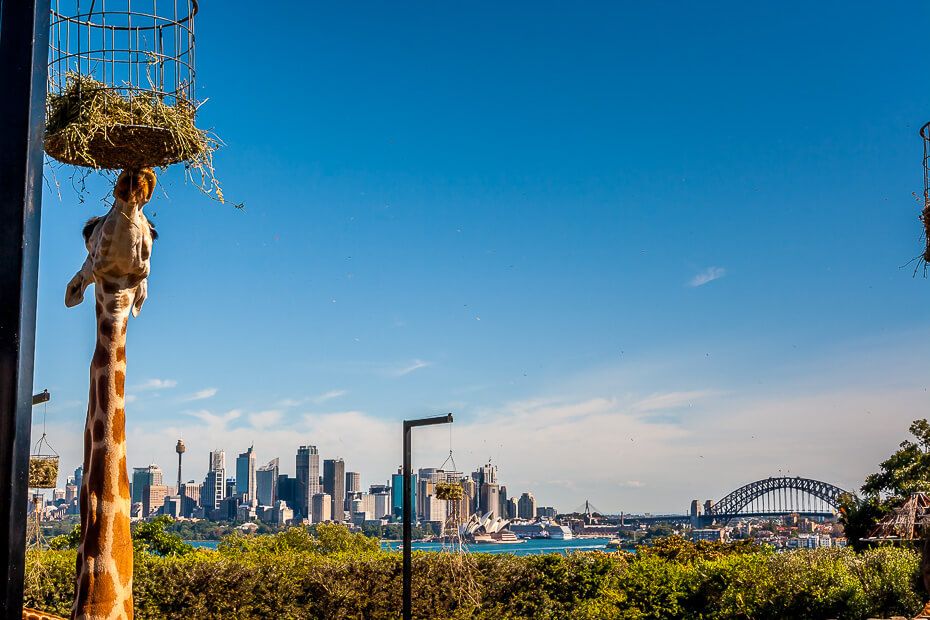 Taronga Zoo Sydney: 350 species of animals from around the world live in a first-class spot...
The zoo overlooks Sydney Harbour, the Opera House and the Harbour Bridge.
Taronga Zoo Sydney is the zoo with a view.

I also like that Taronga Zoo Sydney focuses on conservation and education...
They play an important role in the recovery of endangered animals. They breed rare and endangered species like red pandas, Sumatran tigers and black rhinoceros.
If you visit Taronga Zoo Sydney, plan a whole day. There are lots to see and do…
Animal Encounters
For $25 you can stand right next to a koala, feed a giraffe, or meet another animal up close.
The Koala Encounter is very popular and sells out fast. so if you want to secure a spot, arrive as early as possible. Buy a ticket from the Animal Encounter Desk at the top shop. It opens at 9 am.
Note: Cuddling koalas is not allowed under NSW regulations. But you can walk inside their enclosure and get very close.
If you'd like to see kangaroos up close, you can walk inside the kangaroos' enclosure. It's free. They'll jump right around you.

Here were our family's highlights at Taronga Zoo Sydney during our last visit…
Our Highlights
Seal Show
Australian Sea-Lions, Californian Sea-Lions and New-Zealand Fur Seals do a bunch of tricks. They can hold a ball on their nose, walk on their flippers and nod their heads.
The staff explains the behaviours and physiology of seals while the seals perform. They also talk about the plight of the seals in the wild...
Seals find it harder and harder to catch food because of over-fishing and declining food in the ocean.

Tips: Sit away from the first couple of rows if you want to stay dry. Also, arrive several minutes before the start of the show to get a seat.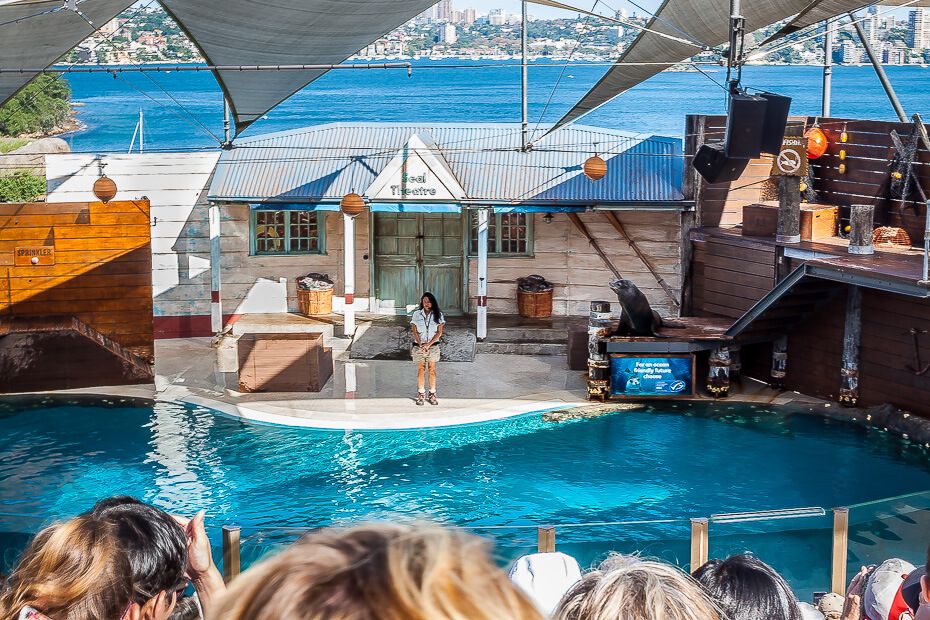 The View
Taronga Zoo Sydney is set on a hill which faces Sydney Harbour, the city, the Opera House and the Harbour Bridge. So wherever you stand you get an impressive background view.
It's like looking at animals in their natural settings with a poster of Sydney in the background.
And when the sky is blue it's the ultimate poster…
It's hard to take a bad photo of a giraffe against the city's skyline and a blue sky…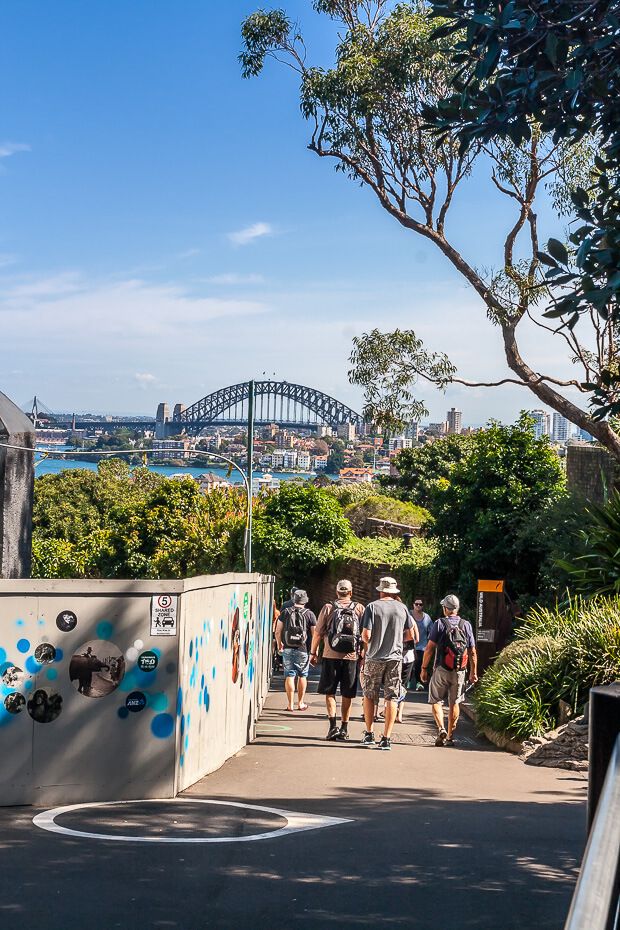 Western Lowland Gorilla
I had seen large animals before at other zoos like giraffes, elephants and the like, but a gorilla… not so much.
That fellow peacefully stood there for ages eating its food while a bunch of people stared at it. 
These African gorillas are a critically endangered species. A few things are causing their decline. One of the things is illegal mining of Coltan in the Democratic Republic of Congo.
Coltan is a metallic ore used by the tech industry. They are used to make circuit boards in mobile phones and other electronic devices. So there's a high demand for it and it pays well.
To mine the Coltan, they clear forests – and the gorillas' food. Plus illegal mining of Coltan finances the civil war and aggravates poverty. So people are forced to hunt gorillas for the meat.
Electronic companies are starting to refuse Coltan from Africa. 
Sky Safari
You walk over 28 hectares of hilly ground all day long. So after a while the Sky Safari is very welcome on the legs. When you get to the bottom of the Zoo, take the Sky Safari back to the top.
If you're lucky and there are not too many people, you may be able to do a round trip. It's fun for the kids and the view is fabulous…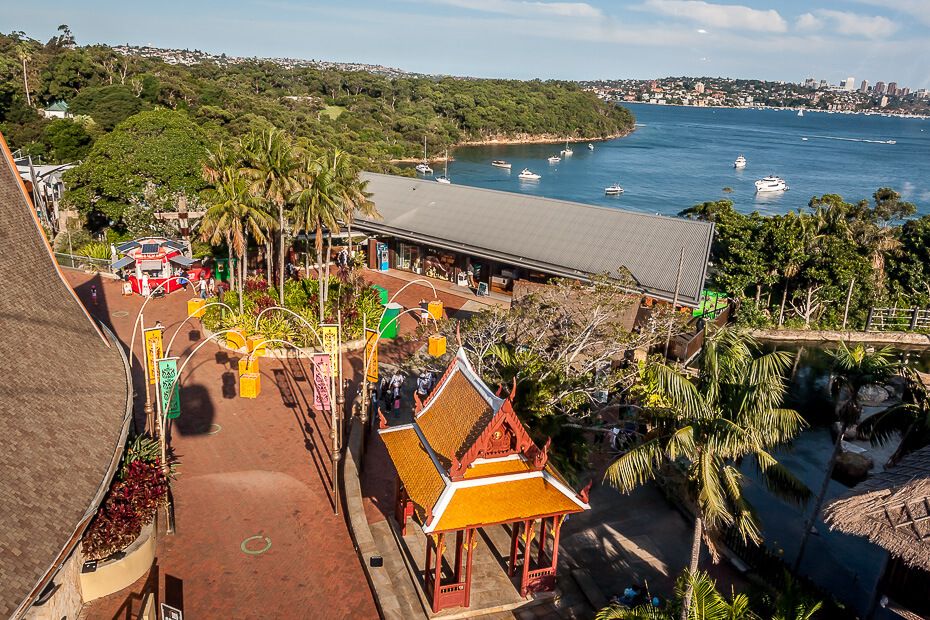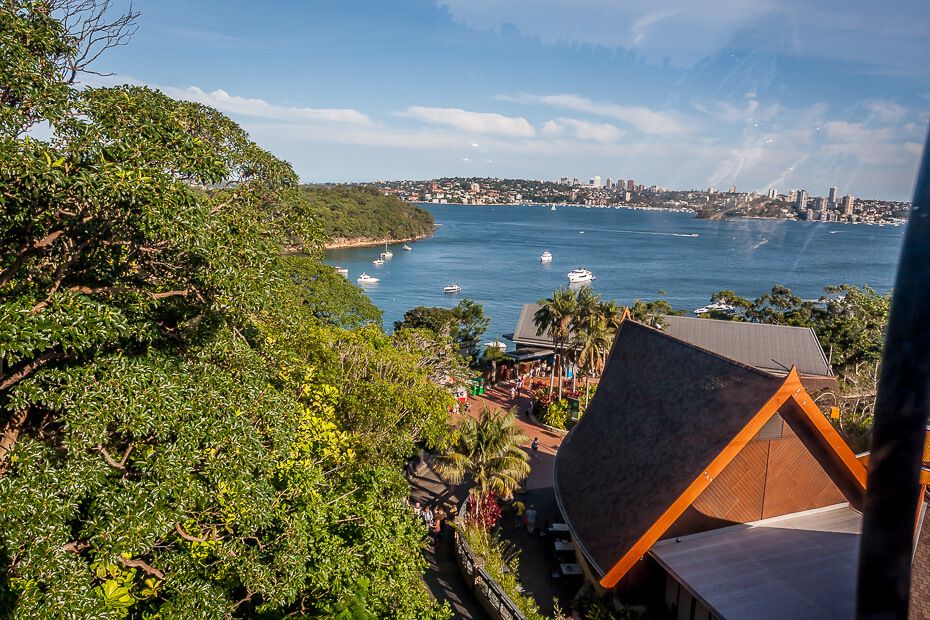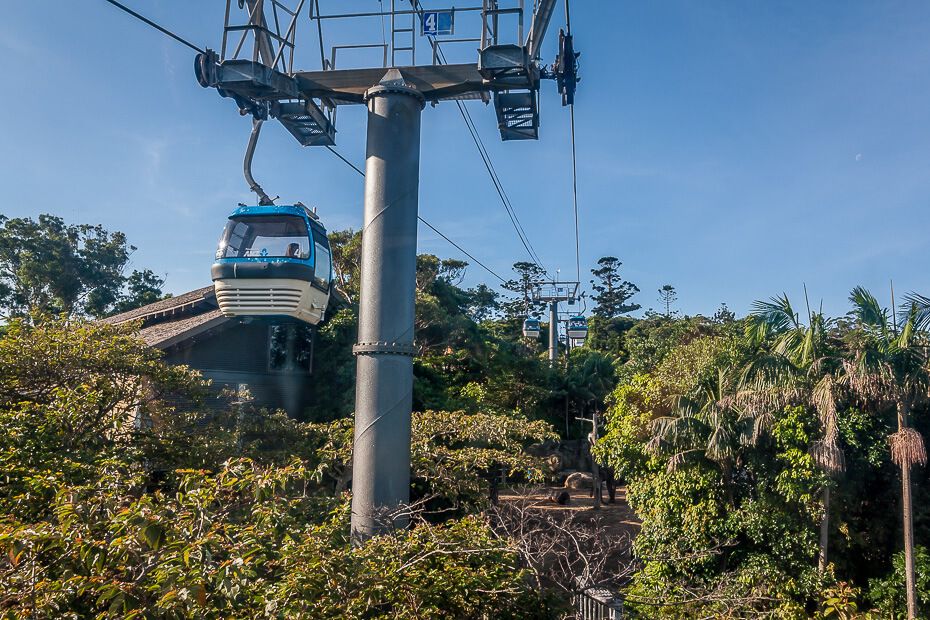 Getting Lost in the Zoo…
…and hoping you had a GPS. At least if you're like me and are somehow unable to read printed maps.
The Zoo site is set with pathways throughout. It's like a maze and you'll need a map, so remember to pick one up at the Information Desk at the Zoo entrance. Or print this one up.
But "the maze" is fun and stimulating because you feel you're in a completely new spot all day long.
Pygmy Hippo
I had never seen a Pygmy Hippo in a zoo before. I enjoyed looking at them.
Pygmy Hippos are smaller than hippopotamuses.
They live in the swamps and dense forests of West Africa. People hunt for their meat and their habitat is being destroyed. Fewer than 3000 are left in the wild so they're considered an endangered species.
Taronga Zoo Sydney is involved in breeding them. Two babies were born so far. Every birth in a zoo is important because they may well disappear in the wild soon.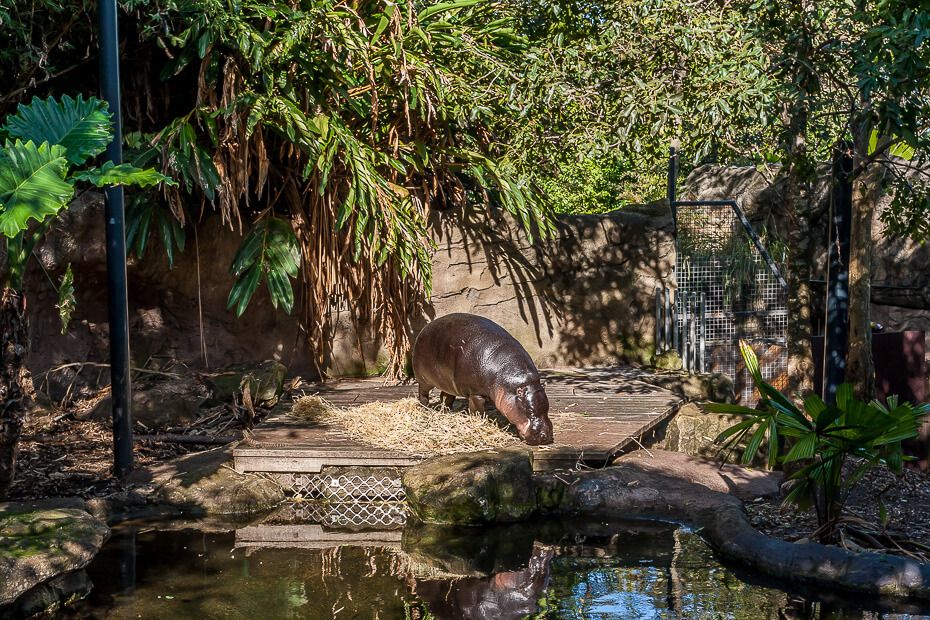 Playgrounds
Are you going to Taronga Zoo Sydney with kids? The two state of the art playgrounds are impressive...
The Lemur Forest Adventure has a tunnel, slide, bridge and a climbing tower.
The Farm Playground has tunnels, slides, bridges and a water play area.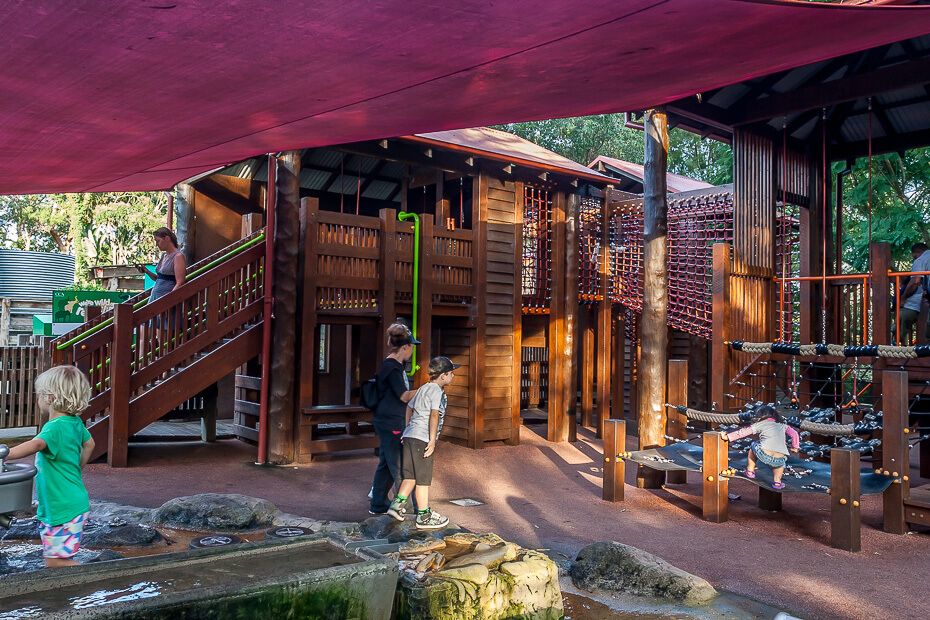 Animals I Didn't Know Existed
I enjoyed seeing species I never knew existed. Have you ever heard of a bongo, fishing cat or mata-mata?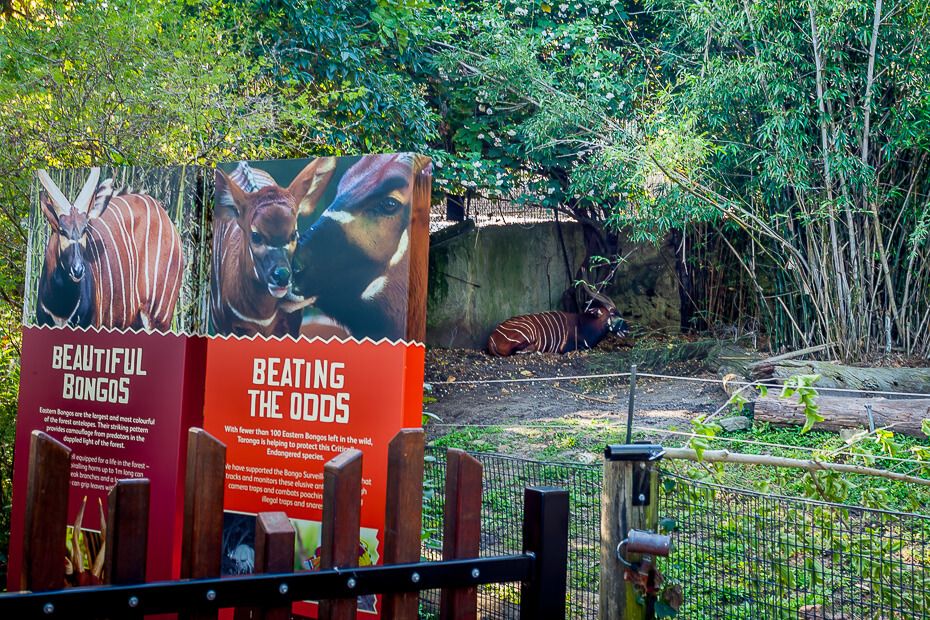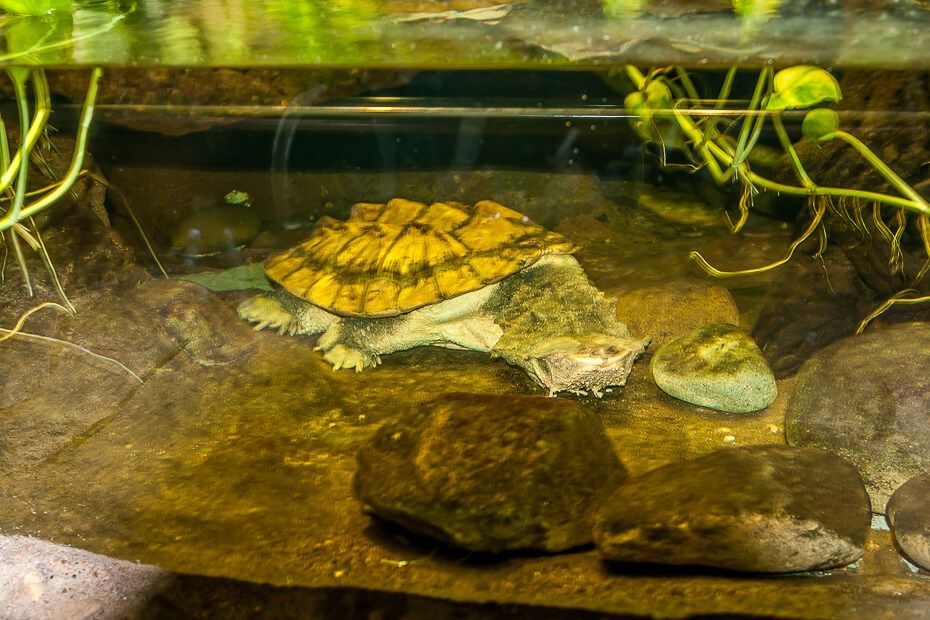 Visitor Information
Fees 
The cheapest admission ticket you can buy is directly from the zoo online. If you buy your ticket online here, you save 10% - 20% of the admission fee. For example, it's a $14 saving for a family of four.
Visit Taronga Zoo Sydney for $1 at Your Birthday
Yes that's right. If it's your birthday you pay only $1. But you need to register here first.
You'll receive a voucher by email. Take it to the Zoo or show it to them on your phone. Also, take an original or officially certified copy of either a birth certificate, a driver's license, a state issued proof of age card or a passport.
Other Information You May Find Useful…
You can get a locker to store your stuff.
The site is wheelchair accessible. You can hire a wheelchair by calling 02 9969 2777 or from the Animal Encounters store (map reference 19E). The Sky Safari can take wheelchairs below a width of 610 mm. If you're coming by ferry, you can access the Sky Safari from the street in a lift.
Take sunscreen, hats (you can buy hats and sunscreen from the Zoo Shop) and water (you can refill bottles from water refill stations throughout the site).
Wear comfortable walking shoes.
You can hire a stroller for $15 from the Zoo Shop.
Pick up a map from the information desk before you start your visit.
Plan a whole day for your visit. With children, you might want to settle for 4-5 hours. The kids and I walked for about four hours. We saw most animals and attractions, but not everything. But it was more than enough walking for the kids.
The animals you'll see at the zoo is too long to list, but here are animals you WON'T see: rhinos, lions and tigers (though tigers should be there in 2017).
Getting There From Circular Quay
You can buy a combined Taronga Zoo Sydney admission & return ferry ticket at the ticket booth at Wharf 2 in Circular Quay.
The combined admission and ferry tickets give 10% discount.
The ferry departs every 20 minutes or so and the trip takes 12 minutes. The ferry arrives at the bottom of the Zoo.
The Zoo admission ticket allows you to travel on the sky safari (gondola) from the bottom to the top of the zoo where you'll start your visit.