42 Top Things to Do in the Blue Mountains, Australia
Visiting the Blue Mountains Australia? Here's a complete guide to the absolute best things to do in this spectacular wilderness.
Explore the region's dramatic scenery with these amazing attractions including countless epic walks, jaw-dropping views and beautiful gardens.
Located west of Sydney, the Blue Mountains' rugged landscape is a startling contrast to Sydney's coastline.  
You'll see deep canyons carpeted in eucalypts and rainforests, sheer cliff walls and tall waterfalls.
Disclaimer: I may receive a small commission from some of the links on this page. 

Best Things to Do in the Blue Mountains
This list of the best things to do in the Blue Mountains Australia is perfect if you're visiting for the first time or want to discover lesser-known gems.

1. Admire the Three Sisters at Echo Point Lookout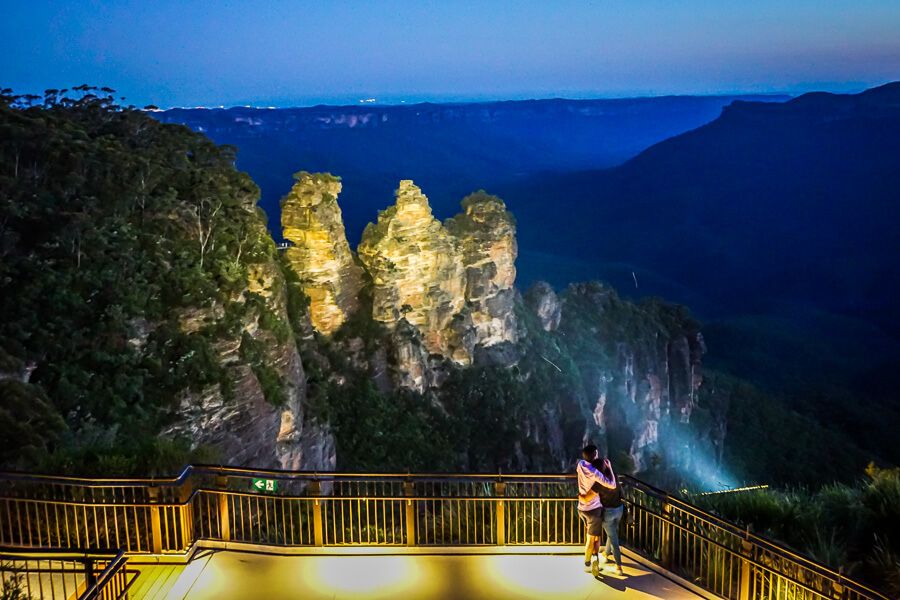 A remarkable rock formation, the Three Sisters are three sandstone peaks that stand side by side in the Jamison Valley.  According to Aboriginal legend, the rocks were formed when three sisters were turned to stone.
It's the most famous attraction in the Blue Mountains.
You can see the Three Sisters and breathtaking views of the Jamison Valley from Echo Point Lookout in Katoomba.
Suggested Tour - Blue Mountains: Small Group, All-inclusive Tour.
2. Enjoy Exciting Rides at Scenic World
Scenic World is a fun attraction where you'll enjoy breathtaking valley views.  
Embark on the steepest passenger train in the world, the Scenic Railway, which takes you to the valley floor. Stroll through the temperate rainforest, then ascend the valley back aboard the Scenic Cableway.
Finally, glide 270 metres above the Jamison Valley to the neighbouring clifftop aboard the Scenic Skyway.
Click here to find out more about Scenic World. 
3. Explore Jenolan Caves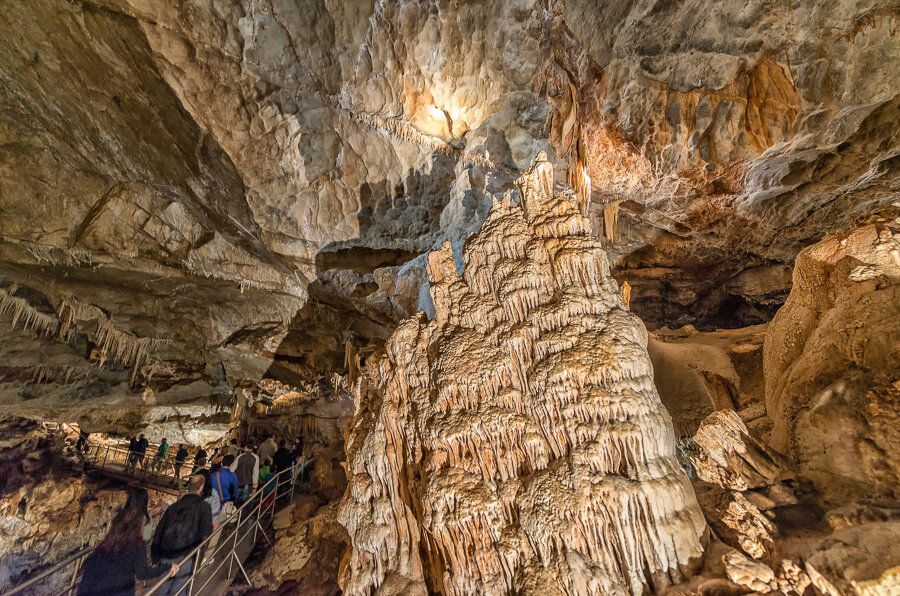 Explore the largest caves in Australia and the world's oldest caves. The limestone formations and underground rivers are stunning.
You can tour nine out of 300 caves – the Imperial Cave is the easiest to visit and the River Cave the toughest, with 1,298 stair steps and two high steel ladders.
Lucas Cave, the most famous, contains the 'Cathedral' chamber and offers glimpses of an underground river.
Click here to find out more about Jenolan Caves.
4. Experience Scenic Blue Mountains Walks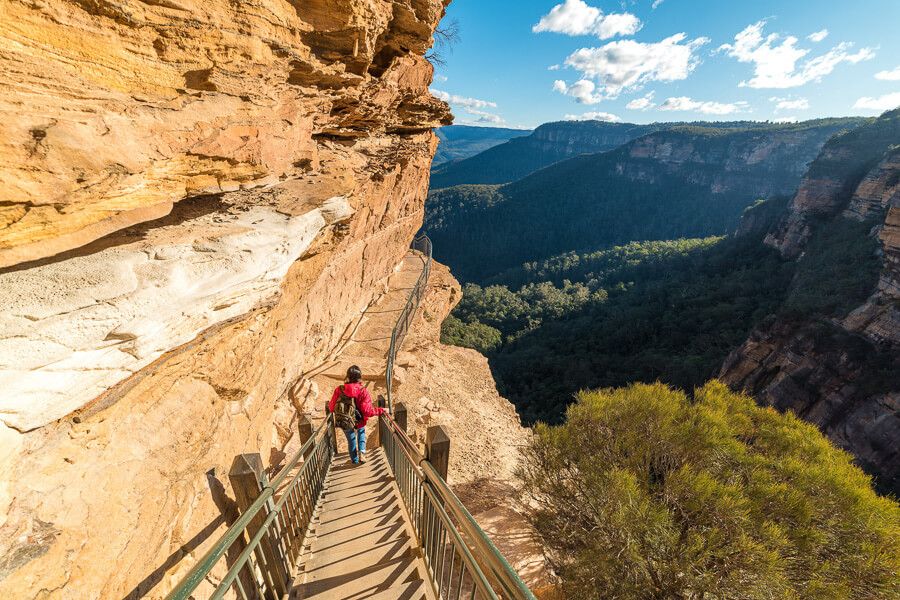 Whether you're looking for a leisurely stroll with your family or a vigorous day-long hike, the Blue Mountains has a bush walk to suit everyone.
You'll be rewarded with sweeping views of deep valleys, rugged escarpments and plunging waterfalls.
Many walks run along the ridgetops or deep into the valleys.
Click here to discover my favourite bush walks in the Blue Mountains.
5. Marvel at Spectacular Views From the Lookouts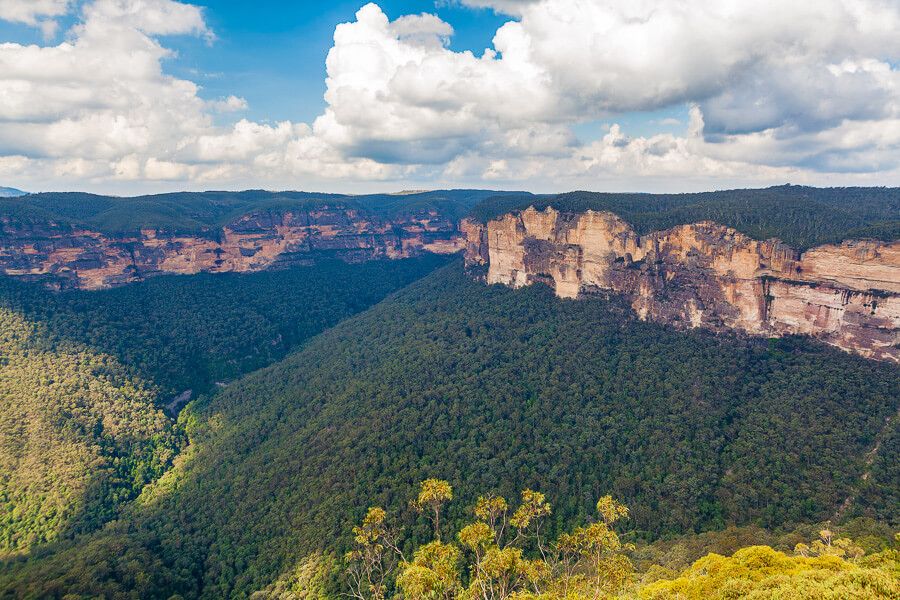 There are countless lookouts in the Blue Mountains. Some you can access by car and others via a bush walk.
A visit to the Blue Mountains cannot be complete without experiencing some of its best viewpoints.
Enjoy scenic views of valleys, rugged cliffs, tall waterfalls, and beautiful sunsets and sunrises.
Click here to discover the most impressive lookouts in the Blue Mountains.
6. Visit the Blue Mountains Botanic Gardens 

Spreading over 8 hectares, the Blue Mountains Botanic Gardens is part of the UNESCO World Heritage Area.
Stroll along the meandering paths and enjoy the amazing views of the gardens and the valley. See local and imported cool climate plants and alpine rainforest.
The gardens are located at Mount Tomah, and it's free to visit.
Click here to check the Blue Mountains Botanic Gardens website. 
7. Check Out Leura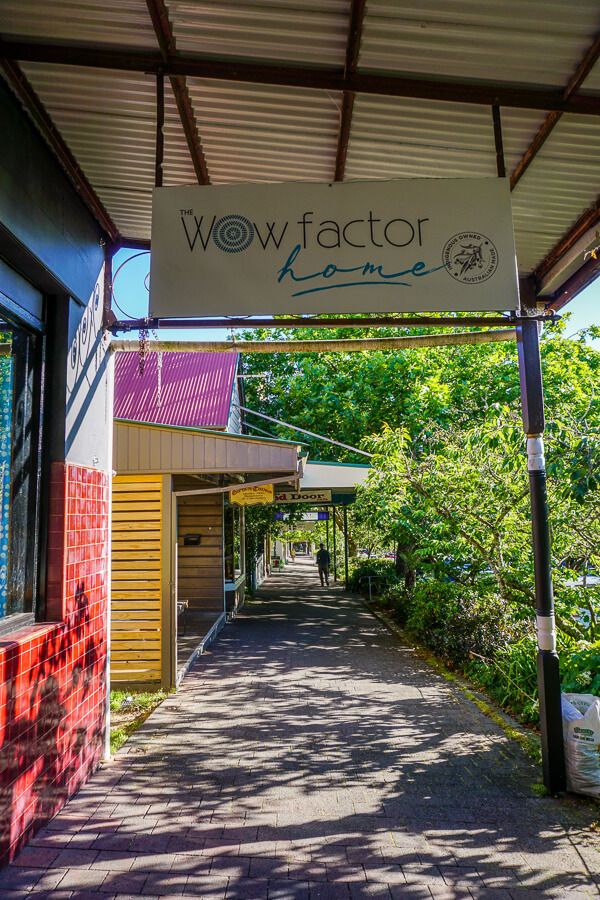 Leura is a gorgeous village with manicured houses and gardens.
Stroll along the strip of quaint shops at Leura Mall. Shop for unique accessories at Teddy Sinclair and savour homemade brownies at Josaphan's Fine Chocolates.
The Candy Store, with lollies from all around the world, is a highlight!
Dine at Madame Wang's or Polar Bear of Leura.
Spring is an ideal time to visit – the cherry trees are in full bloom.
8. Visit Breenhold Gardens 

Located in Mount Wilson, Breenhold Gardens covers an area of 45 hectares. See northern hemisphere trees, flowering trees, tall eucalypts and more.
Autumn is the top time to visit because of all the colourful leaves. The series of pine forest windbreaks is stunning.
Breenhold Gardens is usually open in spring and autumn  
Check updates on Breenhold Gardens website. 
9. Explore Katoomba
The town of Katoomba is in the heart of the Blue Mountains – the perfect base to explore the region's biggest attractions.
Explore the Street Art Walk, shop for a second-hand book at Mr Pickwicks Fine Old Book, and dine at Aunty Ed's or Basil Nut.
Then grab a drink and cosy up beside the fireplace at the luxurious Carrington Hotel. Or enjoy delicious chips with aioli at Old City Bank Brasserie.
10. Visit Norman Lindsay Gallery & Museum 

Norman Lindsay Gallery in Faulconbridge is the former home of the artist Norman Lindsay. See his oil paintings, model boats and sculptures, and the gallery featuring the characters from The Magic Pudding.
Then enjoy the cafe and the shop.
You can also stay in one of the cabins on the property, which includes an admission ticket to the gallery.
Booking is required.
Click here to find out more about Norman Lindsay Gallery & Museum. 
11. Tour Lithgow Small Arms Factory Museum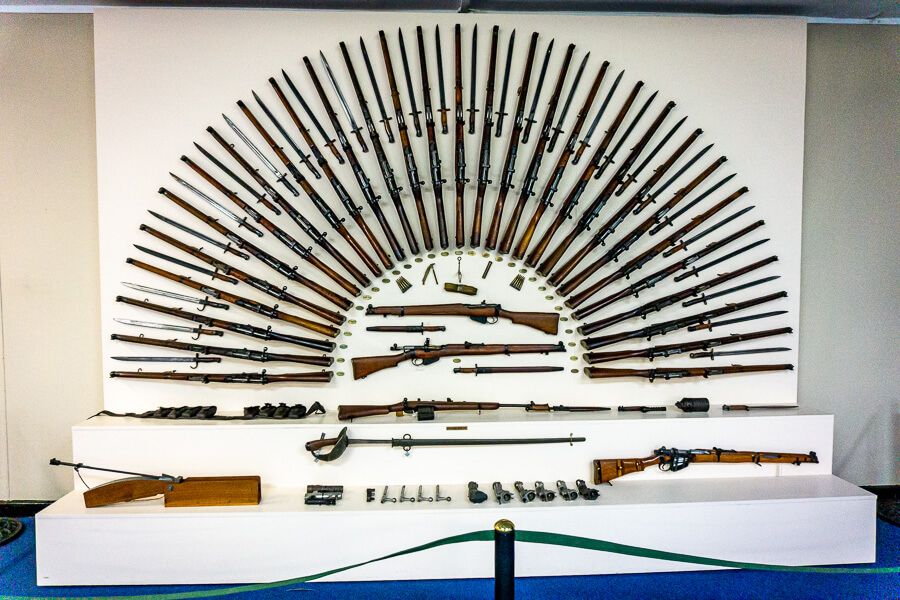 The small arms manufacturing factory began production in 1912 and became Australia's first high precision mass production facility.
Now the museum presents a collection of arms from the era of the first production to the current day. It's also well-known for its collection of modern firearms from around the world.
Click here to find out more about Lithgow Small Arms Factory Museum.
12. Dine at Cinnabar Kitchen 

Head to Cinnabar Kitchen in Blackheath for an outstanding dining experience. It will make you feel like you're dining overseas.
Enjoy the warm atmosphere and excellent service.
Try the sizzling Jamaican spiced prawn pot, the poached spinach ricotta dumplings and the braised beef cheeks. A treat!
The restaurant is not suitable for children under eight.
Find out more about Cinnabar Kitchen.
13. Relax at Japanese Bath House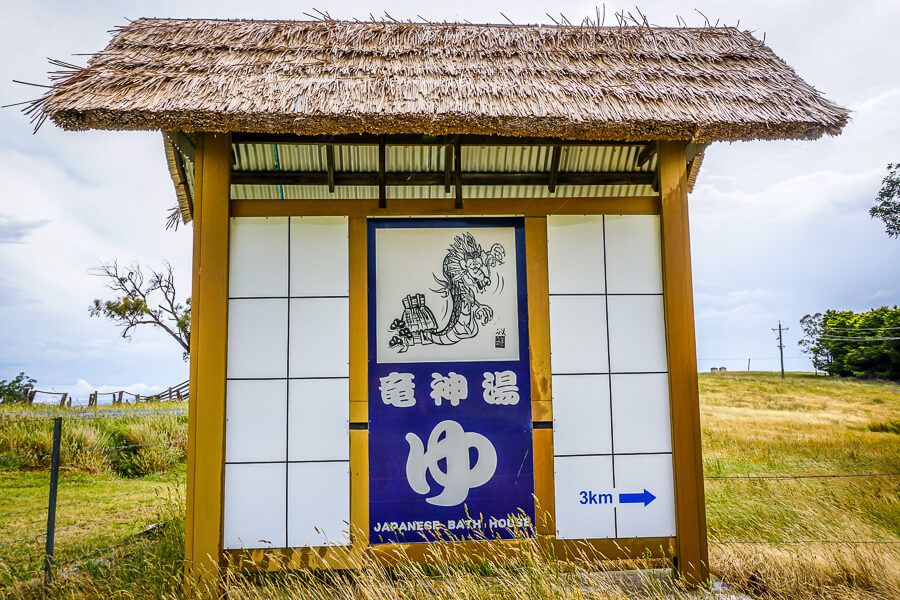 The Japanese Bath House is so relaxing!
Take a cold plunge into the icy tube, then unwind in an indoor and outdoor hot bath. Get your own private bath if you wish. The steam room is the highlight!
Follow with a massage that uses a blend of Japanese and Thai techniques.
Booking is required.
Click here to find out more about the Japanese Bath House.
14. Visit Campbell Rhododendron Gardens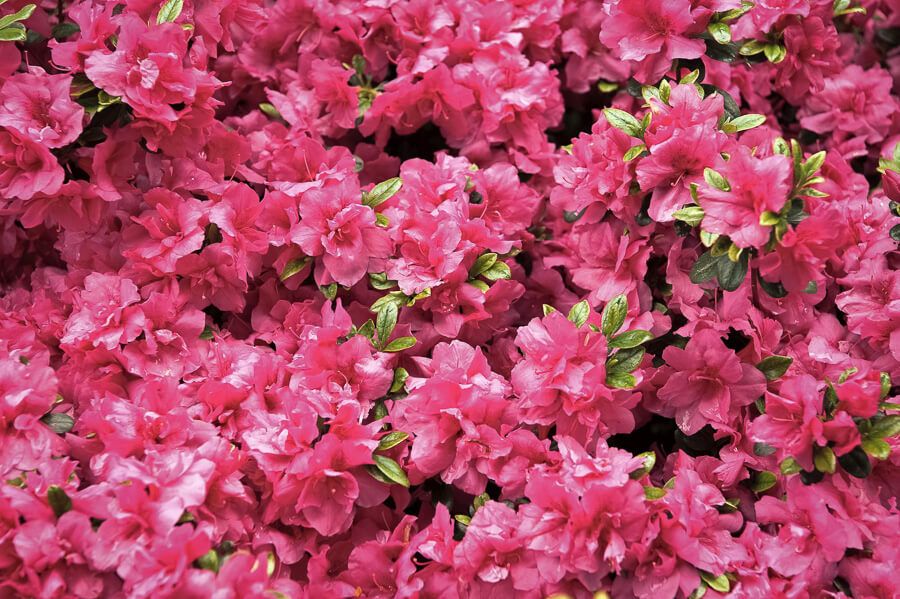 See exotic species like Azalea and Rhododendrons, which thrive among native eucalypts and bushland. Then enjoy a freshly brewed coffee and a delicious scone with jam and cream at Rhodo Tea Room.
Campbell Rhododendron Gardens in Blackheath covers an area of 18.3 hectares.
The best time to visit is from October to November – the rhododendrons are in full bloom
Click here to check the Campbell Rhododendron Gardens website. 
15. Taste Drinks at Bilpin Cider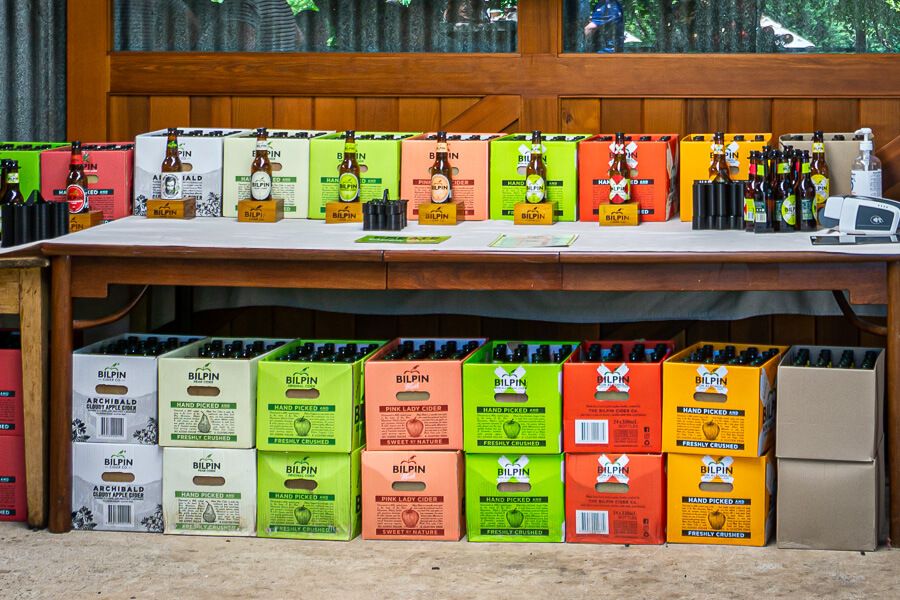 Dubbed the "land of the mountain apple", the town of Bilpin is known for its delicious apples.
Sample fresh apple and pear cider at Bilpin Cider made with fresh local fruits with zero sugar or artificial flavours.
Delicious!
Sit on the lawn and enjoy live music. You can also visit the gardens and orchards.
Click here to find out more about Bilpin Cider. 
16. Walk Through the Glow Worm Tunnel 

The 400-metre tunnel near Lithgow was built in the early 1900s as part of the railway to Newnes Kerosene and Shale Works. Now abandoned, it's the best place to see the glowing blue light of glow worms.
Dozens of them cling to the walls and roof. Bring a torch and good walking shoes.
Recommended tour: Wolgan Valley Eco Tours.
17. Visit Bebeah Gardens 

Located in Mount Wilson, Bebeah Gardens is a cool climate garden that sprawls over 5 hectares.
See impressive and towering trees like oaks, magnolias and conifers, and beautiful hedges of species like azaleas and camellias.
Autumn is the best time to visit because of the stunning colours.
Click here to check Bebeah Gardens website.
18. Sample a Drink at Hillbilly Cider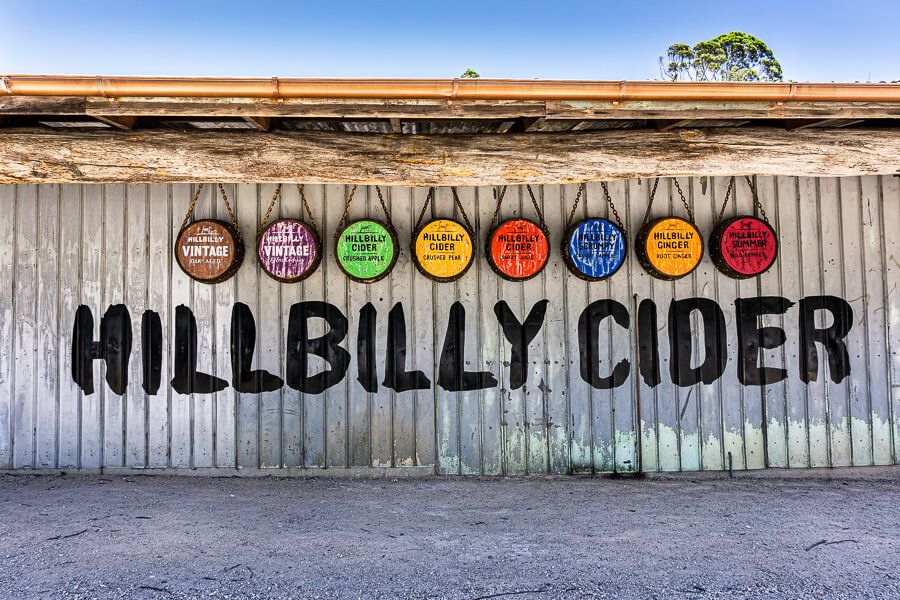 Enjoy the view of the orchard and delight in the atmosphere.
Pick your favourite spot to sit, outside in the open air or inside in front of the fire, while the kids play in the grassy area.
Sip on a delicious cider, beer or wine while savouring a woodfire pizza. Or even better, try a tasting paddle.
Click here to find out more about Hillbilly Cider. 
19. Explore Mayfield Garden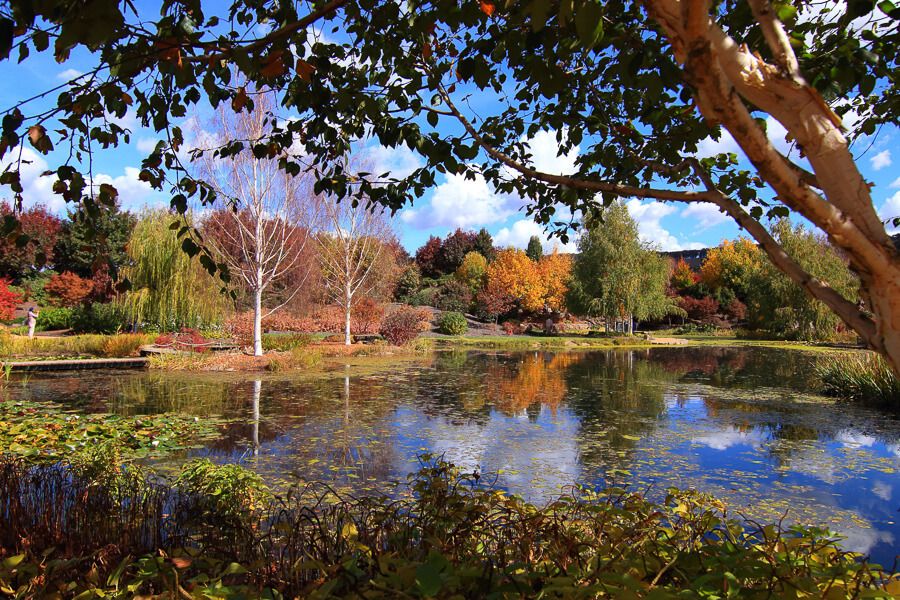 Your visit to Mayfield Garden in Oberon may well be a highlight.
Sprawling over 65 hectares, Mayfield Garden is Australia's largest privately-owned garden and one of the world's biggest cool climate gardens.
Its creation was inspired by stately gardens in Europe. Enjoy cascading water, colourful trees, the stunning stone bridge and the impressive Water Garden. Kids will love the Maze.
Check out Mayfield Garden website. 
20. Shop at Victory Theatre Antique Centre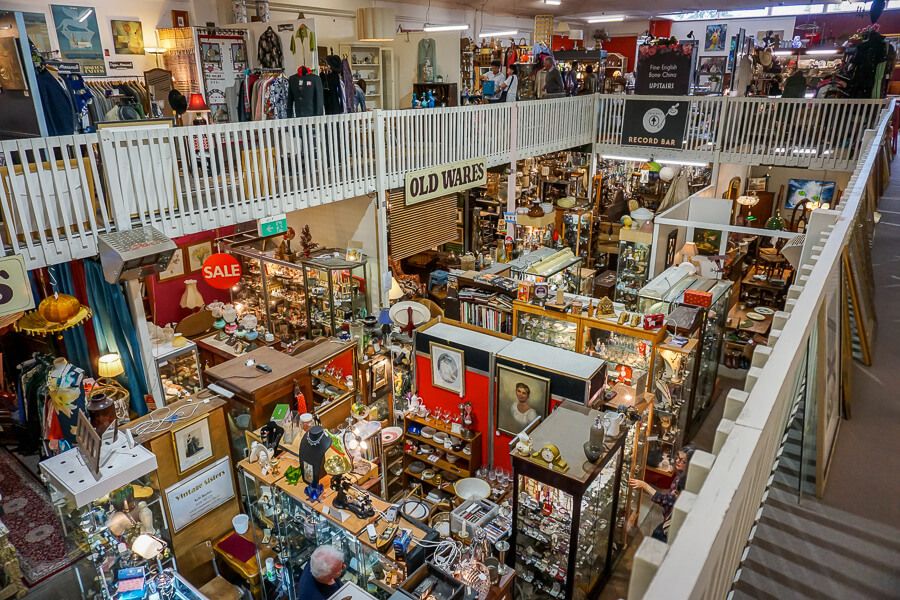 Do not miss this fantastic antique centre in the Blue Mountains if you like collectable objects. You'll find a large variety of gone by items over two floors. You can easily spend hours wandering around and looking at all those treasures.
There's a cafe on-site for a well-needed break after antique hunting.
Click here to find out more about Victory Theatre Antique Centre. 
21. Dine at Crib Room Restaurant 

If you're around Lithgow, do yourself a favour – have dinner at Crib Room Restaurant. I had one of the best meals there.  
Enjoy the friendly atmosphere, extensive menu and generous portions. Best of all, the service is attentive and the food amazing!
Also lovely is the old mining artifacts and photos on the walls.  
Check Crib Room Restaurant website. 
22. Picnic at Wentworth Falls Lake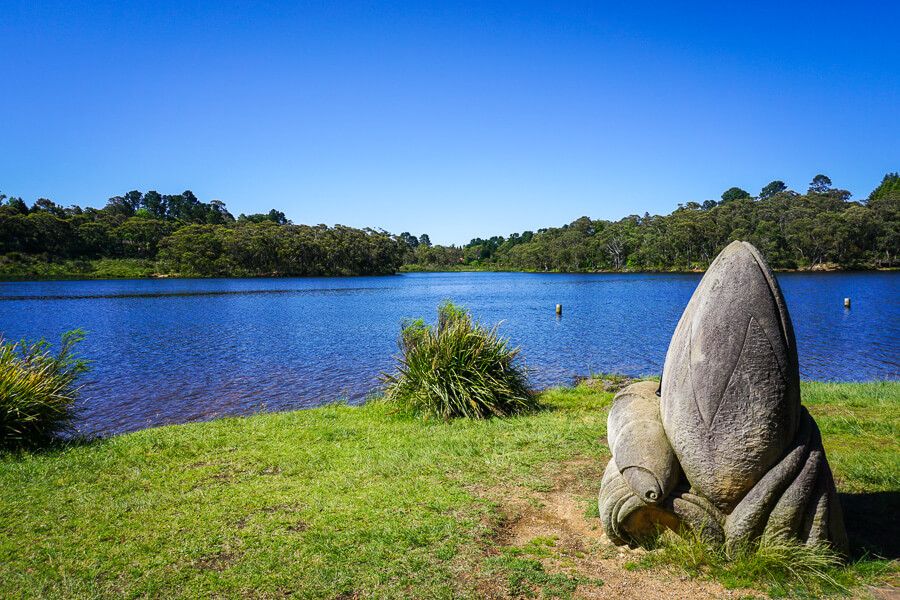 Made by the damming of Jamison Creek to provide water for steam railways, Wentworth Falls Lake is now used for recreation.
It's a great spot to relax and take the kids – there's lots of space to run around.
Ride scooters along the shore, walk around the lake and picnic on the edge of the water. Children will also enjoy the pirate ship playground and all the ducks.
23. Indulge at Dryridge Estate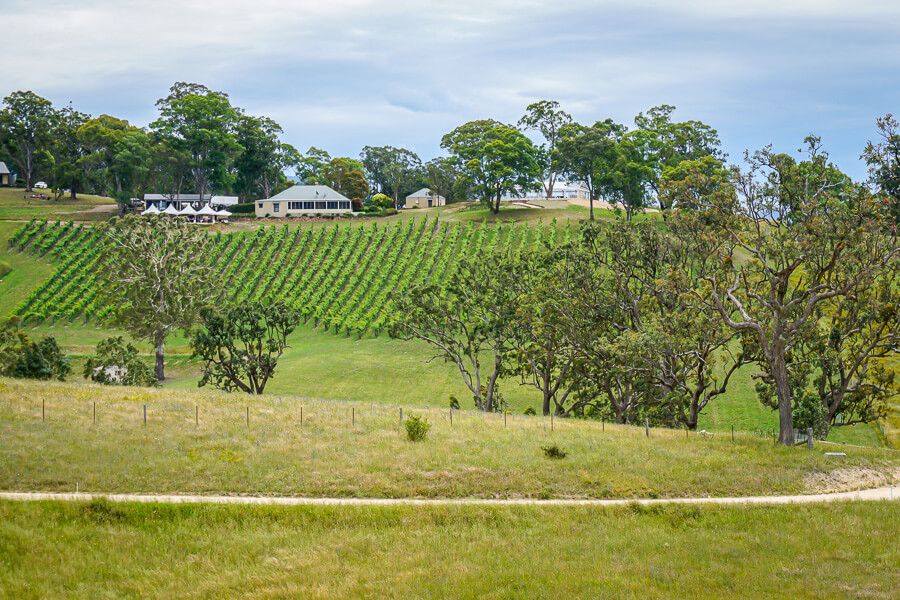 Taste delicious wine and savour cold meat and cheeses or a ploughman's platter at Dryridge Estate. Enjoy fantastic views of the Megalong Valley and escarpments from the Cellar Door.
What's better than wine and cheese in breathtaking surrounds!
This boutique vineyard is open for wine tasting on weekends.
Click here to find out more about Dryridge Estate. 
24. Experience the Street Art Walk in Katoomba

Stroll through Beverly Place, a back alley in Katoomba, and admire over 30 murals full of aerosol art created by some of the best local and international street artists. It's worth the detour if you're in town.
The stunning murals have transformed an ordinary laneway into a giant open-air art gallery.
A quirky addition to Katoomba!
25. Enjoy Mountain Biking
There are terrific mountain biking trails in the Blue Mountains for everyone.
Oaks Fire Trail is exhilarating and suitable for beginners. Burramoko Ridge is also ideal for beginners because there are slight hills – and it leads to Hanging Rock! Other great trails include Narrow Neck and GBMT.
For less exertion, ride an E-Bike with a guided tour.
Click here to find out more about the mountain bike trails. 
26. Visit Lost Bear Gallery 

Lost Bear Gallery in Katoomba displays gorgeous contemporary art by Australian artists.
See fabulous paintings, sculptures, ceramics and glass art. There are also different exhibitions throughout the year.
The gallery opens daily from 10 am. 
Check out the Lost Beach Gallery website here. 
27. Bathe at Jellybean Pool 

The Jellybean Pool is a great place to stop on your way to the Blue Mountains when it's hot.
Enjoy swimming and picnicking on the sandy beaches.
Younger children can splash about in the shallow water near the shore – keep a close watch on them because there are many deep swimming holes.
Click here for directions on Google Map. 
28. Indulge at Blue Mountains Chocolate Company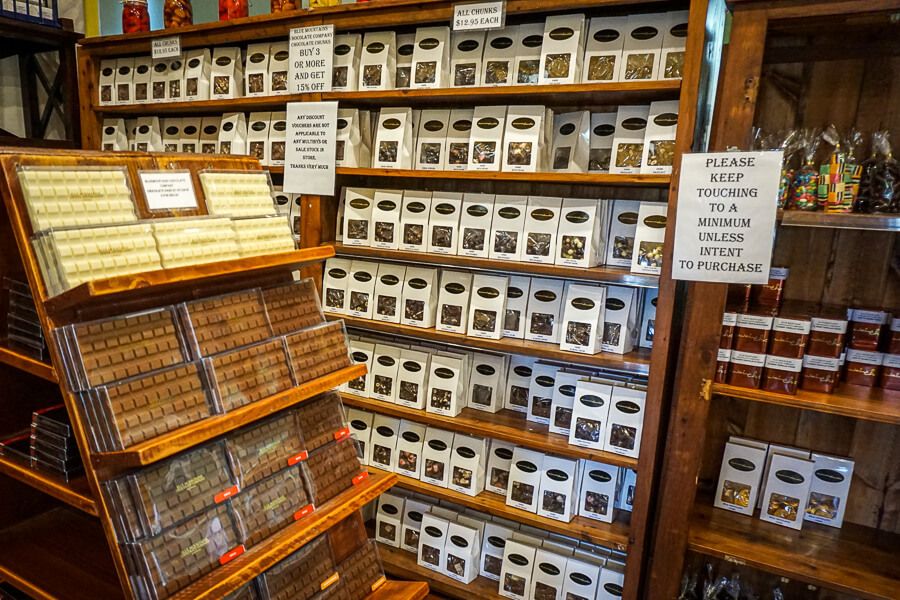 Have a sweet tooth?
Then stop at Blue Mountains Chocolate Company in Katoomba between your sightseeing trips.
Sip on a delicious hot chocolate made with real chocolate melting on candlelight. Indulge in handmade chocolates, caramel cheesecake and chocolate mud cake.
It's a great place to buy chocolate presents to bring back home.
Click here to check the Blue Mountains Chocolate Company website. 
29. Ride Down Woodford Oaks Trail 

The Woodford Oaks trail is exhilarating!
Ride your mountain bike downhill for eighty per cent of the way from Woodford to Glenbrook, from an altitude of 607 to 163 metres.
The single track at the end is the icing on the cake.
The trail runs for 28 kilometres and takes three to five hours to complete.
Click here to find out more about the Woodford Oaks trail. 
30. Explore Blackheath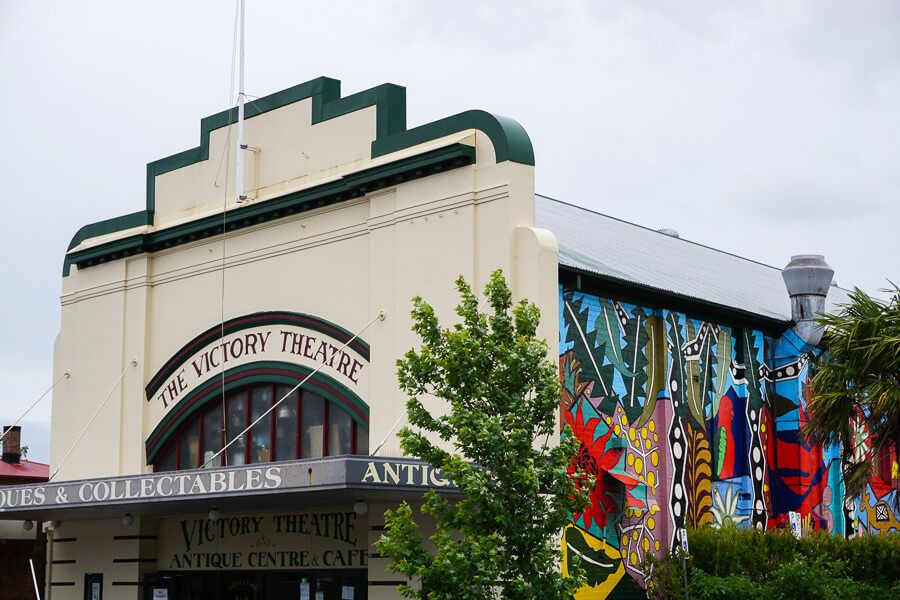 Blackheath is a lovely village to visit. It has many shops and cafes like Katoomba and Leura but without the tourist crowds.
Enjoy Campos coffee at Anonymous Café. Drop in for a fresh sandwich at Blackheath Continental Deli. Have a cup of soup and choc top with a movie at the old fashioned cinema Mount Vic Flicks.
Visit the nearby Govetts Leap lookout and Campbell Rhododendron Gardens.
31. Abseil at High and Wild Abseiling and Canyoning Adventures 

Abseil down waterfalls, jump into pools of crystal-clear water and swim through waterways.
The Blue Mountains has hundreds of deep and narrow canyons carved by rivers running through the sandstone plateau.
Canyoning and abseiling in the Blue Mountains is a fun adventure!
Click here to find out more about High and Wild Abseiling and Canyoning Adventures. 
32. Check out Blue Mountains Cultural Centre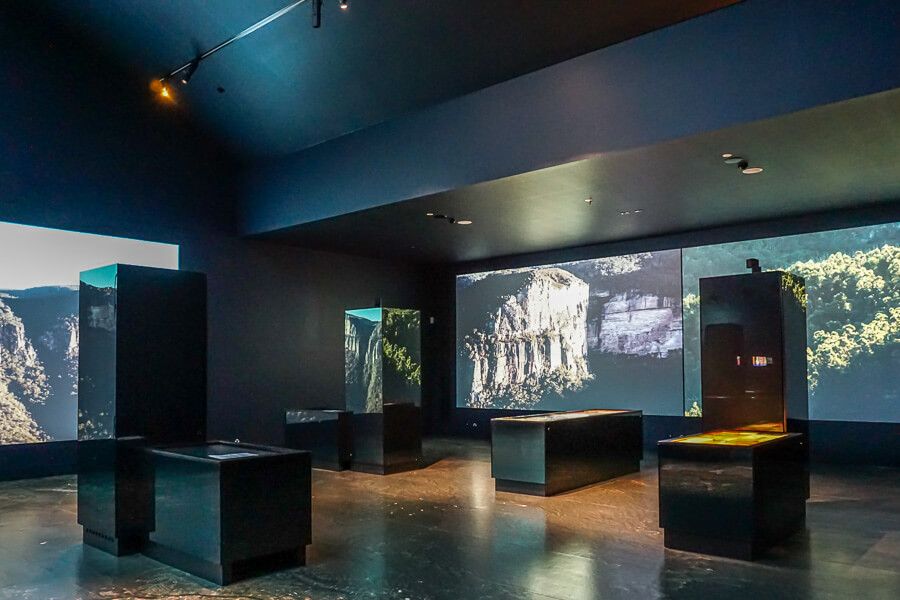 The Blue Mountains Cultural Centre in Katoomba contains a gallery with exhibitions and artworks.
There's also a library and an interactive display. Into the Blue explores the history and natural landscape of the Blue Mountains.
Enjoy the views across the town from the viewing platform, a coffee and local arts and crafts at the gift shop.
Click here to check the Blue Mountains Cultural Centre website. 
33. Stroll to Jenolan Caves Blue Lake

If you're visiting Jenolan Caves, experience the nearby walk leading to the Blue Lake. The colour is striking.
The lake is a platypus habitat, so you can't swim in it, but you can have a dip at the bottom of the small waterfall. If you can handle the icy water.
Click here to find out more about the Blue Lake. 
34. Treat Yourself at Mountain Culture Beer Co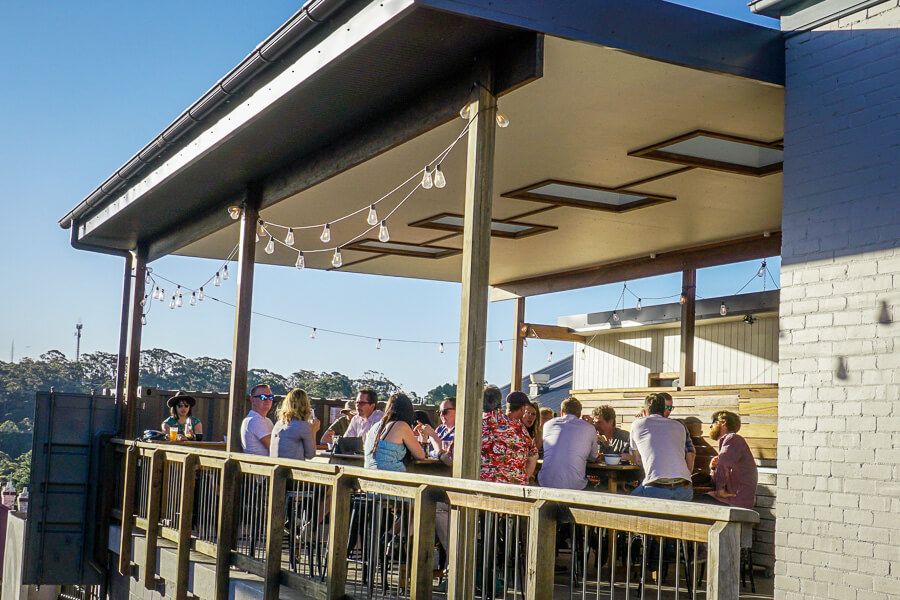 Enjoy a handcrafted beer at this little gem in Katoomba.
This locals' favourite venue offers a great selection of beers and burgers and fries, which combine too well with beer.
The place has a cosy feeling, and the interior is beautifully styled with high ceilings and exposed beams.
Click here to discover Mountain Culture Beer Co. 
35. Hop on the Blue Mountains Explorer Bus
The hop on and off bus is a great way to explore the Blue Mountains' major attractions.
It's fantastic when bush walking – you can get dropped off near a walking track and picked up further away.
Unlike public transport, the Blue Mountains Explorer Bus saves you a lot of time.
36. Visit Featherdale Wildlife Park

Featherdale Wildlife Park is not in the Blue Mountains, but it's a popular place to visit on the way to the region from Sydney.
It's a wonderful hands-on zoo.
You'll see many native and international animals, get up close to some animals like koalas and hand-feed kangaroos.
Suggested Tour – Blue Mountains: Small Group, All-Inclusive Tour
37. Reminisce at Leuralla NSW Toy & Railway Museum
Leuralla NSW Toy & Railway Museum contains the most extensive collection of toys and trains in the southern hemisphere.
So many old collectables! From barbie to Popeye to Tintin, you'll see them all.
Outside is a lovely garden and an impressive train collection.
Revisit your childhood and bring back memories!
Click here to check the Leuralla NSW Toy & Railway Museum. 
38. Pick apples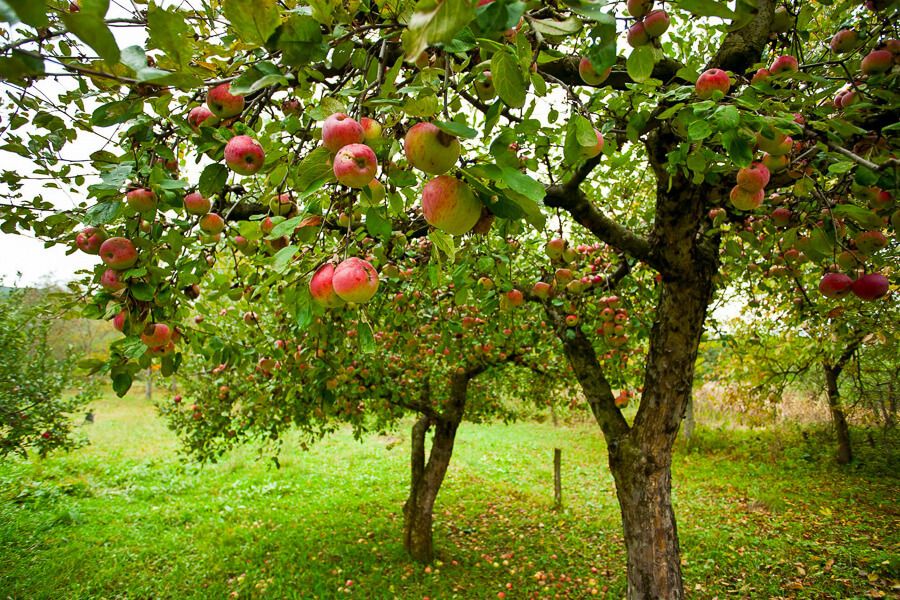 Are you travelling with your children via Bells Line of Road? Then why not stop at an orchard and pick your own fruit!
The town of Bilpin is full of orchards where you can pick your own apples or stone fruit, depending on the time of the year.
There's no entry fee. You just have to pay for what you pick.
Discover fruit picking in the Blue Mountains. 
39. Stock up at Carrington Cellars & Deli 
Stock up on tasty delis, beers and wines for your picnic at Carrington Cellars & Deli in Katoomba.
Browse the enormous range of local and international wines, beers and cheeses. Not to mention excellent local produce like jams, preserves and honey.
Yummy!
Click here to find out more about the Carrington Cellars & Deli. 
40. Drop by Blue Mountains Heritage Centre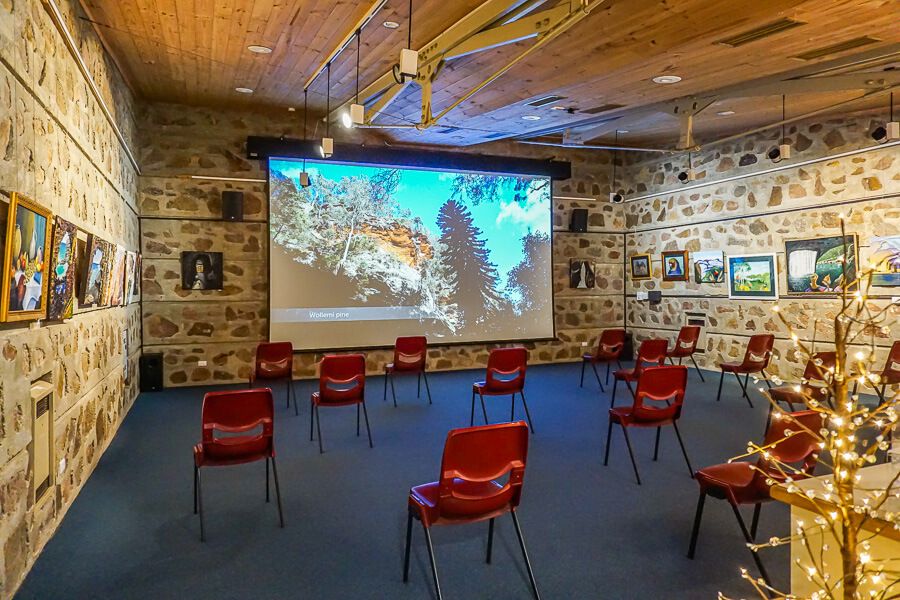 The Blue Mountains Heritage Centre in Blackheath is a great place to visit and receive expert advice about exploring the region.
The staff is super friendly and welcoming – they'll give you tips about walks and activities in the Blue Mountains.
There's also a gallery, a gift shop and an excellent interactive display. Enjoy watching the video presentation.
Click here to discover the Blue Mountains Heritage Centre. 
41. Savour a Delicious Pie at Mountain High Pies

Grab a scrumptious pie at Mountain High Pies in Wentworth Falls.
From vegetarian to vegan to gluten-free to traditional meat pies, the choice is yours.
Try the brekkie pie with homemade baked beans, sausage, chorizo, soft poached egg, bacon and potato topped with hollandaise sauce. Or a satay lentil and chickpea pie.
No wonder this venue has won lots of awards over the years.
Discover Mountain High Pies here. 
42. Visit Valley Heights Locomotive Depot Heritage Museum
If you're passionate about trains or have children who love Thomas the Tank Engine, then spend a day at Valley Heights Rail Museum.
You'll see a great selection of locomotives and model railways. And the oldest roundhouse left in NSW.
The ride in the steam tram is a highlight!
The museum opens on the 2nd and 4th Sundays of each month.
How to Get to the Blue Mountains
By car: Follow the M4 Motorway from Sydney. The M4 Motorway becomes the Great Western Highway which leads straight to the Blue Mountains.
By train: Trains depart from Sydney Central Station about every hour and go directly to Wentworth Falls, Leura, Katoomba then Blackheath.
Check out the timetable on the Trip Planner here.
If you don't have a car, I recommend you stay in Leura or Katoomba and get around the Blue Mountains on the hop on hop off Blue Mountains Explorer Bus.