Best Things to Do in Yarramalong Valley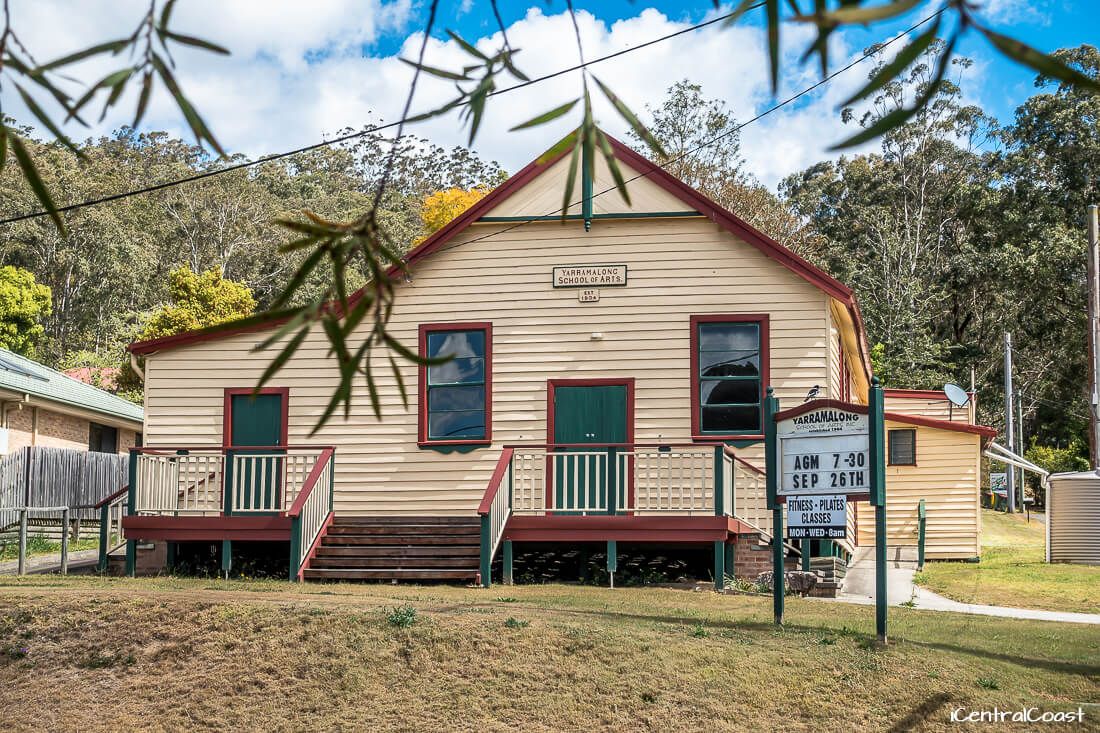 This post may contain affiliate links. Please read our disclosure for more information. 

Yarramalong Valley is in the Central Coast's hinterland.
The hinterland is very beautiful and relaxing. It's in stark contrast with the densely populated coast.
It's a short drive to Terrigal and other beautiful beaches, such as Soldiers Beach, Toowoon Bay and Shelly Beach. But you wouldn't know it when you're in the hinterland…
Yarramalong Valley is a quiet countryside where the houses are far in between and where you drive past horse studs, farms and lands filled with wallabies.
You also drive past produces on the side of the roads like fruits and free-range eggs and beautiful historic buildings…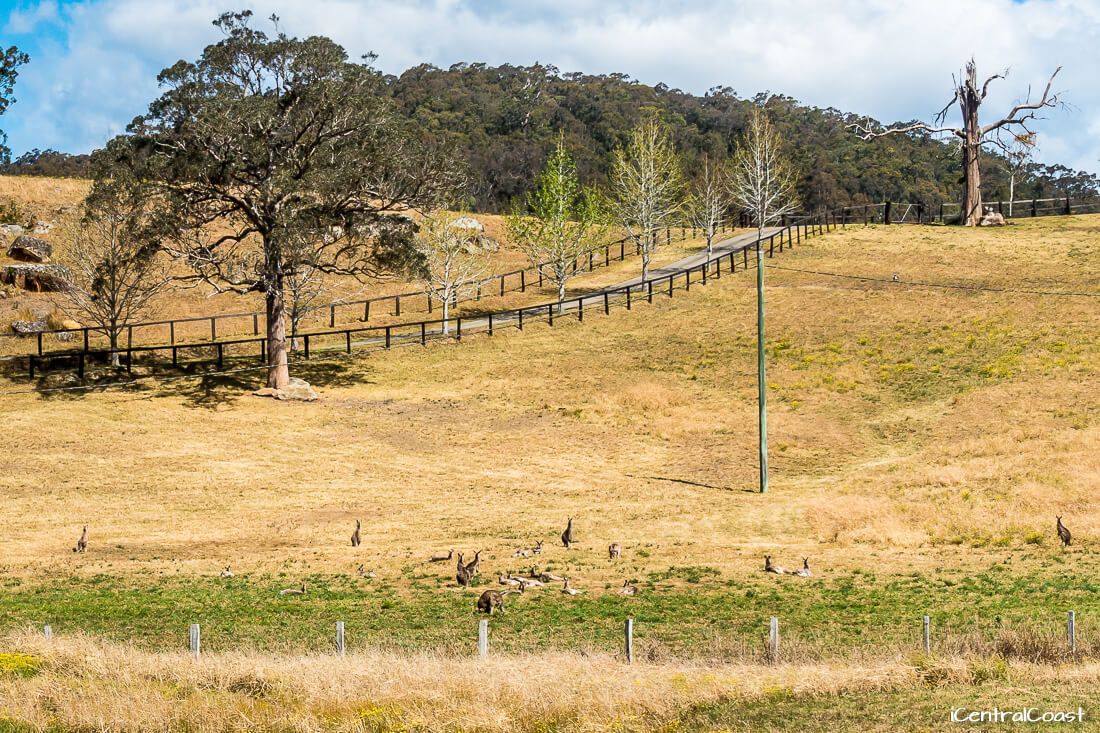 Have a look at St Barnabas Church – it was built in 1885.
Yarramalong Valley is an easy place to get to from Sydney – it's just off the M1 and it takes only one hour from Hornsby.
Here you may feel like you're out of nowhere, but there are several fun adventures you can enjoy nearby…

On this page you'll discover things to do and top places to stay.

Attractions
Treetops
Treetops is a popular attraction on the Central Coast. There are two adventure components: Treetops Adventure Park and Treetops Crazy Rider.
Treetops Adventure Park is a thrilling and challenging obstacle course...
You walk on wobbly logs and wires high above ground in the treetops. The level of challenge varies and becomes harder and harder as you move along. There's a course for kids as well.
Treetops Crazy Rider is the longest rollercoaster zipline in the world. You fly, turn 360 degrees, twist and zigzag through the trees like on a roller coaster.
Treetops is definitely one of the best attractions on the Central Coast – it has won many awards over the years.
Located at 1 Red Hill Rd, Wyong Creek.
Amazement Farm & Fun Park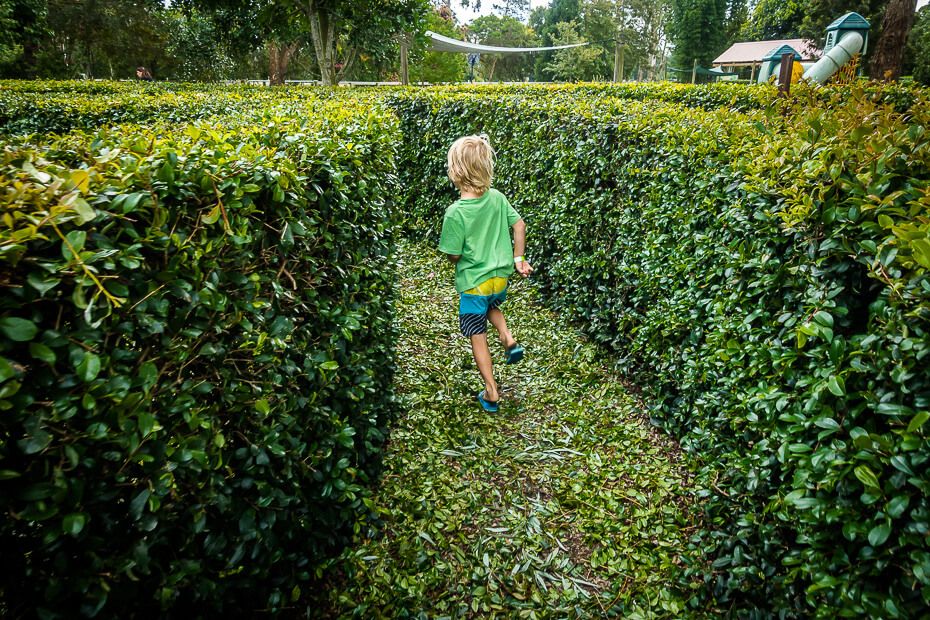 Amazement Farm & Fun Park is the best attraction in the area for small children.
Kids can walk through a maze, feed goats, hold a bunny, pat horses and ride a pony. They'll also see alpacas, emus and exotic birds.
My son's highlight was to hold a bunny for a long time. He grew attached to the cute bunny.
Located at 170 Yarramalong Rd, Wyong Creek.
Ourimbah State Forest Trails
Every mountain bike enthusiast in the region knows about Ourimbah State Forest.
Mountain bike riders come all the way from Sydney just to ride those trails. The trail network is really good. Some of the tracks are fun, others challenging.
Park on Red Hill Road, Wyong Creek, and take the trails from there.
Wyong Milk Factory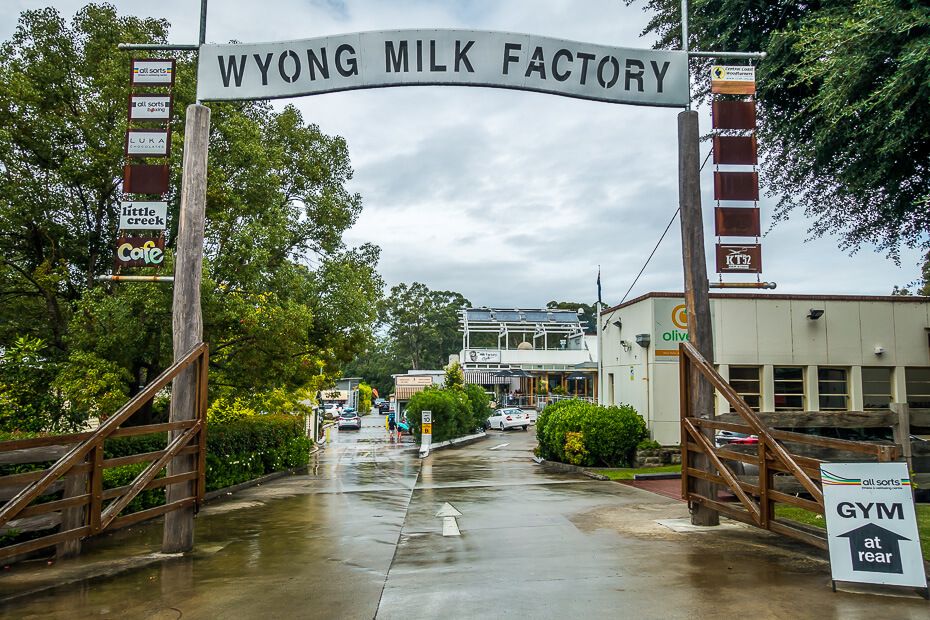 Wyong Milk Factory makes for a relaxing couple of hours.
No adrenaline here, no thrill. Just food enjoyment in a country atmosphere.
It's a great spot for kids as well.
Wyong Milk Factory is a complex with a playground, cafe, pub and cheese and chocolate factories.
Have a meal and coffee at Milk Factory Café. The playground is just across the driveway. If the kids are old enough they can play on their own while you eat at the cafe.
Or eat at the pub. Sit in the beer garden at the back, listen to live music while the kids play in the kid's room.
Our highlights at Wyong Milk Factory are the cheese and chocolate factories where you can do some tasting.
Little Creek Cheese make award-winning cheeses, and Luka Chocolates make the best handcrafted chocolate with premium Belgian couverture.
Located at 141 Alison Rd, Wyong.
Yarramalong Spring Festival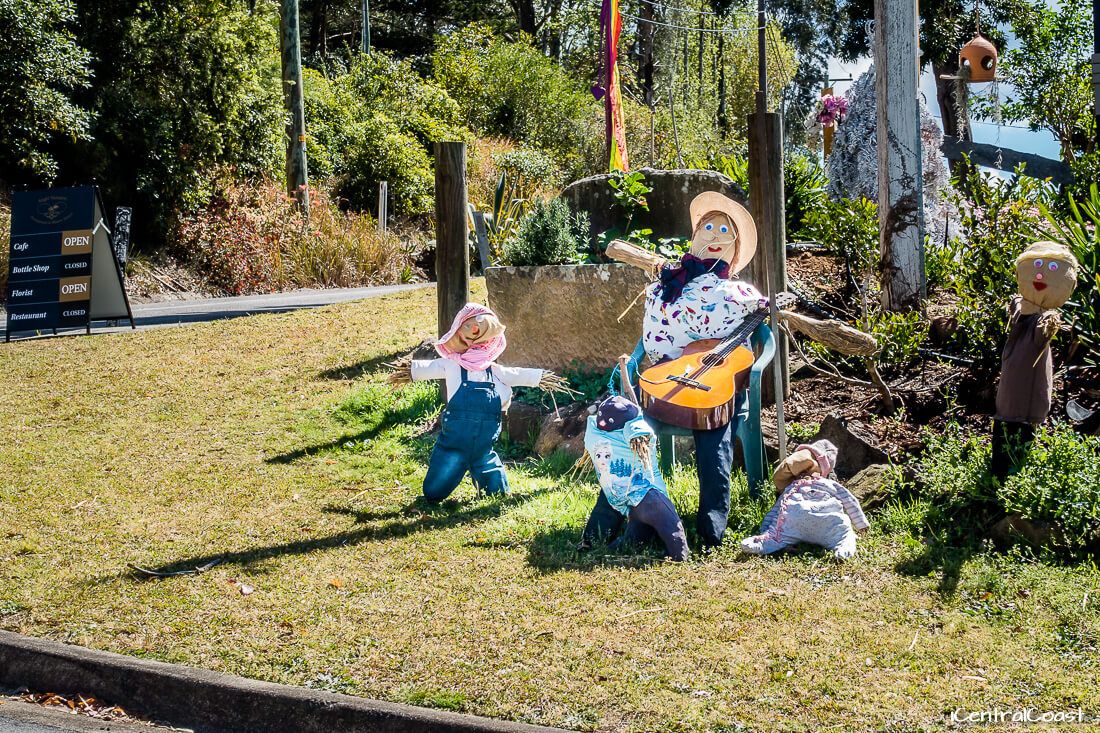 Yarramalong Spring Festival occurs from late August to early September.
Several activities are held:
 Scarecrow competition
Valley Art Show
Service of thanksgiving for pets and animals
Fire brigade trivia night
Orchid Show
Yarramalong Art Show
Cake and Biscuit Baking Competition
The Yarramalong Valley Spring Show happens at the end of the festival. Fun activities are held throughout the day such as:
Competitions: Wood Chopping, Best Children's Pet, Wife Carrying Obstacle Race, Husband Obedience Trial, Sack Racing & Billy Boiling.
Entertainment for kids, live music, market stalls and the scarecrow competition winner announcement.
If you happen to be here during the festival, you'll see amusing scarecrows on the side of the roads. Drive around – the kids will enjoy spotting the scarecrows.

Yarramalong Valley Accommodation
Noonaweena is a beautiful accommodation in the bush in Kulnura. There's an outdoor swimming pool and tennis court. The views of the sunsets and of Yengo National Park from the balcony are stunning. You can hike and cycle on the trails nearby. It's a perfect place for couples and groups who want seclusion. Check photos & reviews. 
Waterfall Springs Retreat and Wildlife Sanctuary sits in the bush in Kulnura. There are luxury comforts such as spas and bathtubs, but you also get close to wildlife such as Brush-Tailed and Yellow-Footed Rock Wallabies. You can hike on the trails nearby. Check photos & reviews.
Yarramalong Valley Farm Stay is ideal for families. It's close to the Freeway, Treetops and Amazement Farm and Fun Park. Children get close to the animals: They collect eggs and feed ponies, alpacas and sheep. There are also cows. Find out more. 

Getting There
1 hr 30 min north of Sydney and 1 hr 15 min south of Newcastle via the M1 Motorway. Take the Wyong Exit and follow the signs or the directions on Google Map.