Blue Bay NSW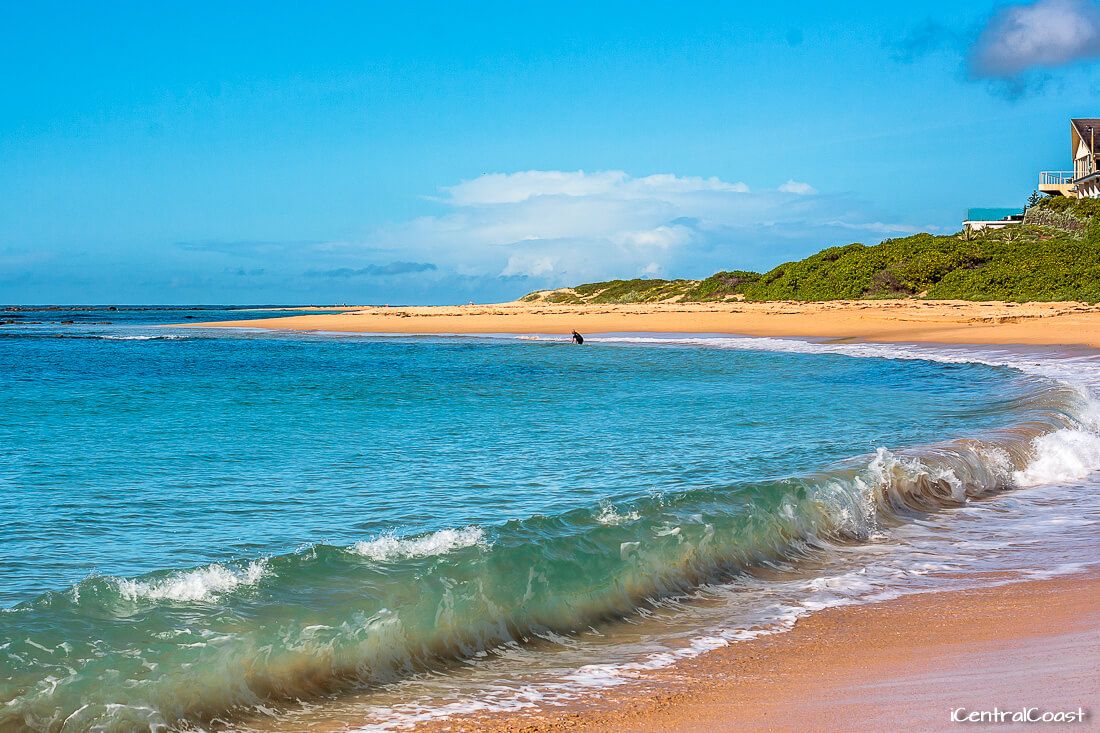 Blue Bay is a small town. It has a small beach. There is not much to do. That's why I love it.
The town sits between The Entrance and Toowoon Bay on the Central Coast Australia.
Many locals and most tourists don't even know this town exists. It's not listed on TripAdvisor. No hotels occupy the town. No attractions. No patrolled beach.
This post contains affiliate links. For more information, see my disclosures here. 

Then why do I love Blue Bay?
The beach is peaceful and the ocean calm. The water seems bluer than other beaches around. And the water is one of the cleanest in the region.
You'll find only a few streets with suburban houses and holiday rentals. The town is an ideal place to relax and lie on the beach.
You can also walk from the beach to Toowoon Bay (next beach south). The beach in Toowoon Bay is just as delightful. It's a better spot if you have children because lifeguards patrol the beach.
Also, a takeaway shop backs the water and a playground (Swadling Reserve) sits at the top of the stairs.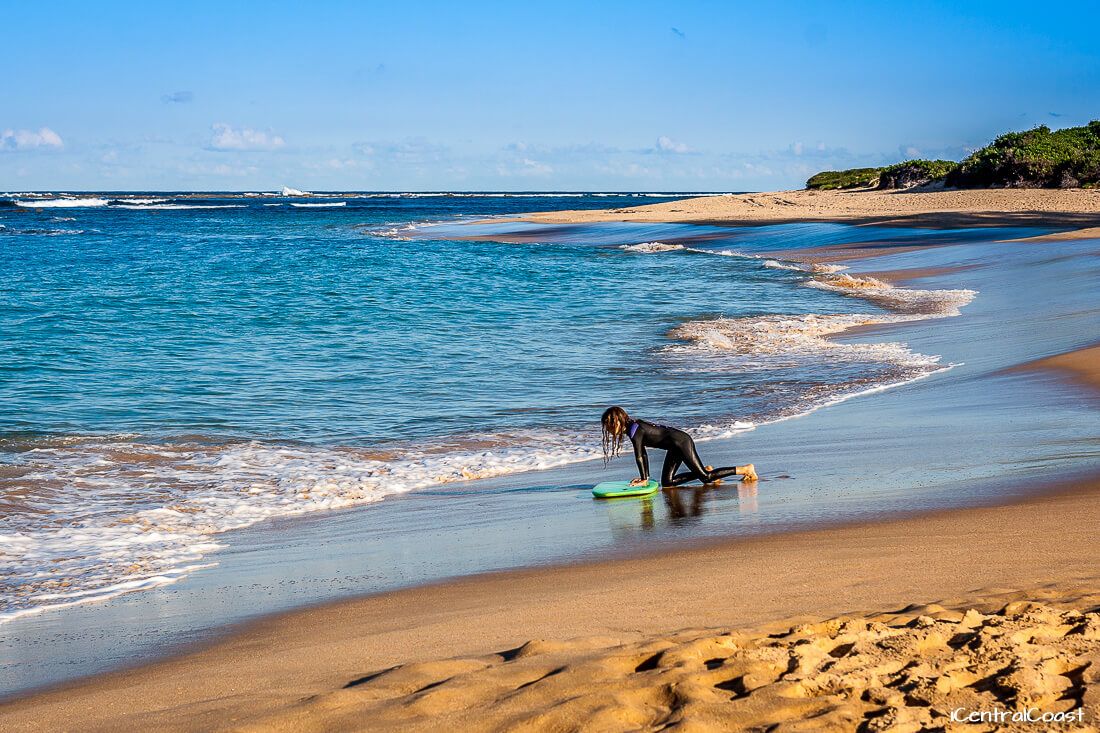 You can also do something more active at The Entrance.  
The Entrance is also a short walk from the town. It's one of the most touristic, commercial town on the Central Coast.
Do you feel like walking a long distance? The Coast to Lake walk loops around the beaches, Long Jetty, Tuggerah Lake, and The Entrance. The walk is well signed. 
The walk offers varied sceneries: beaches, town, lake, and channel. This walk should take between 1.5 and 3 hours depending on your pace.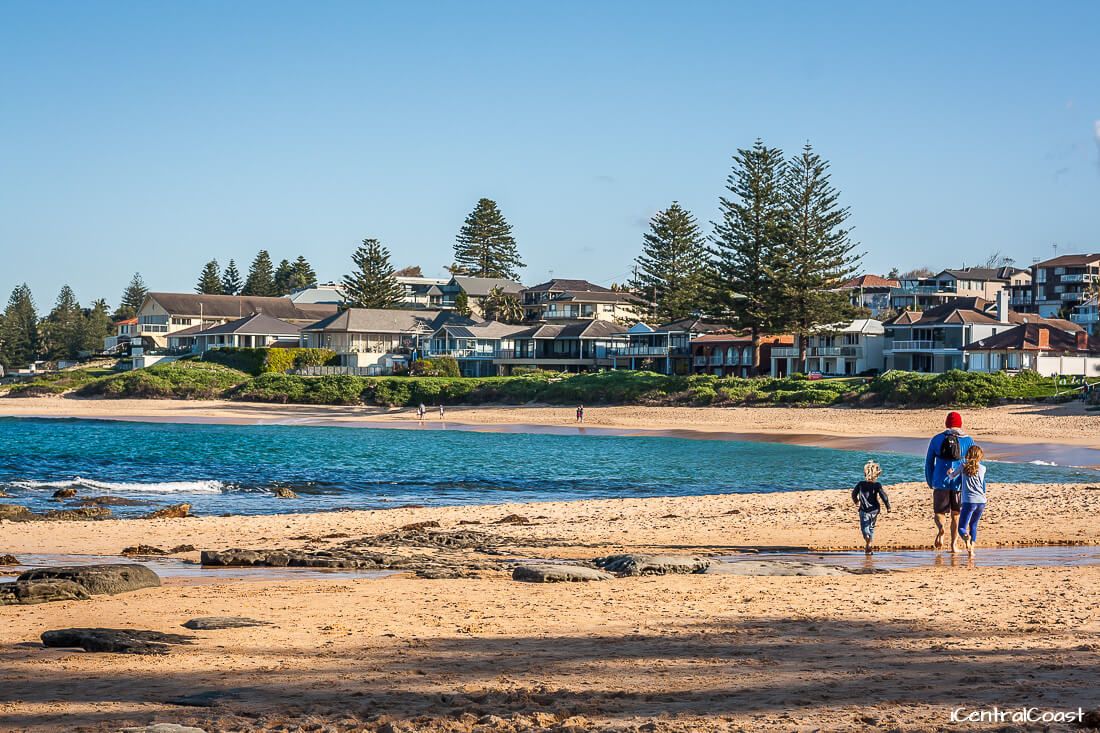 Break the day in a cafe or restaurant in Toowoon Bay. 

Best Cafes and Restaurants 
 Good cafes and restaurants in Toowoon Bay are at walking distance from the beach.
The elegant Two Birds Gallery Cafe (corner Pacific St & Bay Rd) is my favourite place for breakfast and coffee. It has a beautiful display of art items: pictures on the walls, jewellery, soaps, cushions, cute birdcages...
There's also Flour & Co, a family run bakery and coffee house (88 Toowoon Bay Rd).
Try Ocean Restaurant (102 Ocean Parade) for fresh seafood and fine ocean views.
Kims Beachside Restaurant, at Kim's Beachside Lodges on the coast in Toowoon Bay, is a stroll from the beach.
Accommodation in Blue Bay
holiday rentals are a great choice if you want to be located a short distance to this beach. Search for a holiday rental on Airbnb. This link will send you directly to the search page for Blue Bay.
Where is Blue Bay
Located 1 hr 30 min north of Sydney or 1 hr 20 min south of Newcastle via the M1 Freeway. Check directions on Google Maps.