Things to Do in Bouddi National Park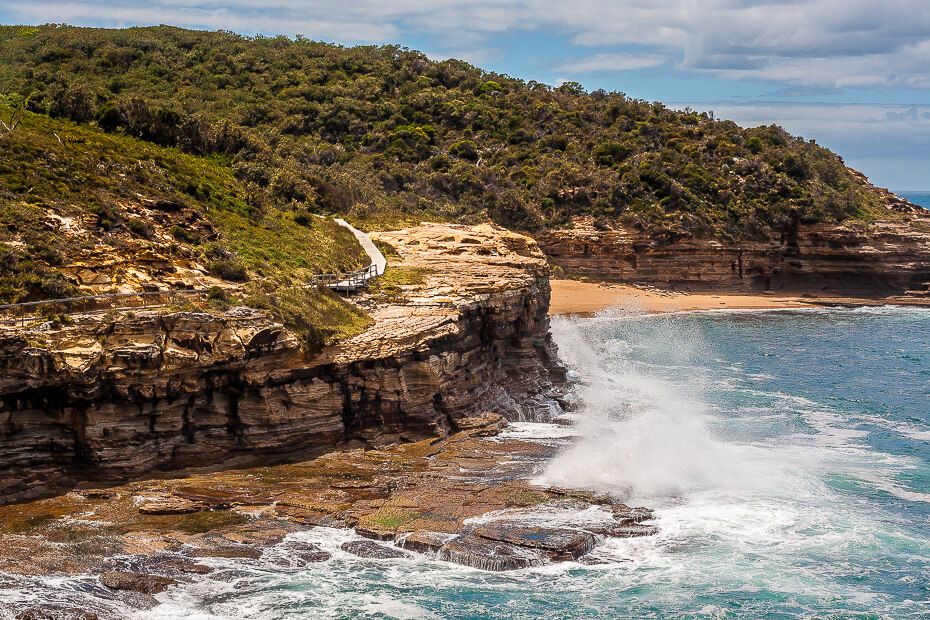 Bouddi National Park is the most popular national park on the NSW Central Coast.
It contains the most popular walk as well... the Coastal Walk is an epic walking track between Putty and Macmasters Beaches. 
Bouddi National Park is a headland with high sandstone plateaus and dry sclerophyll forest surrounded by the ocean, Broken Bay and Brisbane Water.
In fact, the national park comprises 16 km of coastline and seven beaches – six are accessible through a bush track only.
The coastal views are stunning.
The national park is so close to Sydney you can see the city in the distance. But in Bouddi you are in complete wilderness.
So if you feel like a break from civilisation…

Contents
Bouddi National Park is located on the northern side of the mouth of the Hawkesbury River, about 40 km in straight line north from the centre of Sydney.
But the wilderness of Bouddi is as remote as you can get from to the hustle and bustle of the city. The national park remains a patch of untouched wilderness amid the busy suburbia and traffic.
Bouddi is bounded by popular coastal villages with holidaymakers from Sydney: Killcare, Hardys Bay, Macmasters Beach, Wagstaffe, Pretty Beach.
It has become a national park thanks to the efforts of Marie Byles.
In 1922 she visited the park (read: made her way through dense bush with rudimentary equipment). Then together with the Federation of Bushwalking Clubs convinced the government to reserve the land for public recreation.
To our benefit today.
Bushwalks in Bouddi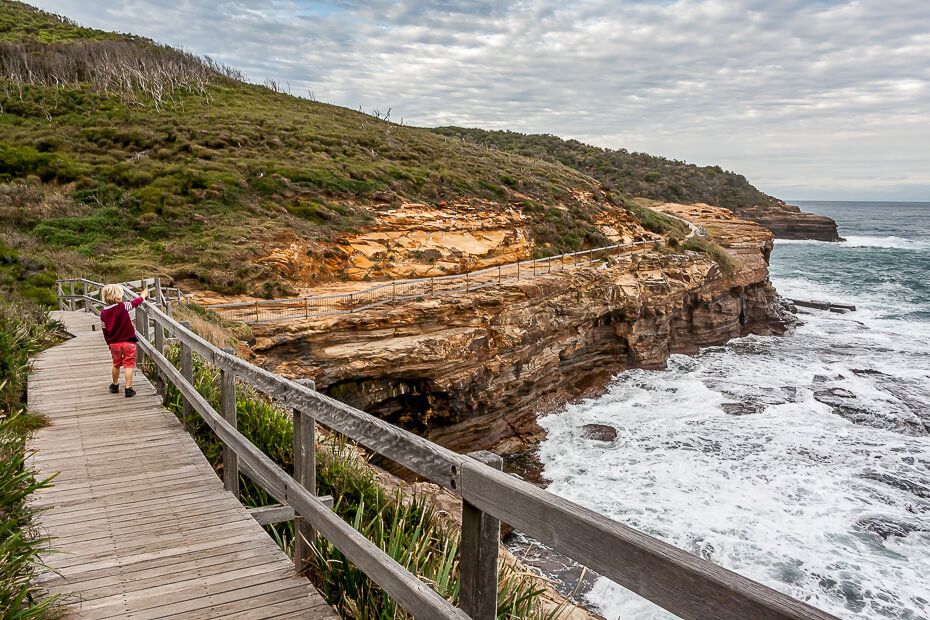 There are plenty of day walks in the area. Many walks start from the high sandstone plateaus and head down to secluded beaches. Others bring you to lookouts with amazing coastal views.
I have written a page about my favourite 10 walks.
You can do each of these walks individually or link up two or more trails together to walk longer. Each walk will reward you with great views or a secluded beach at the end. They all start next to a carpark. 
The most popular walk is the 8 km Coastal Walk. It follows the coast between Putty and Macmasters Beaches and passes through lookouts and secluded beaches including Maitland Bay.
The coastal views are just amazing. 
Another very popular walk is the Maitland Bay track. It's much shorter than the Coastal Walk – one hour return through a steep bush track. The Maitland Bay track takes you to a beautiful secluded beach.
You can walk to other hidden beaches in Bouddi National Park: Lobster Beach, Tallow Beach and Little Beach. 
Camping Sites
Want to camp in Bouddi National Park?
There are three campgrounds: Little Beach Campground, Putty Beach Campground and Tallow Beach Campground. 
These camping sites are very popular during peak periods. In summer, weekends can be fully booked weeks ahead. So book as early as you can through the office of the National Parks and Wildlife Service online here or call 13000 PARKS (13000 72757).

Putty Beach Campground is the only camping site with car access, drinkable water, flush toilets and an outdoor cold water. The campsite is fully wheelchair accessible. 
Putty Beach is only metres away and The Coastal Walk begins at the end of the beach.
Tallow Beach Campground is tucked away in Box Head. Tallow Beach is popular for fishing and surfing. Tallow is perfect for surfers and campers who want the waves and beach all to themselves.
The 1.2 km walk leading to the beach is short but steep – you'll have to carry your equipment back up the hill. You can push your camping gear in a wheelbarrow.
Access to Little Beach Campground is along an easy 750 m management trail. The trail starts at the carpark at the end of Grahame Dr in Macmasters Beach. You have to carry your equipment and water.
Non-flushable toilets and barbecue facilities are located at the campsite. The site is popular for fishing, picnicking and bushwalking. 
Marie Byles Lookout
Of course the national park being on an elevated headland surrounded by water means you get fabulous lookouts. You'll come across lookouts in nearly all the bushwalks.
Marie Byles Lookout is a stunning lookout accessible by car and it's wheelchair-friendly. 
The views are breathtaking – you can see Sydney and Bondi at a distance. We always bring family and friends to this lookout during their first visit in the region.
Marie Byles Lookout is located on the Scenic Rd in Killcare Heights between Maitland Bay Dr and Wards Hill Rd.
Visitor Information
Access and Fees – Access to the park is free. The only thing you have to pay in Bouddi National Park is parking on Putty Beach Rd in Killcare Heights ($8). But you can park for free further up the beach.
The roads in Bouddi National Park are paved, except Hawke Head Dr on Box Head. It's a dirt road partly in bad condition. Just drive slowly with a two-wheel drive.
Information Centre – For more information about the walks and any other aspects of the park that interest you, the Visitor Information Centre is located on the Scenic Rd corner Maitland Bay Dr in Killcare Heights.
Opened on weekends and public holidays between 11-3. Download the official brochure here.
Map - Bouddi National Park
You May Also Like...