10 Top Central Coast Walks You Must Do
Below you'll find the best walks and bushwalks worth experiencing on the Central Coast, New South Wales, Australia.
Our region contains superb national parks with plenty of spectacular coastal views for you to enjoy during your holiday.

So if you love the outdoors as much as I do, then you really need to check our favourite walks, which I listed from the shortest to the longest.
| | | |
| --- | --- | --- |
| 1. | | 500 m return |
| 2. | | 1.5 km return |
| 3. | | 1.8 km return |
| 4. | | 4.6 km return |
| 5.  | | 4.7 km loop |
| 6.  | | 6 km return |
| 7.  | | 6 km return |
| 8.  | | 7.5 km loop |
| 9.  | | 8 km one-way |
| 10. | | 10 km one-way |
Disclaimer: I may receive a small commission from some of the links on this page. 

---
1. Somersby Falls Walking Track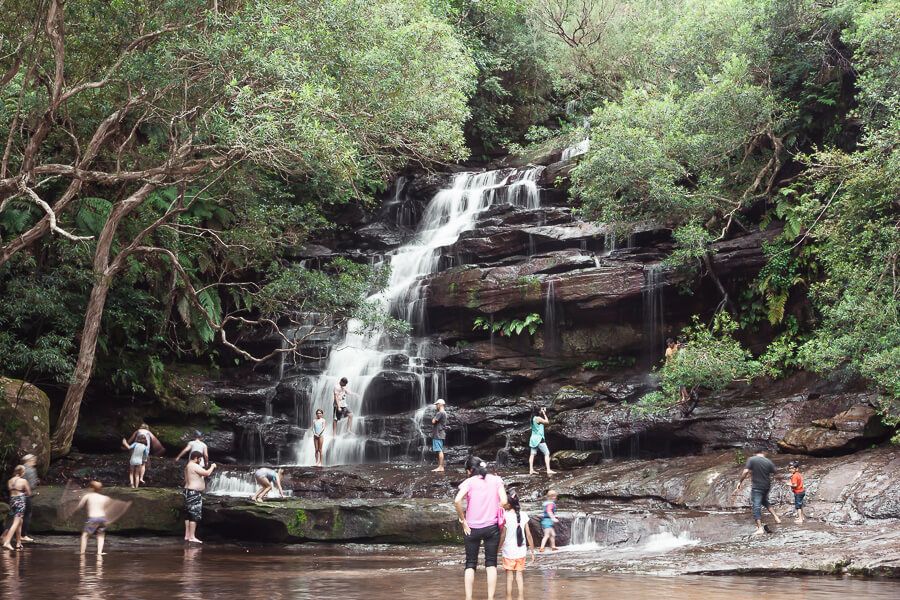 This short walk through a dense rainforest leads to two beautiful waterfalls lower down a bush track.
It's a popular walk to do with kids because it's short and seeing waterfalls is great reward.
The prettiest waterfall sits mid-way along the route. The walk leading to it is steep, but the stairs make it easy.
Kids enjoy playing around the puddle, and adults sometimes like to stand under the falling water.
The bottom waterfall is smaller. Wet rocks cover the pathway, making this part of the walk slippery. So make sure you wear non-slippery walking shoes.

It's a great spot to visit when it's hot because the dense forest keeps you cool.
There's a picnic ground with barbecues and tables beside the carpark at the start of the walk.
Dogs are not allowed because it's in a national park. 
To get to the Somersby Falls walking track, follow Somersby Falls Road in Somersby to the end. Parking is $8 for the day.
If you want to park for free, do so along the road a few metres before entering the formal car park. 
Read our full post on Somersby Falls.
---
2. Little Beach Trail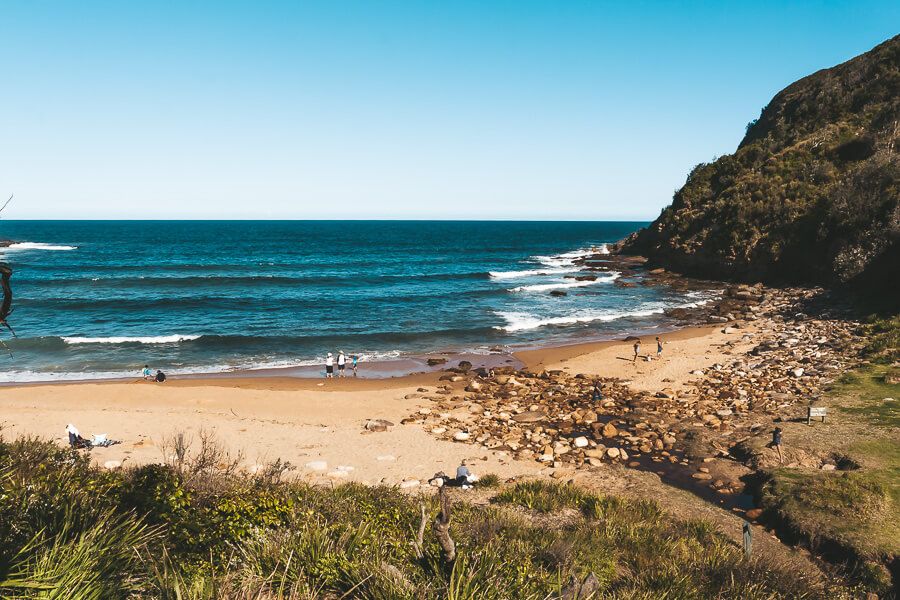 This short, relaxing bush walk leads to Little Beach, a secluded cove in Bouddi National Park.
Enjoy a calming stroll through a beautiful remnant rainforest.
There are no hills so it's easy. You can even push a pram. It's a perfect family walk because most small children can handle the short trek on their own.

Take a picnic and chill while the kids explore the little stream, beach and rocks.
There's also a camping ground, non-flush toilets, picnic tables and a barbecue.
To get to the Little Beach trail, head to Grahame Drive in Macmasters Beach and park along the road near the last house.
Read our full post on the Little Beach trail.
---
3. Maitland Bay Track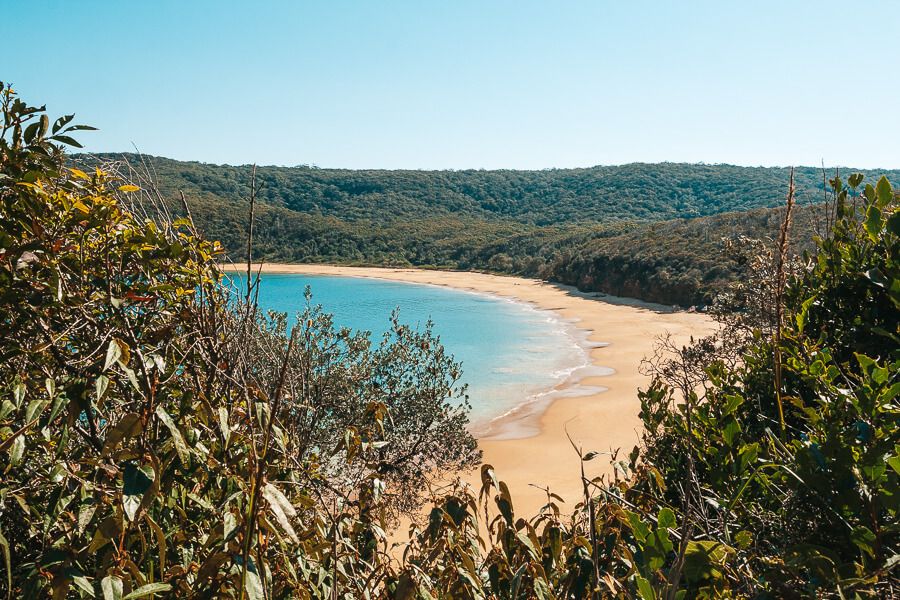 The Maitland Bay track in Bouddi National Park is a short but steep bushwalk.
It winds down through gullies and lush vegetation and leads to Maitland Bay, a gorgeous secluded beach.
The path is well maintained – it's paved and there are stairs.
The walk is located between Killcare and Macmasters Beach and is easily accessible by car.

The trail links to other great bushwalking tracks if you'd like to walk a little longer:

The 1-kilometre Bullimah Spur walking path branches off near the top of the hill.
It takes you to stunning views of Killcare Beach. And the fabulous 8-kilometre Coastal Walk takes you to even more incredible views.
Set aside a couple of hours to dip your toes at Maitland Bay beach and have a picnic.
If the tide is low, wander to the beach's eastern end and look for the remains of the SS Maitland ship, which sank off the coast in 1898.
To get to the Maitland Bay track, follow The Scenic Road in Killcare Heights and park next to the Information Centre, which is opposite corner Maitland Bay Drive.
Read our full post on the Maitland Bay Track.
---
4. Kariong Brook Falls Walk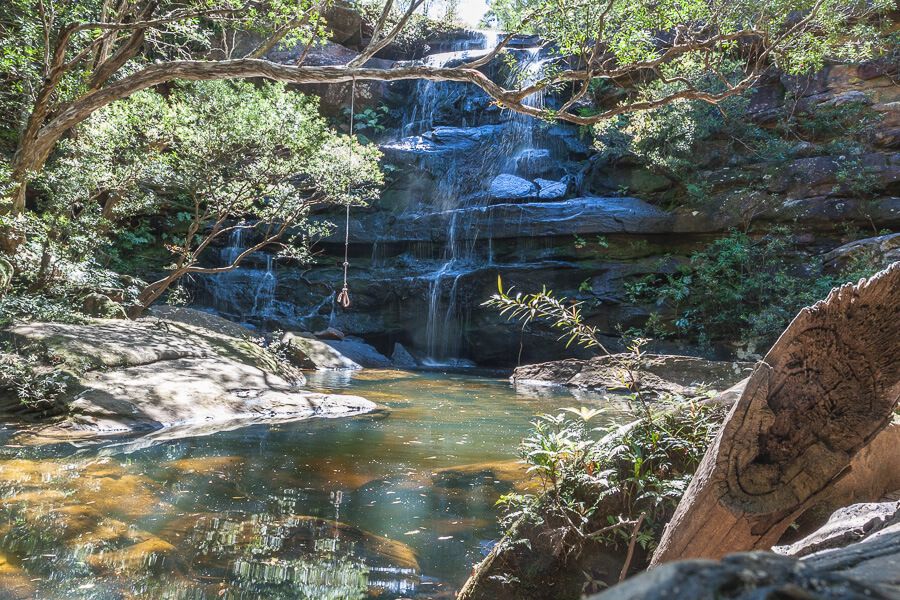 Kariong Brook Falls is a lovely waterfall in Brisbane Water National Park.
The waterfall is impressive after rain.
Surrounded by rock ledges and lush vegetation, it feels like a sanctuary away from everything. The beautiful swimming hole at the bottom of the fall makes it even more inviting.
To get to Kariong Brook Falls, walk along Tommos Loop fire trail for about 2 kilometres, then turn right into the track at the junction indicated 'Girrakool'.
Tommos Loop trail is wide with a few gentle slopes.
The second section of the walk is along a narrow track. It's tougher but much prettier. You'll wind down 300 metres over the sandy path and rocks.
Enjoy the serenity – all you can hear is the sound of the wind and the birds chirping.

Kariong Brook Falls is a great spot to picnic and chill out.
You can also walk to Kariong Brook Falls from Wondabyne Station (3.8 kilometres) or Girrakool Picnic Area (9 kilometres).
Another option is to continue walking to Wondabyne Station from Kariong Brook Falls instead of retracing your steps. You'll need two cars for that.
There are no facilities nearby so bring food and water.
To get to Kariong Brook Falls, follow Woy Woy Road in Brisbane Water National Park and park in the small carpark on the western side.
It's about 5 kilometres south of Kariong and 7 kilometres north of Woy Woy.
Read our full post on Kariong Brook Falls.
---
5. Piles Creek Loop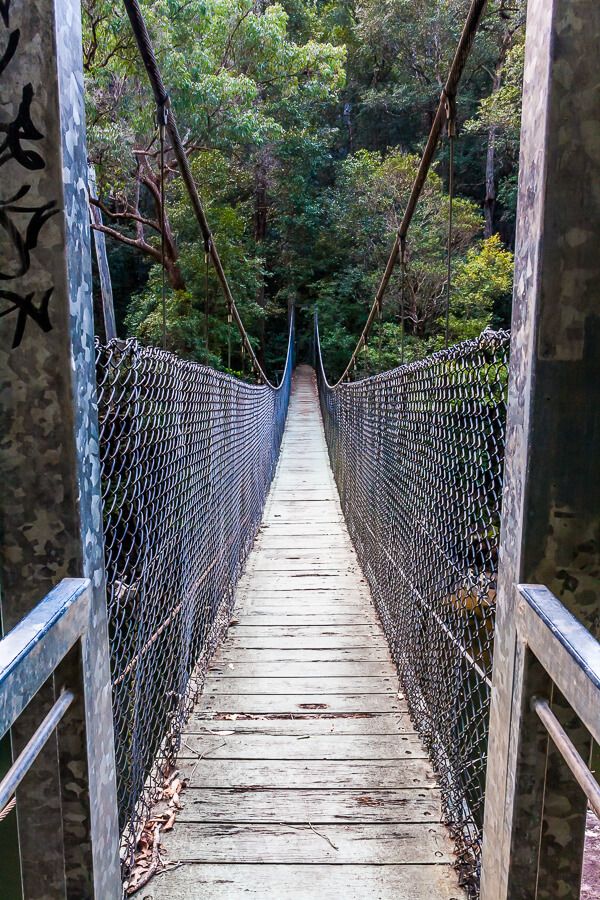 Piles Creek loop is an enchanting bushwalk in Brisbane Water National Park.
Hike underneath sandstone caves, over an old suspension bridge, past waterfalls, and if you go in spring, past tons of pretty wildflowers.
The track follows Piles Creek through dry eucalypt forest and rainforest gullies.
It takes you to the bottom of the gorge and across the creek over the suspension bridge, where you'll hear the relaxing sound of the running stream.

Piles Creek loop starts at Girrakool Picnic Area, perfect place for a picnic. 
To get to the Piles Creek loop, drive to the end of Girrakool Road in Somersby.
The carpark opens daily from 7 am to 8 pm during daylight savings and 7 am to 6 pm the rest of the year. 
It cost $8 to park for the day (national park fees). 
Read our full post on the Piles Creek Loop.
---
6. Pearl Beach to Patonga Walk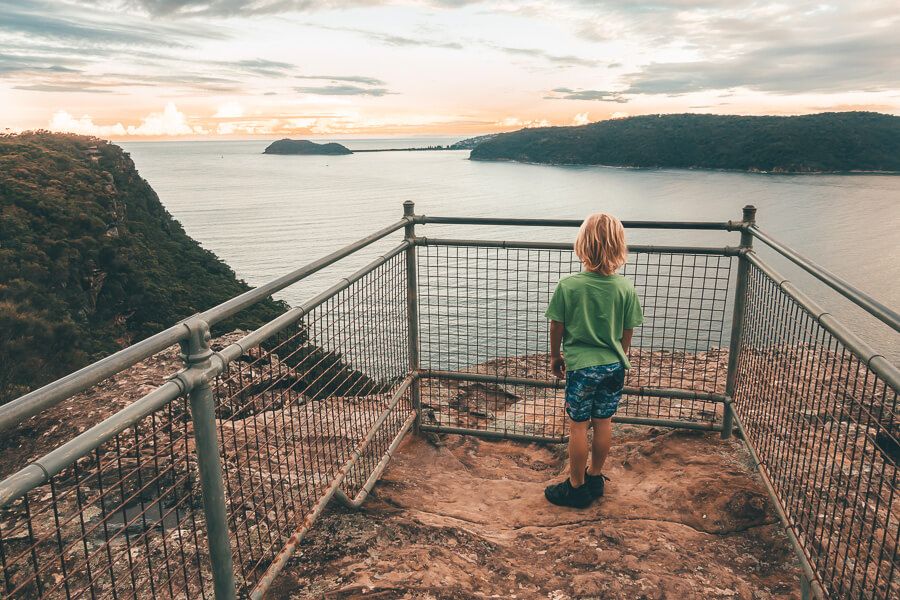 If you can only do one hike, this one should be at the top of your list.
The Pearl Beach to Patonga walk is a top contender for one of the best Central Coast bushwalks.
It's a pleasant hike up and down a headland between Pearl Beach and Patonga. You can pick up the walk from either town.
You get rewarded with incredible views over the Hawkesbury River and Northern Beaches at Warrah Lookout on the top of the headland. 

Pack your swimmers and take a dip at both ends of the walk.
Enjoy lunch at Pearl Beach Café or a beer and fish and chips at the Boathouse Hotel in Patonga. 
If starting from Pearl Beach, park at the Cromellin Arboretum carpark on Crystal Avenue. GPS coordinates: -33.549482, 151.300949. 
If starting from Patonga Beach, park at the Patonga boat ramp off Patonga Drive. GPS coordinates: -33.550669, 151.277257. 
Read our full post on the Pearl Beach to Patonga Walk.
---
7. The Coast Walking Track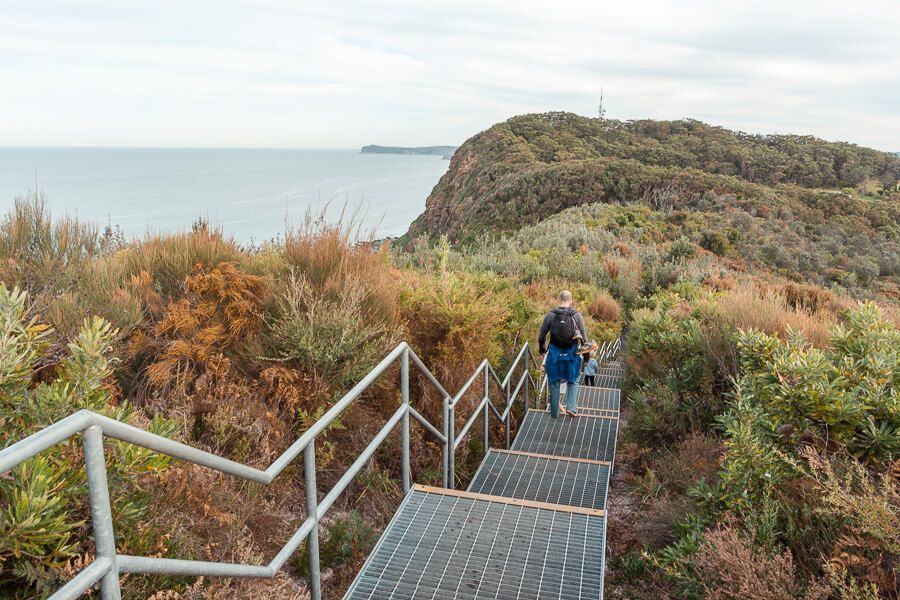 Situated in Wyrrabalong National Park, this popular bushwalk between Forresters Beach and Bateau Bay offers stunning coastal views, beaches and lookouts along the way.
It's situated near the popular Central Coast towns of The Entrance and Terrigal so is easily accessible.
Each day, people of all fitness levels undertake this well-maintained walk along the clifftop.

Enjoy a picnic midway at Crackneck Lookout and watch for migrating whales.
Then spend some time at Bateau Bay beach. The cove is very relaxing and kids like walking on the rocks. 
To get to The Coast walking track, follow Cromary Hill Road in Forresters Beach to the end. GPS coordinates: -33.405307, 151.474285. 
You can also park on Reserve Drive corner Rushby Street if starting from Bateau Bay. GPS coordinates: -33.384357, 151.481588. 
Read our full post on The Coast Walking Track.
---
8. Coast to Lake Walk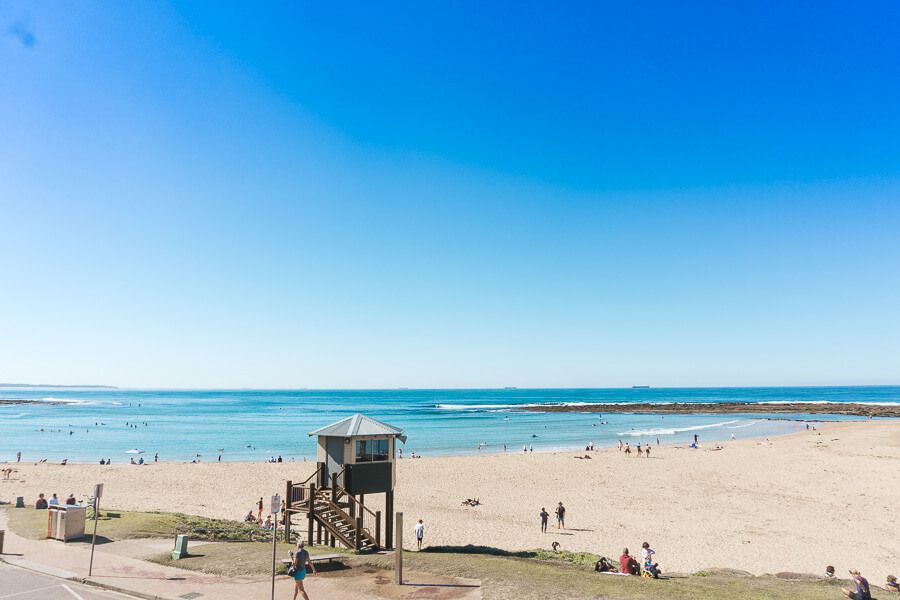 A terrific walk if you don't like hills.
The Coast to Lake walk is an interesting and varied walk. Perfect for those wanting to stroll around town and enjoy scenic coastal views, swimmable beaches and great cafes.
The walk is made up of 4 sections:
Section 1 is from Long Jetty to Toowoon Bay Surf Life Saving Club.
Long Jetty is a trendy town well-known for its long and famous jetties, attractive vintage shops and trendy cafes.
Section 2 is from Toowoon Bay to The Entrance Beach Surf Life Saving Club. Enjoy stunning beaches. Pack your swimmers – the water might be irresistible.
Section 3 is from The Entrance Beach to Memorial Park. Walk along the channel and take in the fabulous water views.

Section 4 is from Memorial Park to Long Jetty. Follow the leafy pathway along the shore of Tuggerah Lake and enjoy beautiful lake views.
The Coast to Lake walk is well signed, and there are toilets and water refill stations along the way.
Dogs are allowed on a lead except on the beach (section 2). But you can follow the roads instead.
I suggest you park at Tuggerah Parade corner Archbold Road in Long Jetty. GPS coordinates: -33.352882, 151.486451.
Otherwise, car parks are at The Entrance Memorial Park or Picnic Point, Tuggerah Lake foreshore and Toowoon Bay SLSC.
Read our full post on the Coast to Lake Walk.
---
9. Bouddi Coastal Walk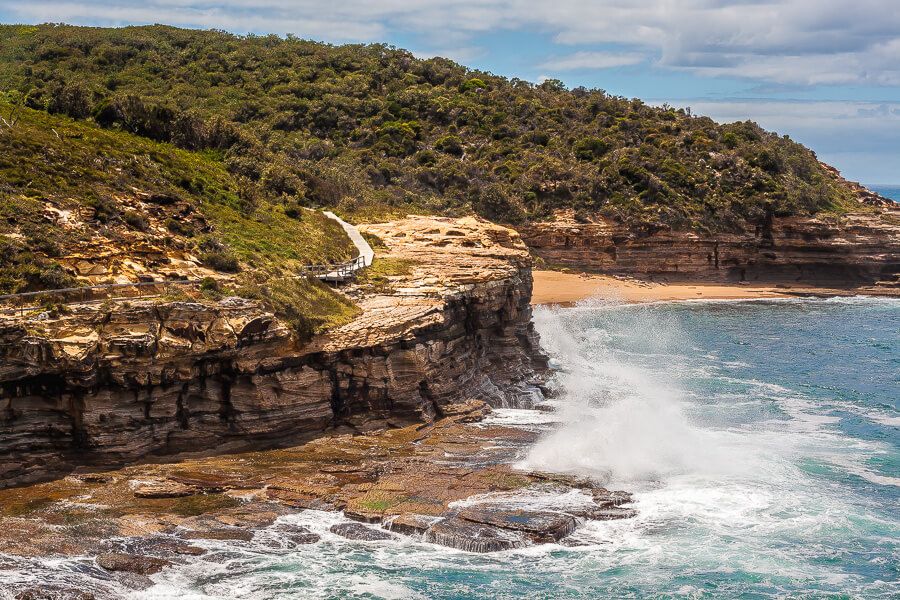 The Bouddi Coastal Walk is spectacular.
It's one of the most popular bush walks on the Central Coast.
For good reasons...
Stretching between Killcare Beach and Macmasters Beach, the hike offers breathtaking ocean views throughout and passes beautiful beaches. There are also cafes at each end.
It proceeds over boardwalks in some sections and up the clifftops and down to beaches in others.
So some parts are strenuous but well worth it.
Spend some time and dip your toes at the secluded Maitland Bay and Little Beach along the way, and enjoy great views at Gerrin Point Lookout.
Put on those hiking shoes and swimmers. And don't forget your camera.
If starting from Macmasters Beach, park near the surf club on Marine Parade. GPS coordinates: -33.499960, 151.424454. 
If starting from Putty Beach, park at the end of Putty Beach Road in Killcare Heights (parking is $8). GPS coordinates: -33.528251, 151.373829. 
Read our full post on the Bouddi Coastal Walk.
---
10. 5 Lands Walk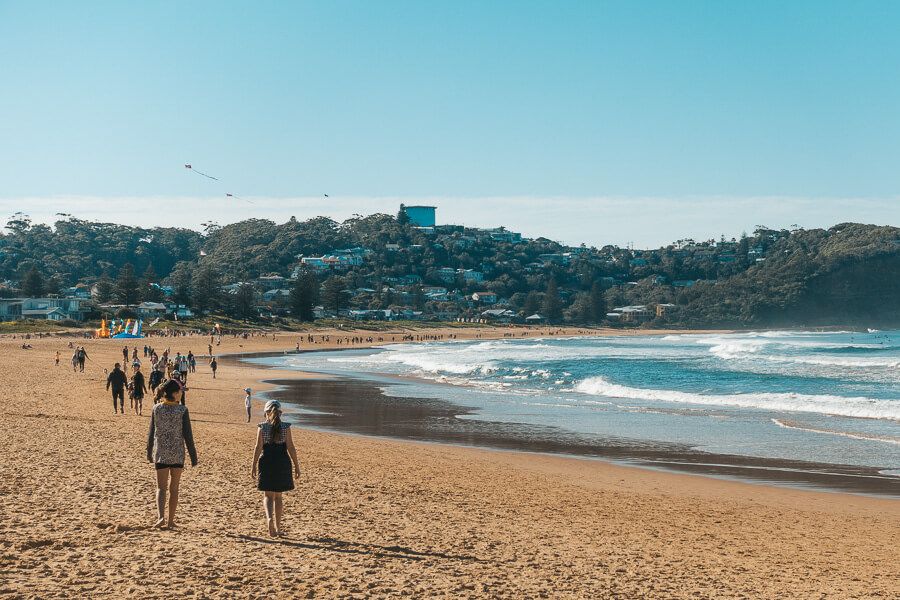 The 5 Lands Walk is a magnificent 10-kilometre hike that traverses five beautiful Central Coast beaches: Macmasters Beach, Copacabana Beach, Avoca Beach, North Avoca Beach and Terrigal Beach.
This organised event is held on the Saturday closest to the winter solstice.
Still, you can enjoy the walk any time of the year, albeit without the phenomenal energy of the participating crowd, festivities and art exhibitions.
The idea behind the 5 Lands Walk is to connect "people to people" and "people to land".
Hence the stunning location of the walk and the art and entertainment by Aboriginal, cultural and local communities.
Thousands of people take part each year.

During the event, shuttle buses circulate between 7.00 am - 5.00 pm.
You are sure to spot migrating whales if walking during the winter solstice.
If doing this walk during the warmer months, you'll have plenty of opportunities to cool down in the ocean.
To get to the 5 Lands Walk, head to Marine Parade in Macmasters Beach and park near the Surf Life Saving Club. 
Read our full post on the 5 Lands Walk.
---
Check Out These Other Great Bushwalks on the Central Coast...