15 Best Things to Do in Avoca Beach 
THIS POST MAY CONTAIN AFFILIATE LINKS. PLEASE READ OUR DISCLOSURE FOR MORE INFO. 
Avoca Beach is a favourite beach destination on the Central Coast NSW.
The name Avoca is Celtic for "great estuary" or "where the river meets the sea" and the town was named by the first resident John Moore.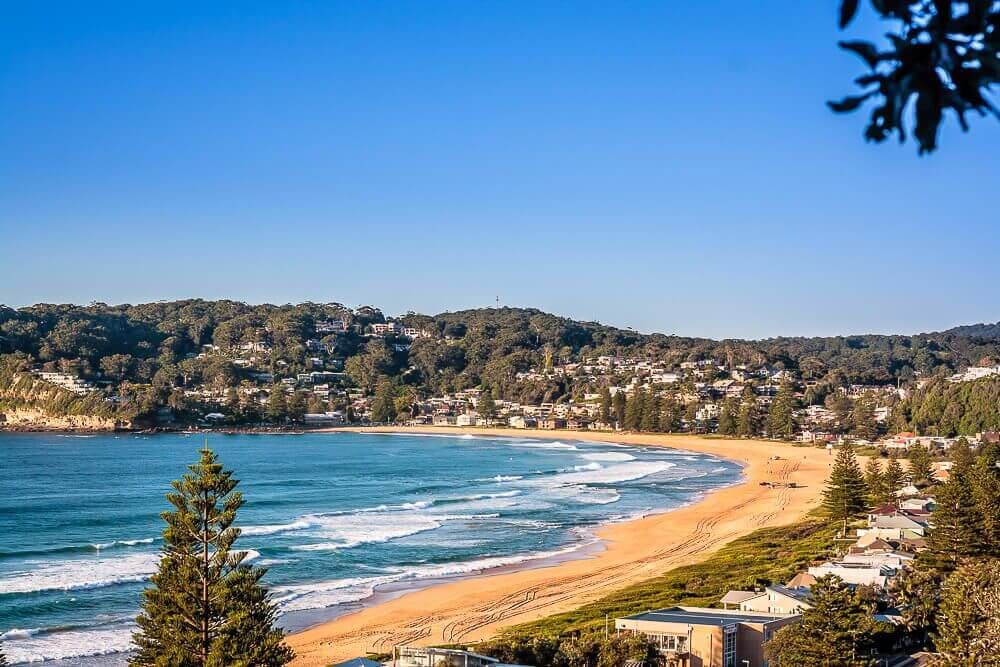 Avoca Beach is located just south of Terrigal–it's as beautiful and family-friendly as Terrigal, but quieter.
The beach is situated at the end of a long no-through road. There are many cafes and restaurants and quite a few attractions.
Check out these 15 best things to do in Avoca Beach!

Attractions in and Near Avoca Beach
1. The Beach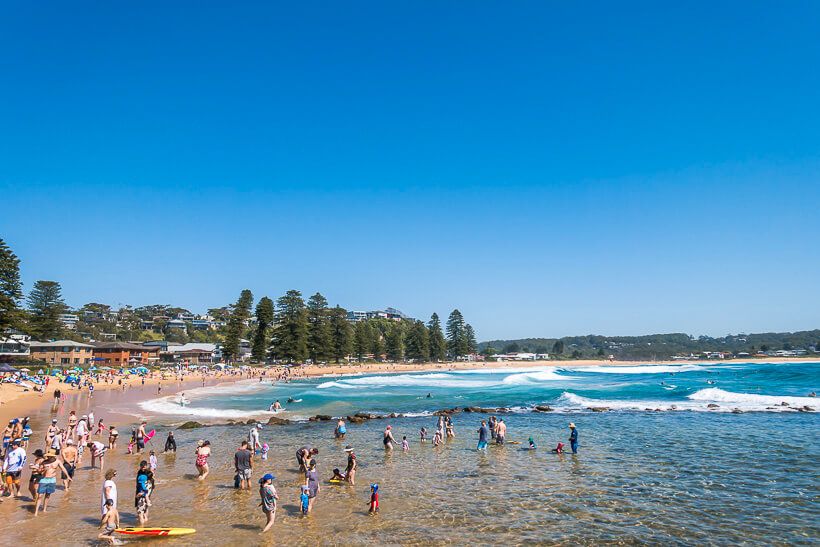 The beach is the biggest attraction here.
Avoca Beach is situated along the southern half of a 1.7 km long beach. (The northern half is North Avoca Beach.)
It's a great place for the whole family.There are a fenced playground and a rock pool for young children. Lifeguards patrol the beach and there are great surfing spots.
2. Aquafun at Avoca Lake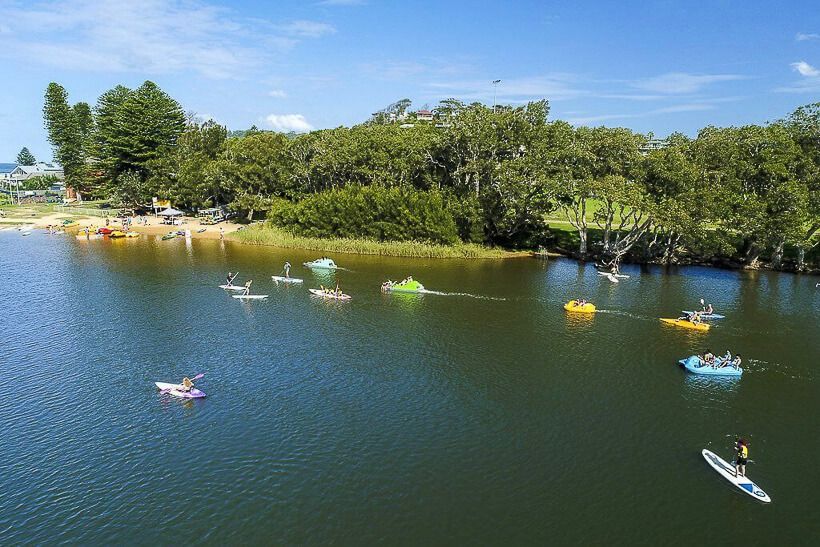 Photo courtesy of Aquafun
Hire pedal-boats, kayaks and stand-up paddle boards at Aquafun and glide around Avoca Lake. You can swap boats as many times as you like–great fun for kids!
No need to book. Just turn up. 
3. Avoca Beachside Markets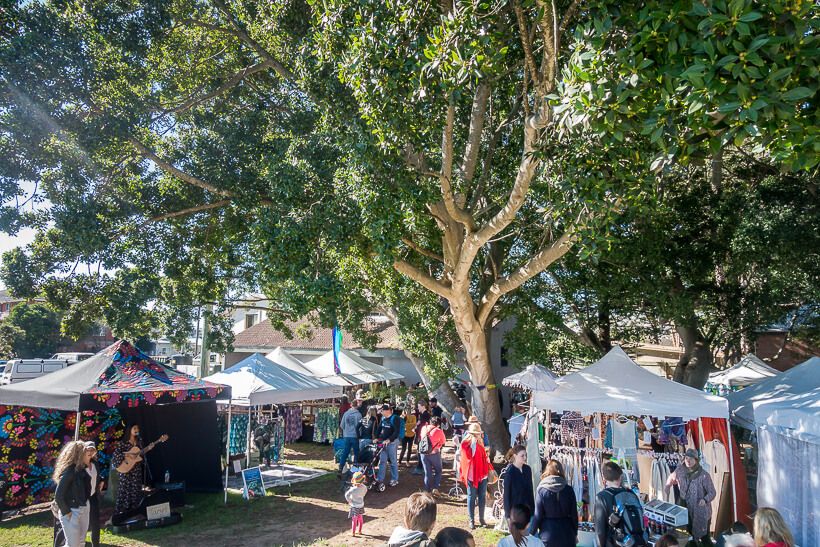 Visit Avoca Beachside Markets, the locals' favourite markets.
There are over one hundred stalls. They sell quality things like wood sculpted craft and recycled wood furniture. You can also grab great food and drinks like freshly squeezed juices and Irish soda bread.
The vibe is great, too. Visitors like to chill out and listen to live music. There are fun things to do for kids and it's dog-friendly. 

4. Avoca Beach Picture Theatre
Watch an independent film at Avoca Beach Picture Theatre. It's a historic single-screen cinema right beside the beach.
This cinema was nominated as one of the "ten most beautiful cinemas" in the world.

They often offer special evenings such as French or Italian. And you can enjoy a glass of wine with a movie. 
5. Surfing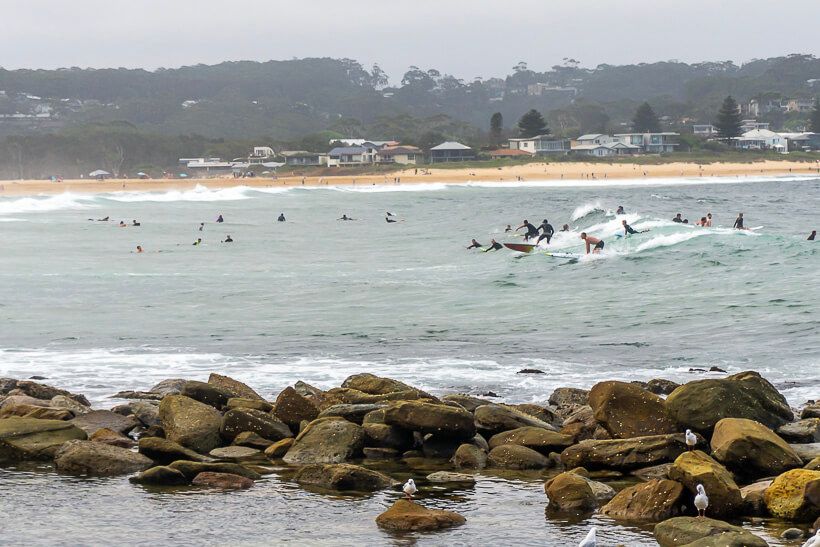 Learn to surf with accredited surf coaches.
This beach has some of the best surfing on the Central Coast for both beginner and advanced surfers. Check out Avoca and Terrigal Learn To Surf, Central Coast Surf School and Central Coast Surf Academy. 
6. Captain Cook Lookout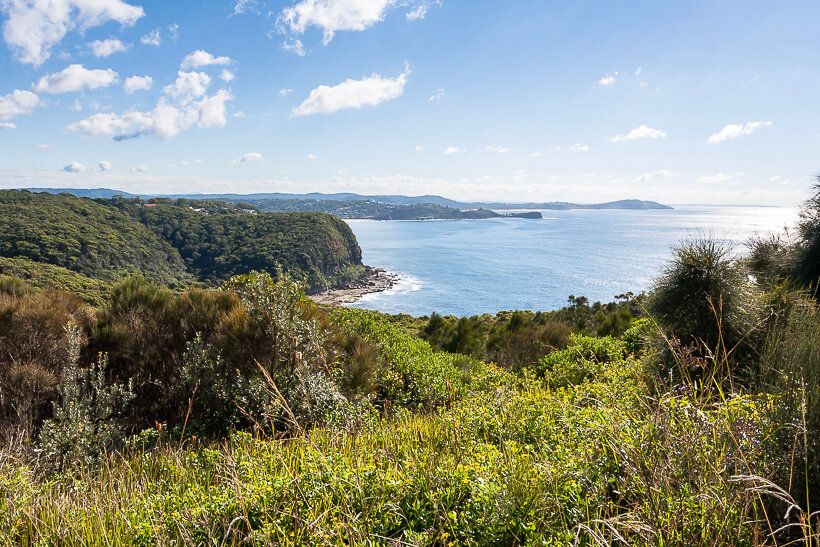 Enjoy panoramic views up and down the coast from Captain Cook Lookout.
You can see the Skillion in Terrigal to the left and Bouddi National Park to the right. It's also a top spot for whale watching.
Located at the top of Del Monte Place at Copacabana Beach.  
7. Bouddi Coastal Walk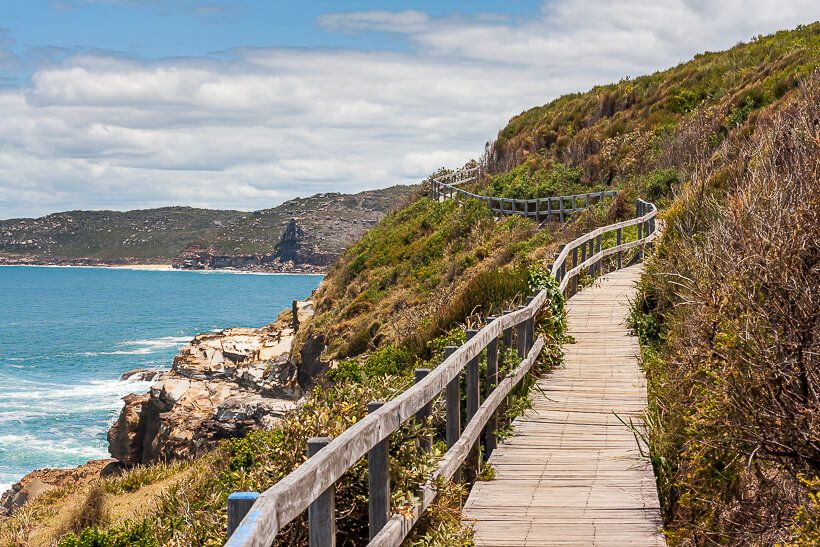 Bouddi National Park is the best place to go for a bushwalk.
This small national park is situated on rugged cliffs and surrounded by water. So every walk has stunning views.
Bouddi Coastal Walk is a stunning 8-km coastal walk which offers stunning ocean views and secluded beaches.
8. 5 Lands Walk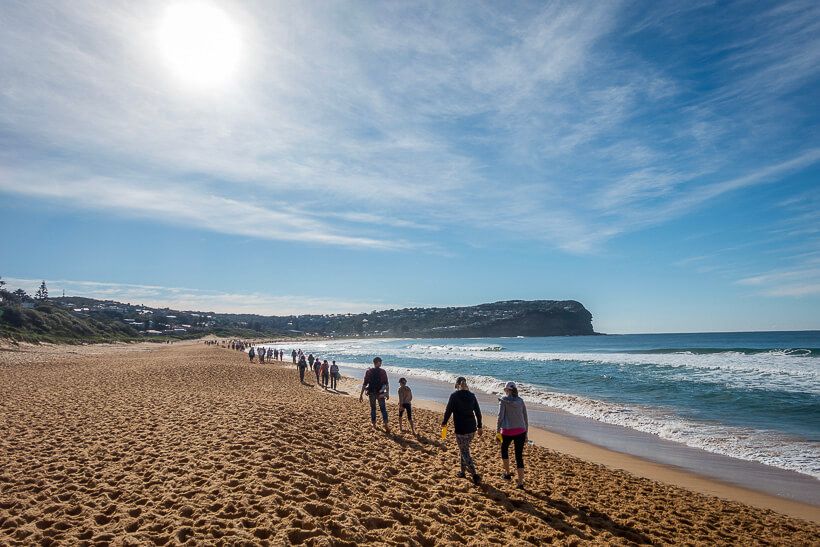 The 5 Lands Walk is a very popular 10 km walk along the coast from Macmasters Beach to Terrigal.
This popular walk is held during winter solstice–the best time to spot migrating whales! It attracts a crowd.  
The purpose of the walk is to connect "people to people" and "people to land". Along the walk you'll enjoy art and entertainment by Aboriginal and cultural communities.
A great day out!
9. Terrigal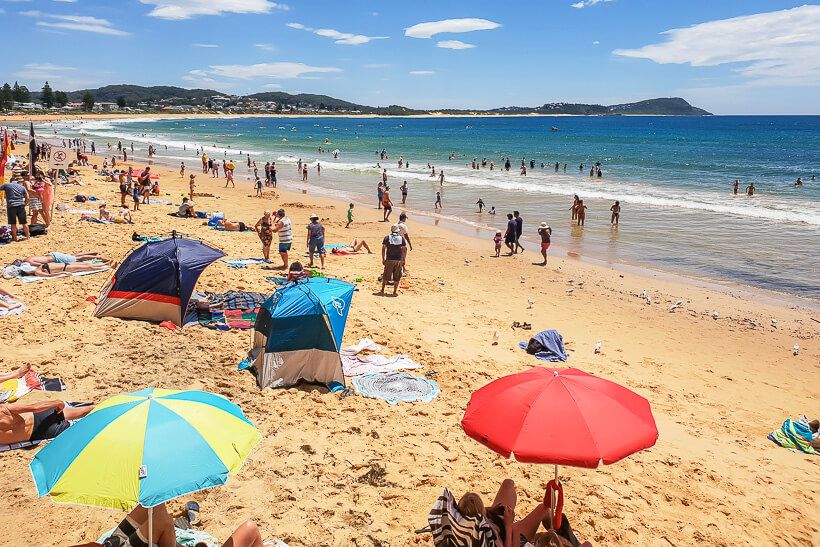 Terrigal is the most popular beach town on the Central Coast.
It has a trendy cafe culture and several options for fine dining. All cafes, restaurants and shops are situated metres from the beach. 
Terrigal is a 10-minute drive from here. 
10. The Skillion and Terrigal Haven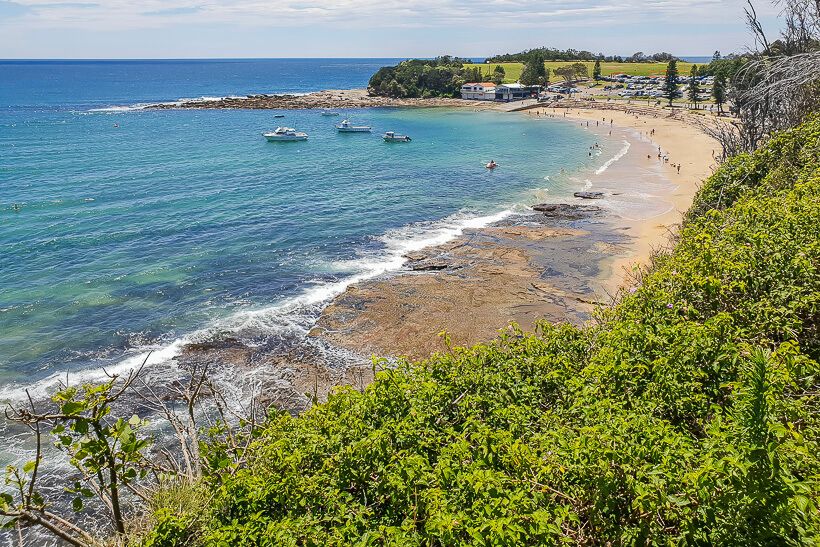 The Skillion and Terrigal Haven are a great spot nearby to enjoy the outdoors and have a picnic.
Small children like to swim in the calm water and you can climb the popular Skillion to the lookout for panoramic coastal views.
11. Copacabana Beach
Copacabana is located just south of here. It's a relaxing beach and much quieter than Avoca Beach.  
Copacabana attracts many surfers and swimmers–the beach is patrolled in summer.
12. Little Beach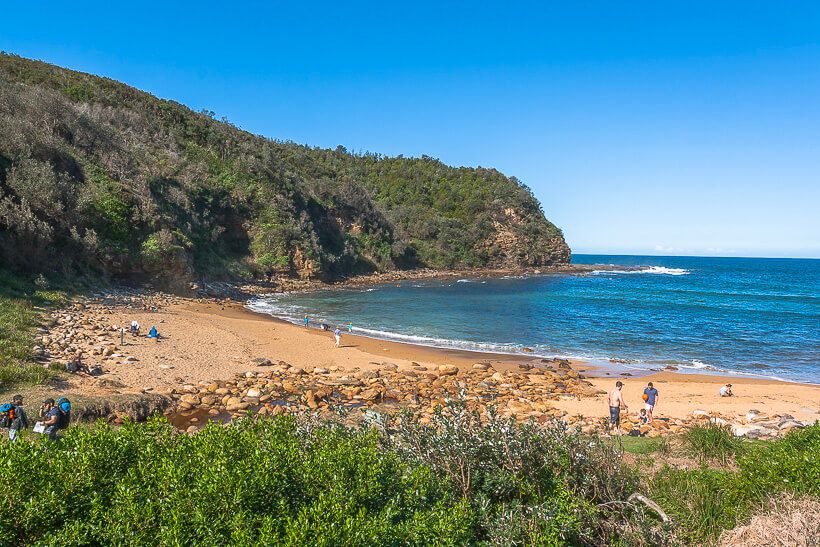 Little Beach is a secluded cove in Bouddi National Park. It's one of our favourite spots to picnic and chill out on the weekends.
To get there you must walk 750 metres on a bush path. It's easy… even small children can walk it. 
13. Block 'N Tackle Brewery
Block 'N Tackle Brewery is the place to go for a handcrafted beer. Grab a tasting paddle and tasty food. Block & Tackle is family-friendly.
Located unit 1, 11-13 Cochrone Street, Kincumber. 
14. Australian Reptile Park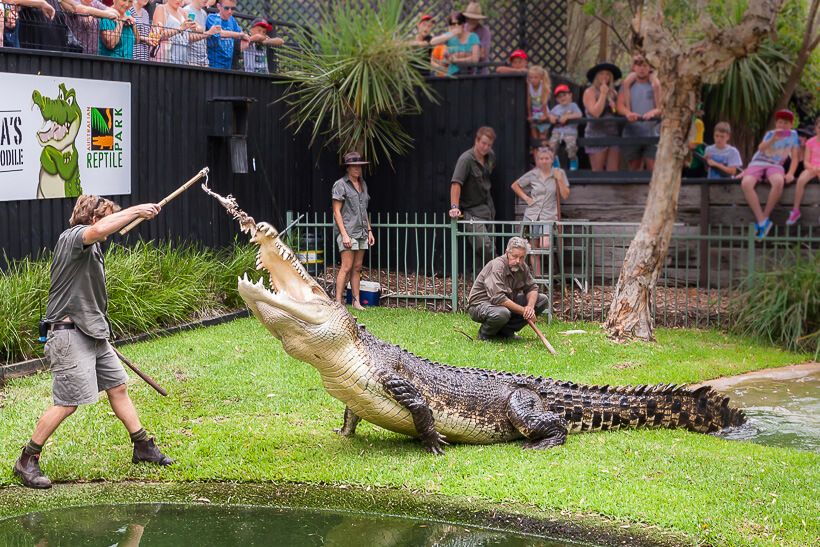 If you have kids or overseas visitors do not miss the Australian Reptile Park! It has been a favourite attraction on the Central Coast for many years.
If you want to see deadly species of snakes and spiders, entertaining shows, a massive saltwater crocodile, and learn a thing or two, visit this zoo.
15. LooLoo's Coffee Warehouse 
If you're after an excellent coffee, visit LooLoo's Coffee Warehouse in Kincumber.
The cafe is in a weird industrial spot, but it has a nice chilled out atmosphere. It's always packed with visitors–the best sign of a quality hang-out.
Located unit 12, 11 - 13 Cochrane St, Kincumber.
Restaurants in Avoca Beach
There are so many restaurants for such a small town. I counted 22 on the top of my head. Here are our best picks…
The two first restaurants on the list are our go-to places when eating out with the kids:
Sunsets Bistro is the locals' favourite restaurant for dinner. Older children can play on the beach or at the playground while you're having a drink. It's affordable and there's a beautiful view of the ocean. Located 10 Vine Street, second floor of the surf club.
Chijmes is a Singapore Malaysian restaurant with a little playground. Maybe not a romantic choice, but kid-friendly and delicious. Get kid-free meals on Friday dinner and Sunday lunch or dinner. And two meals for one on a Monday. (Outside public holidays.) Located at the Bowling Club, Avoca Dr & Townsend Ave. 
Avoca Beach Seafoods is very affordable and they make delicious fish and chips. Plus it's located right beside the beach. We often take a picnic rug on warm summer evenings. 1/85 Avoca Drive.
Bombini is the finest restaurant in town. They serve delicious modern Italian food. The chef used to be the head chef at Bells at Killcare, an award-winning restaurant. 366 Avoca Drive.
Mosaic Cafe is a new kid in town. I have heard great comments about it. They serve modern middle eastern inspired breakfast & lunch. 168A Avoca Drive.
For fine dining, there are several options in Terrigal, a 10-minute drive away.    
Best Places to Stay in Avoca Beach
Avoca Palms Resort are self-contained and spacious apartments centrally located—metres from the beach and cafes! Enjoy the swimming pool and barbecue area. Click here to find out more. 
The Palms at Avoca offer cabins and a resort-style pool a short drive to the beach. A great place for families with young children. Click here to find out more.  
Avoca Beach Hotel & Resort  is a budget accommodation a short drive to the beach. There's a swimming pool and the Hotel is next door. Click here to find out more.  
Airbnb – plenty of holiday rentals near the beach are available on Airbnb. If it's your first time using Airbnb, click here to get a $50 discount on your first stay! 
Getting There
1 hr 30 min north of Sydney or 1 hr 35 min south of Newcastle via the M1 Freeway.