Avoca Beach 
Avoca Beach is a favourite holiday destination for Sydneysiders.

The town is located on the Central Coast NSW, a 90-minute drive from Sydney.

The place is popular for:
Its beautiful sandy beach
Fantastic surf
Family-friendly vibes
Outdoor fun 
Many dining options
The beach is 1.7 km long and stretches between two rocky points. North Avoca Beach is up at the northern end and Avoca Beach is down at the southern end.
In the middle of the stretch of sand, there's Avoca Lake, which sometimes connects to the sea.
Table of Contents
This post contains affiliate links. For more information, see my disclosures here. 

The town got its name from the first resident, John Moore, a retired Army officer from Ireland, who received a 640 acre grant in 1830. Avoca means 'great estuary' or 'where the river meets the sea' in Celtic.

Avoca Beach sits in a peaceful area at the end of a no-through road but has plenty to offer.
As it's one of our favourite spot on the Central Coast, we're thrilled to share the absolute best things to do so you can make the most of your visit!

Things to Do in Avoca Beach
1. Go Surfing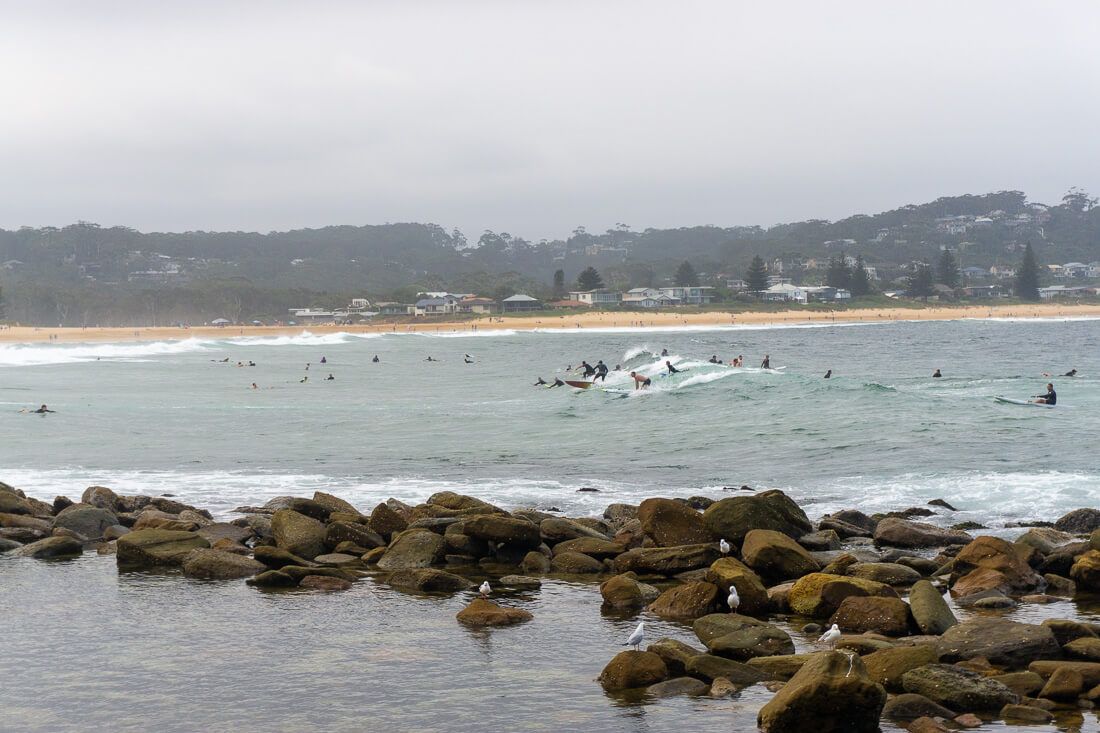 The place is a hotspot for surfers and often hosts major surfing competitions. The consistent wave conditions make it suitable for surfers of different skill levels.
Whether you're an experienced surfer or a beginner, this beach is ideal.
If you'd like to take surfing lessons, check out:
2. Shop at Avoca Beachside Markets
Check out Avoca Beachside Markets, the go-to spot for locals!
With over a hundred stalls, you'll find many quality items, from crafted woodwork to recycled furniture.
Don't miss out on the delicious food and drinks – treat yourself to freshly squeezed juices and Irish soda bread.
The atmosphere is fantastic, perfect for chilling out and enjoying live music. Plus, it's family-friendly, with fun activities for kids.
Dogs are welcome, too.
3. Swim at Avoca Beach
The beach is the biggest attraction here.
It's an excellent place for the whole family.
You'll find a large rockpool for younger children on the southern end of the shore. And lifeguards patrol the beach from the September school holidays through to April.
Established in 1929, the Avoca Beach Surf Life Saving Club originated after a tragic double drowning. Since then, the club has grown, obtaining its first surfboat in 1930.
The facilities continued to expand to meet its increasing needs. The Clubhouse underwent many renovations, with the latest one in 2004-2005.
4. Take the Kids to the Playgrounds
The town has two beloved playgrounds, perfect for parents to relax and enjoy a picnic.
Behind the surf lifesaving club, you'll find Ross Park Playground. It's spacious, fully fenced, and has climbing nets, swings and room to run.
Heazlett Park, beside the tennis club, has a smaller playground with climbing gear. There's also plenty of open space in the oval for play.
5. Glide Around Avoca Lake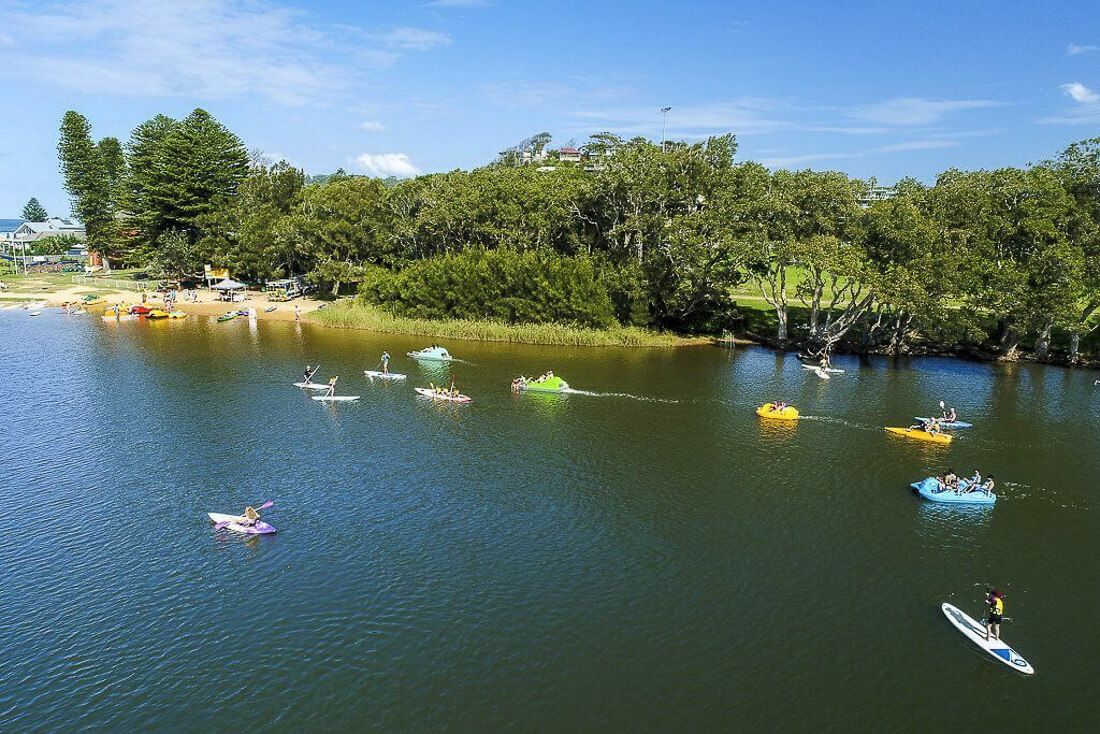 Photo courtesy of Aquafun
Avoca Lake is a beautiful coastal lagoon that's linked to the ocean. The setting is ideal for kayaking and stand-up paddleboarding.

You can hire pedal boats, kayaks and stand-up paddleboards at Aquafun. You can switch between boats as many times as you want – It's great fun for kids!
Remember to pack a picnic rug and chairs. With ample shade and open space, it's the perfect spot for the little ones to play and for everyone to relax.
Located at Heazlett Park. 
6. Experience the 5 Lands Walk
The 5 Lands Walk is a yearly event, a 10-km stroll along the coast from Macmasters Beach to Terrigal.
It draws quite a crowd!

Held during the winter solstice, the best time for whale migration, this event provides a great chance to see these majestic creatures.

The walk aims to foster connections: 'people to people' and 'people to land.'

It's a fantastic day out. 

7. Catch a Movie at Avoca Beach Theatre
Catch an independent film at Avoca Beach Theatre, a charming historic single-screen cinema beside the ocean.

This cinema earned a nomination as one of the "ten most beautiful cinemas" globally.

Experience themed nights like French or Italian, where you can savour a glass of wine with your movie.
8. Visit the Next Beach: Terrigal
Located north of Avoca Beach, Terrigal is known for its stunning coastal views, trendy cafes and fine dining options metres from the beach. The town also offers some shopping opportunities.
Terrigal is a 10-minute drive from here.
9. Walk to Captain Cook Lookout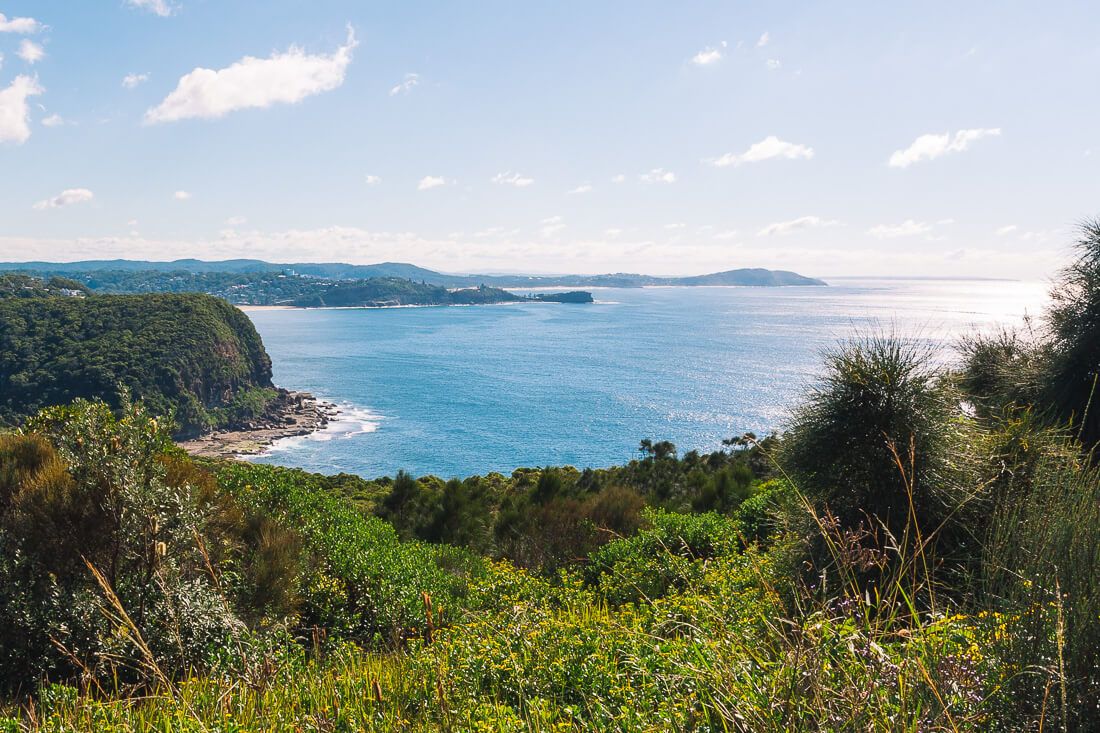 Walking from Avoca Beach to Captain Cook Lookout is challenging but a great experience.
The walk takes a couple of hours. 
Head to 56 Avoca Drive and walk up the stairs. Then, follow the trail behind the water tower at 118 Cape Tree Point Rd.
Once you reach Captain Cook Lookout, take in the breathtaking panoramic views up and down the coast. 
It's a prime location for whale watching.
10. Enjoy a Beer at Block 'N Tackle Brewery
Block 'N Tackle Brewery is the place to go for a handcrafted beer. Grab a tasting paddle and tasty food, and enjoy the pleasant atmosphere.
Block & Tackle is family-friendly.
Located unit 1, 11-13 Cochrone Street, Kincumber. 
Find out more about Block 'N Tackle.
11. Walk Your Dog on the Beach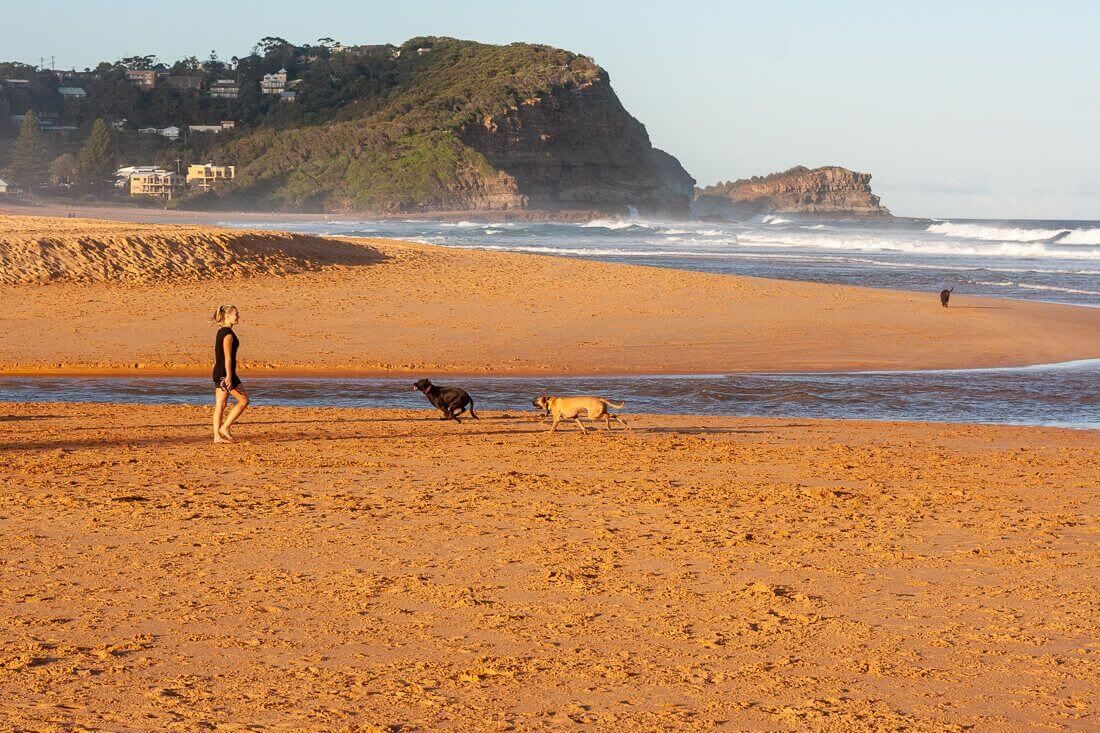 The mid-beach area offers a lively and friendly environment for your dogs to roam freely.
The off-leash area spans 600m from the Shark Tower to View Street at North Avoca.
Many dogs enjoy splashing around in the ocean or the lagoon.
Park at the main car park off Fiscus Avenue, next to the Jack Muller Picnic Area, where you'll find a doggy bag dispenser.
12. Dive the Ex-HMAS Adelaide 
The Ex-HMAS Adelaide has been scuttled 1.8 km off the coast to create an artificial reef and a diving site.
You can now book a scuba dive tour to this 138.1 metres long and 15.3 metres wide Australian Naval warship.
Find out more about diving the Ex-HMAS Adelaide.
13. Go Fishing
Avoca Beach is a top fishing spot on the Central Coast.
Here you can catch a variety of fish species...
Toss your line from the beach near the lake and you might reel in bream, tailor, salmon, whiting, and jewfish.
Rock fishing at the southern end's rocky platform is also a hit. You could land bonito, kingfish, salmon, tuna, bream, tailor, frigate mackerel, jewfish, luderick and drummer.
Where to Eat in Avoca Beach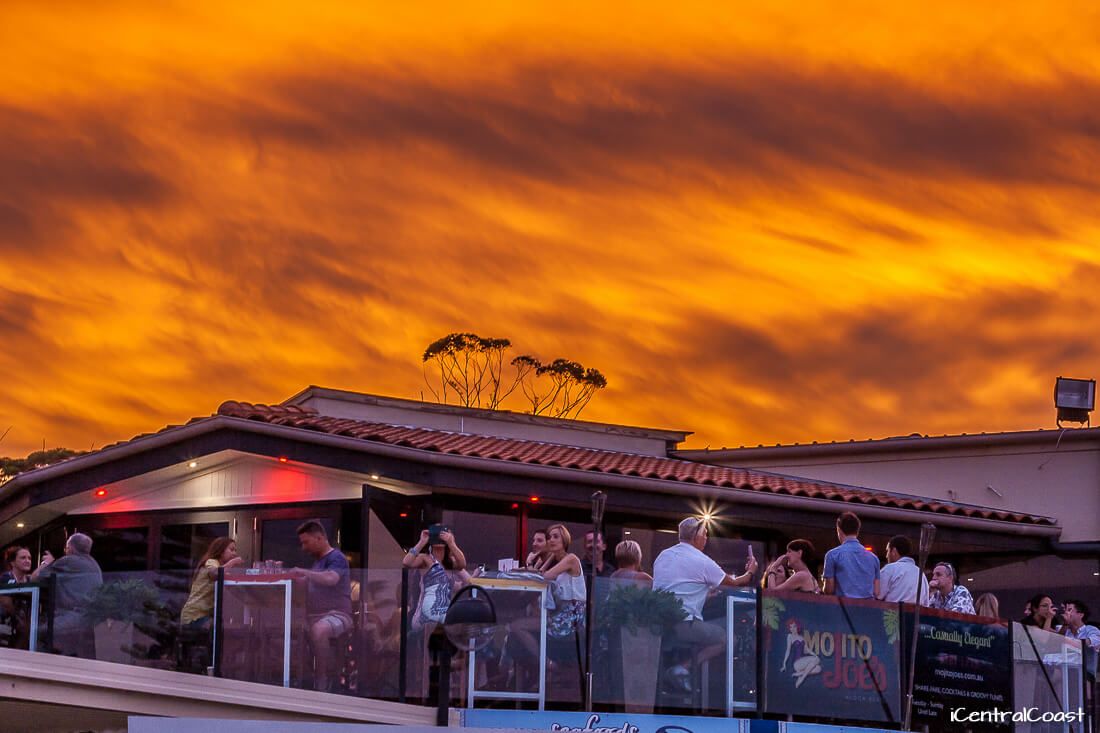 There are so many restaurants in such a small town. Here are our favourite picks…
Avoca Beach Seafoods makes yummy fish and chips, and it's right beside the ocean. Take a picnic rug on a warm summer evening. 1/85 Avoca Drive.
Like Minds is one of the locals' favourite places. They make delicious coffees and breakfasts, the vibe is great, and the staff is friendly. 352 The Round Drive.
Avoca Beach House serves tasty seafood meals and platters, tapas and cocktails. Accompanied by stunning ocean views. 3/85 Avoca Drive
Enjoy freshly baked sourdough bread and croissants. Or scrumptious pastries and desserts like vanilla slices at Ludo's Gourmet Kitchen. 8 Cape Three Points Road.

Avoca Sands Café offers great brunches, coffees and Mexican nights. Enjoy beautiful views of the water from the terrace. 85 Avoca Drive. 
Becker & Co serve delightful smoothies, toasties, pastries, breakfasts and lunches. And the coffee is delicious!  2/162 Avoca Drive.
Where to Stay in Avoca Beach
Here are recommended places to stay in Avoca Beach: 

Getting There
1 hr 30 min north of Sydney or 1 hr 35 min south of Newcastle via the M1 Freeway.
Follow the directions on Google Maps. 
I hope you enjoy your visit to Avoca Beach!
Photos