Fun Things to Do in Long Jetty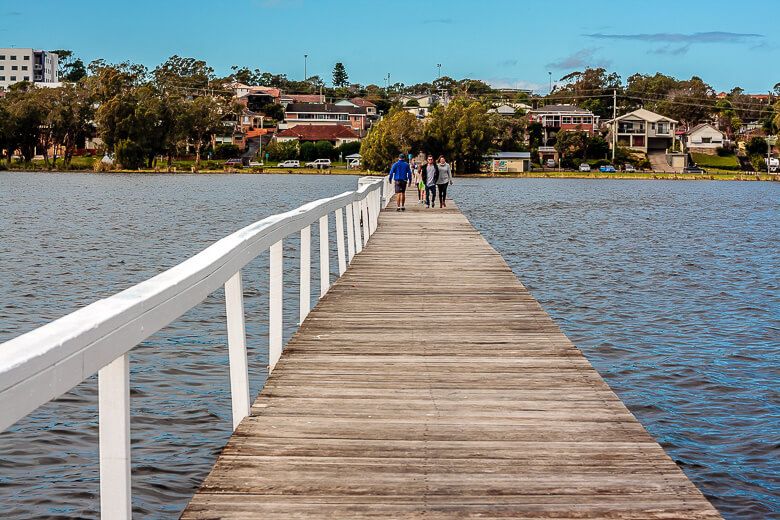 Long Jetty is a small town located next to The Entrance on the Central Coast in Australia.
Here you'll find very long and popular jetties and attractive vintage and second-hand stores next to trendy cafes.
Disclaimer: I may receive a small commission from some of the links on this page. 

But what attracts my family and me to this town is the family-friendly cycle track along Tuggerah Lake.

Discover the attractions and accommodation in Long Jetty... 

Things to Do in Long Jetty 
1. Shopping
"As much as I love to shop online, I also love waking the streets on a beautiful day and seeing what finds I can discover in a small shop or vintage store." – Natalie Massenet
Shop in the attractive vintage and second-hand stores on Central Coast Highway between Thomson and Stella St. Many locals don't even know they exist.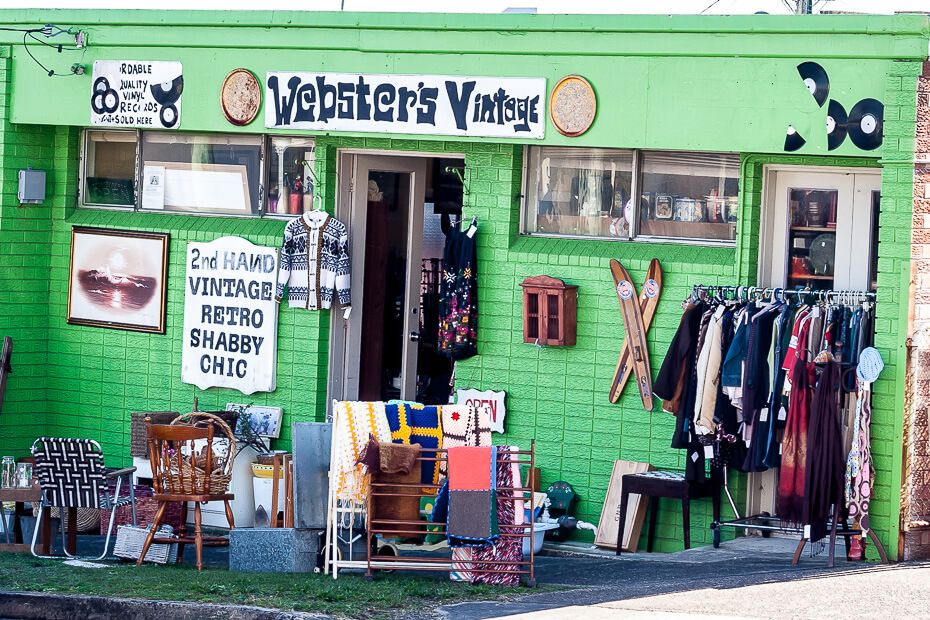 Visit the beautiful Webster's Vintage for a treasure hunt for clothes, books, furniture, and toys. 

I found these two fellows for my kids ($7 for both… bargain!).

The shops are unique... at least here in the region. You can find stylish home furniture and clothing, hemp clothing and products, creative bouquets, vinyl records...
It's a welcome change from the generic stuff we see in shopping centres. 

The shops are only part of the attractions of this town... 

2. Cycling Along Tuggerah Lake
The fantastic Tuggerah Lake Cycleway is flat and toilet blocks, playgrounds, and covered picnic tables are scattered along the way – perfect if you have children.

Plus it's away from the main road.
The cycle track goes for 12 km between The Entrance and Chittaway Bay. You'll have a nice view of the lake.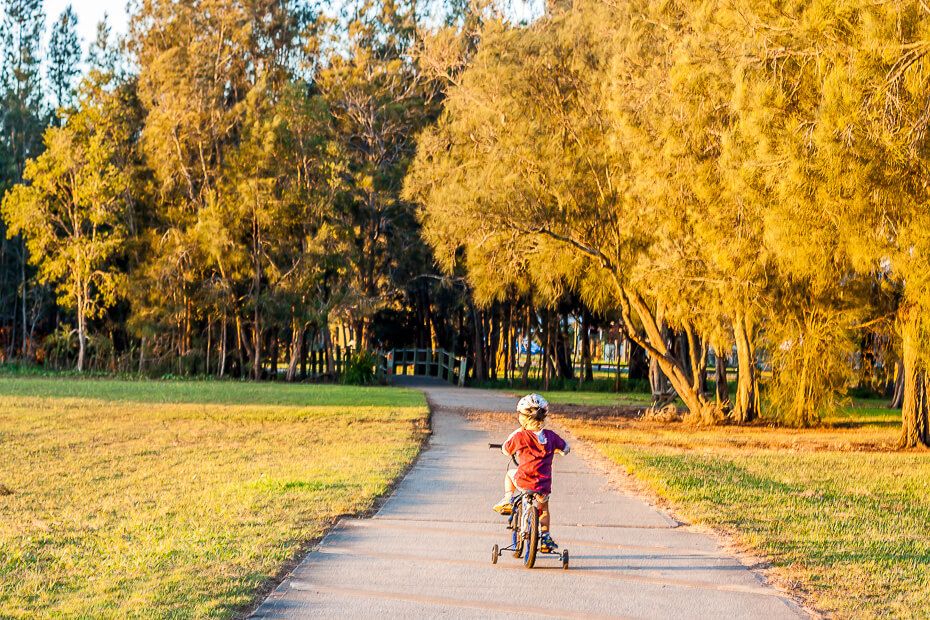 Don't have a bicycle? 
You can hire bicycles at e-bikes r us at 439 The Entrance Rd or at Boomerang Bike Hire automatic stations at The Entrance.  
3. Walking on the long jetty
Be sure to walk on New South Wales's longest jetty (351 m). The jetty is located at the end of Archbold Rd.
Standing at the tip you'll feel far on the lake. The photo doesn't do it justice.
The 100 years old jetty is named Long Jetty – where the town takes its name from.
Next to the longest jetty are two other old jetties: Watkins and Parrys.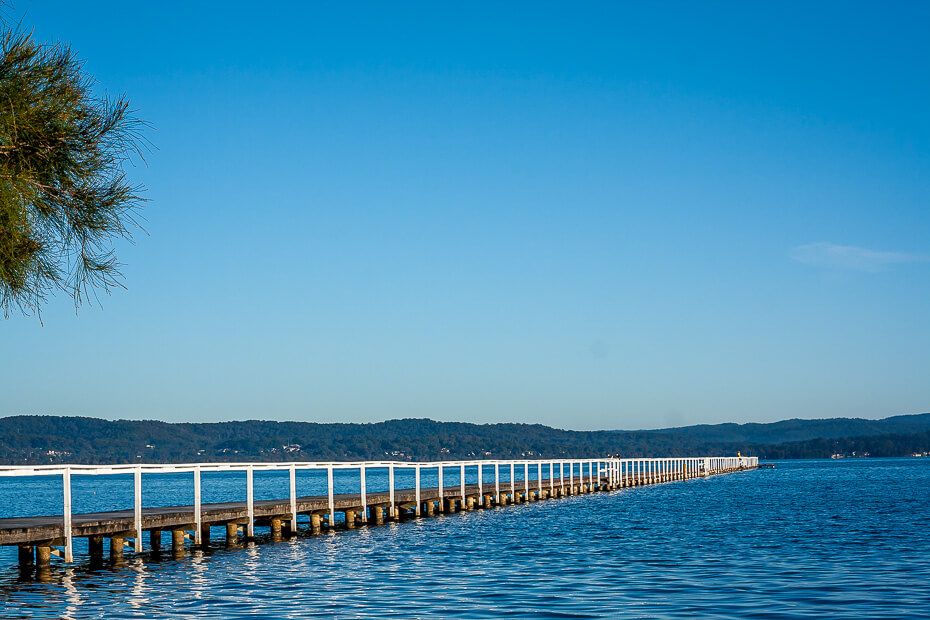 Years ago ferries used to bring people from Wyong for holidays and prawning. The jetties were that long because the water had to be deep enough for the ferries to reach.
Today, the longest jetty is popular with photographers.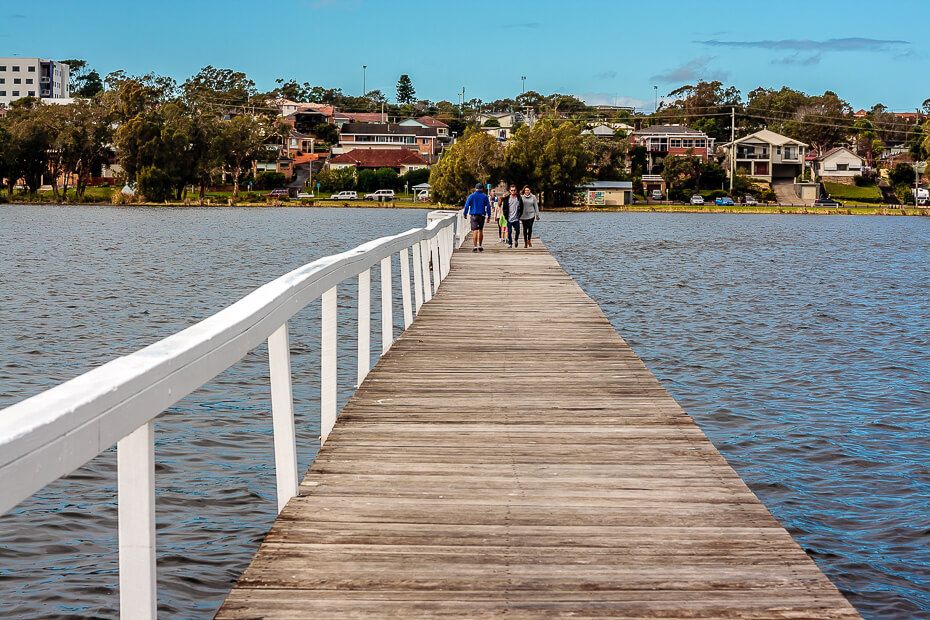 4. Take the Kids to the Playgrounds
If you have kids, you'll find spacious fenced playgrounds, a wide-open space with picnic tables and barbecues, a BMX track, and free Wi-Fi corner Tuggerah Parade and Central Coast Highway.
Lion Park, another playground with a climbing spaceship, is across the road. 
To give you an idea of distances, it takes us 30 minutes to cycle from the longest jetty to the playgrounds at a slow pace with our four-year-old.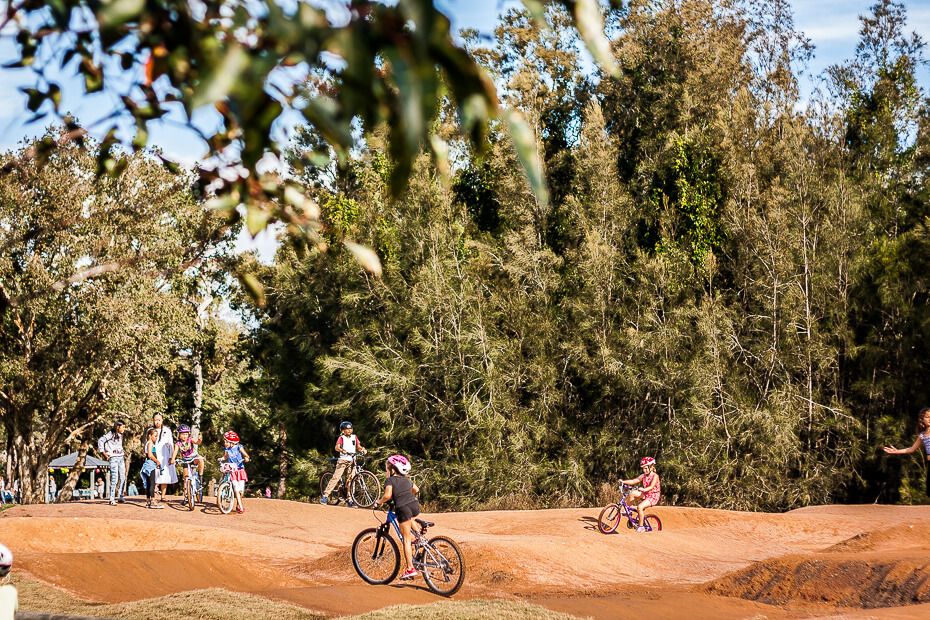 5. Enjoy the Coast to Lake Walk
If you feel like a long walk, the Coast to Lake Walk (7.6 km) loops along Tuggerah Lake, The Entrance channel, the beaches from The Entrance to Toowoon Bay, and through town back to the start.
The walk is interesting since you go through different landscapes (town, lake, channel, ocean).
It takes about 1.5 hours if you walk fast and 3 hours if you stroll.
The walk is well signed. 
FULL POST: Coast to Lake walk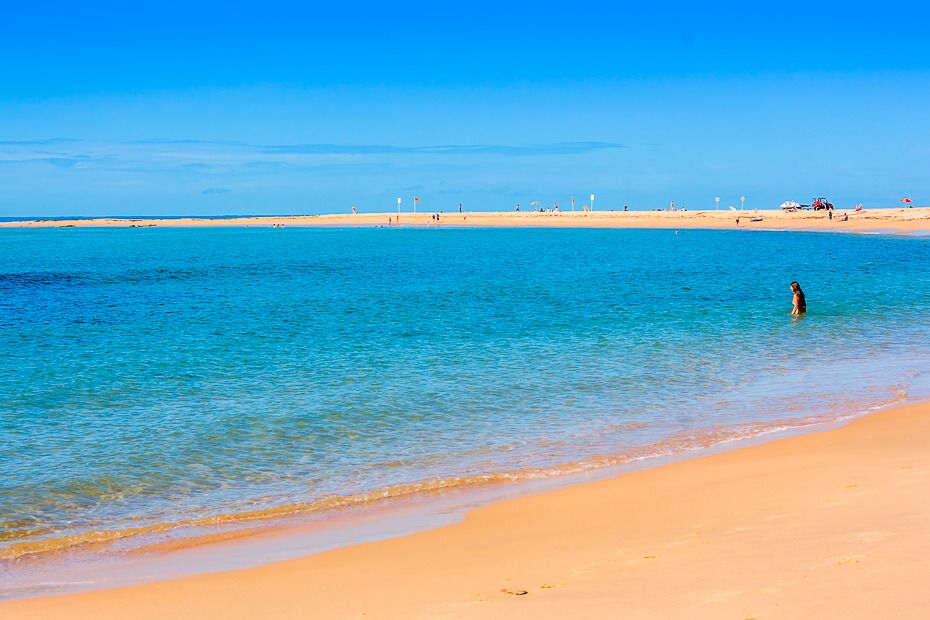 Have a dip at Toowoon Bay during the Coast to Lake Walk
It's worth spending a few hours in this town if you're holidaying nearby.
Cafes and Restaurants 
Great cafes and restaurants are beside the vintage shops if you'd like a delicious coffee and something to eat.
Glass Onion Society is a popular cafe.
It's the perfect place for shopping-adverse partners to hang out with a high standard coffee and something to read.
Green Tangerine, across the road from Glass Onion Society, is also a trendy and outstanding cafe.
Another favourite place to eat is Modern Organic – enjoy smoothie bowls and vegan and vegetarian food, and a yoga session.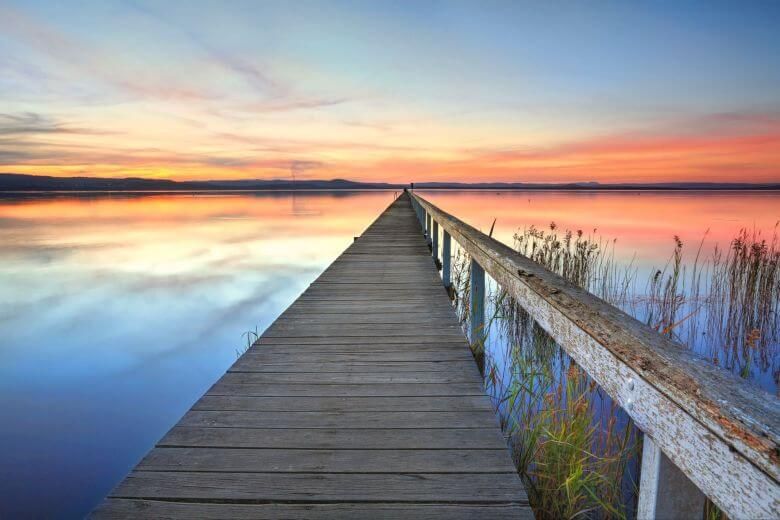 Accommodation
Most visitors to Long Jetty stay in a holiday rental. You can search on a site such as Airbnb.

Fabulous places to stay in Long Jetty
Things to Do Nearby
Read here if you'd like to find out more things to do in and around The Entrance. 
Where is Long Jetty?

Located 1 hr 30 min north of Sydney via the M1 Freeway or 1 hr 15 min south of Newcastle via Pacific Highway. 
Other Towns to Discover Nearby