13 Best Things to Do in Terrigal

Terrigal is the most popular beach getaway on the Central Coast.
Great cafes, restaurants and boutiques are situated right beside the beach – it's like a mini-city on a beach. This place definitely makes for a great escape from Sydney.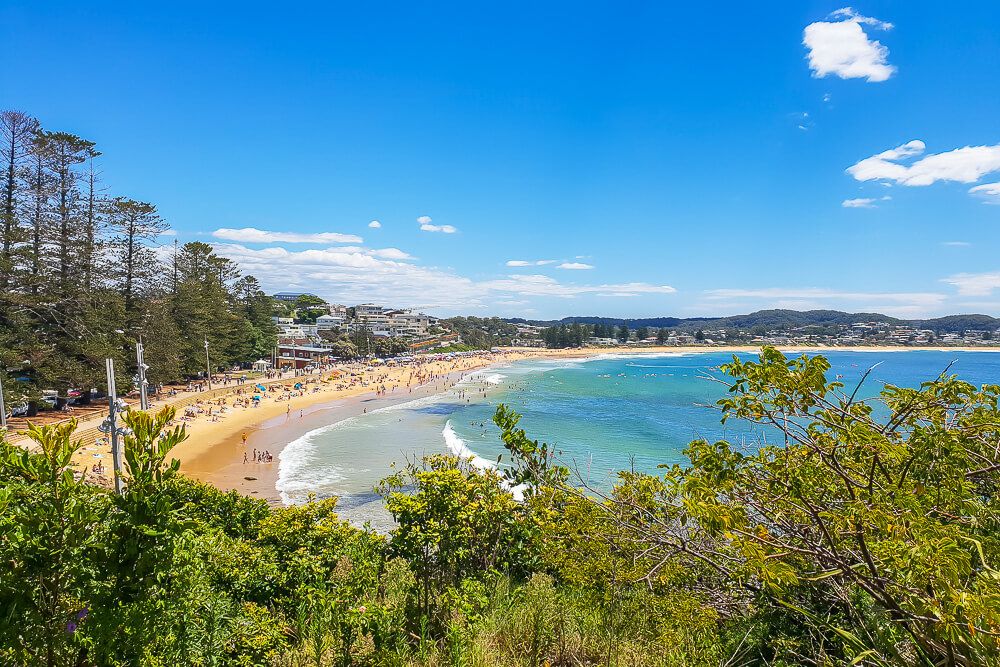 You'll find tips below to help you plan your visit – like the best things to do, where to eat and the best places to stay.

THIS POST MAY CONTAIN AFFILIATE LINKS. PLEASE READ OUR DISCLOSURE FOR MORE INFO. 
The name 'Terrigal' originates either from the Aboriginal word Tarriga, meaning 'where one can find wild figs', or Tarragal, meaning a 'place of little birds'.
Attractions in and Near Terrigal
1. Terrigal Beach
There are two beaches in this town: Terrigal Beach and Terrigal Haven.
Terrigal Beach is at the southern end of a nearly 4-kilometre long stretch of sand. Wamberal Beach lies in the middle and Spoon Bay at the northern end.

This beach is popular for swimming.
It's patrolled from the beginning of the school holidays in September to the end of the school holidays in April.
The beach is protected, so the waves are generally small...
Toddlers can also have a dip in the small rock pool at the southern end of the beach.

2. Terrigal Haven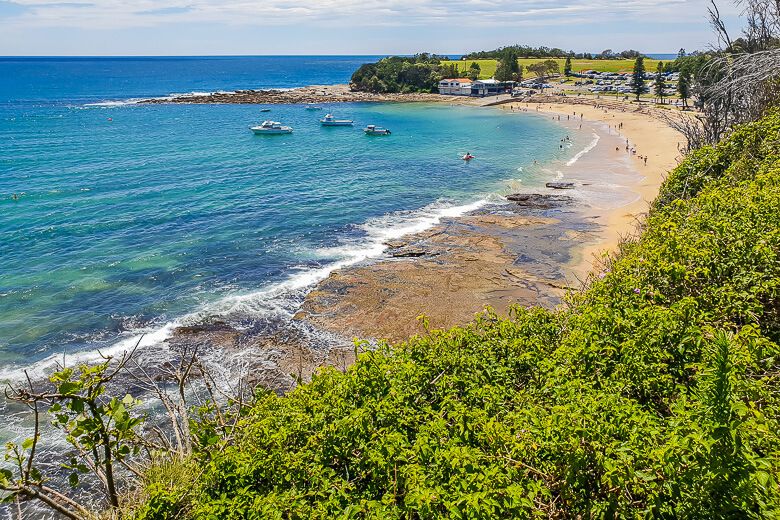 You can also swim at Terrigal Haven...
It's a small and sheltered cove that's perfect for small children. The water is calm. It's also a great spot for picnics. 
Terrigal Haven is located a short walk from the main beach. 
3. Water Activities
Surfing is popular here. Experienced surfers surf off the point or at Wamberal Beach. And beginners surf in the smaller waves near the shore. 
If you want to take surfing lessons, check out Central Coast Surf Academy.
You can also kayak, fish, stand up paddle board and snorkel in the calm water at the Haven.
Fishing charters and diving tours also operate from the Haven. You can join a diving tour and dive the ex-HMAS Adelaide.
And if you'd like to learn stand up paddle boarding or rent a pedal boat on the beautiful lagoon, check out Terrigal Paddle Boats. They're located on the shore of the lagoon beside Clan Lakeside Lodge. 
4. The Skillion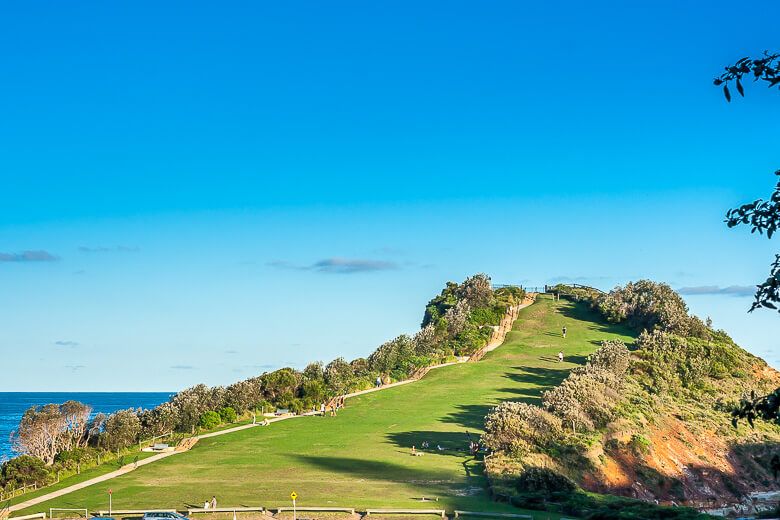 The Skillion is a popular landmark in this town. It's a bluff that rises to a lookout.
Walk to the top of the Skillion and enjoy the great coastal views. There are stairs and a handrail. Also, follow the path around the Haven and enjoy the other lookouts. You can also walk your dog in the designated area.
5. Central Coast Marine Discovery Centre 
Central Coast Marine Discovery Centre is a great place to spend a couple of hours with the kids.
Children can see a display of sea animals, touch some creatures in one of the basins, and learn about the local marine life.
Located 11 Terrigal Drive, Terrigal. 
6. Markets
Terrigal Beach Markets – On the first Saturday of the month, visit the local markets on the beachfront. You'll find clothes, candles, jewellery, soaps, relishes & chutneys and more. 
Greedy Guts Markets – On the second Friday of the month, enjoy live music and taste plates from street food pop-ups at Greedy Guts Markets. From 5.30pm at Florida Beach Bar.
Car Boot Sales – On the first Sunday of the month, visit the Car Boot Sales at Lions Park.  
7. Aquafun
Hire pedal-boats, kayaks, and stand-up paddleboards at Aquafun on Avoca Lake.
Choose a specific amount of time you'd like to have the boats for and swap as many times as you like. Older children can go on their own. Aquafun is my daughter's favourite activity.
Open Sept-May on weekends and school holidays. Located on Ficus Ave in Avoca Beach.
8. Avoca Beach Picture Theatre
The single-screen Avoca Beach Picture Theatre screens quality movies.
They show independent and foreign films. They often hold special evenings such as French or Italian. And you can enjoy a glass of wine with a movie.
This movie theatre was nominated as one of the "ten most beautiful cinemas" in the world. And it has received several awards.
Located 69 Avoca Drive, Avoca Beach.
Find out more about Avoca Beach Picture Theatre...
9. Ken Duncan Gallery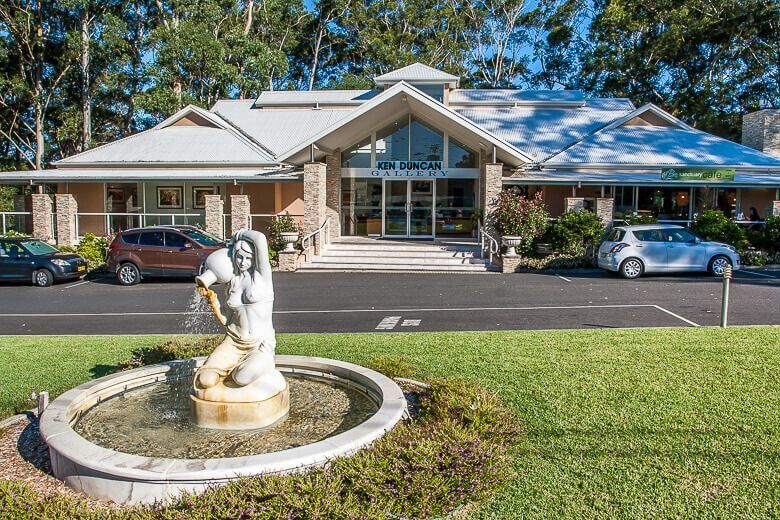 Ken Duncan is renowned worldwide for his stunning panoramic images.
He has received many awards over the years. You can visit his gallery for free and have lunch and coffee at the gallery's cafe. You'll see photos of iconic locations on the Central Coast.
It's a nice couple of hours to spare. 
Open 10am – 5pm daily except New Year's Day, Australia Day, Good Friday, Anzac Day, Christmas & Boxing Day. Located 414 The Entrance Road, Erina Heights.
Read more on Ken Duncan Gallery...
10. Distillery Botanica
Distillery Botanica is the best place to taste and buy gin.
Taste and buy award-winning liqueur made with plants, such as aniseed and lemon myrtle. They make gin with Australian natives.
Philip Moore has won many awards including the 'Herb Liqueur of the Year' in Germany and a silver for gin in London.
Open Wed to Sun 10am – 5pm. Located 25 Portsmouth Road, Erina.
Find out more about Distillery Botanica...
11. Bouddi Coastal Walk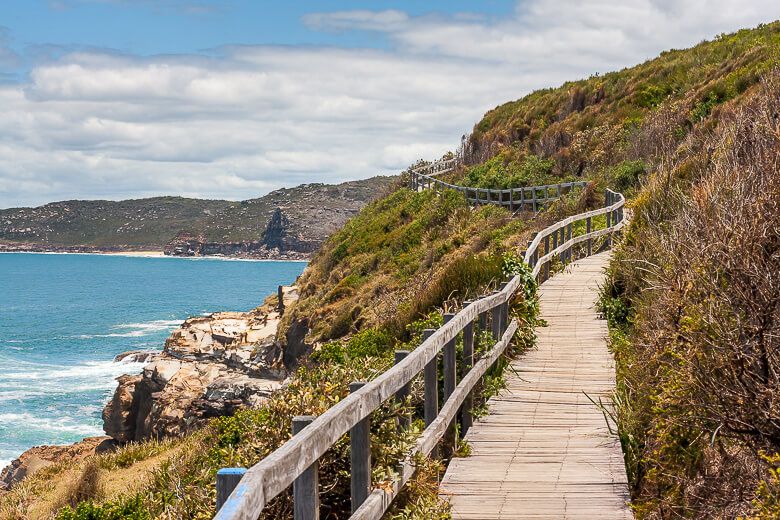 Bouddi Coastal Walk is a stunning 8-km coastal walk between Macmasters Beach and Putty Beach. It's one of my favourite walks on the Central Coast – the views are amazing.
Also the walk gives a good workout and you can swim at beaches along the way.
Read more about Bouddi Coastal Walk...
12. Microbreweries
Six String Brewery serves handcrafted beers. The beer is unpasteurized and free of additives and preservatives. Local musicians perform in the weekends. The place is family-friendly.
Located 4/330 The Entrance Road, Erina.
Block 'n Tackle Brewery serves handcrafted beer, and they offer tasting paddles and delicious food made by WTF. Block & Tackle is family-friendly.
Located Unit 1, 11-13 Cochrone Street, Kincumber.
13. Bamboo Buddha Cafe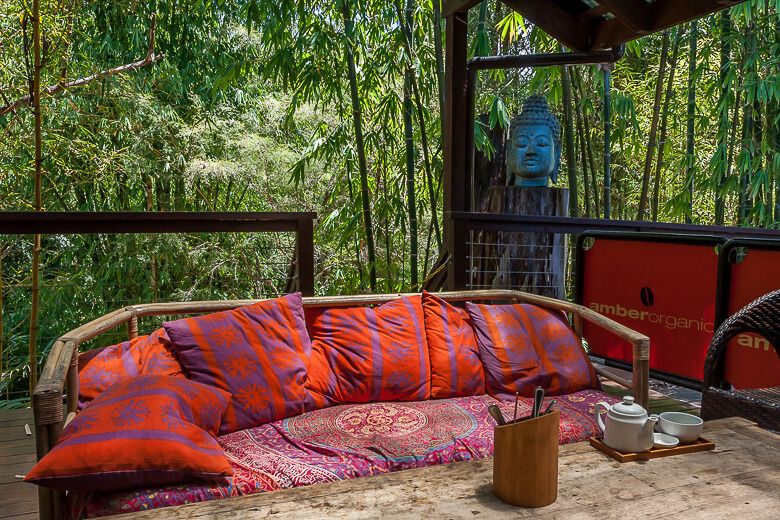 Bamboo Buddha Cafe is a vegetarian cafe with a meditative vibe. It's located in a peaceful and lush sanctuary at Holgate. (If you're going to Erina Fair Shopping Centre the cafe is only a short detour.)
The cafe is dog-friendly, and kids love feeding the fish in the koi and goldfish pond. Have a coffee there if you'd like somewhere peaceful and different.
Located 221 Wattle Tree Road, Holgate.
Find out more about Bamboo Buddha Cafe...
The Locals' Favourite Restaurants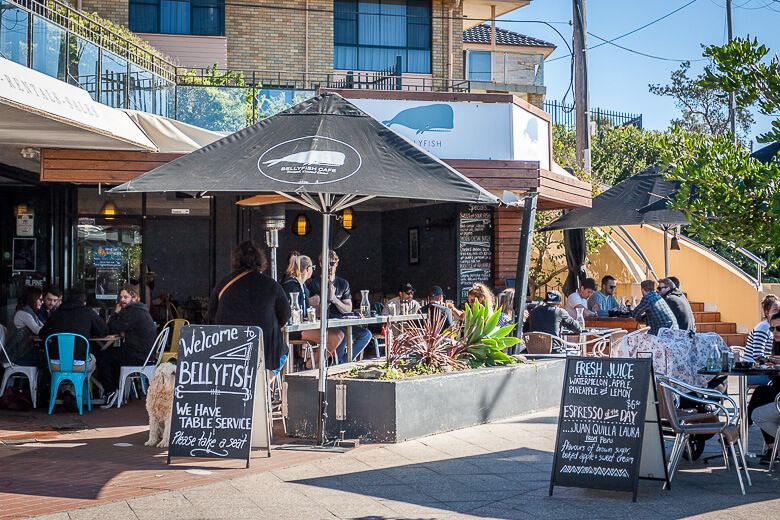 There are many good restaurants in Terrigal. It's the place to go on the Central Coast for fine dining. I'm not going to name them all, but below are some of the locals' favourites.
Florida Beach Bar at Crowne Plaza Hotel is a popular beer garden just across the road from the beach. Weekend afternoons with live music are enjoyable.
Terrigal Beach Fish and Chip Co ($) serve the best fish & chips in town. They make everything from scratch. Even the salad dressing and tartar sauce. 108 Terrigal Esplanade. 
Chop N Grind ($$) serves delicious and the best burgers in town. 3/98 Terrigal Esplanade.
Four Hands Pizza Bar & Grill ($$) serve excellent pizza & tapas. They also have tap beers from Six String Brewing Company. 6/17 Church Street.
The Grand Pavilion ($$), 9/17 Church Street, and Rajdhani Indian Restaurant ($$), 8 Ocean View Drive, are two fantastic Indian restaurants. I can't decide which one is my favourite.
Fine dining:
The Cowrie ($$$$) is a multi-award-winning seafood restaurant. It sits on top of a hill overlooking the beach – 109 Scenic Highway. It's a bit tricky to park, but you can organise for their shuttle bus to pick you up.
L'isle de France ($$$$) is a wonderful French restaurant. 1 Ena Street.
Reef Restaurant ($$$$) is an award-winning fine modern Australian restaurant. There are great ocean views. Located at the Haven.
Accommodation in Terrigal
There are many high-quality places to stay close to the beach. Below are our favourite places to stay. 
Located across the road from the beach and beside the shops and restaurants, Crowne Plaza Terrigal is the most popular hotel on the Central Coast with business travellers, couples and families.
Fabulous - 8.7/10 
From $170
Located a 15-minute walk from the beach, Terrigal Pacific Coastal Retreat appeals to families wanting to swim in a heated swimming pool and enjoy well-equipped apartments. 

Superb - 9/10
From $159
Located in a quiet cul-de-sac and a short stroll to the beach and shops, Terrigal Sails Serviced Apartments are spacious and comfortable, and you get a complimentary breakfast. 

Fabulous - 8.8/10
From $158
Located on the lagoon and metres from the beach, Clan Lakeside Lodge offers comfortable and spacious standard rooms and affordable family rooms. 

Very good - 8.3/10
From $187
Offering private and comfortable rooms for adults, Tiarri Terrigal is in a quiet cul-de-sac but only a seven-minute walk to the beach and restaurants. 

Very good - 8.5/10
From $130
Airbnb Terrigal
Terrigal has also plenty of great holiday rentals available on Airbnb. If you have never stayed in an Airbnb before, here's a discount on your first stay. 
Check what's available on Airbnb for your dates. 
Getting There
Located 1 hr 30 min from Sydney and 1 hr 20 min from Newcastle via the M1.
Parking: there's a lot of traffic here, so it's better to find parking straight away when you get here and walk the rest of the day (it's a small town).
Free parking is available at the multi-storey carpark on Wilson Rd, at Terrigal Haven, and there's a 2-hour carpark beside the Surf Life Saving Club.