8 Best Things to Do in Ettalong Beach NSW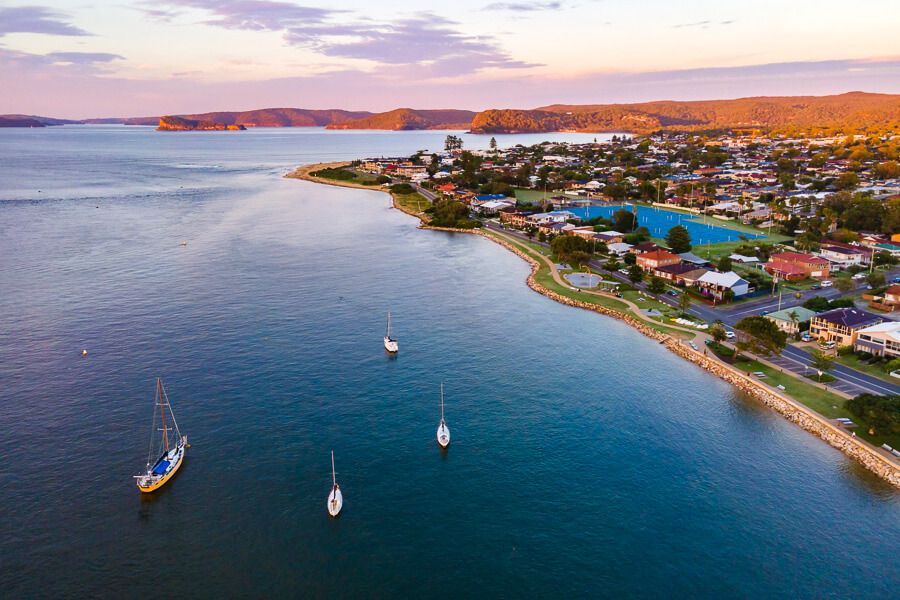 Ettalong Beach is a magnet for families wanting to enjoy fishing and safe swimming.
The water is calm and shallow and the eastern bank is a favourite fishing spot.
This post contains affiliate links. For more information, see my disclosures here. 

The beach is located where Brisbane Water and Broken Bay meet. Opposite Broken Bay is Palm Beach. It's only 7 kilometres away in a straight line but 100 kilometres by roads around waterways.
Ettalong is an Aboriginal word meaning "place for drinking". It was named as such because fresh water was available from a hole submerged in the sand close to shore. Early crews would stop in this town to get water from that hole.

Discover our favourite attractions in and near Ettalong Beach...
Best Things to Do in and Near Ettalong Beach
1. The Beach
The foreshore is a perfect spot for families with young children – it was one of our favourite beaches when our kids were little. There are great amenities: a cafe, a picnic area, barbecues, playgrounds and toilets.
Kids can ride their bikes or play in the playgrounds while you have a picnic or barbecue. Or eat at The BOX on the Water. It overlooks Brisbane Water.
The foreshore is mainly used for water activities: swimming, fishing and boating. You can catch bream, whiting and flathead along The Esplanade.
The water is calm, flat and shallow – it has a reputation for safe swimming. (The water is protected from the open seas by a headland.)
The sand continues unbroken to Ocean-Umina Beaches for 4 kilometres. Have a nice long walk on the sand. Or cycle on the path to Umina SLSC.

2. Ettalong Markets
The eclectic Ettalong Markets are a popular attraction. The markets are located in the Galleria on the corner of Ocean View and Schnapper Roads.
Open every weekend 9 am - 4 pm. It's covered so you can go even if it rains.
I believe the best things about the markets are the impressive Italian style and eateries (Gozleme, anyone?). Those alone are worth a visit.
The resort has a stunning Mediterranean decor. You may find that the rich decor contrasts with the stores. But the more I go, the more I like it.

Find out more about Ettalong Markets. 
3. Cinema Paradiso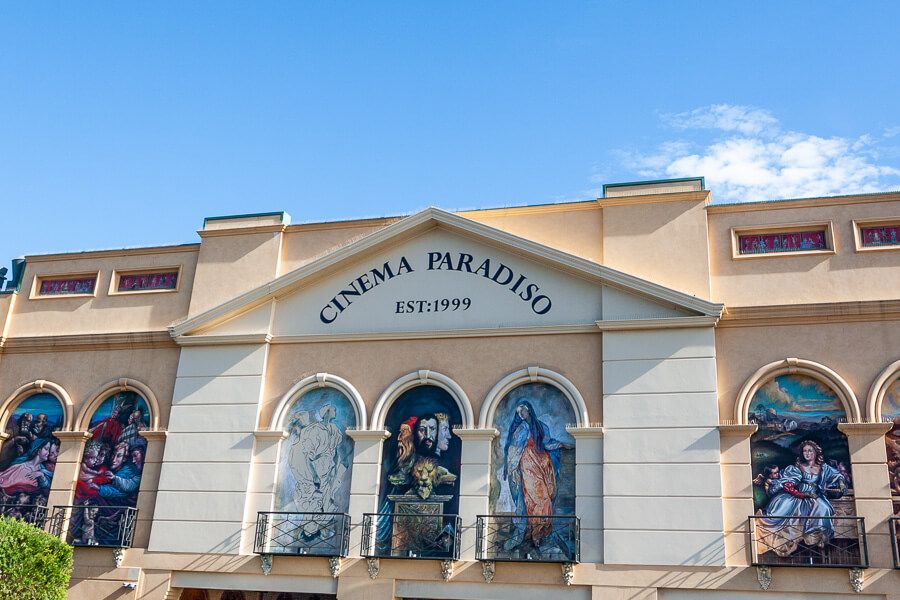 The 6-screen Cinema Paradiso is located beside the markets. The design is just as stunning as in the markets – each room is different from the other. This is not a generic Hoyts! This building is undoubtedly one of a kind.
4. Cycling
Ettalong Beach is one of the few places on the Central Coast with no hills, so cycling is fun.
Cycle to Umina Beach for a swim, and head to the BMX tracks and playground behind the Surf Life Saving Club if you have kids.
Or cycle to Woy Woy (13 km return):
Follow Booker Bay Road and Blackwall Road. Then cycle on the bike path to Woy Woy Fishermen's Wharf for seafood or fish & chips. Stop at Blackwall Mountain and walk to the lookout (15 min). (Turn onto Bay View Crescent from Blackwall Road.)
You can hire bikes at Ride Ettalong at 285 Ocean View Road or from the bike hire station on the corner of Beach Street and The Esplanade. 
5. Bouddi National Park
Bouddi National Park contains numerous walks that lead to spectacular lookouts or isolated beaches. Try the Maitland Bay track, Box Head walking track or Coastal Walk.
Or drive along The Scenic Road and stop at Marie Byles Lookout for amazing coastal views.
Click here to discover the best bushwalks in Bouddi National Park. 

6. Brisbane Water National Park
Here are excellent walks in Brisbane Water National Park close to Ettalong:
Walk up and over the headland from Pearl Beach to Patonga (6 km return).
Walk to Mount Ettalong Lookout – takes only 10 minutes through a path in the bush.
To get to Mount Ettalong Lookout, drive along Mount Ettalong Road toward Pearl Beach. Once you've driven past Umina, you'll start driving up a windy road to the top of a headland. Look for the car park on the left when the road straightens.
Click here to discover the best bushwalks in Brisbane Water National Park.

7. Umina Beach
Umina is the closest beach to Ettalong. It's patrolled and the waves are small. It's a top place to learn to surf.
I already mentioned that behind the beach is Umina Beach Playground: 
This playground is more fun than the Ettalong playground for older children because of the large climbing web, flying fox, BMX track, skateboard ramp and bicycle track. There's also a fenced playground for toddlers.
A good cafe next to the playground is Jasmine Greens.
Find out more about Umina Beach.

8. Stand Up Paddle Boarding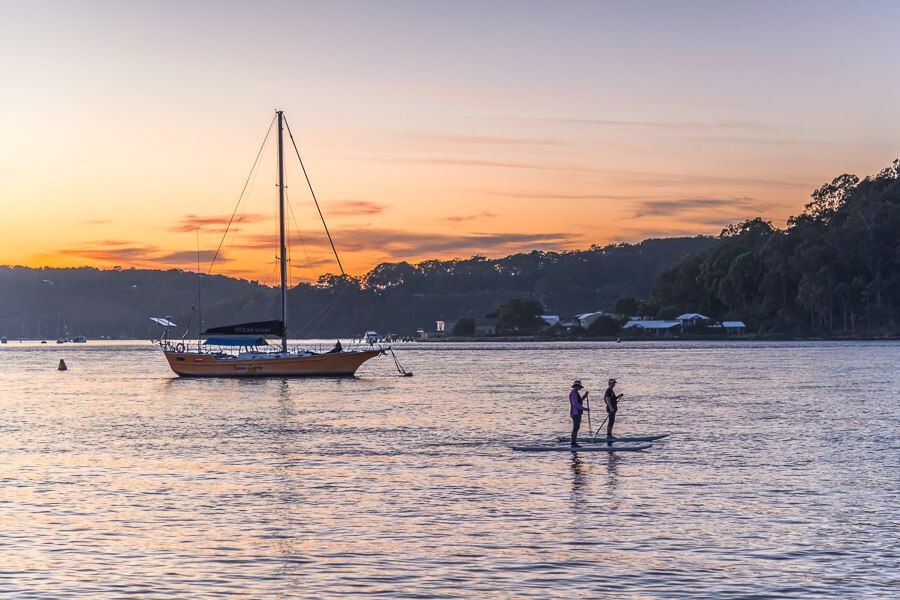 Have a great time stand up paddle boarding on Brisbane Water.
Take a lesson to improve your technique, join a guided tour, or take a fitness class on a paddle board like SUP ball, SUP yoga or SUP fit. You can also hire a stand up paddle board and explore the waterway for an hour or two.
Bombora Ettalong Beach SUP offers activities that suit people of all abilities, from beginners to experienced.
The team are accredited ASI (Academy of Surfing Instructors). Karl is also a certified fitness instructor, and Tina is a SUP yoga teacher.
Check out the Bombora Ettalong Beach SUP website.
The Locals' Favourite Cafes & Restaurants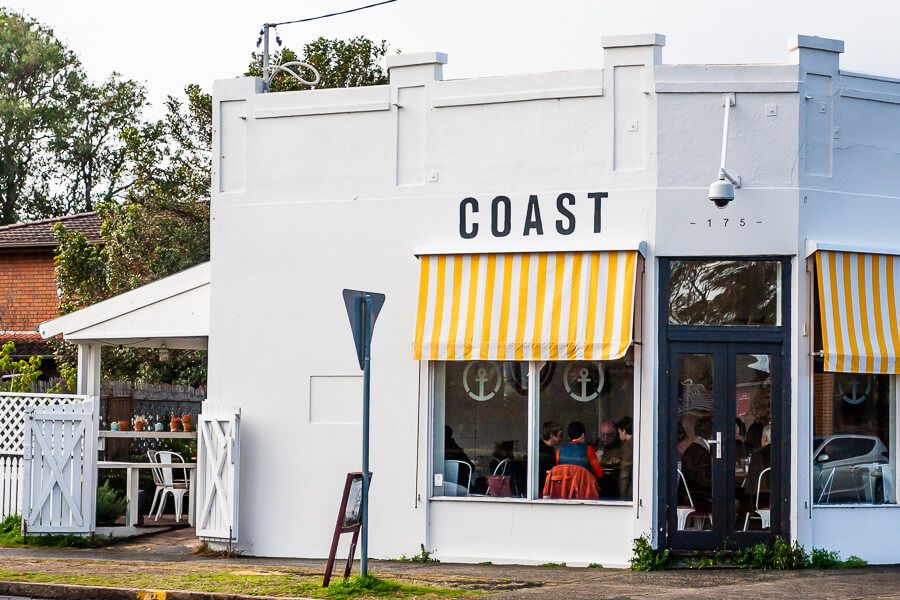 There are many fantastic cafes and restaurants, which is surprising for such a small regional town. You can find a wide range of multicultural foods.
The BOX on the Water is a modern Australian restaurant on the waterfront. Breakfast, lunch or dinner depending on the day; 02 4339 3369; The Esplanade corner Beach St.
Osteria Il Coccia offers an excellent experience with a five-course degustation menu cooked over wood charcoal and paired with a wine from Italy or France. Open Thur-Sat dinner and Sun lunch; 02 4327 8952; 40/189 Ocean View Rd. 
Safran is an award-winning modern Turkish restaurant where you can share Meze (small dishes). It may well be the highlight of your day. Book a table outside if the temperature allows. Open Wed-Sat; 02 4342 7030; 81/189 Ocean View Rd.
Bar Toto Trattoria and Bar serves cocktails, Craft Beer, Coffee, Wine, and Antipasti platters. The vibe is fabulous. Open on Fri and Sat; 02 4341 5260; 83/189 Ocean View Rd.                            
Coast 175 is a locals' favourite for breakfast and lunch. The cafe is airy with beautiful coastal décor. The meals are made from fresh seasonal ingredients from gourmet markets, and you can get a delicious Campos coffee. 02 4341 8080; 1/175 Ocean View Rd.
These are other great restaurants in Ettalong:
Yusu Japanese Restaurant

Beef and Barramundi Bar & Grill
Gusto Italian Bistro (Spanish)
Thai Space
Where to Stay
Most visitors to Ettalong Beach stay in a holiday rental. You can search on a site such as Airbnb.
Great Places to stay in Ettalong
Charlottes Cottage is a fabulous home for couples wanting to take their fur baby because of the enclosed backyard. The cottage is charming and within walking distance of the beach and the shops.
The location of Cosy Cottage near the beach is hard to beat. Leave your car behind and walk to the shops, restaurants and beach. And your host Margaret is very attentive.
Getting There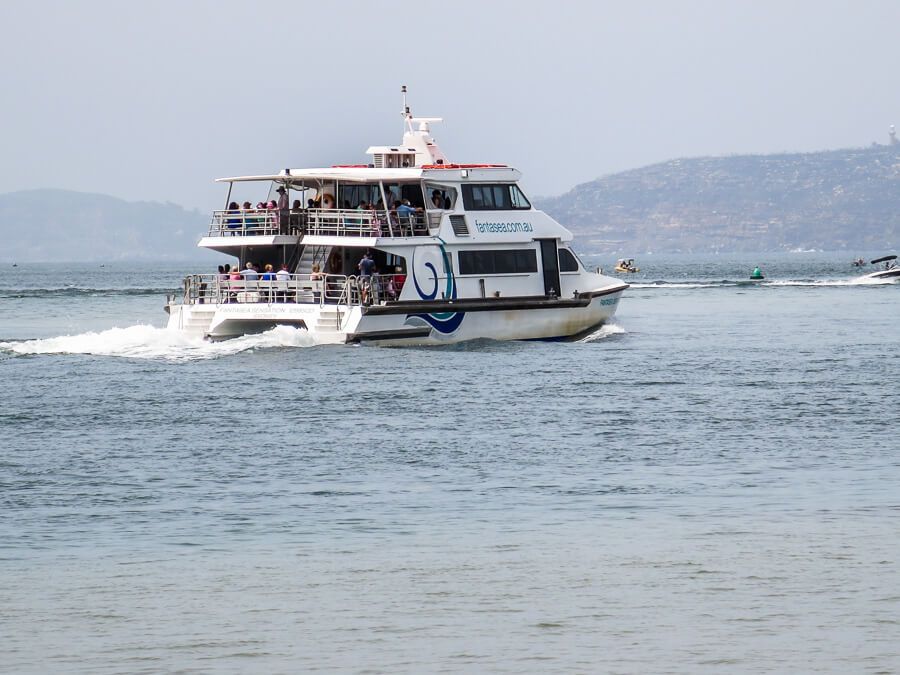 By car: 1 hr 20 min from Sydney via the M1 (F3). Check directions on Google Map. 
By train: 1 hr 45 min from Central Station in Sydney. Take bus 53 from Woy Woy Station. 
By ferry: 30 min on the Palm Beach Ferry. Departs from Palm Beach Wharf.
More Things do Do Nearby