Australian Reptile Park: Insider's Guide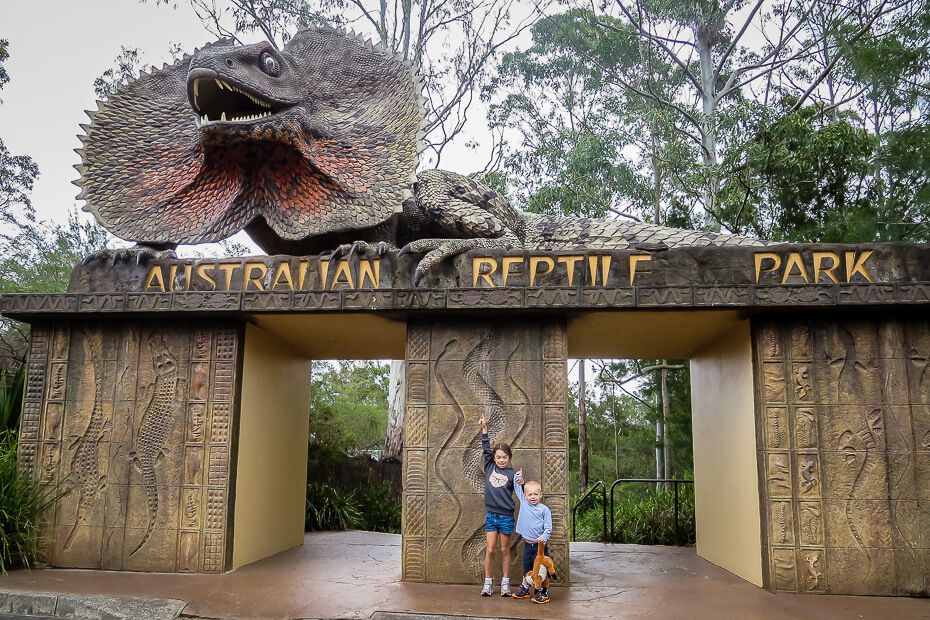 The Australian Reptile Park has been a favourite family attraction for many years.
The wildlife park houses a wide range of animals, from spiders to mammals to birds.
Of course they have plenty of snakes and spiders. And deadly ones such as funnel-web spider, eastern brown snake and common death adder.
As well as a huge saltwater crocodile. A lake full of alligators. A Galapagos tortoise. Wombats, dingoes, Tasmanian devils and platypuses.
You can see koalas up close eating gum leaves and kangaroos roaming freely.
The experience at The Australian Reptile Park is enjoyable because you get close to the animals. You see them inside the exhibits and during shows.
Also, the staff walks around the site with creatures in their arms that you can approach, such as snakes.
All the exhibits and shows are fascinating, but some have left a bigger imprint on us than others.
Here are our highlights...
Crocodile Show
The Australian Reptile Park houses one saltwater crocodile, Elvis. And he's kind of aggressive...
Elvis was removed from Darwin Harbour after attacking fishing boats. They then sent him to a crocodile farm for breeding, but he killed his girlfriends. At last, they sent him to the Australian Reptile Park.
After Elvis charged at workers and pulled their lawnmower into the water, they dubbed him the "World Crankiest Crocodile".
Elvis measures 5 m and is one of the biggest saltwater crocodiles in captivity.
When he snatches the food, you can hear the bang of his jaw slamming shut. This crocodile gives me chills, and it's my favourite show.
Kangaroos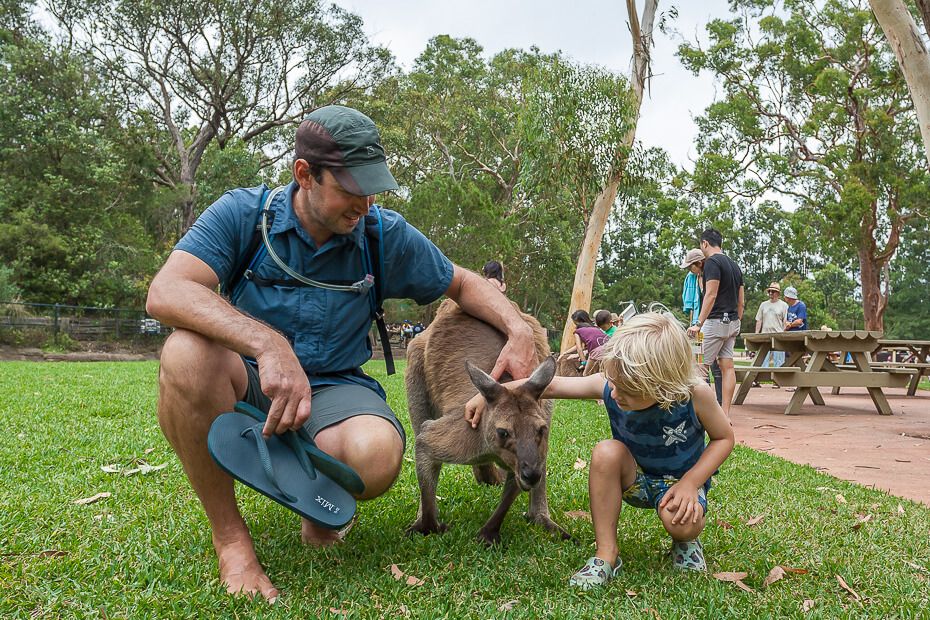 Kangaroos roam freely around the picnic site. They are tame and let you approach and feed them (you can buy food at the kiosk).
It's a lovely experience for children. And visitors who have not yet seen kangaroos in the wild.
Feeding the kangaroos is one of my children's favourite moments at the Australian Reptile Park.

Reptile Show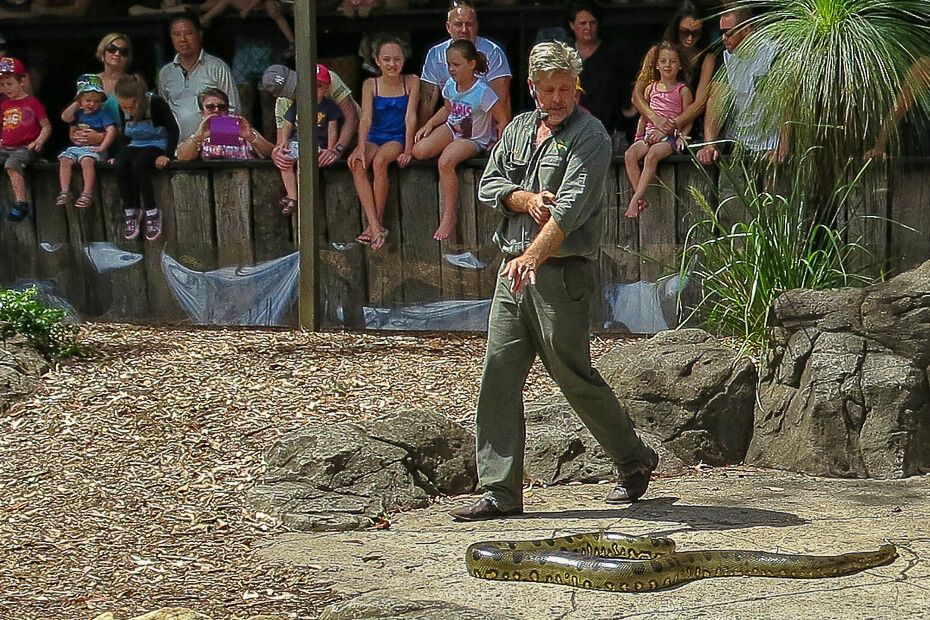 The Reptile Show is compelling.
You see many reptiles and, of course, deadly snakes. They bring the reptiles hidden in boxes to the show pit and take them out one at a time.
You never know what creature they're going to take out next.
The staff explains facts about the lizard or snake's origin and behaviour. They explain how they attack and how venomous they are. They show how they collect the venom from a snake and explain how the anti-venom is produced.
Mostly the show entertains.
If Ranger Mick presents, you are in for a laugh: "If you want to pick up a snake and not get bitten, it's simple: get someone else to do it".
Spider World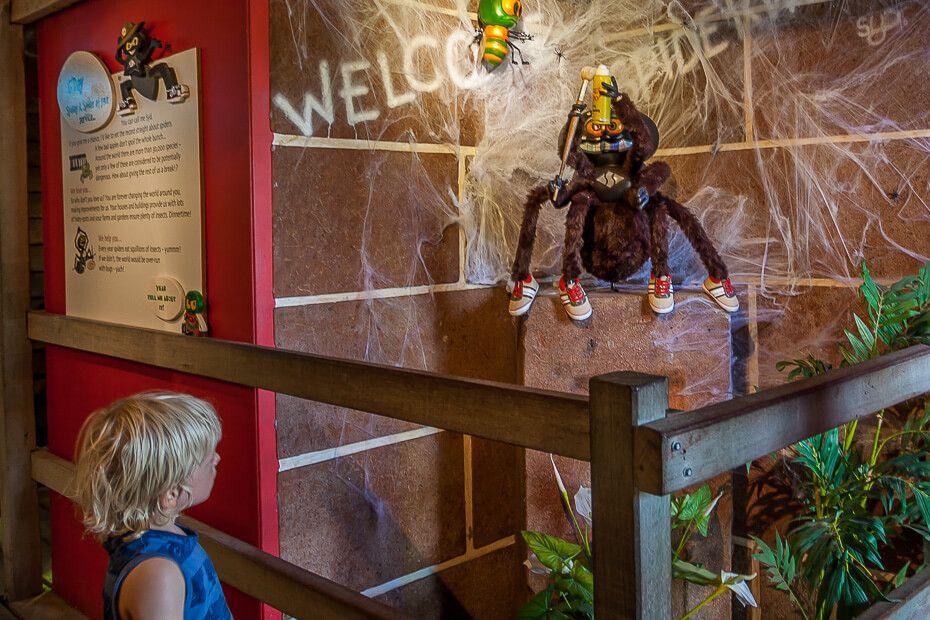 Spider world is an exhibit room full of spiders. You see funnel-web, tarantulas and other common Australian spiders.
Spider World is fun for toddlers and pre-schoolers...
A puppet spider dancing to rap music greets you at the door. Pull a lever or press a button, and a spider appears. Incy Wincy Spider moves up and up the 'water spout'. A giant mechanical spider with a scary voice rears up.
Behind the viewing window, you may see staff milking funnel-web spiders... they collect venom from the spiders' fangs with a pipette.
They rely on people catching and bringing the spiders in to collect enough venom to meet anti-venom demand.
But as Ranger Mick says: "PLEASE don't go turning over rocks looking for funnel-web spiders, especially if you are young and male".
Alligator Feeding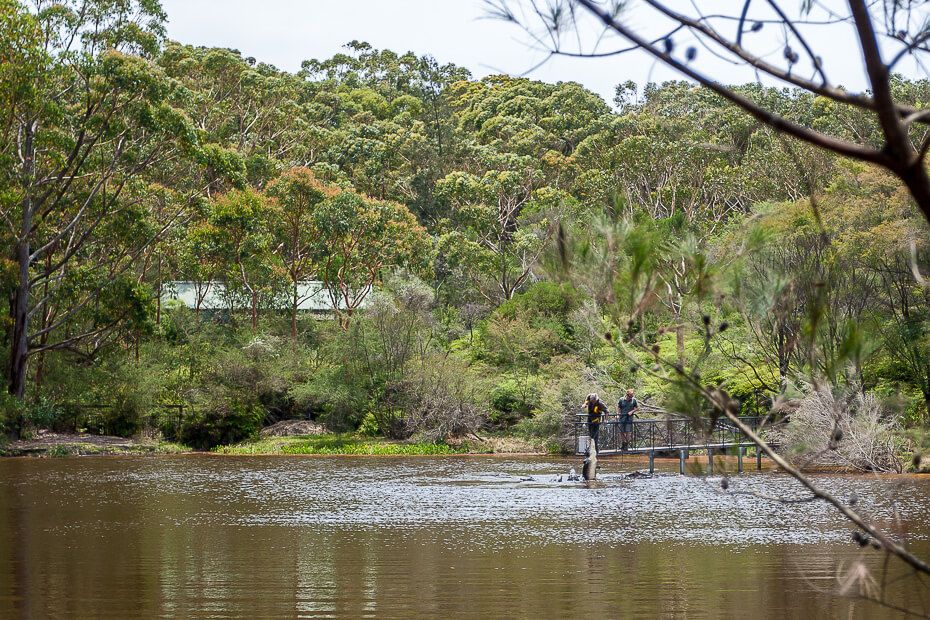 The alligators congregate at the jetty to be fed and jump out of the water to grab the food. It's exciting to watch.
This photo doesn't do it justice. 
Tasmanian Devil Talk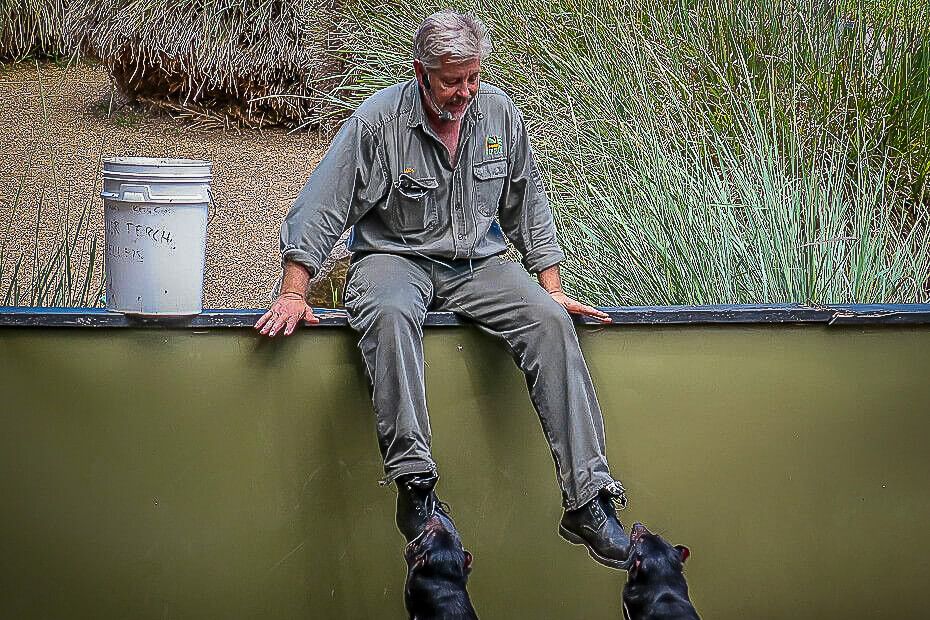 This show focuses on the plight of Tasmanian devils.
Tasmanian devils face extinction because of the Devil Facial Tumour Disease, contagious cancer with no cure.
The number of devils decreased by 90% in the last twenty years. Today fewer than twenty-five thousand Tasmanian devils remain in the wild.
Walk With Hugo the Galapagos Tortoise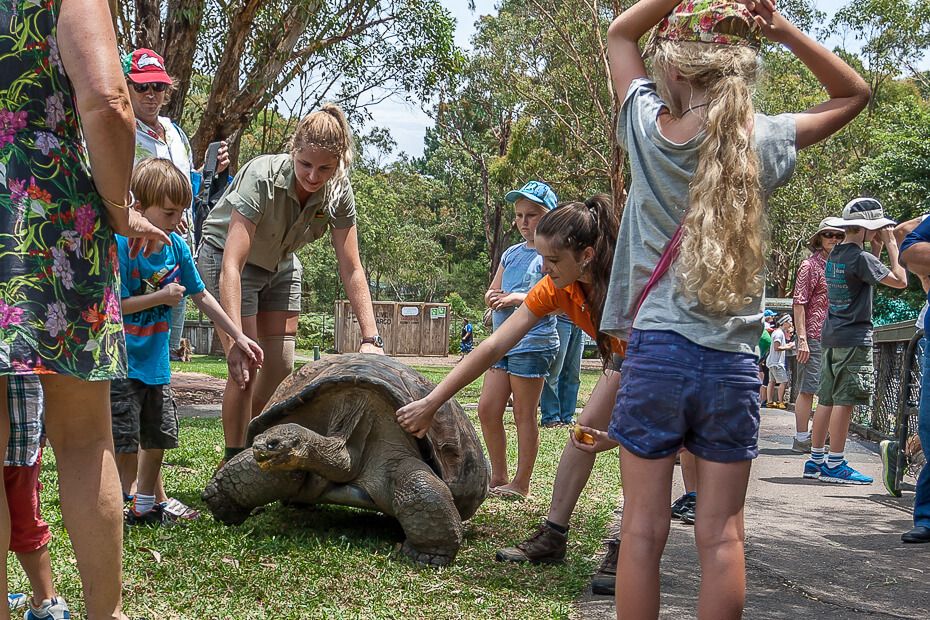 Every day the 63-year-old Hugo the Galapagos tortoise comes out of its enclosure. It goes for a stroll and gets fed.
It's quite an experience to stand next to a 166 kg tortoise.
Nature Walk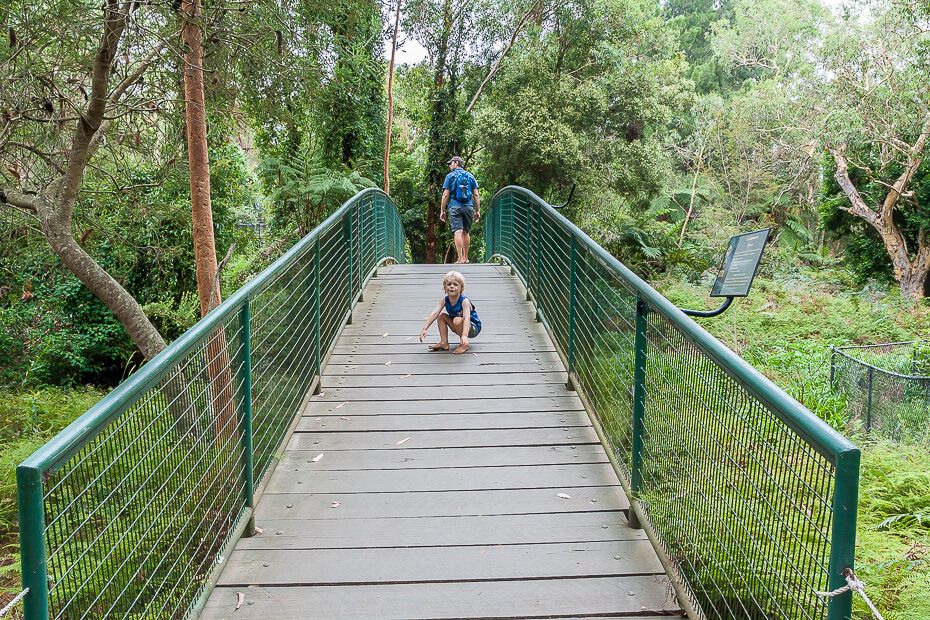 Sometime after lunch, we like to take a break from the scheduled shows and go for a walk. You can walk along the alligator lake and in the bush on the paved pathway. The bird cages are located along the path.
As you can see in the photo, my son was tired. Time to head to the playground!
Playground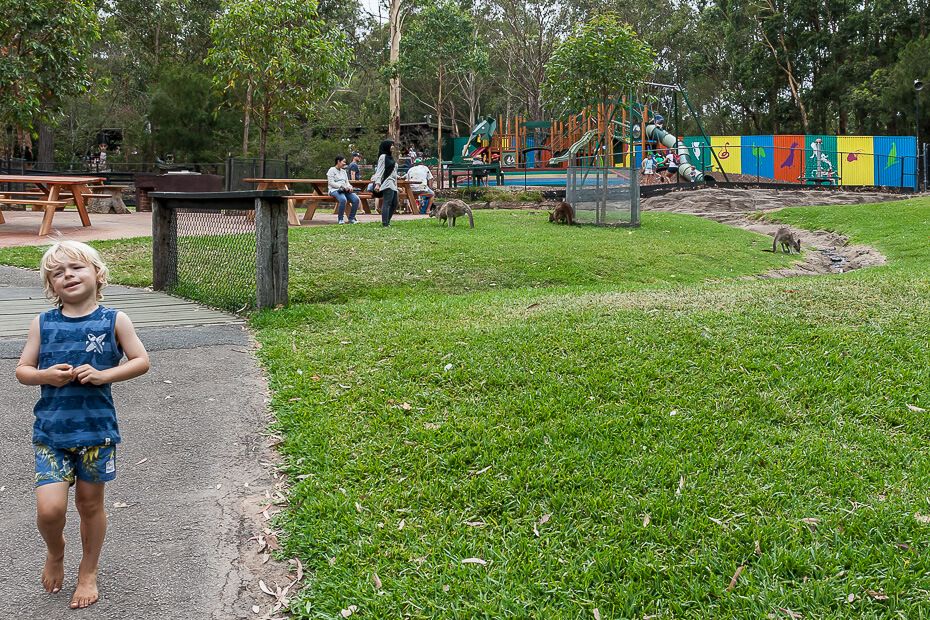 The large playground you can see at the back of the photo helps break the day if you have kids. The playground is centrally located and beside picnic tables. 
Visitor Information
Open daily, 9 am - 5 pm; closed on Christmas day.
You can buy food and coffee at the kiosk, but we prefer to bring our own picnic.
The food from the kiosk is unremarkable (basic takeaway food) and expensive. We eat at a picnic table near the playground. You can also cook on free gas barbecues.  
Website: www.reptilepark.com.au
Tickets: purchase your tickets in advance
Getting there - Australian Reptile Park
Located in Somersby, about 1 hr from Sydney or 1 hr 15 min from Newcastle via the M1. Take the Gosford exit and follow the signs. Check directions on Google Maps. 
Photo Gallery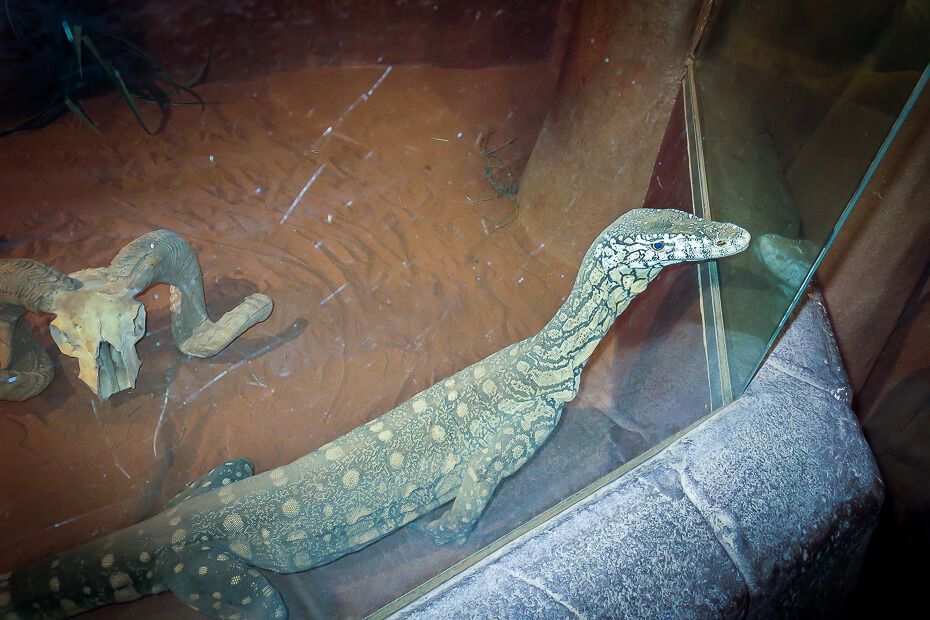 Parentie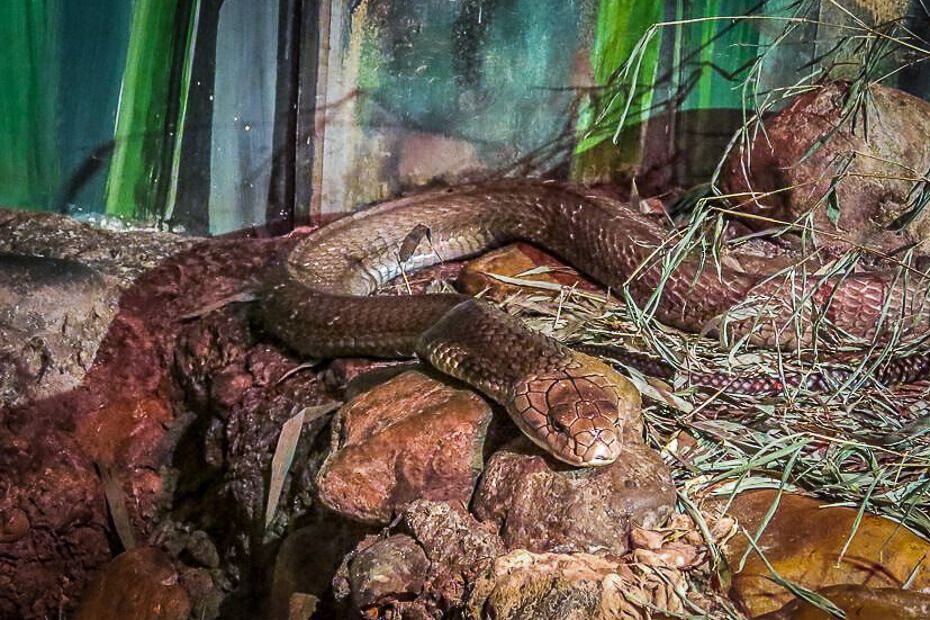 Common death adder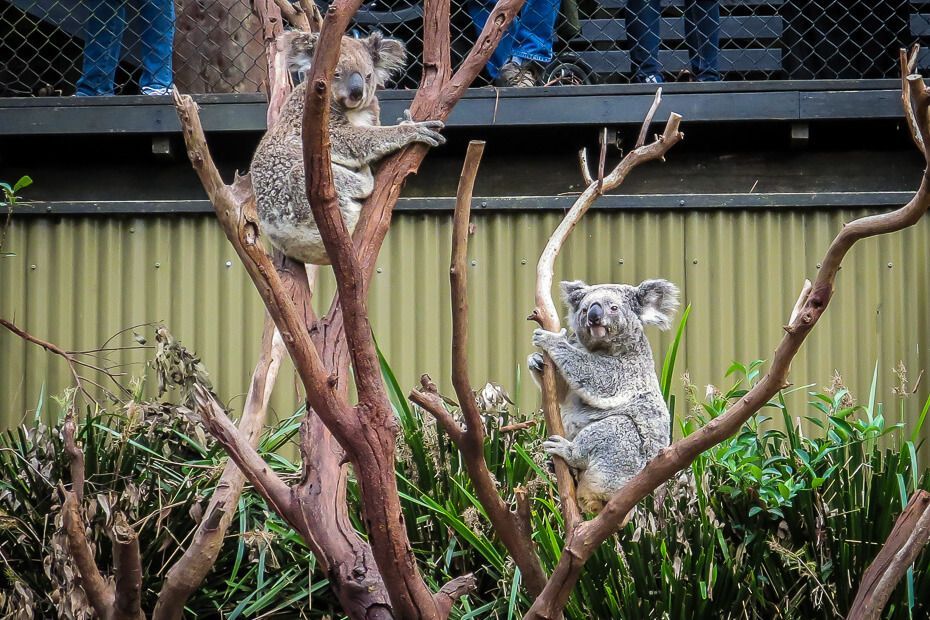 Koalas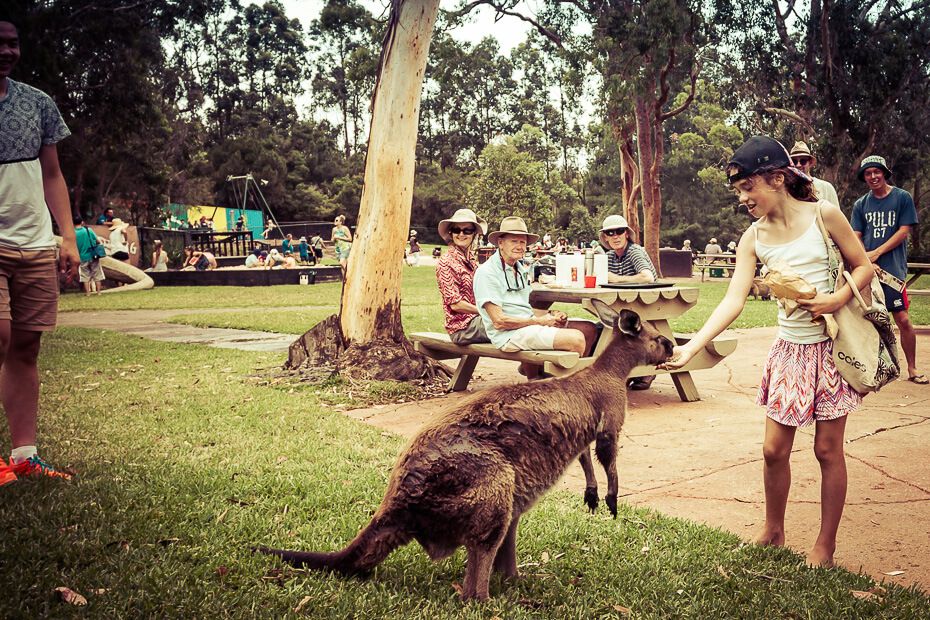 Feeding kangaroos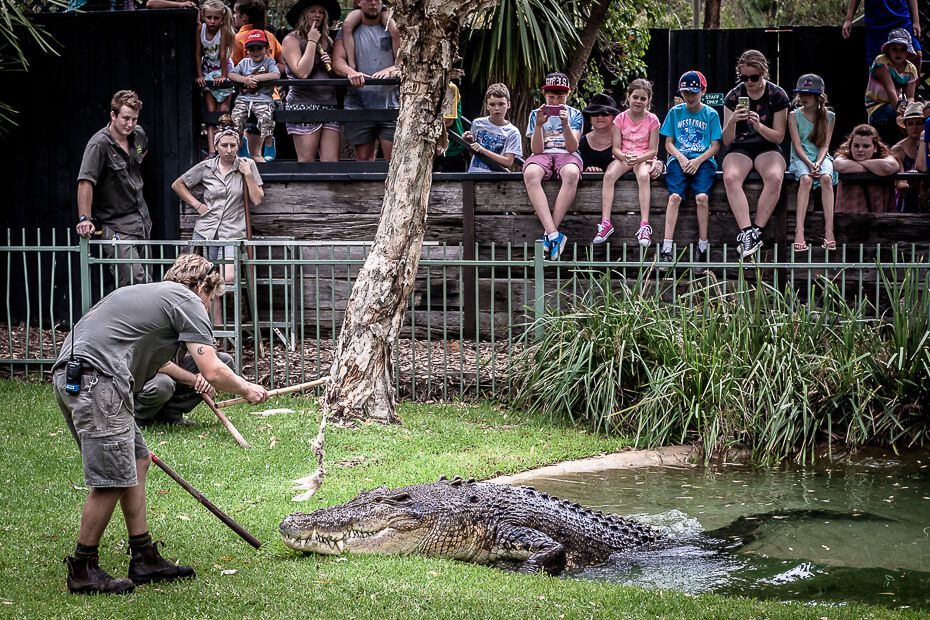 Crocodile Show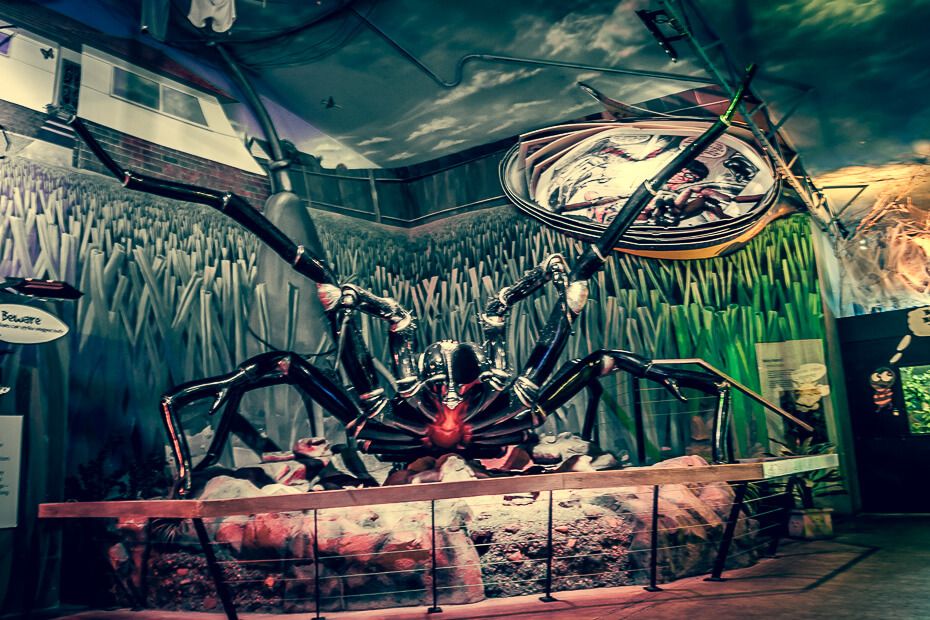 Spider World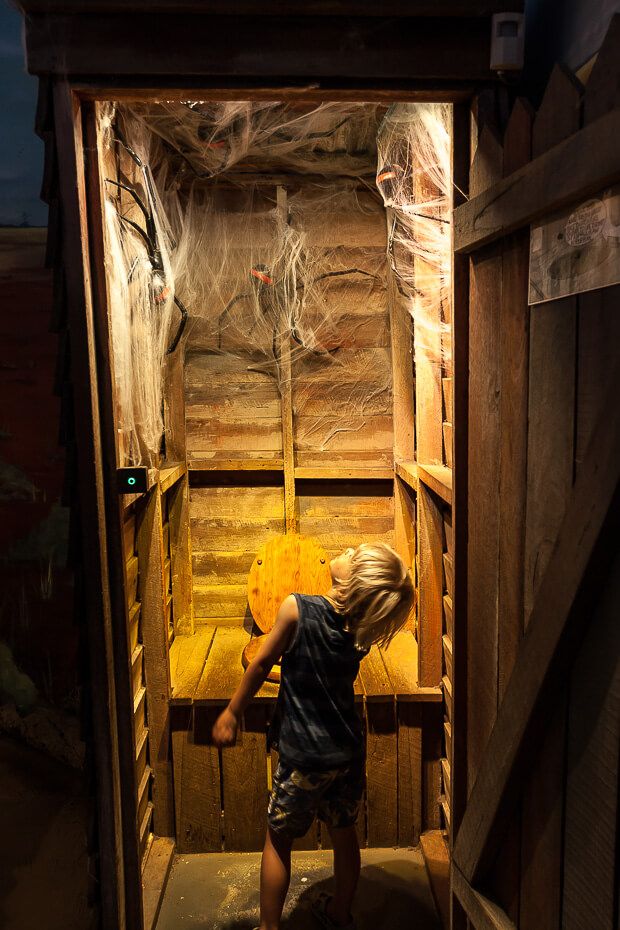 Spider World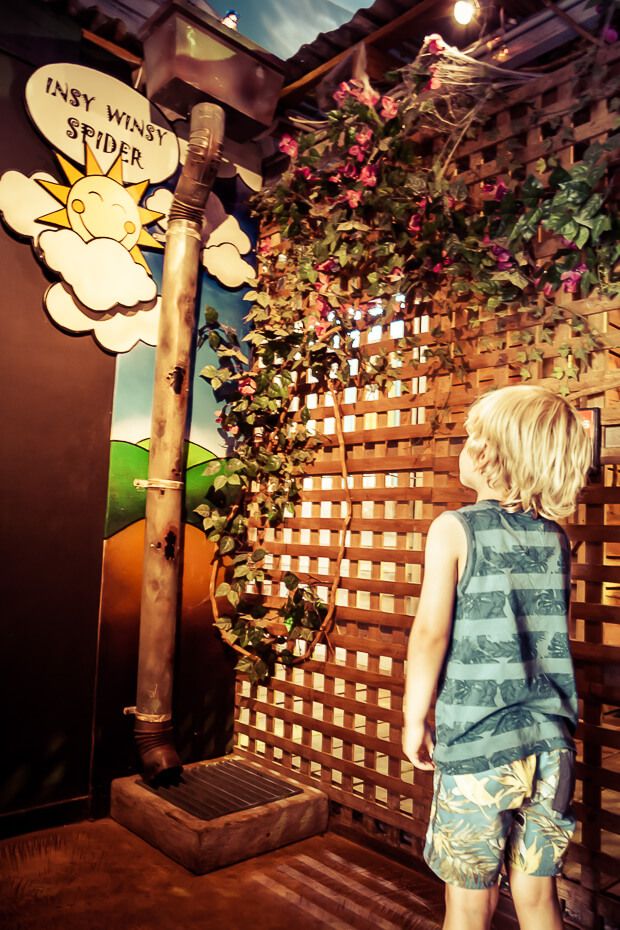 Watching Incy Wincy Spider