Aquafun on Avoca Lake
(This post may contain affiliate links. Please read my disclosure for more info.)
Aquafun is a must if you'd like to do something fun with your children at Avoca Beach during the holidays or glide around the lake and enjoy the beautiful scenery. 
Aquafun is a place on the shore of Avoca Lake where you can hire a kayak, a pedal-boat, or a stand up paddle board for half an hour, an hour, or until you run out of energy.

What is exciting is you can swap the equipment as many times as you like. So you can start with let's say a kayak, then swap for a pedal-boat, then finish up with a stand up paddle board (stand up paddle boards are for 12+ years old).

Once, we hired a watercraft for our daughter and two of her friends. The girls tried two different types of pedal-boats and a kayak and had heaps of fun.
When we went again with our two kids on another occasion, we hired a pedal-boat double seater (thanks for the staff's suggestion).


The kids could sit at the front and jump in the water. They loved it.

You can go anywhere around the lake. Avoca Lake looks like the shape of a T (almost). The western arm is a bushy area, whereas the south arm is more residential. You have to go through under the bridge to get to the south part.
Bareena Island is in a natural state – just trees, no houses. You can go around it. (Ahead on the photo below.)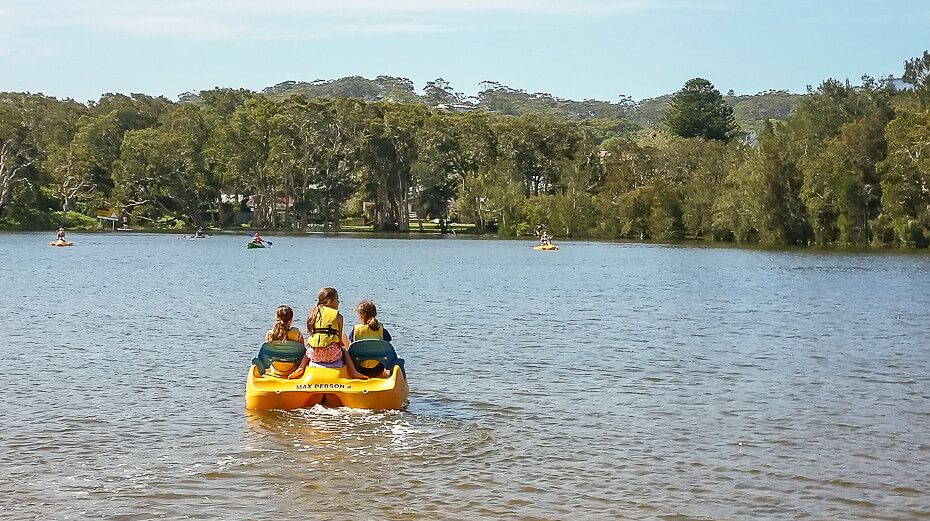 The eastern arm is where the lake meets the sea (where the river meets the sea is the meaning of the Celtic word Avoca).
But most of the time the lake is cut off from the ocean. A bar of sand separates both.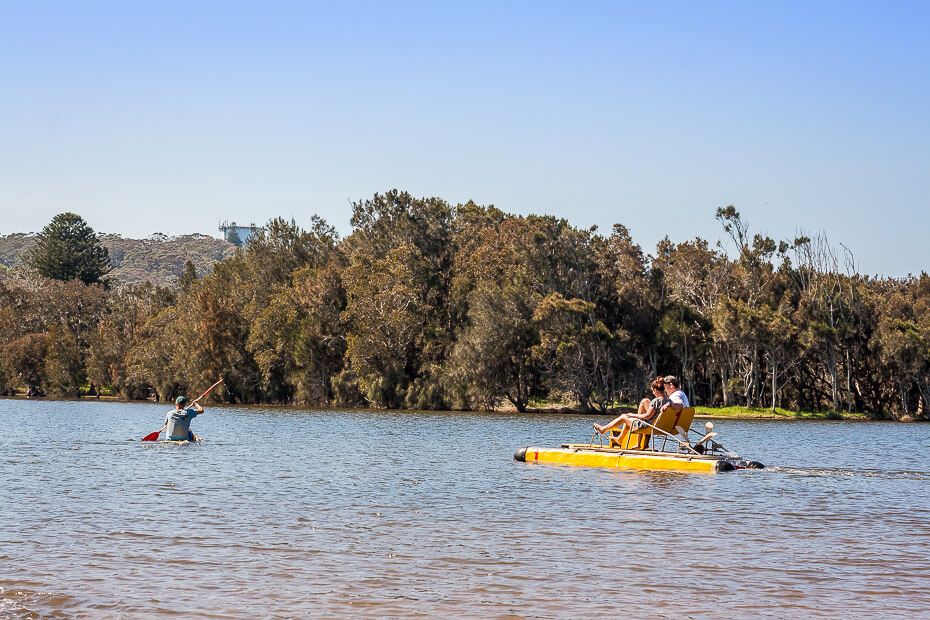 Kids who use watercrafts on their own can go safely on the eastern part of the lake.
It's shallow in many places and they won't get carried away by the wind. Plus it's easy to keep an eye on them because you can walk around on the sand.

If you decide to try the watercrafts, I suggest you hang out in Heazlett Park (where Aquafun is located) for a few hours. Large trees cover the picnic area. They create shade and climbing apparatus for kids.
A small playground, a tennis court, and a sports ground are located in the park. It's relaxing and a nice place to spend time. 

Heazlett Park is also the location of the Avoca Beachside Markets. The markets take place once a month and are very popular.
When the markets are on it's difficult to find a parking spot. Either park your car before the markets begin or park further away on The Round Drive and walk.
Cafes and shops are one-minute walk away, so you can quickly get a takeaway coffee and food. Or get burgers or bacon and egg rolls from Hi-Tide Cafe.

Aquafun Visitor Information
Open between September and May on weekends and school and public holidays from 10 am to 5 pm. Closed on Christmas day.
So hiring a watercraft for over an hour is much better value and you get more fun time. Win win. 
No need to book, just turn up. The staff will offer to watch your keys, phones, wallets, or bags while you're on the lake and they'll give life jackets for your children for free.
Bring picnic rug, chairs and a ball. And enjoy the lake, it's worth it.
The carpark is located on Ficus Avenue, Avoca Beach. 
Related Pages