14 Best Things to Do in Umina Beach
This post may contain affiliate links. Please read our disclosure for more information. 

Umina is a coastal village on the Central Coast, New South Wales, Australia.
It's only an 80-minute drive from Sydney.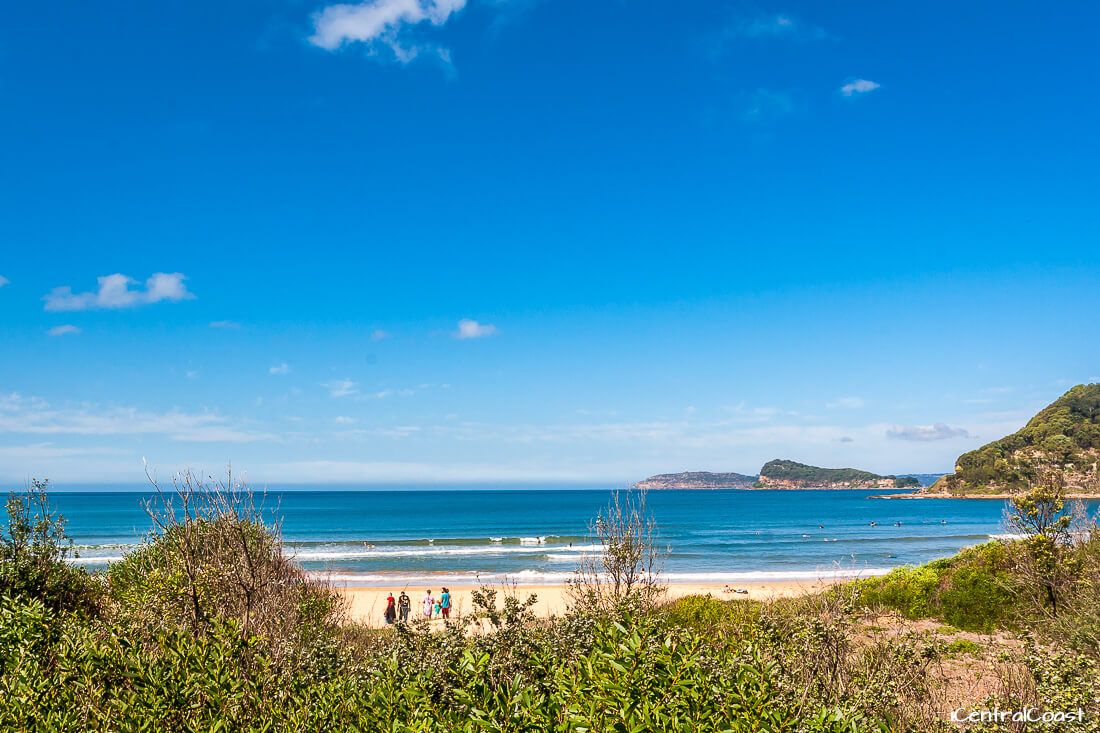 The area is a popular getaway destination for Sydney families. The beach is suitable for kids of all ages, and there is a fun holiday park and a large playground.
Find out more below about our favourite things to do in and near Umina Beach.

Things to Do in Umina Beach
1. Swim and Surf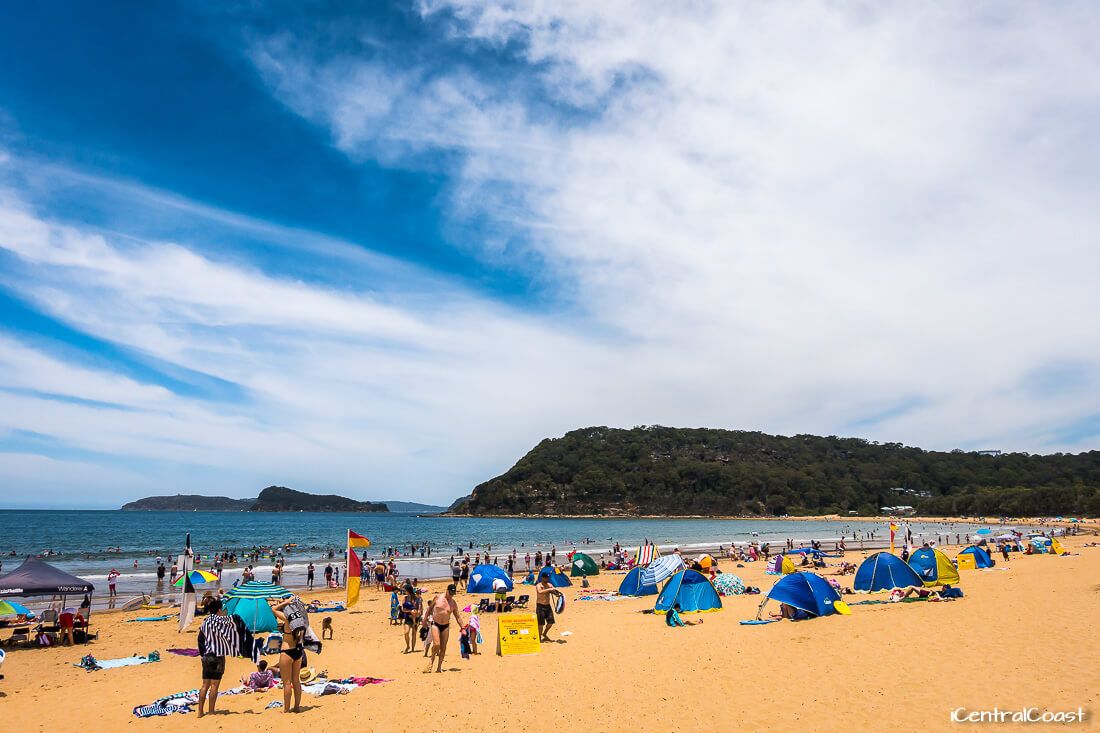 The beach here is stunning. 

You can see Sydney's Northern Beaches on the other side of Broken Bay and two national parks on each side of the beach.
Ocean-Umina Beach is very popular with families... 
At the southern end of the beach, the water is shallow, great for small children. 
There are small waves in the middle of the beach, ideal for kids who are learning to surf. Book a surfing lesson with one of the local surf schools. 
And there's lifeguard patrol during the warmer months. 
2. Take the Kids to the Large Playground
The largest playground on the Central Coast is located right here beside the beach.
The playground is suitable for kids of all ages and offers a fully fenced area for little ones.
The playground contains
BMX track
skateboard park
large climbing net
flying fox
fully fenced area for toddlers
cycling path
picnic tables and barbecues. 
Have coffee and food at Jasmine Greens located beside the playground while you watch your kids.  
3. Walk your Dog on the Beach
Let your dog roam free on the beach. 
Both the southern and northern ends of the beach are off-leash areas.
4. Umina Beach Markets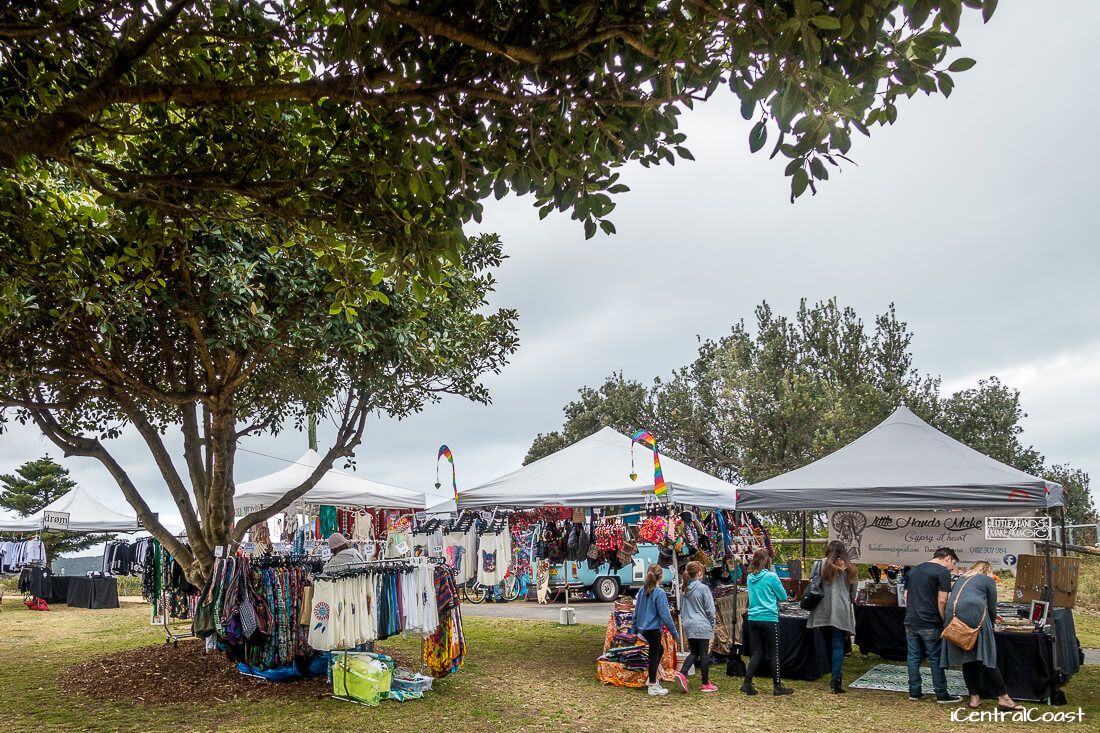 Visit the monthly markets.  

There are 75+ stalls selling art, fruits and vegetables, clothes, ready-to-eat-food, jewellery and more. There's also live music.
The vibe is great.
The markets are held on the 3rd Sunday of the month from 9 am to 2 pm beside the Surf Lifesaving Club. 
Find out more about Umina Beach Markets. 
5. Bushwalks & Lookouts Nearby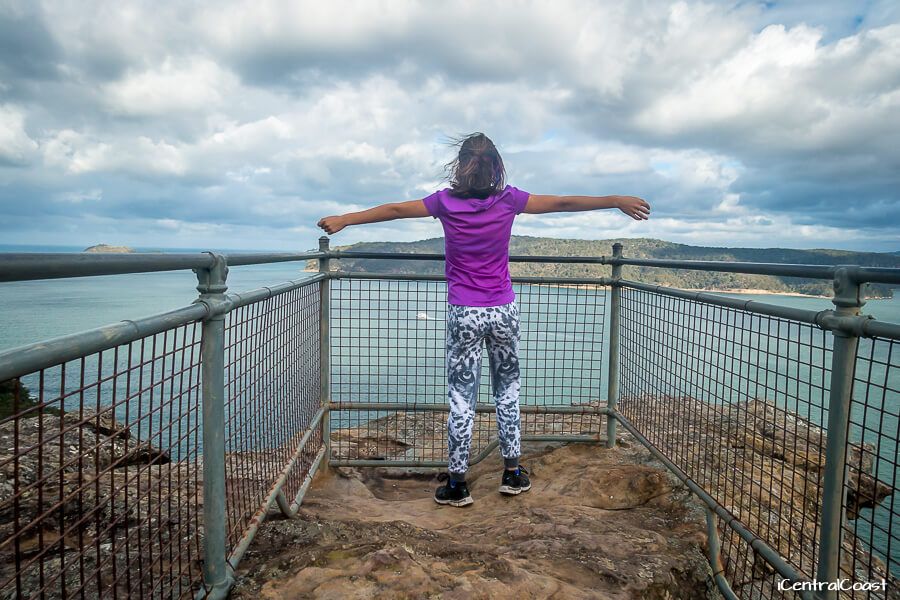 The Patonga to Pearl Beach walk is a great walk between two fabulous beaches.
Walk or visit a lookout in Brisbane Water National Park or Bouddi National Park.
They're located close by.
The two national parks offer many bushwalks, mountain biking trails and amazing lookouts.
Find out more here:
6. Mount Ettalong Lookout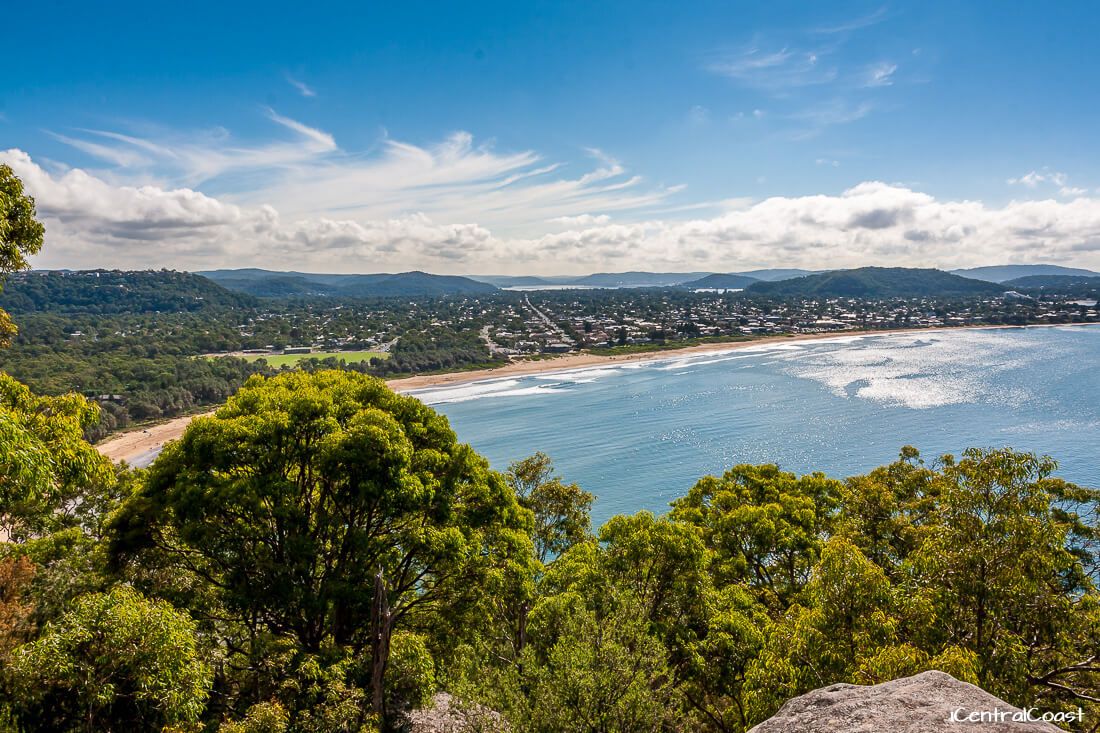 Walk to Mount Ettalong Lookout. You get a view of Ocean-Umina Beach like on the photo above.

To get to Mount Ettalong Lookout, drive along Mount Ettalong Road toward Pearl Beach.
The road climbs and winds all the way to the top of the headland.
When the road straightens out, look for the car park on the left.
The lookout is only a short walk in the bush from the car park. 

7. Patonga Beach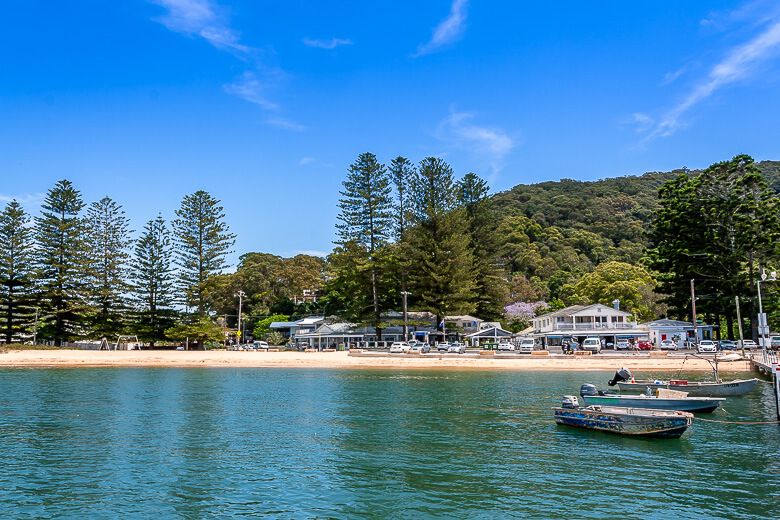 Patonga Beach is a secluded village and beach at the mouth of the Hawkesbury River. 
Have a beer at the Boathouse Hotel Patonga while enjoying the ocean views. 
Have a relaxing walk along the local streets. 
Enjoy an energetic walk over the hills between Patonga and Pearl Beach and take in the spectacular views from Warrah Lookout. 
Click here to read our full post on Patonga Beach. 
8. Pearl Beach 
Pearl Beach is located south of Umina Beach. 
It's a charming village. 
The southern end of the beach is protected and calm, perfect for families, and there's an ocean pool. 
Click here to read our full post on Pearl Beach.
9. Ettalong Beach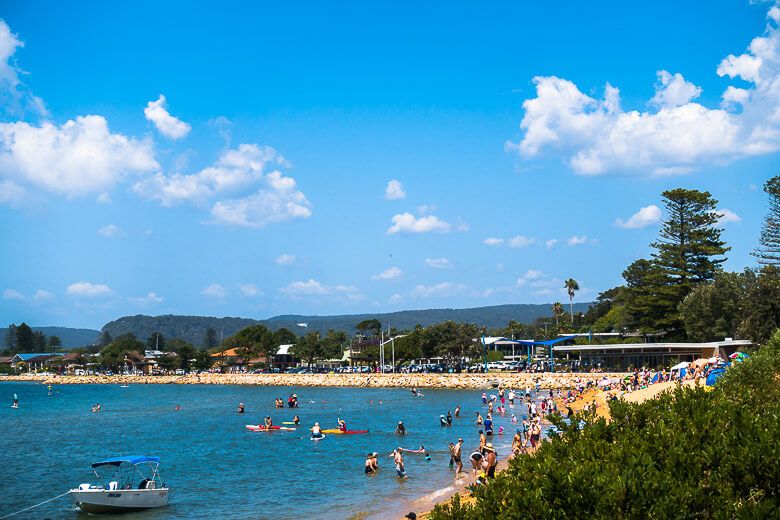 Ettalong Beach is located immediately northeast of Umina Beach. 
This town offers plenty of great restaurants and a calm and shallow beach, perfect for small children.
Kids will also enjoy the small playground on the shore, and adults will enjoy eating at The Box on the Water. 
Walk from Umina Beach to Ettalong Beach if you like long walks on the beach. The beach stretches unbroken for 4 kilometres.
You can also cycle along the path. 
Click here to read our full post on Ettalong Beach. 
10. Central Coast Mountain Bike Tours

Joining Central Coast Mountain Bike Tours is the best way to experience fantastic mountain bike trails in the region. 

They offer quality bike hire, shuttle service to the top of the Ourimbah trails, and guided tours. 
The tours and trails are for all skill and fitness levels. 
Beginners will enjoy downhill rides and touring the national park trails. Immerse yourself in nature and take in the beautiful views from the lookouts. 
Experienced riders will enjoy riding the famous Ourimbah trails. 
Find out more about Central Coast Mountain Bike Tours. 
11. Bremen's Patisserie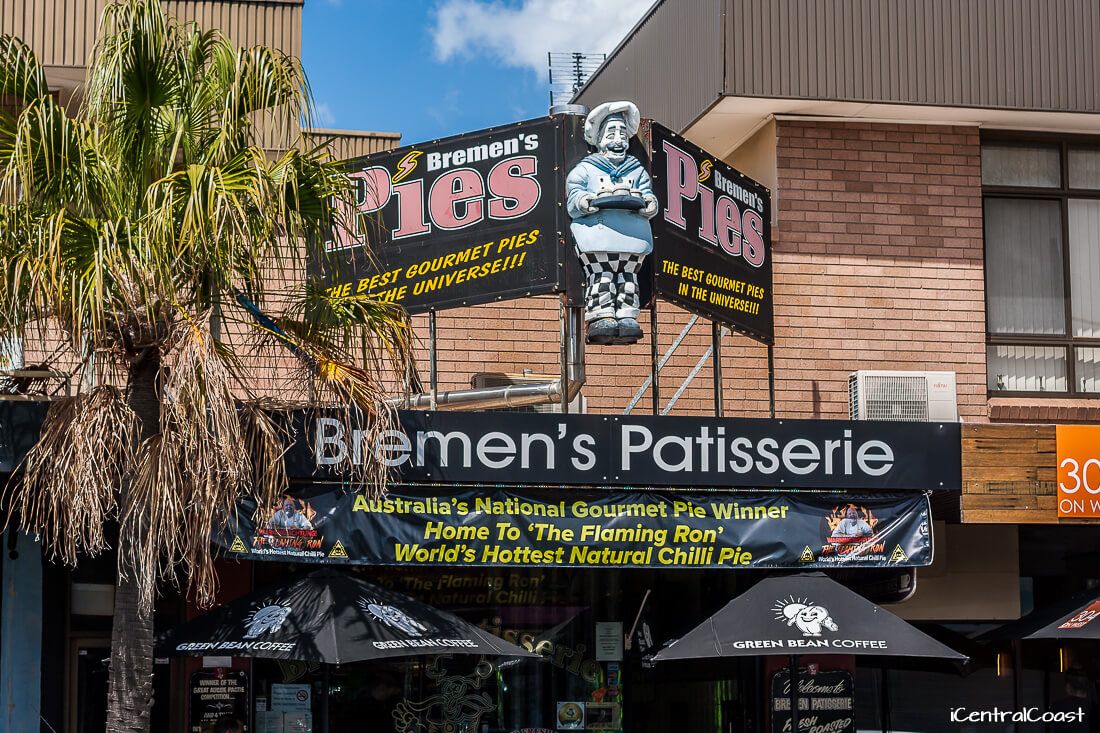 Savour a delicious pie at Bremen's Patisserie.
They boast the hottest pie on the planet earth, Flaming Ron Pie. Have one mouthful and it will apparently send you rolling in pain on the floor. 
They make the Flaming Ron Pie with the Trinidad Scorpion Butch T. It's the world's hottest chilli. One seed is 300 times hotter than a jalapeno.
12. Umina to Pearl Beach Walk
Enjoy this short and relaxing walk around the headland from Umina to Pearl Beach. The walk follows the coast and the views are beautiful. 
The walk takes about 15 minutes one way. If you'd like to walk further, continue along Pearl Beach. If you're fit, you could even continue hiking over the headland from Pearl Beach to Patonga via Warrah Lookout. 
In Pearl Beach, have a swim at the southern end of the beach where the water is calm. 
The track begins at the southern end of Umina and ends at the northern end of Pearl Beach. 
13. Bulgandry Engravings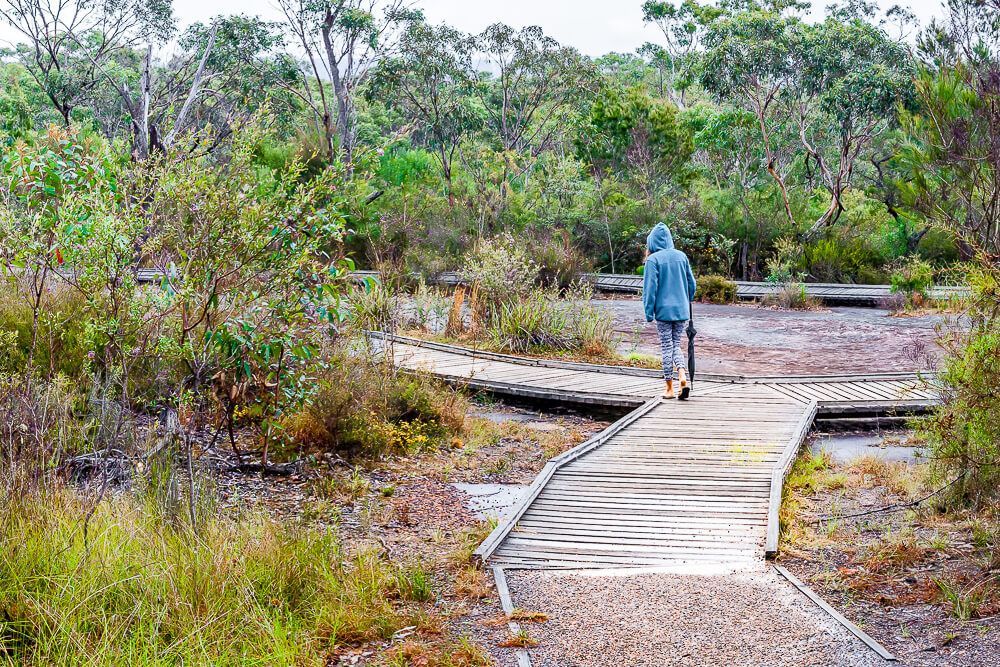 Visit the Bulgandry Aboriginal art site if you're interested in Aboriginal engravings.
A short walk winding through the bush leads you to a large rock platform with the carvings.
The name Bulgandry derives from the Bulgandry man, which is one of the better-preserved carvings on the site. It represents an ancestral hero.
There are plenty of other engravings like fishes, dolphins and kangaroos.
The walk alone is pleasant, and you can access it with a wheelchair, although a little bumpy. 

Click here to read our full post on Bulgandry Aboriginal art site. 
14. Stay at NRMA Ocean Beach Holiday Resort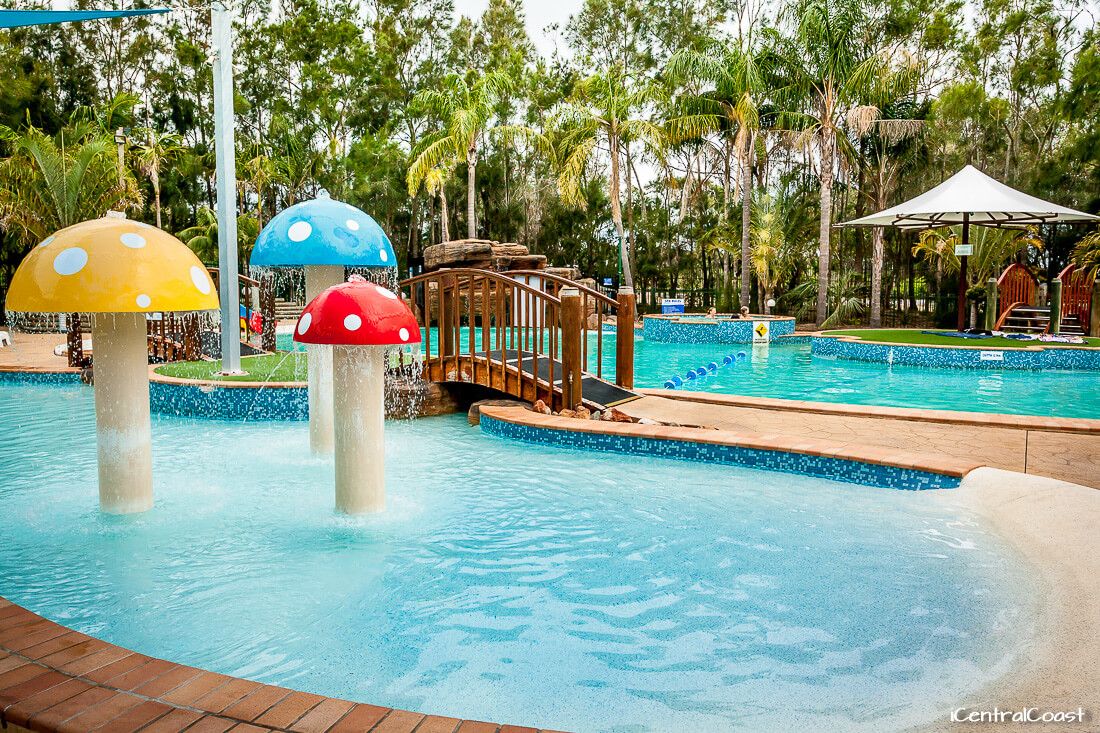 NRMA Ocean Beach Holiday Resort is the most popular place to stay in Umina Beach. 
It has been voted as one of the ten best holiday parks in NSW for families.
The holiday park is located beside the beach, and the large playground is just up the road. 
There are great cabins, campsites and fabulous swimming pools.  
Click here to read our full post on NRMA Ocean Beach Holiday Resort.

Where to Eat in Umina
Six Degrees Café ($$) is a popular place in Umina to have breakfast and an excellent coffee. Enjoy French toast, waffles or egg benedict. They also have vegetarian and vegan options. The café closes mid-afternoon. Located 327 West Street. 

Miori Japanese Restaurant ($$) offers authentic Japanese cuisines like sushi, sashimi and tempura. Enjoy this little gem in Umina and try a variety of different dishes. Located 312-320 Trafalgar Avenue.

Thai Season ($$) offers tasty and authentic Thai cuisine like Pad Thai Noodle and King Prawns Salad. It's another little gem in Umina. They also offer meal delivery and pickup. Located 346 West Street.
Wandee Thai Restaurant ($$) serves delicious Thai and Asian cuisine. Enjoy stir-fries, curries and seafood dishes. They also offer meal delivery and pickup. Located 327 West Street. 

For yummy takeaway food, check out Tasty Delights ($). They have a variety of chicken and salad meals like Thai Beef Salad, schnitzel burgers and chips. Located 276 West Street.

Where to Stay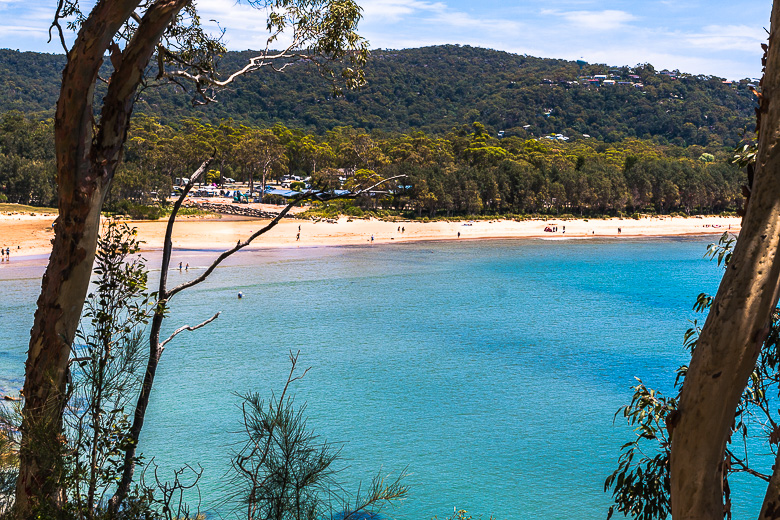 Other than NRMA Ocean Beach Holiday Resort, you'll find plenty of holiday rentals. You can search on a site like Airbnb or Stayz. 
Haven't used Airbnb before?
Use our unique Airbnb referral link and receive from $20 to $70 discount on your first stay.
The coupon amount depends on the total cost of your stay, which must be at least $400. (To get the max discount of $70, the total cost of your stay would have to be over $1,400.)
Click here to get your Airbnb coupon.
You just have to register with your name and email address, and your coupon will be automatically applied to your first booking.
(As an Airbnb Associate, I earn when you book through one of these links, at no cost to you.)
These are top places to stay in Umina Beach: 
Umina Beach Weekender is a modern and immaculate home a short drive to the beaches, shops and bushwalks. It can accommodate 4 people.
Hampton's beachside is in a perfect location, metres from the beach, the large playground and Jasmine Greens Park Kiosk. It's fantastic with kids. The house can accommodate 6 people.
Ettalong Beach Villa is dog friendly and minutes' walk to Umina Beach, which is also dog-friendly. The villa is comfortable, and you'll enjoy the fantastic spa! It can accommodate 5 people.
Where's Umina Beach
Located 1 hr 20 min north of Sydney and 1 hr 30 min south of Newcastle via the M1. Take the A49 Central Coast Hwy exit.
Follow the directions on Google Map.