Bateau Bay
Bateau Bay is a quiet coastal village and beach located a few kilometres south of The Entrance NSW.
The highlights here are:
A picturesque beach
A stunning lookout that is perfect for whale watching 
A scenic coastal walk along the clifftops 
Disclaimer: I may receive a small commission from some of the links on this page. 

If you're planning to visit this area read more tips below on things to do and place to stay…
The Beach
Bateau Bay is a curving 200-metre beach in Wyrrabalong National Park.
It's protected from the big swell and wind by two headlands on its sides. So the beach is sheltered and quiet.
If you're looking to get away from the summer crowds this beach is rarely crowded.
It's a wonderful spot to explore in winter as well. Kids like to walk on the large flat rocks.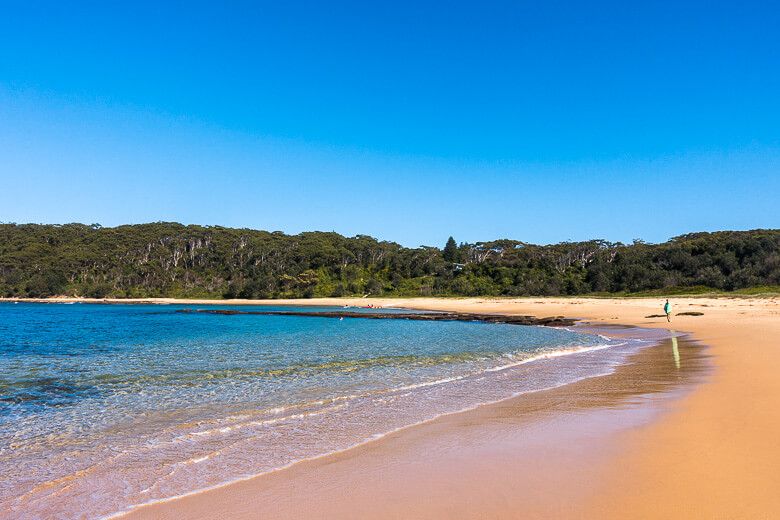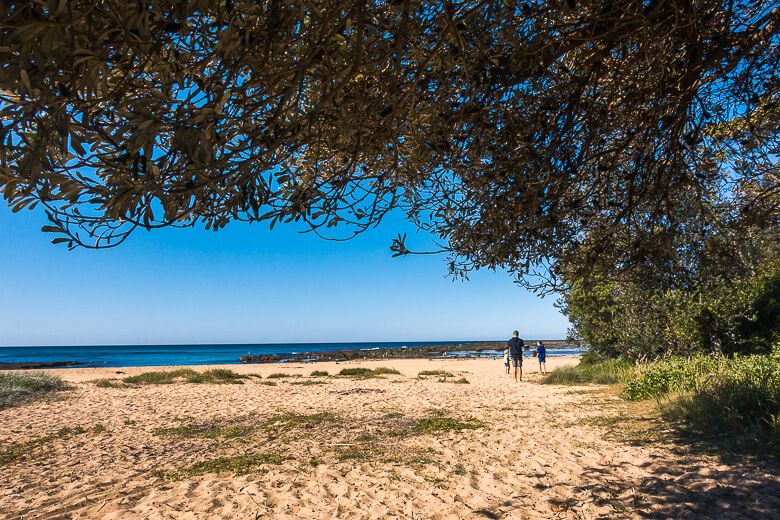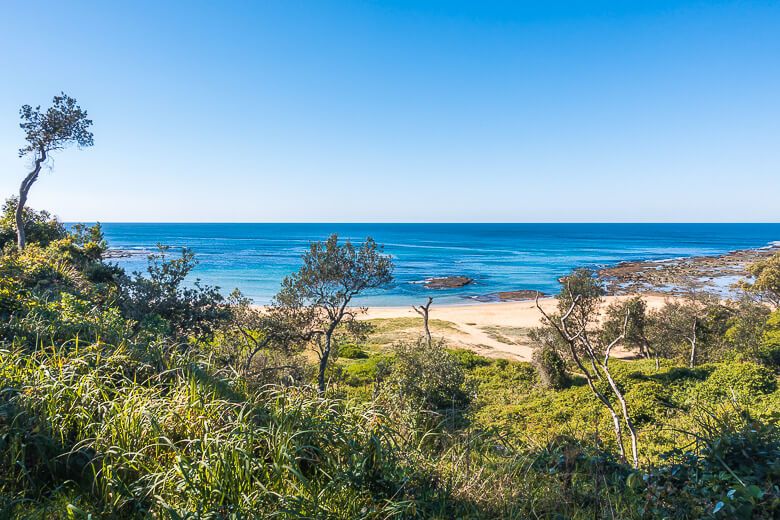 The beach is not patrolled but you can still have a dip. You can also kayak, snorkel, fish and picnic at the picnic area beside the beach.
The next beach north is Shelly Beach, a popular beach for surfing and swimming.

Picnic Area
The picnic area beside the beach has picnic tables, toilets, seats that overlook the beach and large trees that provide plenty of shade. From here you can directly access the beach.
Located corner Reserve Drive and Parkside Avenue.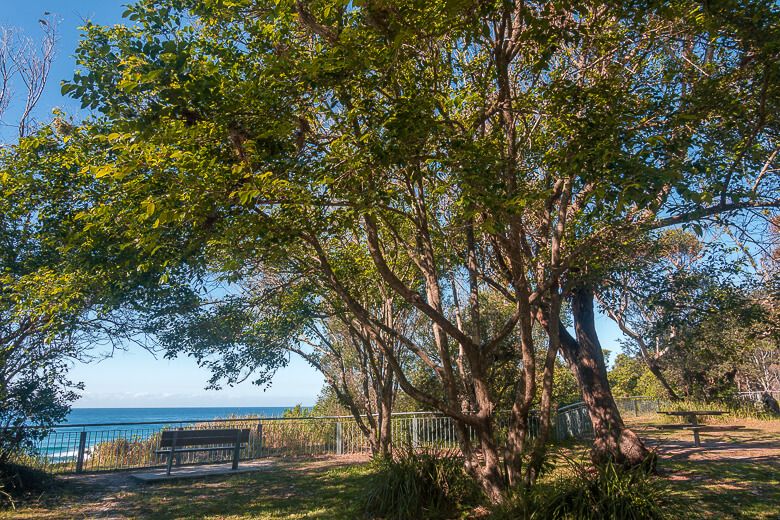 You can also access The Coast walking track in Wyrrabalong National Park from the picnic area. 

I recommend doing this walk at least to Crackneck Lookout. 
Crackneck Lookout
Crackneck Lookout is one of the best lookouts on the Central Coast. You see panoramic views up to Norah Head.
Soak in the view from the large grassy area, have a picnic, and grab an excellent coffee from Juwanna Coffee van.

If you're here between June and August take binoculars. You'll spot whales for sure.
This site is also a hang gliding & paragliding launch site. 

To get to Crackneck Lookout drive to the free carpark at the end of Hilltop Street.
Or walk on the Wyrrabalong Coast walking track from the beach. The track ascends slightly for 1.5 kilometres to Crackneck Lookout. It should take about half an hour.
You can stop at Crackneck Lookout but I recommend you walk all the way to Forresters Beach. That part of the walk is even better. 

Wyrrabalong Coast Walking Track
The Coast walking track in Wyrrabalong National Park is a terrific walk. It follows the clifftops between here and Forresters Beach for 3 kilometres.
You come across clearings with stunning coastal views. As I have said the walk cuts through Crackneck Lookout mid-way.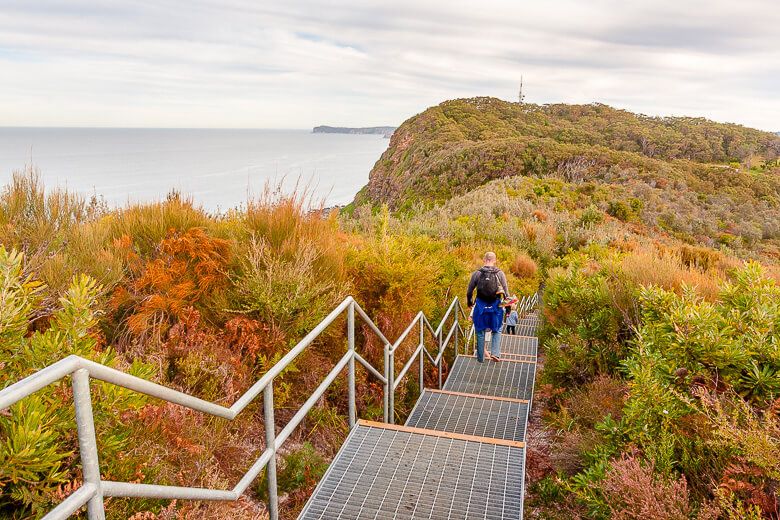 The walk is rated medium.
It follows a well-defined track and stairways. It's short enough for kids to manage. And runners can be seen exercising.
Walking this track is a great way to experience the best points of interest in this beach town while enjoying beautiful views.
Where to Stay 
Blue Lagoon Beach Resort is a caravan park in a great location. It has direct access to Shelly Beach and it's a short walk to Bateau Bay and Wyrrabalong Coast walking track.

There are heated pools and spa and a tennis court. 
The beachfront cabins and the family cabins have been refurbished.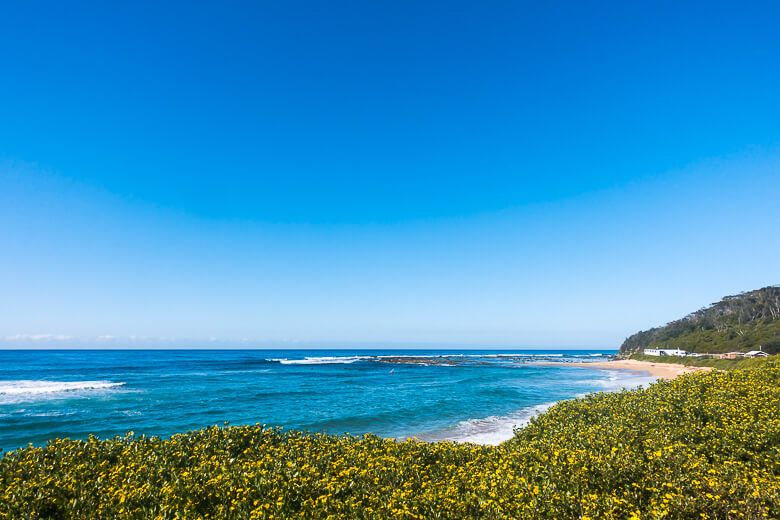 The view from Blue Lagoon Beach Resort
Where is Bateau Bay
Located 1 hr 25 min north of Sydney via the M1 or 10 min south of The Entrance.