4 Best Beach Chairs to Buy in Australia in 2022
Disclaimer: I may receive a small commission from some of the links on this page. 

I've been researching the best beach chairs to buy in Australia. 
Having an excellent beach chair is essential, particularly if you're spending more than a few minutes at the beach.  

There are so many options, from chairs that fully recline and with an adjustable pillow to lightweight chairs you can carry on your back.
Some offer built-in accessories like a cooler and a storage compartment, and others sit low in the sand or higher off the ground.    

Beach chairs can also be useful at other places like parks or camping.    

There are so many choices on the market that it can be hard to choose. That's why I researched and came up with these great beach chairs.
Here are some of the best beach chairs you can buy in Australia in 2022:
---
1. Best Overall Beach Chair 
Simple yet sturdy, Coleman Beach Chair Quad Low Sling is lightweight and compact when folded and keeps you comfortable at the beach all day long.

Coleman Beach Chair Quad Low Sling is very comfortable to sit on at the beach all day.
The high back provides full support, and the chair sits low so that you can stretch your legs in the sand.
The padded armrests are a welcome addition. 
You can store your items like sunscreen, keys and phone in the seatback pocket. And there's also a mesh cup holder for drinks.
Coleman Beach Chair Quad Low Sling is light and easy to carry. It folds compact, and you can transport it in the carry bag with the shoulder strap.
It's a simple chair but very well made and built to last. Made with a powder-coated steel frame, it can hold up to 113 kg.

Cons: Some people may find it hard to get out of the chair as it sits low in the sand. 

---
2. Best Backpack Beach Chair
The multifunctional Tommy Bahama Backpack Chair is comfortable and easy to carry.
Tommy Bahama Backpack Chair is comfortable enough to spend hours at the beach.
It's made a bit wide and reclines in five different positions. You can even lie completely flat.
There's also an adjustable pillow, so your head is always supported.
The chair's practical storage makes it easy to keep all your stuff together.
Put a small ice pack in the insulated cooler pouch, and your drinks and snacks will stay cold. Store your little things like your mobile phone, keys and cash in the closing pocket and your water bottle in the bottle holder.
You can also hang your towel on the folding rack at the back of the chair.
The chair is easy and comfortable to carry because of the padded backpack straps.
The frame is made of aluminium and the fabric of 600 denier polyester, and the chair can carry up to 136 kg.

Cons: Closing the chair is not intuitive. There's a simple trick to it–stand at the rear of the chair, hold the back leg with your foot and push the back seat forward. 
---
3. Best Versatile Beach Chair
The compact and versatile Cascade Mountain Tech Low Profile chair is perfect for various places.
The versatile Cascade Mountain Tech Low Profile chair will help you unwind whether you're watching the waves at the beach, a match at a sporting event, a band at a music concert, or simply relaxing around a campfire.
With comfortable padded armrests and a robust steel and aluminium frame, the chair also has a breathable mesh fabric to keep you cool in the hot Australian weather and help you relax.
Weighing 3 kg and supporting up to 113 kg, the chair is easy to transport and pack away with its carry bag and shoulder straps.

Cascade Mountain Tech Low Profile chair comes in various colours, including black, blue, orange and green.
The chair has a one-year warranty.
Cons: There are no extra features like a drink holder or different reclining positions. It also sits low on the ground, which may not suit some people.
---
4. Best Lounging Beach Chair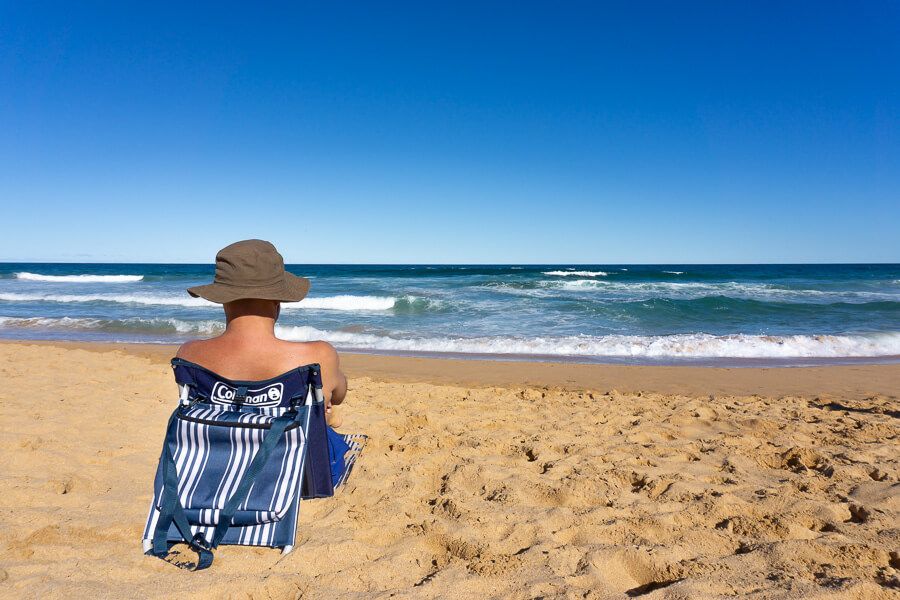 You won't need to dig in the sand anymore for back support. Coleman Beach Mat allows you to stretch your legs in the sand while supporting your back.
Spend a lazy day at the beach. Read a book or watch the waves roll in. The back is adjustable, and the meshed fabric in the back will keep you cool in hot weather.

Coleman Beach Mat comes with a lovely extra: An insulated cooler on the backrest to keep your drinks cold.
The mat is also easy to carry—it folds flats and comes with a carry strap.

It's made with a durable 600D polyester fabric and powder-coated steel frame, and it weighs 2.3 kg.
Cons: The mat is relatively narrow, so you may not find it very comfortable if you have broad shoulders.
---
How to Choose a Beach Chair
Frame Construction
Beach chairs are made of either aluminium, steel or wood.
Aluminium is lighter to carry and resistant to rust, but it may dent or bend if not handled gently.
Steel is stronger but a bit heavier and less resistant to rust, although the metal has most of the time been powder-coated to make it rust-resistant.
Wood is durable and has a classic look but is too heavy to carry to the beach.
Comfort
A comfortable beach chair will have a high back seat.
And it will come with added extras like an adjustable pillow, many reclining positions, a wide seat, a vented back and armrests.
Added Extras
These extras can take a chair from good to great:
Cup holder
Integrated cooler
Storage pockets.
Headrest or adjustable pillow
Multiple reclining positions
Built-in umbrella
Portability
Most beach chairs on the market can be folded, are lightweight and come with a carry bag with a strap.
But some chairs are lighter to transport than others.
Backpack chairs are the easiest to carry because they leave your hands free. And the most lightweight beach chairs have an aluminium frame.
Weight Capacity
Weight support generally ranges from up to 100 kg to 180 kg.
---
Other Top Beach Must Haves