Tesalate Beach Towel: Is It Worth the Price?
Tesalate is a popular sand-free beach towel designed in Australia.
Disclaimer: I received a free Tesalate beach towel for a review but I don't make any money from sales. 
Everybody seems to know about this towel nowadays.

Even I had heard about Tesalate before they emailed me. Their ads often appeared in my Facebook feed, so I'd already read plenty of reviews. Most of which positive.
Even so, I still wasn't completely convinced the Tesalate would live up to the hype.
That's why I was glad they offered me one for free because I could finally try it out for myself.

If you're like me, you may be wondering if the towel is really worth the price.
As it turns out, I have now used my Tesalate many times. So, this post will answer some of your questions. But best of all it may help you decide whether it's worth buying one or not.
If you don't have time to read through the entire article, jump right to the conclusion here.
Testing the Tesalate
Tesalate is made with AbsorbLite™ fabric, a blend of polyester and polyamide. They claim that the towel is:
Sand-free
Quick drying
Absorbent
Compact and lightweight
So, I decided to test the towel against these claims.
Also, because I own several cheaper sand-free and quality Turkish beach towels, I thought it would be interesting to compare the Tesalate with those. 
My First Impressions After Receiving the Tesalate
When I received the package, I was pleasantly surprised at how compact the towel is…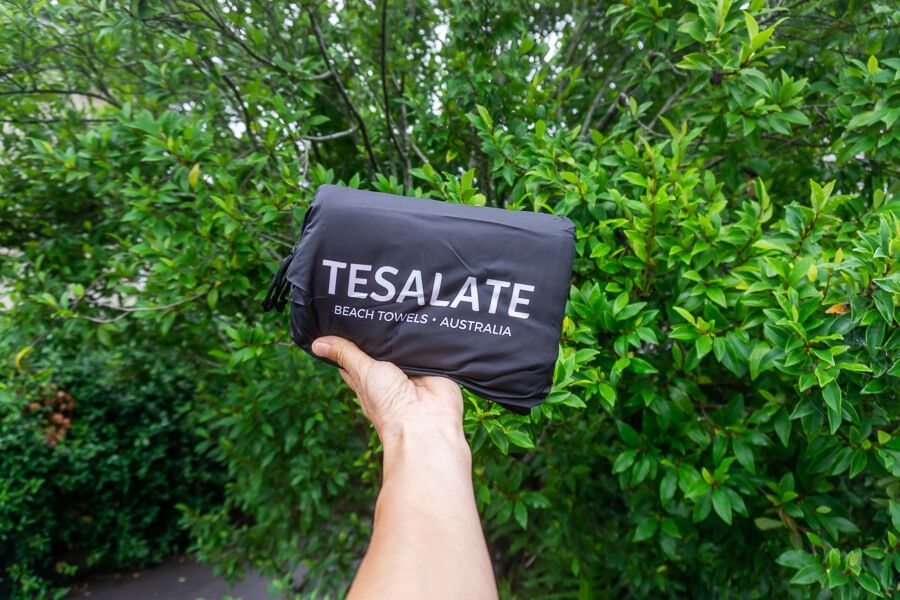 The other thing that impressed me was the look and feel. The towel appears of excellent quality – I doubt the colour will fade.

I was also amazed by the fabric. It's denser than my cheaper sand-free towels and has a waffle-like texture instead of being smooth.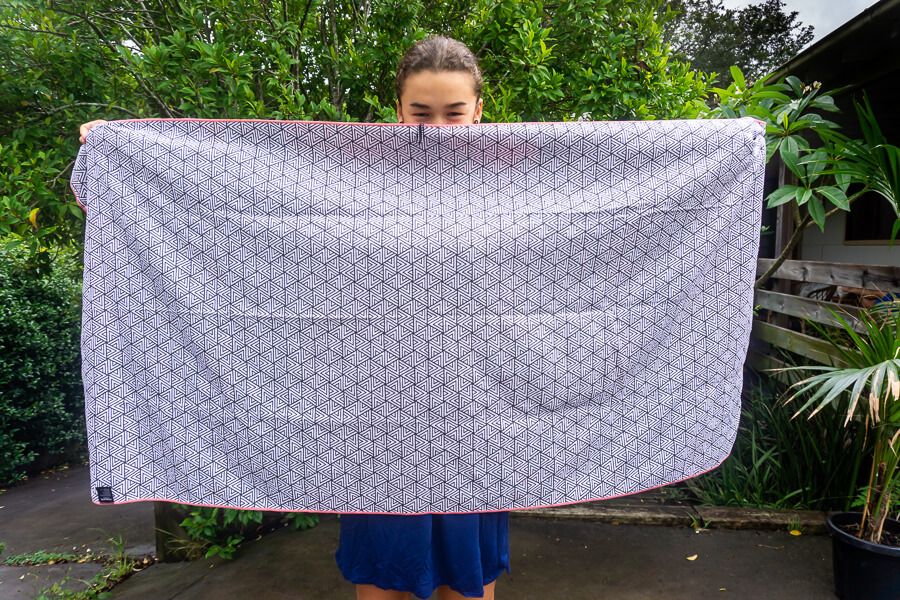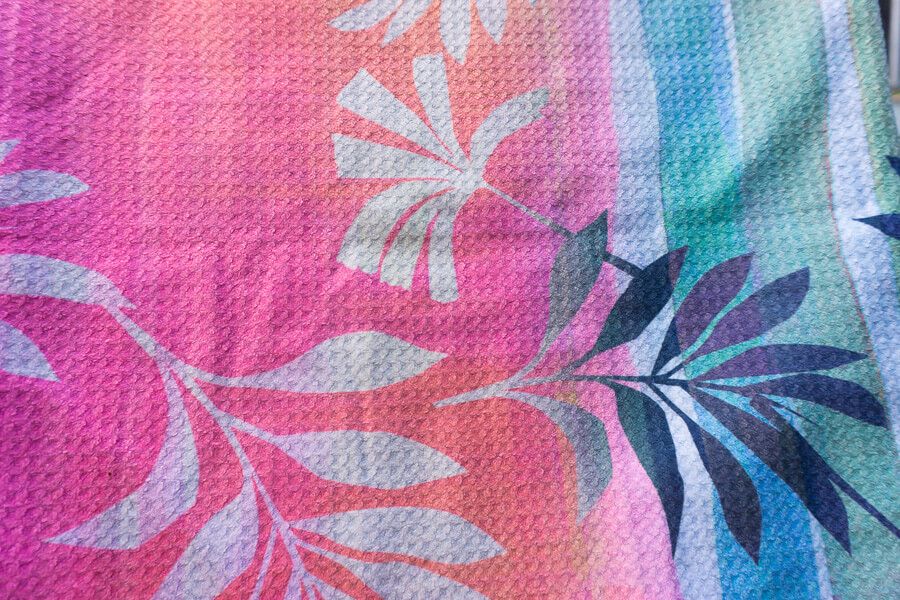 Also, the towel is stunning. Even more beautiful in reality than in the online pictures.

But:
What interested me the most was how it was going to perform.
Is the Tesalate Really Sand-Free?
I first tested the towel against its claim that the fabric lets the sand slip off easily.
As I said, I've now used my Tesalate many times at the beach. I can assure you that it's totally sand-free unless you sink it in the water then bury it in the sand (yes, I really did this to test it out).
Otherwise, all sand comes right off when you shake the towel.
It's super handy when you have to put the towel back in your bag, car or bring it inside the home. No more sand to sweep off the floor.  
How Long Does the Tesalate Take to Dry?
I then checked if the Tesalate dries in half the time than a regular beach towel, as they claim.
I hung a wet Tesalate and regular cotton beach towel on the line.
The Tesalate took 3 hours to dry, and the regular beach towel was still damp when I went to bed a few hours later. (The weather was low 20s and overcast.)
So, the Tesalate does dry much quicker than a regular cotton towel. Half the time? Probably. 
How Absorbent Is the Tesalate?
I then tested absorbency. This was when I became convinced that the Tesalate was worth the price.
Tesalate claims that its towel can hold up to 1 litre of water without dripping. So, I soaked the towel in 1 litre of water. The towel absorbed all the water quickly and did not even drip. 
To be honest, I'd already figured that the Tesalate was absorbent after using it for the first time after a swim because it soaked up all the water quickly.
This was a nice surprise. 
How Compact and Lightweight is the Tesalate
Finally, I checked the weight and size of the towel when folded.
You can see in the photo above how compact the Tesalate is. It's easy to insert into any bag and carry around.
The towel weighs 440g. Much lighter than a standard beach towel.
I wouldn't say the Tesalate is lightweight when it's wet, though. But what else would you expect when it can absorb 1 litre of water?
So, the Tesalate is truly compact and lightweight (at least when dry).
Tesalate Compared to My High-Quality Turkish Towels
Wondering how the Tesalate compares with a high-quality Turkish towel?
I love my Turkish towels!
Turkish towels come in various thicknesses, so results may vary. The one I used for the test is on the thicker side.
Turkish cotton and AbsorbLite™ share similar fabric properties. They're both:
Compact and lightweight
Quick drying
Absorbent
My Turkish towel is nearly as absorbent as the Tesalate, and it's a bit cheaper and lighter.
But the Tesalate repels the sand better.
Personally, I like the feel of Turkish cotton better than the microfibre fabric. Therefore, I tend to choose my Turkish towel over the Tesalate when there's no sand involved.
Update: I tend to use my Tesalate a lot more often these days. That's the towel I now grab on most occasions. 
Tesalate Compared to My Cheaper Sand-Free Towels
How does my Tesalate compare with my cheaper sand-free towels?
Both let the sand slip off easily.
The cheaper towels are thinner, lighter and dry faster. But they're less absorbent than the Tesalate. For example, one of the towels absorbs 800 ml compared to 1 litre for the Tesalate. Hence why they're thinner and dry more quickly.
This could be a pro or a con, depending on your preferences.
Conclusion
Is a Tesalate worth the price?
To sum up, the Tesalate beach towel lives up to its claims…
The sand slides off straight away.
It's absorbent – it soaks up 1 litre of water.
It's compact and lightweight.
It dries in half the time than a regular towel.
If you need a towel that's both sand-free and absorbent, then this towel is a great investment.
It's also super versatile...
You can use it at the beach, gym, camping, on travels, and at the pool.
I use my Tesalate most of the time and love it. I've taken it camping and on every holiday. I even covered my kids on the plane with it.
I don't carry regular cotton towels anywhere anymore because they're too bulky.
[On a side note: If you mainly need a towel at the beach in hot weather, a cheaper sand-free towel will do the job.]
Even my husband, who generally doesn't like microfibre towels, likes the Tesalate. That says something.
It's easy to care for. Just put the Tesalate in the cold wash and hang it to dry.

They also have extra-large towels. 
If you'd like to find out more, check their website here.
I hope this will have helped you decide whether it's worth buying one or not.
If not, well, it makes for a perfect present.
Other Beach Must Haves