Putty Beach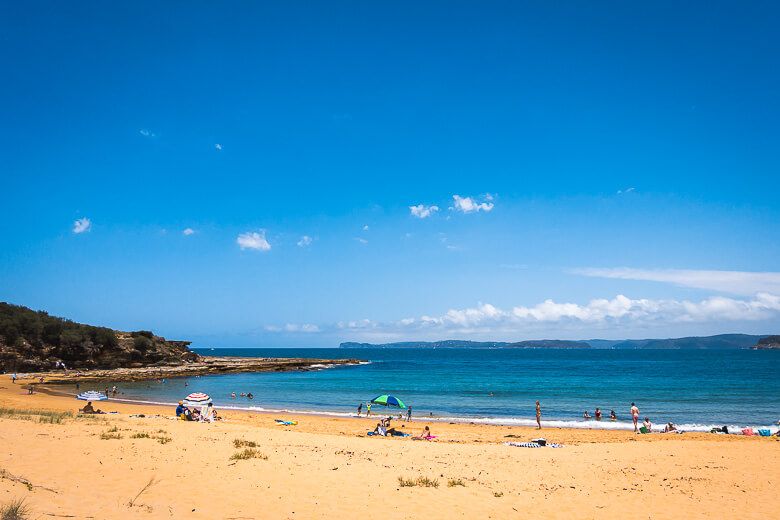 Putty Beach is a calm and untouched beach that's part of Bouddi National Park. It's located in Killcare on the Central Coast NSW.
This post contains affiliate links. For more information, see my disclosures here. 

The beach is popular with families and campers...

Putty Beach is a great beach to go to if you'd like to escape to an uncrowded and beautiful beach near Sydney, or if you'd like to camp near the beach and bushwalk.
Contents:

The beach in Killcare is 1.6 km long… at the western end of the beach is Killcare Surf Lifesaving Club. There are waves there and the beach is patrolled. Read more about Killcare Beach.

Putty Beach which I'm talking about on this page is at the eastern end of the stretch of sand.

At Putty Beach you can:
Camp near the beach
Swim, fish and snorkel in the calm water (not patrolled)
Hike the Coastal Walk in Bouddi National Park
You don't need to drive far from Sydney to feel like you're on a holiday – it's only 90 minutes away.
About Putty Beach 
Putty Beach is my favourite beach on the Central Coast. It's our go-to beach when we want to get away from the summer crowds.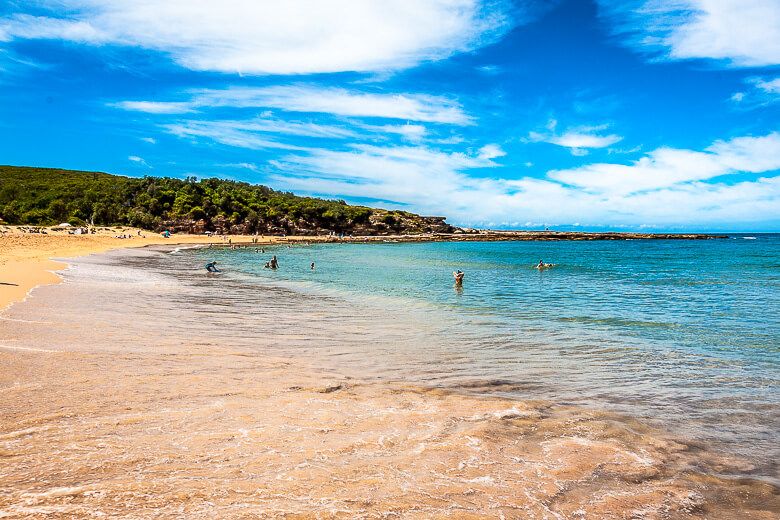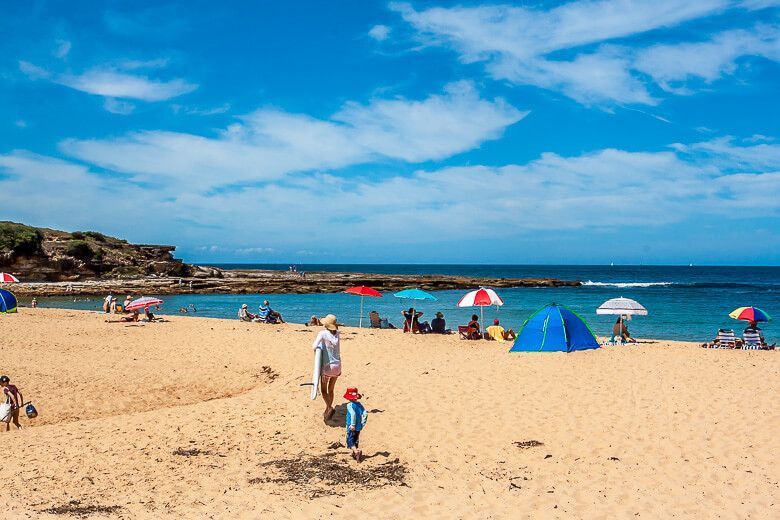 This beach is relaxing and unspoiled due to its location in Bouddi National Park.

The beach is not patrolled, but the water is calm. Families with small children enjoy this beach. Children like to play on their boards near the shore.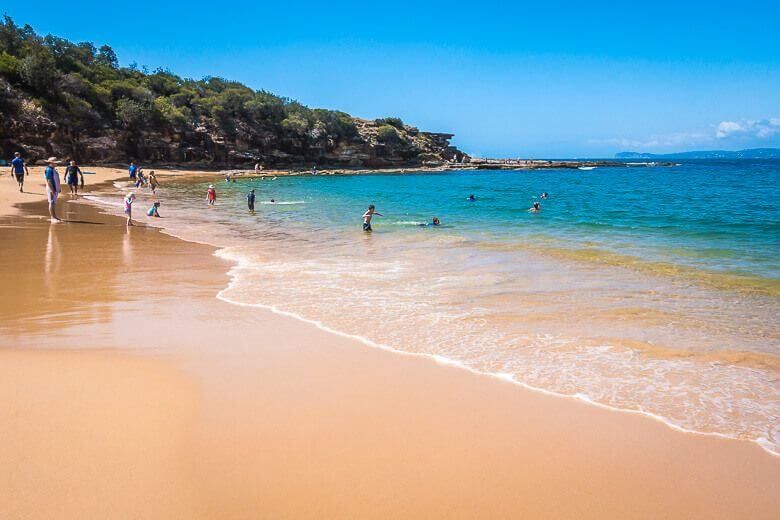 Bring your snorkelling gear, inflatables and boards.

The popular Bouddi Coastal Walk start right next to the beach. It's worth walking at least the first kilometre…
Bouddi Coastal Walk is a great walk to do with kids and the views are stunning. You walk on a boardwalk to Gerrin Lookout which is about 1 km away. If the kids can handle walking longer, continue walking to Maitland Bay.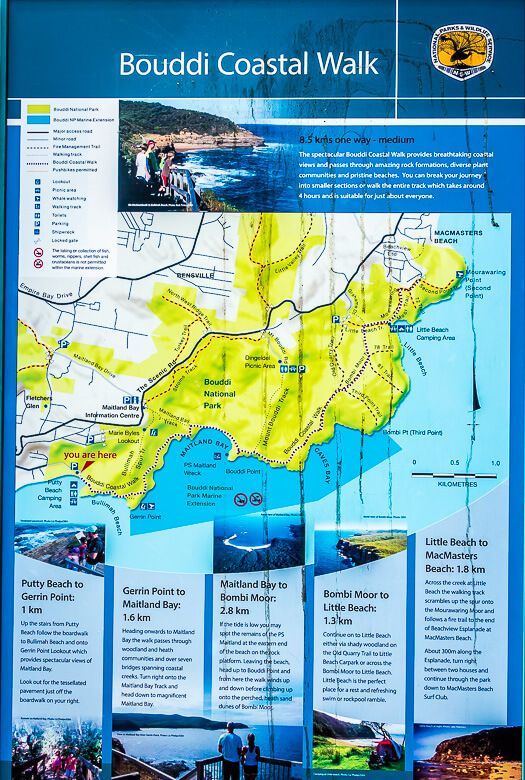 Read more: Walking from Putty Beach to Maitland Bay
Read more: The 8-km Coastal Walk
Putty Beach Campground
The campground is metres from the beach. You can't see the beach from the campsites, but it's so close. And the sites are located in the relaxing bushland of Bouddi National Park.
The campground is perfect for families. There's a lot of space for kids to explore and the beach is calm. You can go for bushwalks, too.

The campground is also great for anglers, beachgoers, bushwalkers and nature lovers.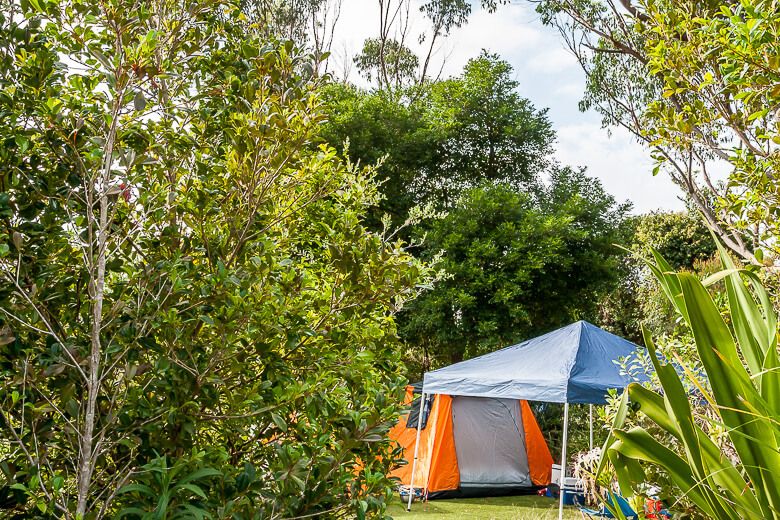 Putty Beach Campground has a few advantages over the other campgrounds in Bouddi National Park… This beach is the best for swimming, you can drive directly to the campground, and there's drinking water.

There are also toilets, barbecue facilities and picnic tables.
But keep in mind there's no power and there are no showers. And campfires are not permitted.
Putty Beach Campground has 20 tent sites.
You'll find cafes and restaurants a short drive away at Hardys Bay. And if you need to shop for groceries, the closest shopping centre is 15 minutes away in Kincumber.
Keep in mind that if you want to camp during the summer holidays, you may have to book weeks or months in advance. It's a popular campground. Book here.  
Visitor Information
Parking at Putty Beach is $8 per day (it's worth it). You must pay for parking on top of your camping fee.
Bring food because there are no shops.  
There's a toilet block, a water tap, barbecue facilities, and picnic tables.
Dogs are not allowed here but there's a dog exercise area in the middle of the beach.  
How to get there:
Located 1 hr 30 min from Sydney. Follow the M1 Sydney - Newcastle Motorway and exit toward Gosford / Woy Woy / Terrigal.