Bouddi Coastal Walk
The Coastal Walk in Bouddi National Park has been nominated by the Australian Geographic as "one of the 18 best day walks in Australia".
The walk is indeed beautiful...
The ocean opens up in front of you for the whole length of the walk. I'm surprised that it receives so little publicity considering it's so close to Sydney.
Disclaimer: I may receive a small commission from some of the links on this page. 

For a great day out, you could take the Palm Beach Ferry to Wagstaffe, and hike over Box Head all the way to the start of the Coastal Walk without hardly leaving the bush.

The Coastal Walk follows the coastline of NSW between Killcare and Macmasters Beach for 8 km. It proceeds over boardwalks in some sections and up the clifftops and down to beaches in others.
Visibly a lot of effort goes into maintaining the track.
Some parts have been upgraded since our last visit: they spread woodchips over a trail (it's easier to stroll on it), and paved a track. All tracks and stairs are in top notch condition.
The Coastal Walk is also well-signposted; you don't need to carry a map. Just make sure you follow the signs for the Coastal Walk and avoid taking one of the trails branching off the sides.

Find out about...
Although the National Park and Wildlife Services suggests 4 hrs, it took us 2 hrs 20 min to walk the whole length (minus time for chilling out at Maitland Bay). No, we didn't run. 
The most strenuous section sits between Little Beach and Maitland Bay… lots of climbing up and down stairs between clifftops and bays. But it's worth it – the view makes you forget the effort.
At the end of this strenuous section and mid-way along the track is Maitland Bay, a popular secluded beach that boasts crystal clear water on a sunny day.
So don't forget your swimmers – it gets hot walking after all...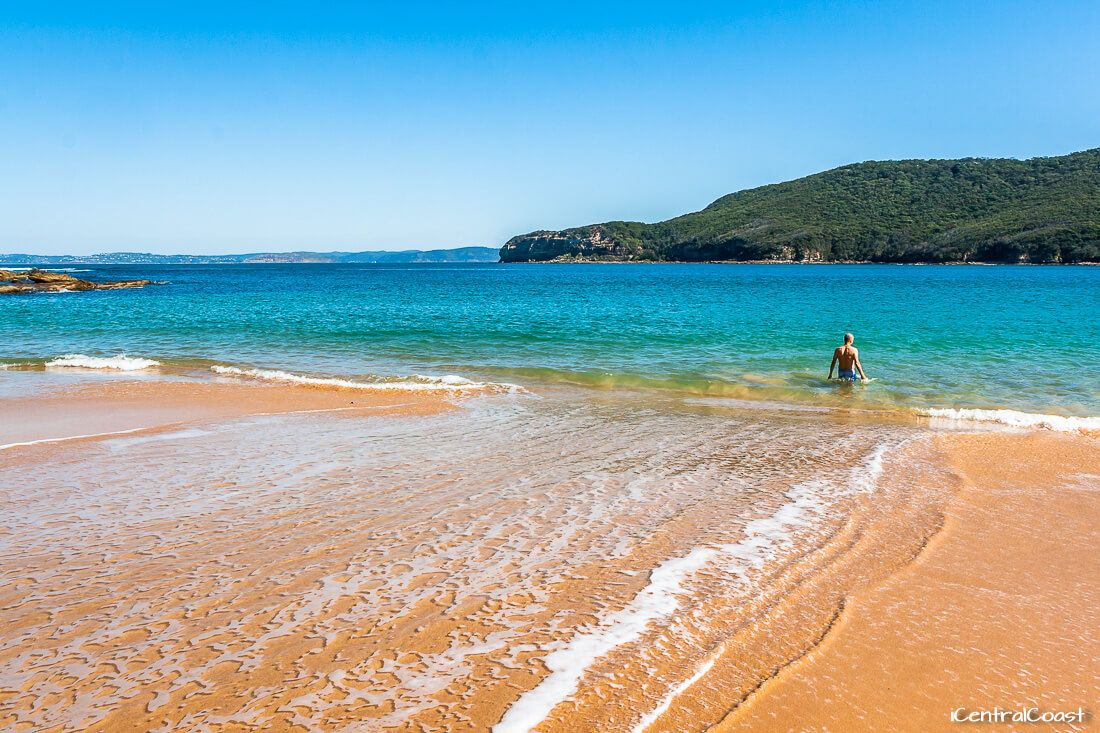 You can also hike only one section if you prefer. Find out where to park and how to access each section.
We started our journey from Macmasters Beach. You can also start from Killcare, but I think it's nicer to get the strenuous section out of the way before arriving at Maitland Bay, and finish the walk on an easy boardwalk and picturesque spot.  
Bouddi Coastal Walk definitely deserves more attention.
Here's a rundown of the trip...
Section 1: Macmasters Beach to Little Beach – 1.7 km – 30 min – easy
This section consists mostly of a fire trail, the Mourawaring Moor Trail. Most often than not the vegetation covers the view, but you get glimpses of the ocean at the bends, a sign of what is to come...
At the end of the Mourawaring Moor Trail you enter a narrower track, which descends steeply over uneven terrain and boulders to Little Beach, a great spot to relax.
It's also one of the three camping grounds in Bouddi. There are barbecues and toilets but no running water.
To camp there you need to book with the National Park and Wildlife Services. Book well ahead during the peak holiday season.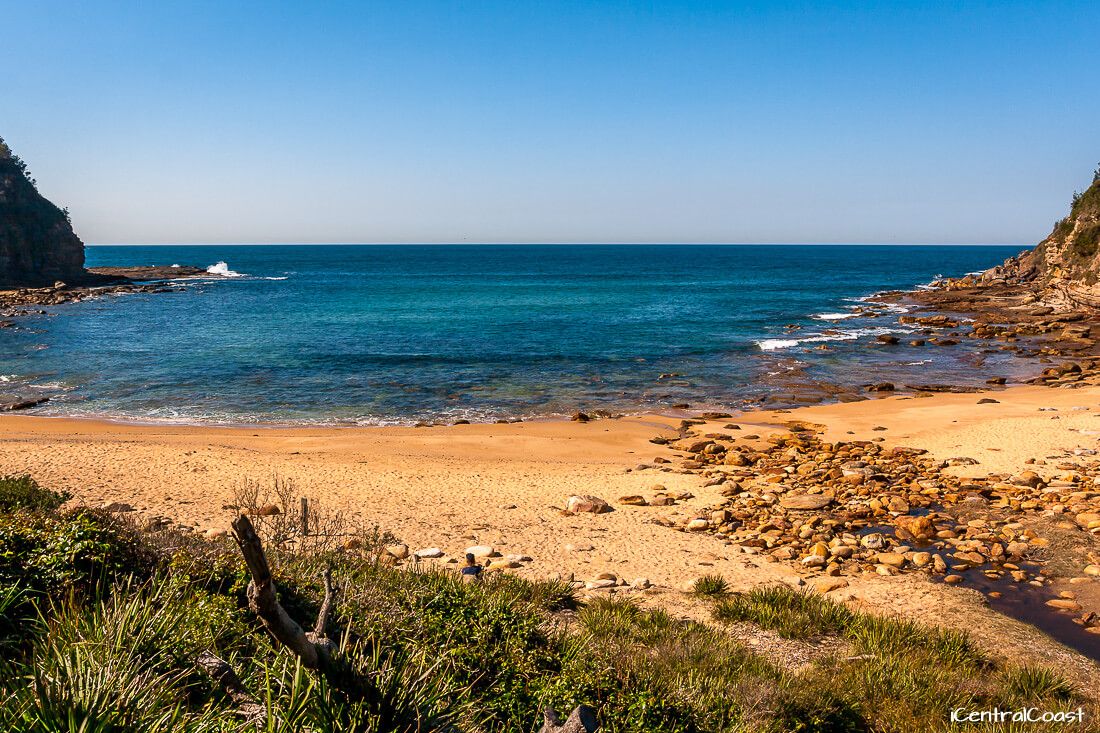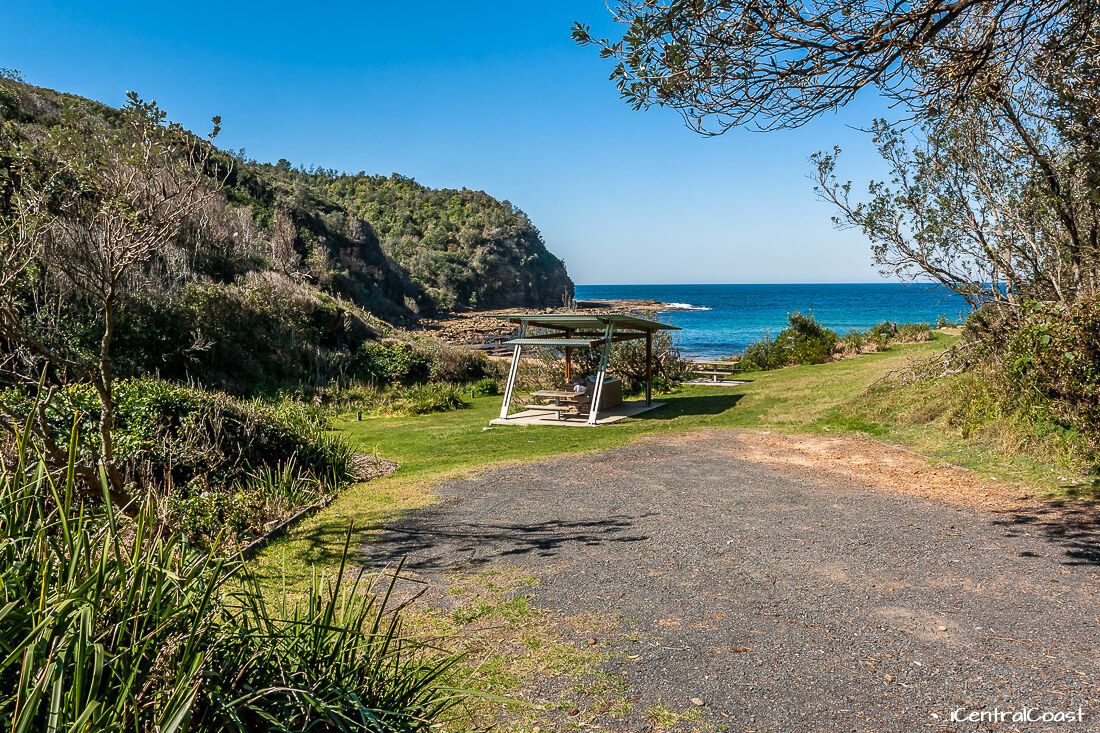 Section 2: Little Beach to Maitland Bay – 3.5 km – 1 hr – strenuous
Follow the walking track, which goes inland. Watch for the signpost, and take the left track (it's now paved). It leads to Bombi Moor Fire Trail.
Bombi Moor Fire Trail goes on for 1.2 km. That's the trail with the wood chips all over. It's nicer to stroll on wood chips than on the previous soft sand. (The upgrade was part of a program to improve disaster resilience.)...
For a day of winter it was surprisingly hot. We were moving of course, but there was also heat reflecting off the ground and not much of a breeze. Keep that in mind when planning your hike – remember to pack your swimmers.
At the end of Bombi Moor Trail the woodchip-comfort ends.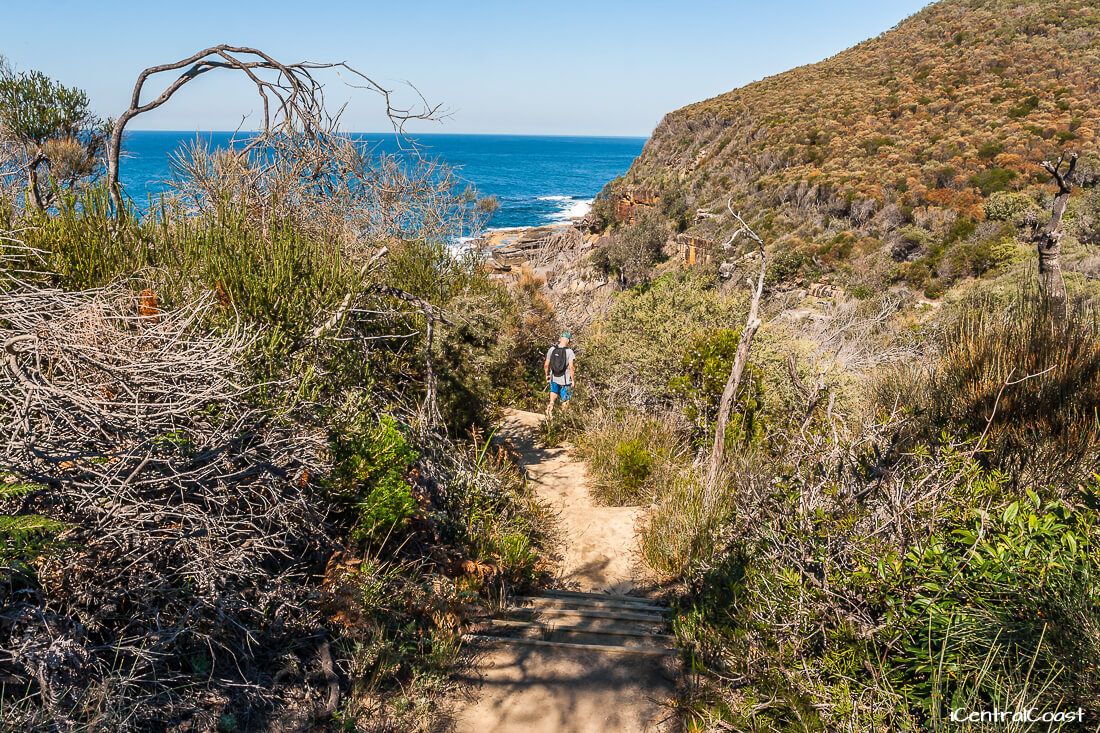 It starts getting strenuous…

A track brings you down and down to Caves Bay. What goes down must go back up. From there it's up and down and up and down.
But your mind won't be on your poor legs – it will be on the view. This is where the ocean starts opening up in front of you. The scenery just gets better and better as you advance...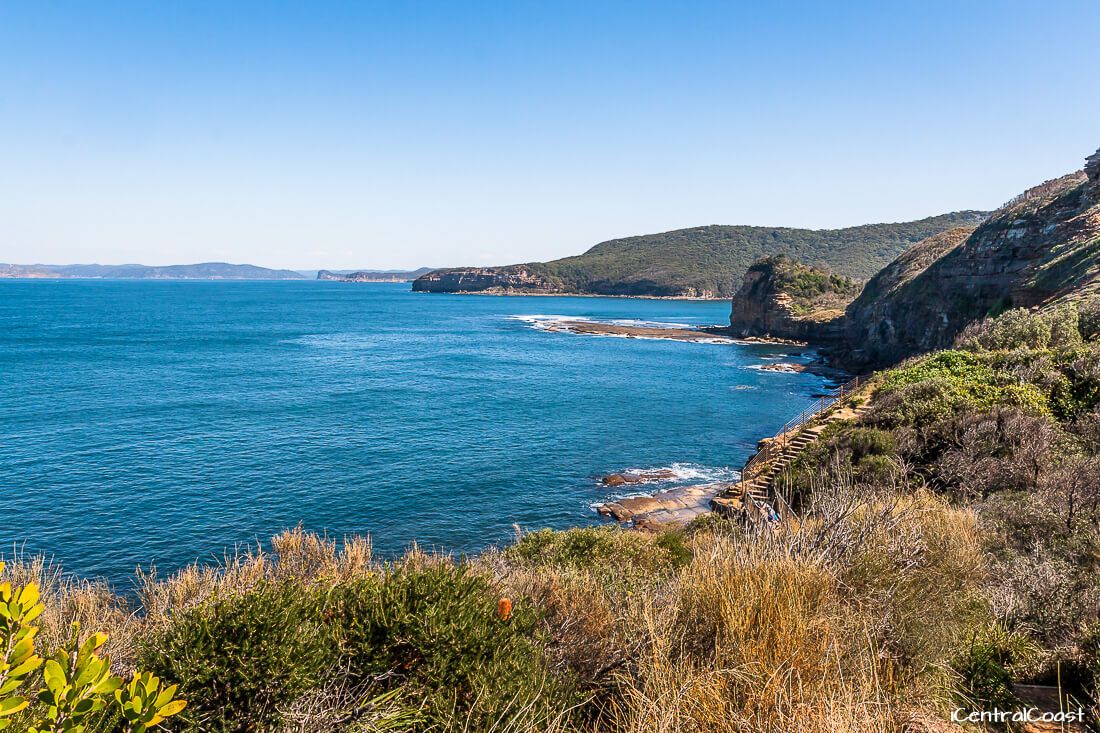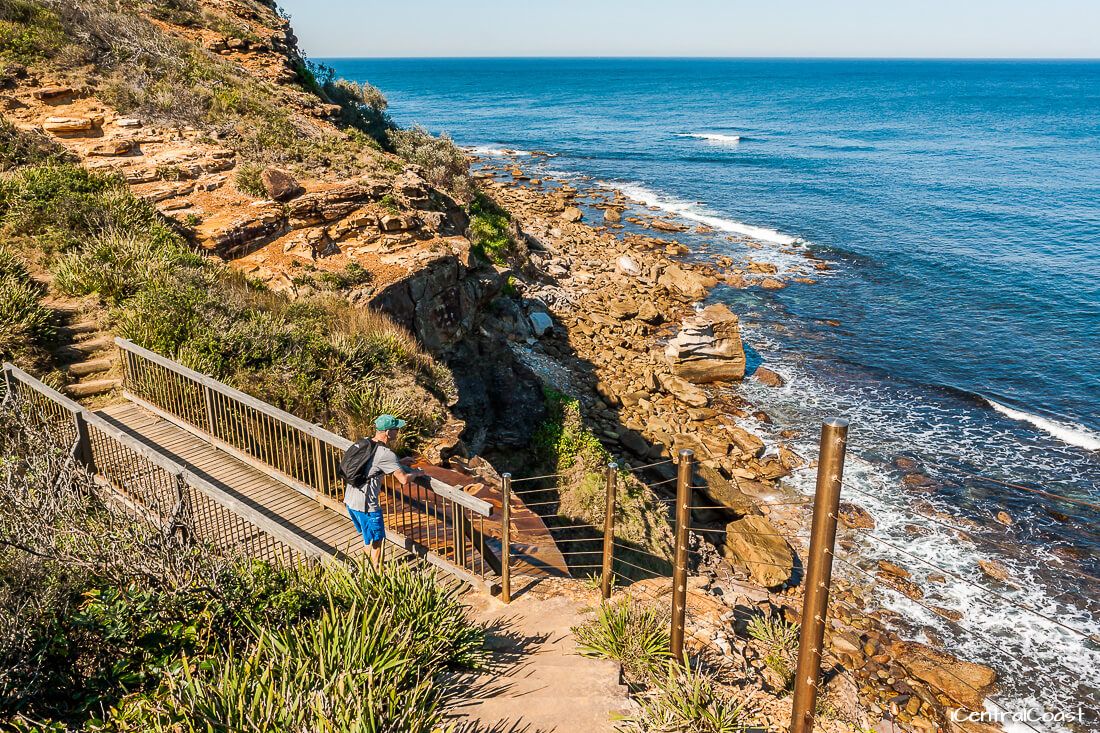 But the icing on the cake is Maitland Bay…

Maitland Bay is a 600 m isolated bay backed by lush bush. The Coastal Walk alone is great, but it's at Maitland Bay that you remember how lucky you are to be living in Australia...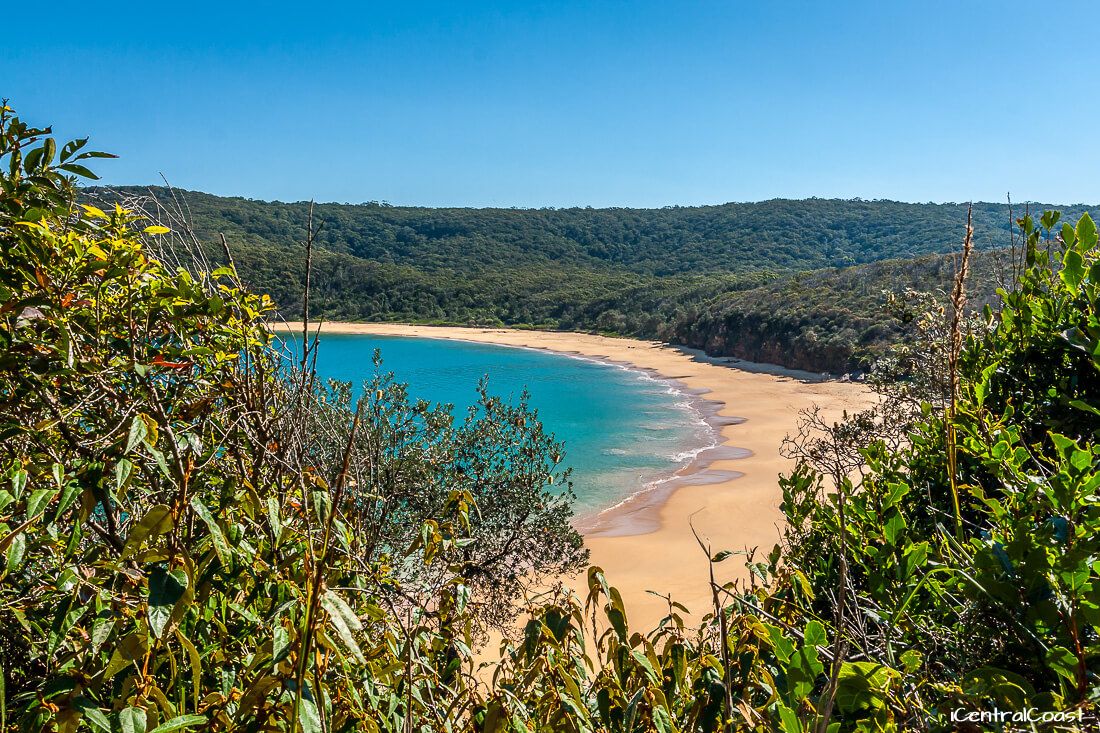 Have a picnic and put your swimmers on…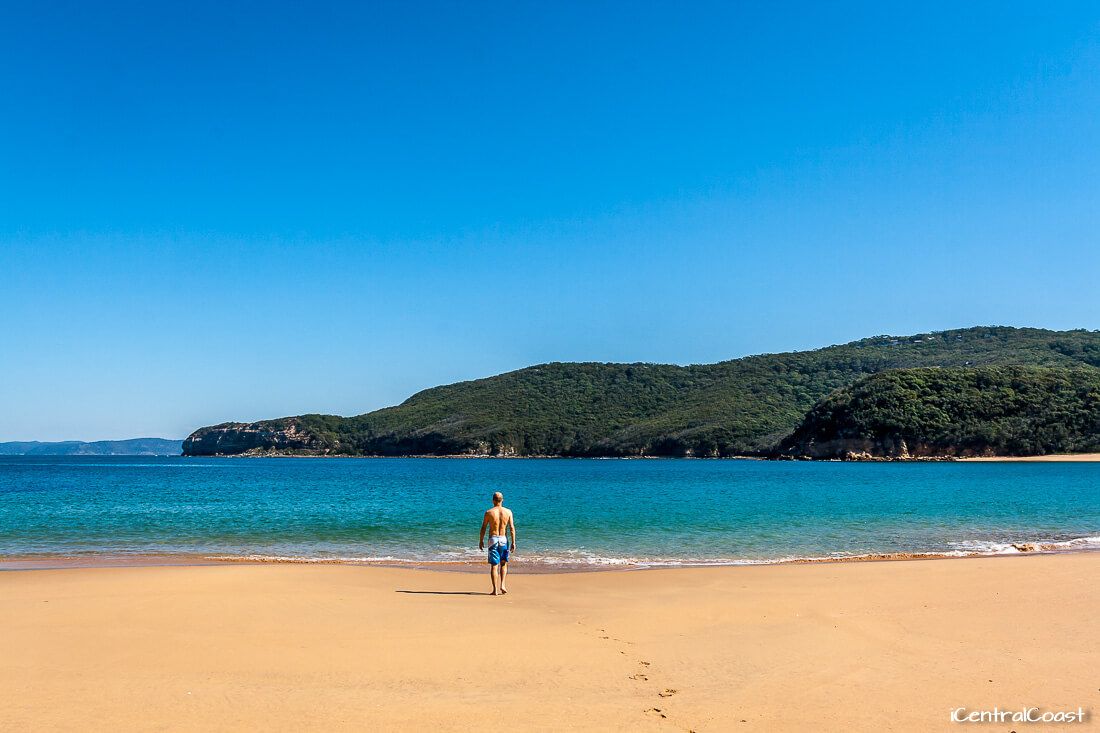 If the tide is low enough you'll be able to see rusted bits and pieces of an old shipwreck along the rocks on the eastern side...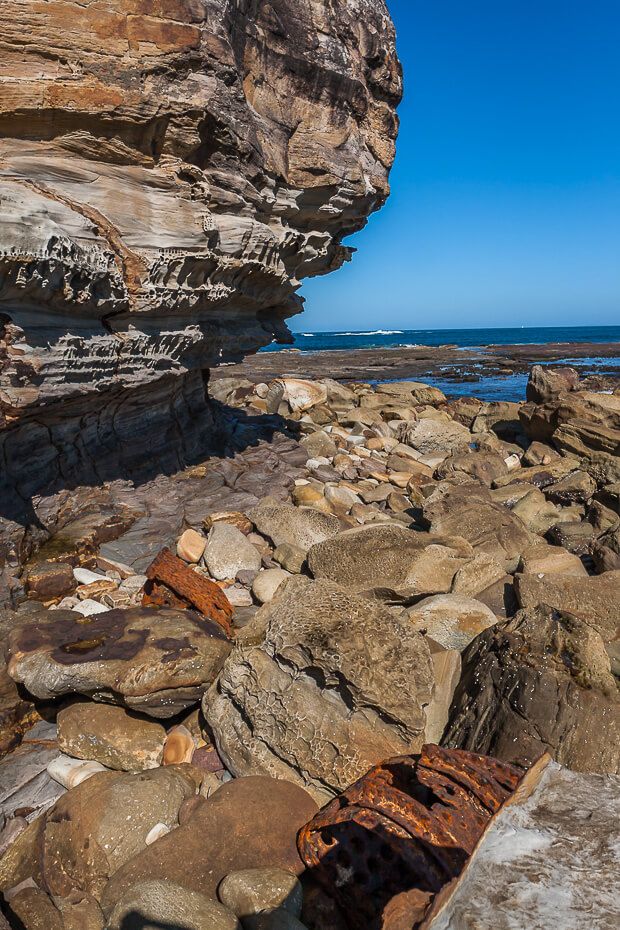 Section 3: Maitland Bay to Putty Beach – 3 km – 50 min – easy
The section from Maitland Bay to Putty Beach is fairly easy. You'll pass Gerrin Lookout, and see Maitland Bay in the distance...
Then you'll stroll past the isolated Bullimah Beach. Walk down to it if you want.

The rest of the track proceeds over a boardwalk and the views get even better if that's possible.
You can see interesting sandstone rock formations, the tessellated pavement and Sydney at a distance.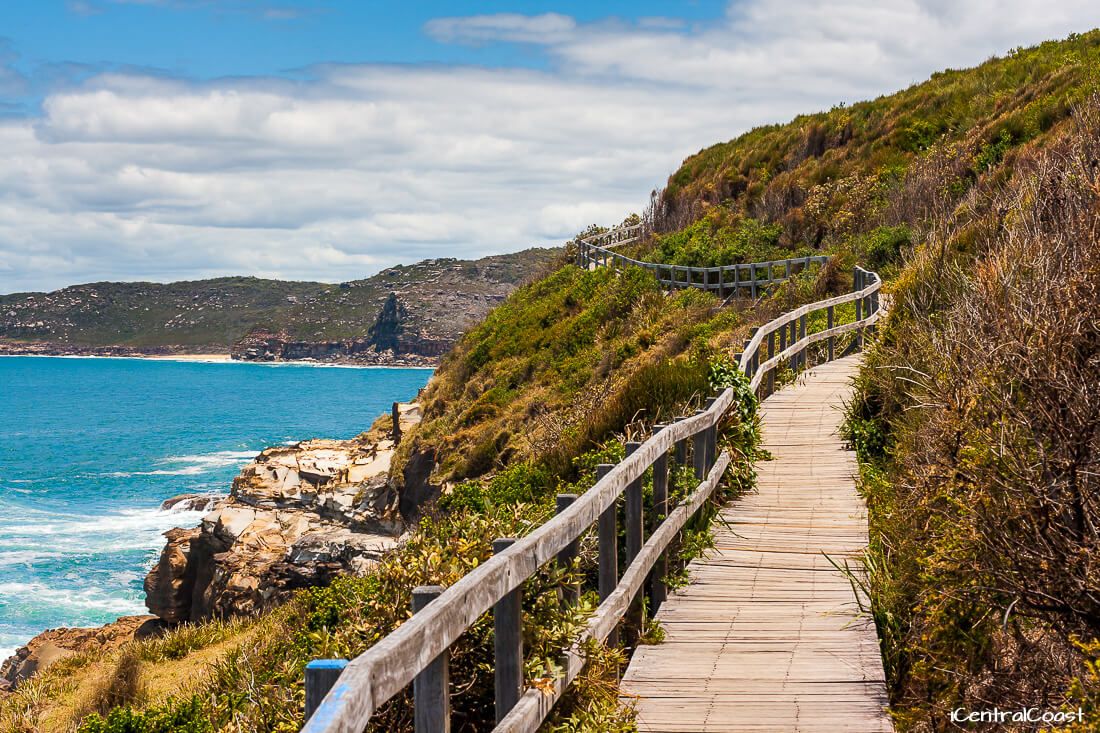 Once arrived at Putty Beach, swim again. If you still have energy, head back to Macmasters.
Back at Macmasters, refill your bottle at the water refill station, swim and eat at Barefoot Cafe. (Shuts at 4.30 pm. Bring cash.) Try the Prawn and Veggie Dumplings and Chicken Dimsim. After a strenuous walk they're divine.
Getting There & Parking
By Palm Beach Ferry
Take the ferry to Wagstaffe...
Walk (or take a cab) from Wagstaffe Wharf to Killcare (approx. 6 km):
Follow the Flannel Flower track. Then walk down Hawke Head Dr. Turn right onto Beach Dr, and head to Killcare Beach. Walk on the sand to Putty on the eastern side. The Coastal Walk starts there.
You could camp at the campsite or stay at Granny's Cottage in Killcare before proceeding to Bouddi Coastal Walk the following day.
By Car
1 hr 30 min north of Sydney and 1 hr 45 min south of Newcastle via the M1 Pacific Motorway (F3). Exit at Gosford.
Parking
Starting from Macmasters Beach – park near the Surf Life Saving Club on Marine Pde (enter 100 Marine Pde  in your GPS). Follow the stairs in between houses 85 & 87 Marine Pde. 
Starting from Putty Beach – park at the end of Putty Beach Rd in Killcare Heights (enter 65 Putty Beach Dr in your GPS and drive to the end of the road). Parking fee here is $8 per day. 
If you want to pick up Bouddi Coastal Walk from Little Beach or camp, park at the end of Grahame Dr in Macmasters Beach and proceed on the walking track. (Enter 24 Grahame Dr in your GPS.)
If you want to pick up Bouddi Coastal Walk midway from Maitland Bay, park at the Bouddi National Park Information Centre on the Scenic Road in Killcare Heights (enter 237 Scenic Road Killcare Heights in your GPS). Follow the Maitland Bay track. Find out more here. 
Accommodation
Whether you prefer camping or luxury accommodation there are varied places to stay at either end of the Coastal Walk...  
Camping
These campgrounds are located right beside the Coastal Walk…
Putty Beach campground is on Putty Beach Rd. It contains 20 campsites. It's the only camping ground in Bouddi National Park that has running water and cold showers.  
Little Beach campground is located at Little Beach. There are 6 campsites 750 m from the nearest road: Grahame Dr in Macmasters Beach. There are barbecues and toilets but no running water.
The camping grounds can get busy during the summer holidays so book well ahead with the National Park and Wildlife Services on 13000 PARKS (13000 72757) or online here.
Accommodation in Killcare
Bells at Killcare is a 5-star luxury accommodation located a 30 minutes' stroll to Bouddi Coastal Walk. If you like pampering and fine dining it's the place to go. Book here. 
Granny's Cottage is a gorgeous, affordable 4.5-star Bed and Breakfast centrally located. It's near restaurants & cafes, and walking tracks. It's 15 minutes' stroll to the start of Bouddi Coastal Walk. Find out more here. 
Accommodation in Copacabana
Copacabana Shores is a self-catering boutique hotel at Copacabana. There are no hotels at Macmasters Beach. Copacabana is the village at the other end the beach from Macmasters. You can get there by walking along the sand. Book here.