Coastal Walk in Bouddi National Park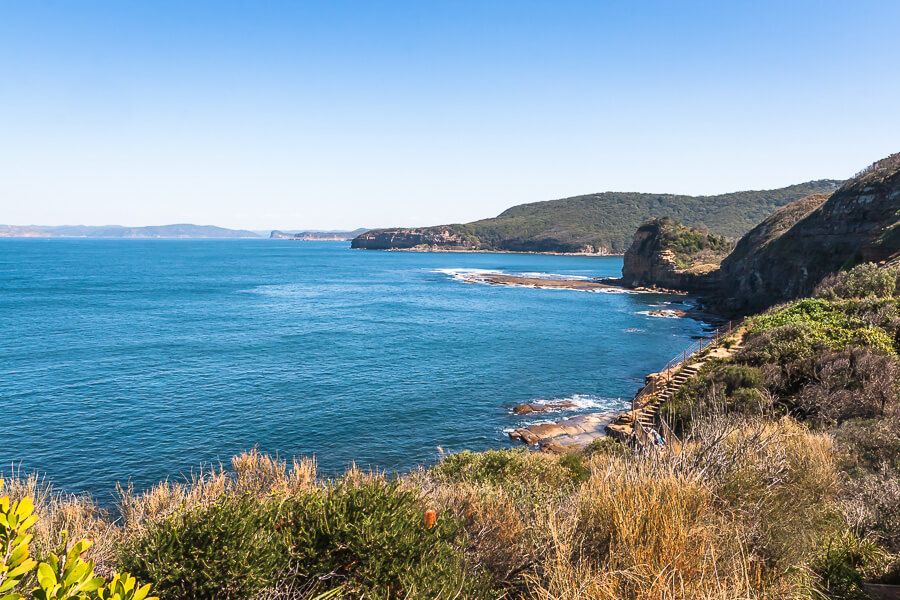 The Coastal Walk in Bouddi National Park offers scenic coastal views, high sandstone cliffs and stunning beaches.
Hikers enjoy swimming at beaches along the way and savouring a meal and coffee at a nearby café after the walk.
Located on the Central Coast, the walking track follows the coastline for 8.5 kilometres. It proceeds over boardwalks in some sections and up the clifftops and down to beaches in others.
Find out about the highlights of the Coastal Walk in this guide.
This post contains affiliate links. For more information, see my disclosures here. 

Map - The Coastal Walk
Getting There and Parking
The Coastal Walk is located 1hr 30min north of Sydney and 1hr 45min south of Newcastle. Follow the M1 Pacific Motorway and exit at Gosford.
If you start the walk at Macmasters Beach, park near the Surf Life Saving Club on Marine Pde (enter 100 Marine Pde in your GPS). 
If you start the walk at Putty Beach, park at the end of Putty Beach Rd in Killcare Heights (enter 65 Putty Beach Dr in your GPS and drive to the end of the road). Parking is $8. The Coastal Walk starts at the end of the beach near the car park. 
You can also get to Wagstaffe from Palm Beach by ferry and catch a taxi or hike over Box Head and along Killcare Beach to the Coastal Walk – you may need to stay overnight.
Visitor information
COASTAL WALK
Distance: 8.5 kilometres one-way

Duration: 3-4 hours
Difficulty: Medium
The walking track is well maintained and signposted. There's no need to carry a map – just follow the signs for the Coastal Walk and avoid taking one of the trails branching off the sides.

You can also complete the walk in sections if you don't want to hike the whole length. Each section of the walk is described in detail below.

You can start the Coastal Walk from Killcare or Macmasters Beach. I think it's nicer to start from Macmasters Beach because you end with the easiest and most scenic part.
READ MORE: Macmasters Beach
READ MORE: Killcare Beach
Section 1: Macmasters Beach to Little Beach 
Distance: 1.7 Kilometres
Duration: 30min
Difficulty: Easy
To get to the trail from Marine Pde in Macmasters Beach, climb the stairs located between houses 85 and 87, follow the path and turn left onto Macmaster Pde – the track begins at the end of the road. 

This section of the Coastal Walk consists mainly of a fire trail, the Mourawaring Moor trail. There's not much of a view, but you get glimpses of the ocean.
At the end of the Mourawaring Moor trail, you enter a narrower track that descends steeply over uneven terrain and boulders all the way to Little Beach, a great spot to relax.
Little Beach has a campground with barbecue facilities and toilets.

If you'd like to exit or pick up the walk from Little Beach, a trail leads to Grahame Drive in Macmasters Beach.
READ MORE: Little Beach
Section 2: Little Beach to Maitland Bay 
Distance: 3.5 kilometres
Duration: 1hr
Difficulty: Medium to hard
From Little Beach, continue walking and watch for the signpost on the left of the trail. Follow this path – it leads to Bombi Moor Fire Trail.
Bombi Moor Fire Trail goes on for 1.2 kilometres, some parts over wood chips. Then you enter a narrower track leading to Maitland Bay.
The walk now becomes more strenuous. It takes you down to Caves Bay, then up and down headlands and bays.
The spectacular views will distract you from the heavy workout.
This section ends at Maitland Bay, a 600-metre isolated beach backed by lush bush that boasts crystal clear water on a sunny day.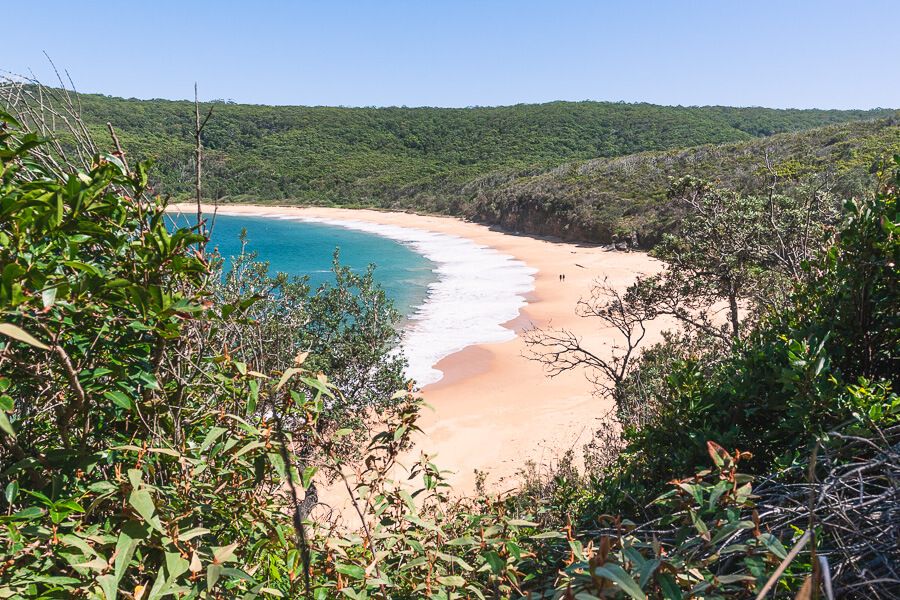 If the tide is low enough, you may be able to see rusted bits and pieces of an old shipwreck on the rocks on the eastern side of the beach.

Have a swim.
If you want to pick up or exit the Coastal Walk from Maitland Bay, follow the path leading to Maitland Bay Information Centre.
READ MORE: Maitland Bay
Section 3: Maitland Bay to Putty Beach 
Distance: 3 kilometres
Duration: 50min
Difficulty: Easy
The section from Maitland Bay to Putty Beach is easy and very scenic.
You walk past Gerrin Point Lookout, which offers impressive views of Maitland Bay and the ocean. Then you walk past the small and isolated Bullimah Beach, which you can access via a path.
The rest of the track proceeds over a boardwalk, and the views get even better if that's possible.
You can see the tessellated pavement and Sydney at a distance.

Once you arrive at Putty Beach, have another swim. Putty Beach is calm and lovely. The campground and toilets are situated behind the beach.
If you're looking for somewhere to eat, there's a café at the other end of the beach and other cafes at Hardys Bay.
READ MORE: Putty Beach
Where to Stay
If you'd like to stay near Bouddi National Park and the Coastal Walk, you have a few options.
Nice campgrounds are located nearby. Putty Campground is metres from Putty Beach – it has 20 campsites, running water and cold showers. Little Beach Campground has 6 campsites and barbecues facilities, but no running water.
Couples may enjoy staying at Bells at Killcare, a boutique retreat with pampering and fine dining onsite.
Otherwise, Granny's Cottage is a gorgeous 4.5-star Bed and Breakfast located near restaurants and cafes.
Alternatively, you'll find plenty of holiday rentals in Killcare and Macmasters Beach on Airbnb.