9 Best Things to Do in Woy Woy 
Woy Woy is a coastal town on Brisbane Water on the Central Coast of Australia.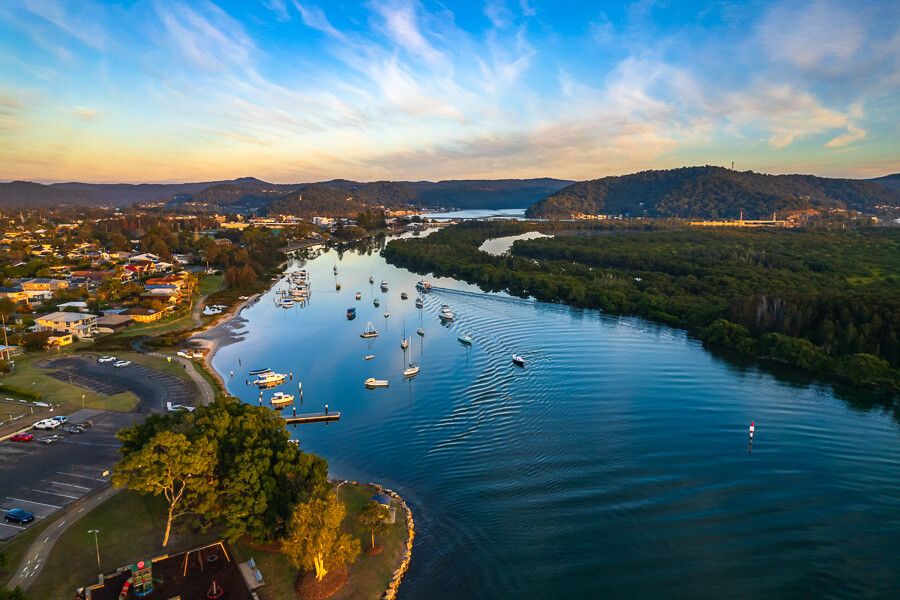 The town is part of a peninsula that includes other lovely coastal towns, including Ettalong Beach, Umina Beach and Pearl Beach.

The peninsula is densely populated, and it attracts many holidaymakers in summer. It's for sure an ideal trip from Sydney.
Disclaimer: I may receive a small commission from some of the links on this page. 

Woy Woy is just over an hour from Sydney via the M1. The train trip is even better because Woy Woy Station is metres away from the shopping centre and Waterfront.
Enjoy scenic waterways, fresh seafood and the New Age shops at Gnostic Corner.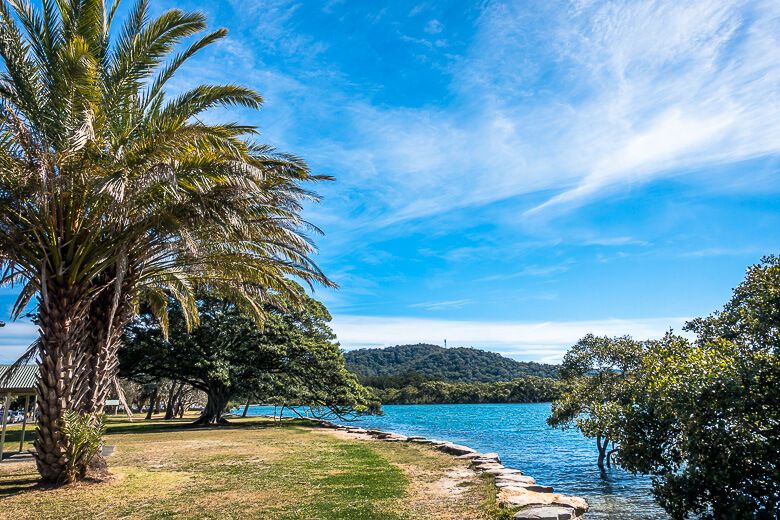 And if you have time (and have a car or bicycle), visit the peninsula's beautiful beaches and the bushland of Brisbane Water National Park.

Also, bring your bicycles. It's a great place to cycle because the area is flat and there are good cycleways.
The name "Woy Woy" is believed to originate from the Aboriginal "Wy Wy", which means "much water" or "big lagoon". An appropriate name indeed since the place is enclosed by a lot of water.
The peninsula is surrounded by water inlets, beaches and stunning coastlines as far as the eyes can see.
Best Things to Do In and Near Woy Woy
1. Woy Woy Beaches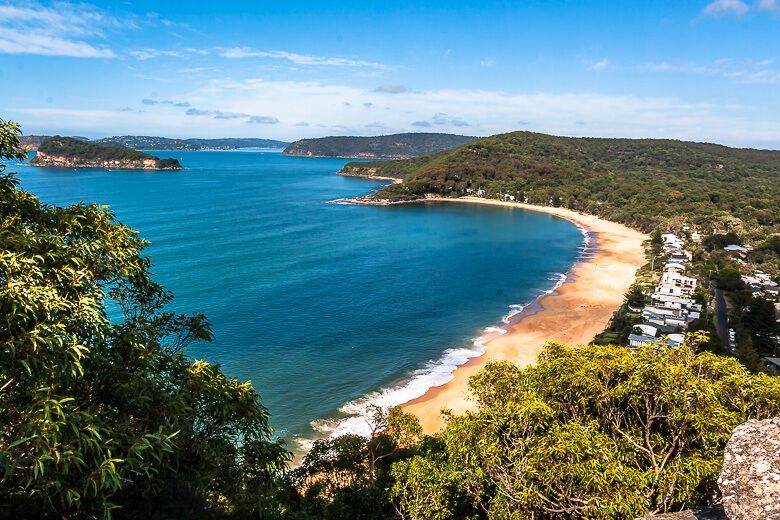 Scenic beaches are located a 10-minute drive from Woy Woy town centre.
Ettalong Beach is a small and calm beach protected from the swells on Brisbane Water. Even though it's unpatrolled, Ettalong Beach is considered one of the safest swimming spots on the Central Coast.
The water is calm and shallow. And the foreshore is lovely with play equipment, picnic spots, a cafe and a paved walkway. It's a great fishing spot as well.
Ocean Beach is a patrolled beach in Umina. The waves are small, so it's an ideal spot to learn to surf. Beside the beach is the massive Umina Playground, picnic spots, a BMX track, a skatepark, a large climbing net, a flying fox and a fenced toddler play area.
Pearl Beach is a peaceful stretch of sand in the bushland. Enjoy the calm water, ocean pool and the café and playground behind the beach.
Pearl Beach is unpatrolled, and people swim in the calmer section at the southern end. (The northern part is unsafe for swimming.)
2. Shop at Gnostic Corner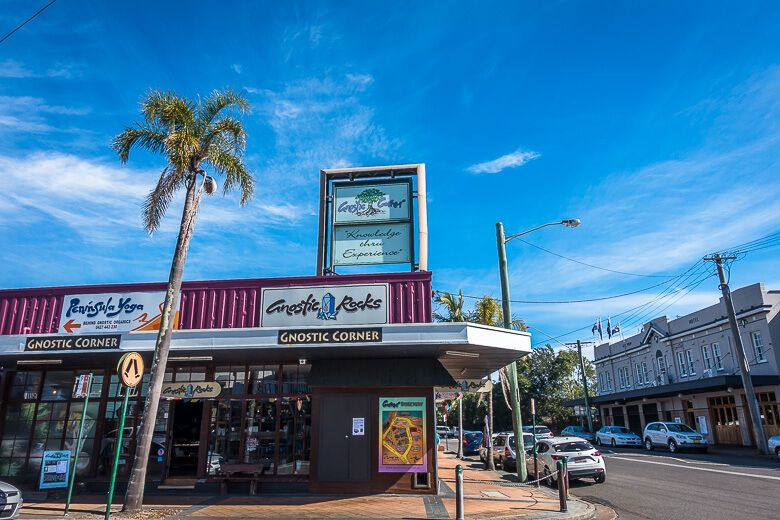 Gnostic Corner includes nine New Age shops in Woy Woy town centre.
Gnostic is defined as "relating to knowledge, especially esoteric mystical knowledge". And New Age as "a broad movement characterised by alternative approaches to traditional Western culture, with interest in spirituality, mysticism, holism, and environmentalism".
There's no better way of describing Gnostic Corner.
Some of the things you find are yoga and meditation classes, alternative books, crystals and incense.
And there's a cafe with vegan and vegetarian food as well as great coffee.
3. Enjoy Fish n Chips at Fishermen's Wharf
Fishermen's Wharf is the place to go for fresh straight-off-the-boat seafood and fish and chips. There's a seafood market and also a lovely waterfront restaurant.
Fishermen's Wharf has been run by the Cregan-Clayton family for over 35 years.
Enjoy sitting on the verandah while overlooking peaceful Brisbane Water, or grab a takeaway to enjoy at the park. Kids can entertain themselves in the playground.
4. Enjoy a Picnic on the Waterfront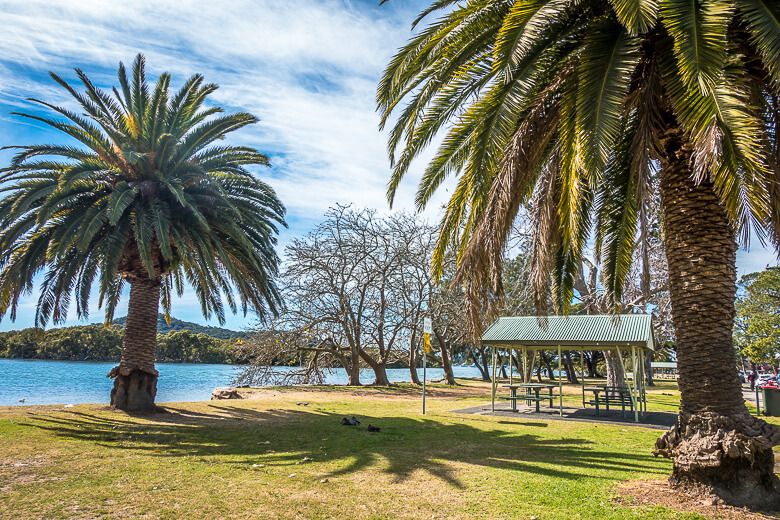 The Waterfront at Lions Park is enjoyable and peaceful. You can walk or cycle on the paved pathway along the water or enjoy a picnic while the kids have fun at the playground.
You'll see heaps of seagulls and Pelican Island across the channel with beautiful mangrove vegetation.
5. Cycle from Woy Woy to Gosford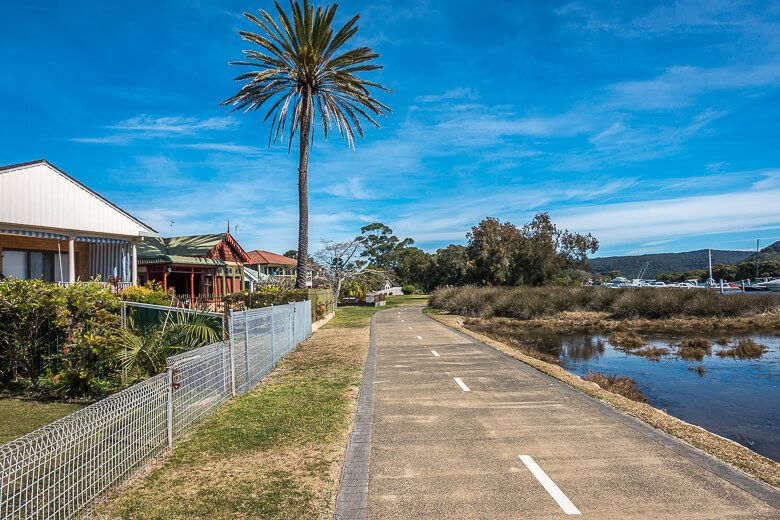 If you have a bicycle, ride to Gosford on the 13-kilometre bicycle path. It's one of the best bicycle rides on the Central Coast.
The pathway follows the edge of Brisbane Water, so the ride is scenic. And it's a pleasant ride for kids. The path is flat and away from traffic, and you'll pass a couple of playgrounds.
You can also swim a few laps in the Olympic pool near the end of the path.  
6. Hop on the Central Coast Ferries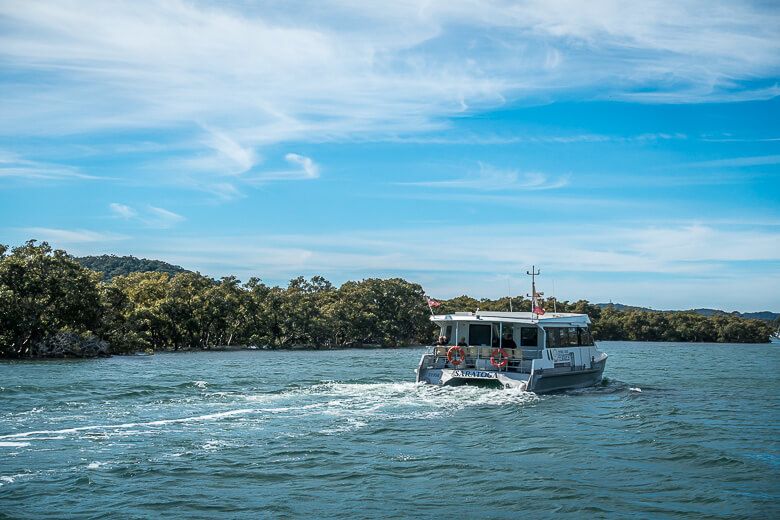 Head to Saratoga (10 minutes) or Davistown (20 minutes) over scenic waterways aboard Central Coast Ferries. It's only a short trip.
Davistown is a great destination: Have lunch and a cold beer at Davistown RSL Club, a fantastic family-friendly pub. There's a large grassy area with a playground outside. You can also walk the Illoura walk along the Waterfront at Davistown.
The ferry leaves Woy Woy several times a day.
7. Walk to Bulgandry Aboriginal Art
Enjoy a short walk in the bush and see Aboriginal engravings. The engravings are very clear, and signboards provide information. It's an interesting experience, particularly for kids.
The Bulgandry Aboriginal Art site is in Brisbane Water National Park, a short drive from Woy Woy.
The walk to the engravings is suitable for an all-terrain pram or wheelchair (keep in mind there's loose gravel on the track).
Park in the small carpark on Woy Woy Road, 2 kilometres north of Staples Lookout. The road is sealed. 
8. Enjoy a Bike Ride or a Walk Along Tommos Loop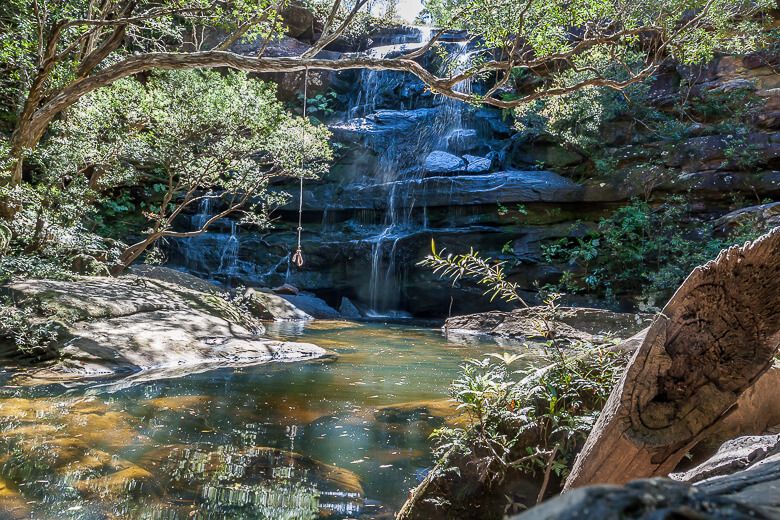 The Tommos loop trail in Brisbane Water National Park is excellent for mountain biking.
The trail is about 6 kilometres, but you can combine the Tommos loop with the Rocky Ponds. Both routes add up to 20 kilometres.
Take a detour to Kariong Brook Falls, a beautiful waterfall in a valley. To get there, follow the track indicated "Girrakool" off the Tommos loop. The path descends over boulders for 300 metres.
Also, take a detour to Mt Wondabyne, the highest peak in Brisbane Water National Park. You'll get 360° views from the top.
Park in the small carpark on Woy Woy Road, 350 metres south of Staples Lookout.
9. Visit Staples Lookout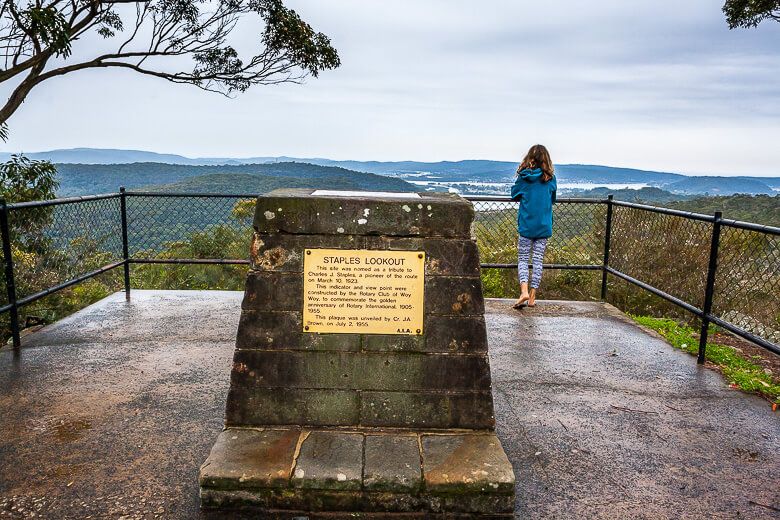 Staples Lookout is located on Woy Woy Road in Brisbane Water National Park.
Stop at the lookout on your way to or from the Tommos loop trail or the Bulgandry Aboriginal Engraving site.
From Staples Lookout, you can see a vast expense of bush and Brisbane Water. Have a picnic – there's a picnic table.
Getting to Woy Woy
By car: Located 1hr 20min north of Sydney or 1hr 25min south of Newcastle via the M1 Motorway. Take the Central Coast Highway/A49 exit. Follow the directions on Google Map.
By train: It's easy to get here by train from Sydney. Take the Central Coast & Newcastle railway line and alight at Woy Woy Station. The station is right beside the town centre and Waterfront.
By ferry: You can hop on a ferry from Palm Beach to Ettalong Beach, then cycle or catch a bus to Woy Woy.