Ettalong Markets
From the outside the Ettalong Markets are well concealed. But step inside... you may be surprised by what's in there.  
The markets are often qualified as "eclectic". 
Disclaimer: I may receive a small commission from some of the links on this page. 

I really like them, especially in winter during a cold and wet winter day… it's a very heart-warming place to be…

The piazza is worth visiting because of the varied food places and comforting atmosphere, and mostly because of the amazing decor...
Stores line the arcades, which all lead to a room with live entertainment. Your eyes can't help wandering from floor to ceiling all the way through... the decor is truly stunning. 
Table Of Contents
Floors are made out of stone and polished wood and the walls of brick and stone. The terracotta & mustard coloured background is accentuated with Mediterranean statues and pot plants.  

You lift your eyes to high ceilings, skylights, indoor balconies, murals and stunning stained glass windows.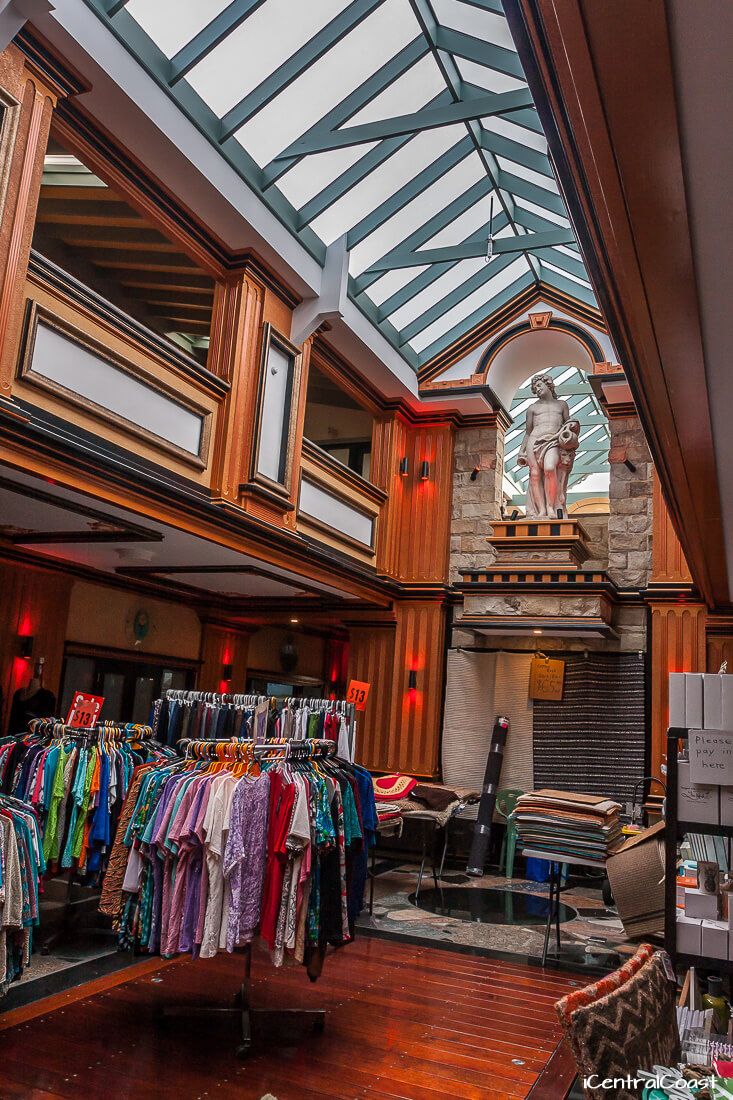 Then you start noticing the food stalls…
Palacinki Cafe is popular and usually packed with people. The crepe menu, Spanish chorizo, Italian sausage and homemade cakes are very enticing.
It's hard to choose between Palacinki Cafe and Hafa's Mediterranean. Last time we ate at Hafa's.
Again it's a hard decision… will it be a kebab, a Mediterranean breakfast, a lentil, chicken and vegetable soup, or Gozleme... We opted for Gozleme. It's one of our favourite foods and kids love it.
You'll see many other eateries...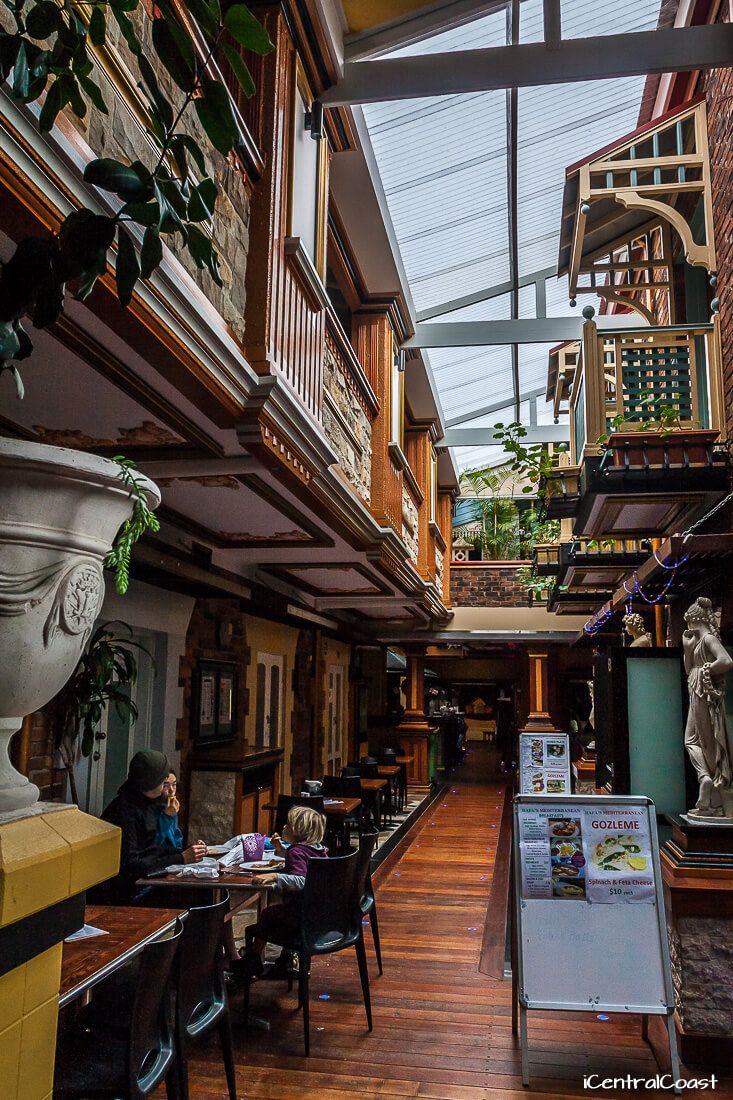 I know this page is about the markets. I got diverted. But to appreciate the markets you have to enjoy the decor and the food there.

Shops
At Ettalong Markets you can buy a wide range of things of varying quality … from bric-a-brac and knick knacks to garments to toys to decorative items to second hand books… Some of the shops:

Casa Mystique – varied items such as jewellery, chimes, incense, crystals, lanterns and more
Wood U – handmade recycled timber furniture
Sands Creations – handmade semi-precious stone and wire jewellery, sun catchers, candles, painted pots and more
Cinta on the Peninsula – ladies clothing, shoes and accessories
Home & Décor Gifts – decorative coastal items
Little Wren Designs – quality clothing for babies and children
Spirit Connections – psychic reading and more
AngelRock Jewellers – locally made jewellery
Arty Merchant – hand painted oil and acrylic canvases
The Happy Hippies Gifts and Things – plaster painting for kids, heat packs, sand playdough (nice shop for gifts).
His & Hers – garden tools, general hardware tools, haberdashery, crafts and more
So enjoy the piazza while you're in town. Find out here more things to do at Ettalong Beach. 
If you stay for dinner some of the best restaurants are located in the same complex as the Ettalong Markets:
Safran (Turkish)
Gusto Tapas Bar & Lounge (Spanish)
La Fiamma Woodfired Pizzeria
Yusu Japanese Restaurant
Beef & Barramundi Bar & Grill (steak & seafood)
Photo Gallery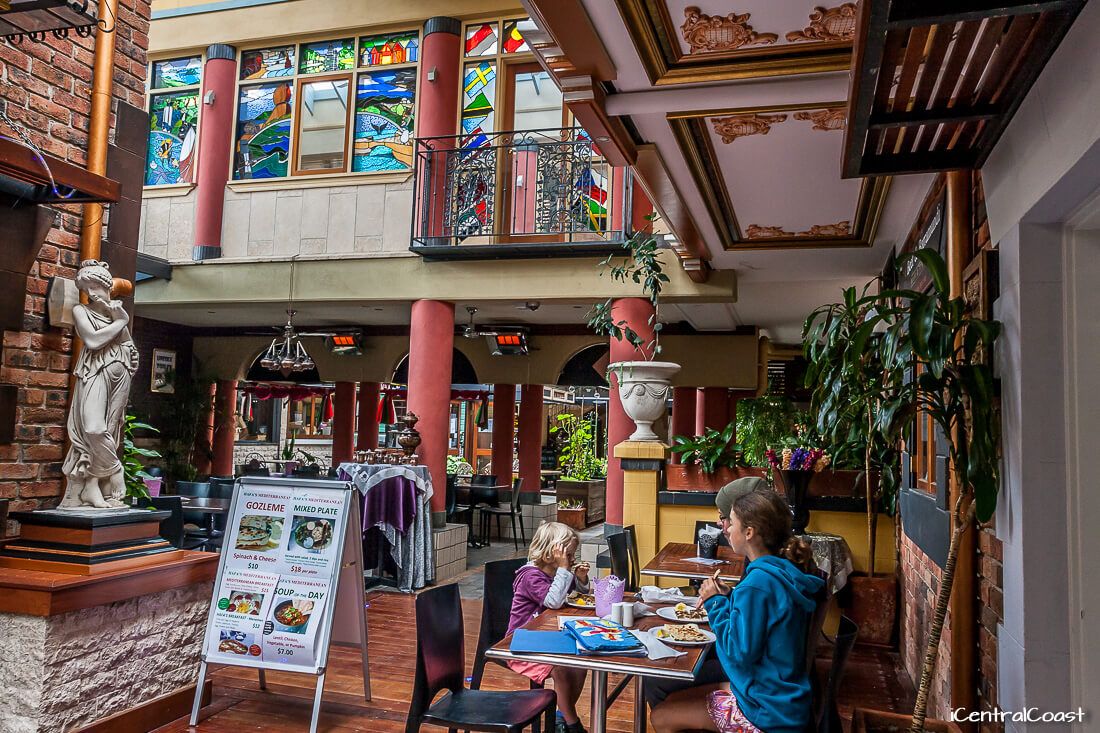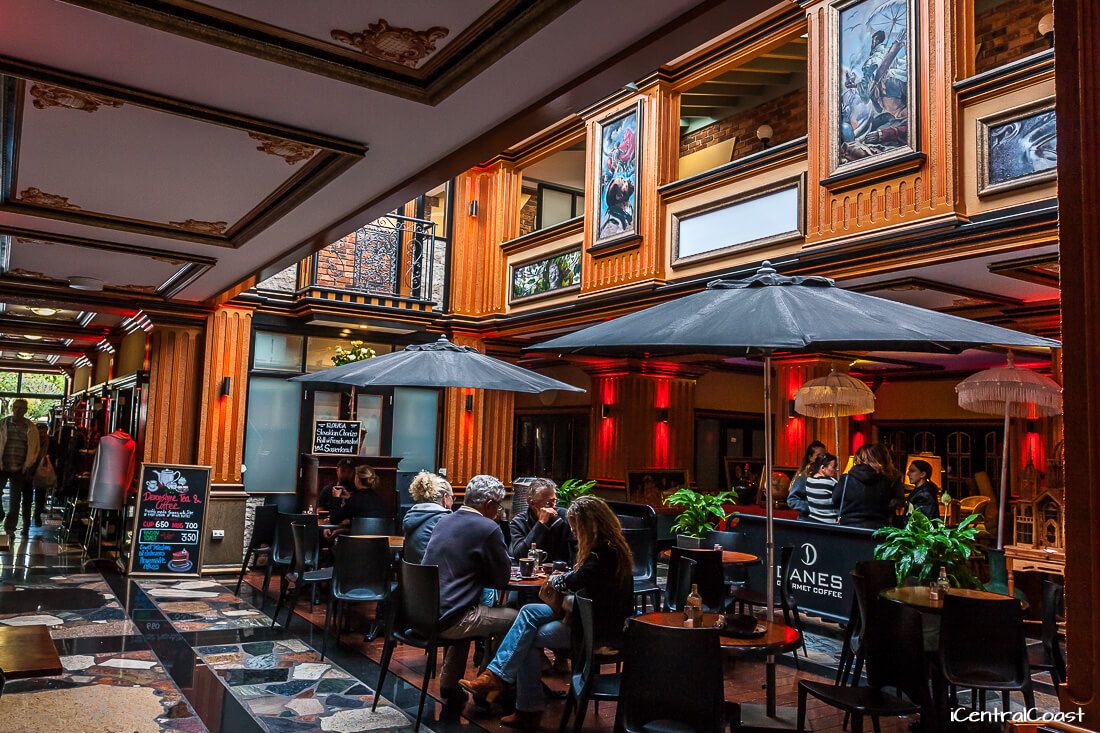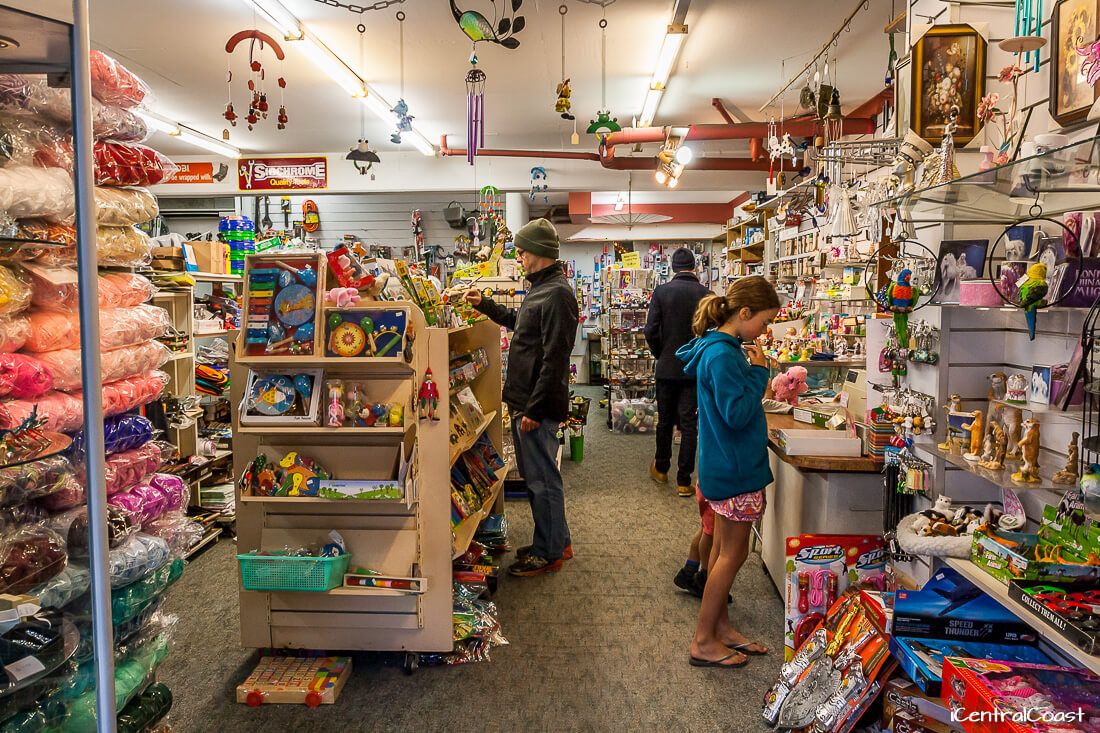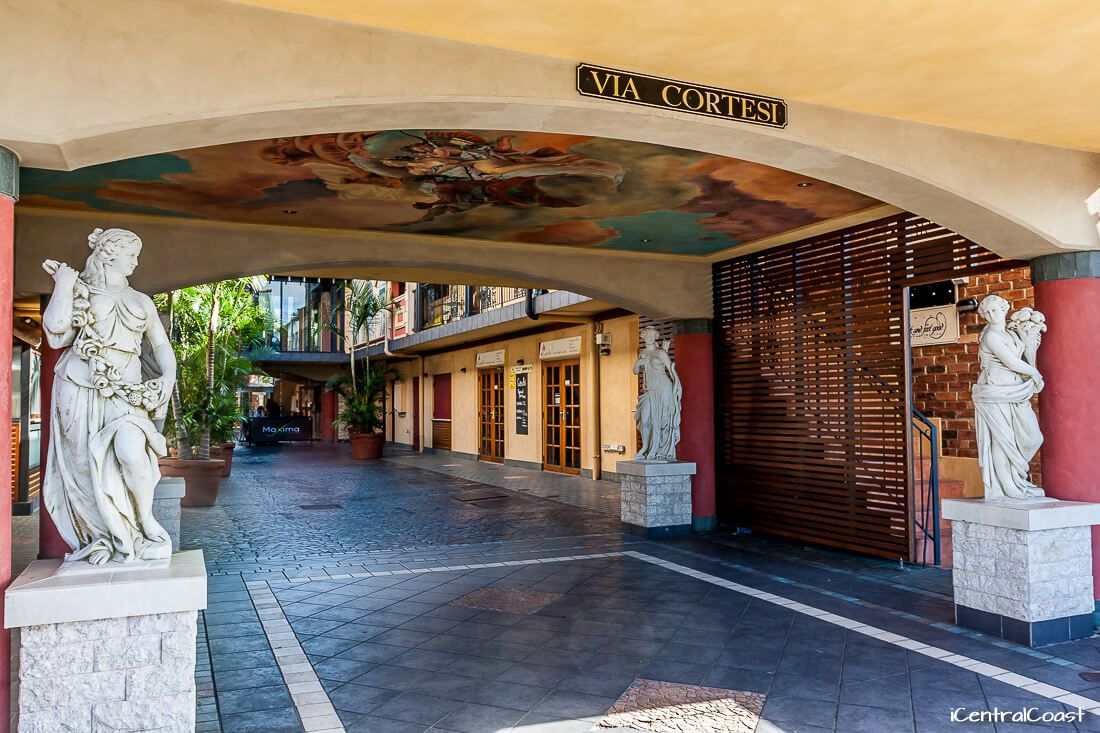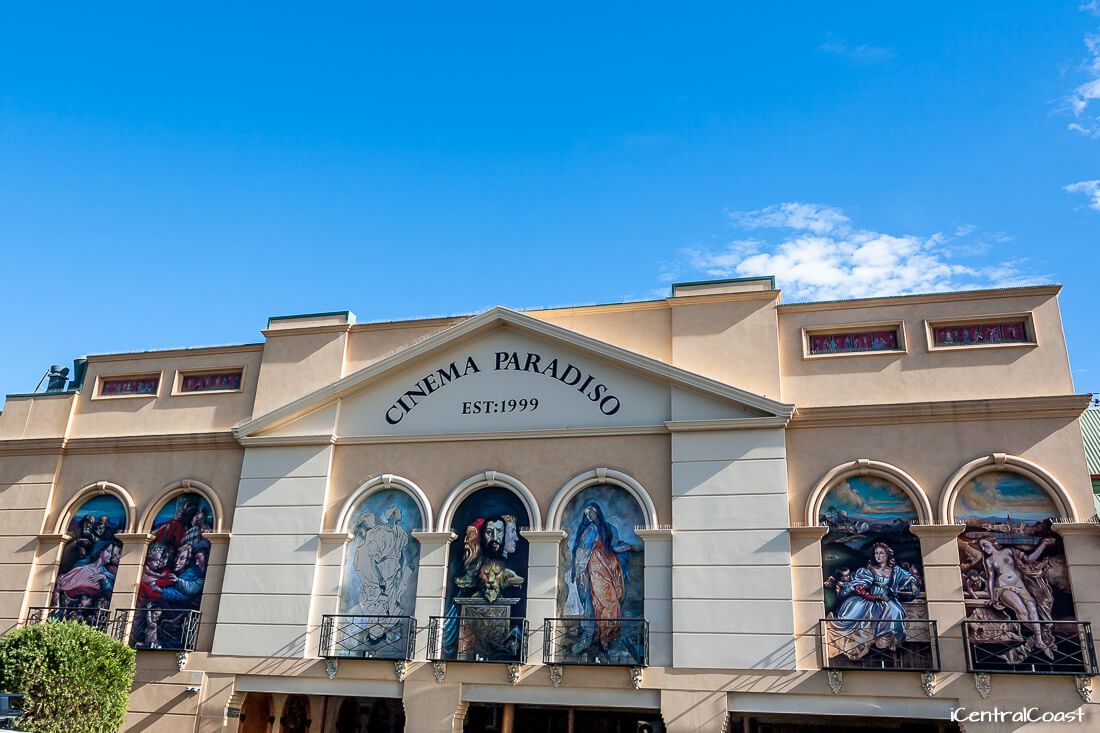 Ettalong Markets Visitor Information
Location: 189 Ocean View Rd, Ettalong Beach
Hours: Open Sat & Sun 9 am - 4 pm (plus Mon public holidays).
Getting there: 

Car: from Sydney, head north on the Sydney-Newcastle freeway. From Newcastle, head south. Take the Gosford exit.
Train: take the Sydney-Newcastle railway line and alight at Woy Woy Station. Take bus 53. The bus stops opposite the markets.