Exploring the Fernleigh Track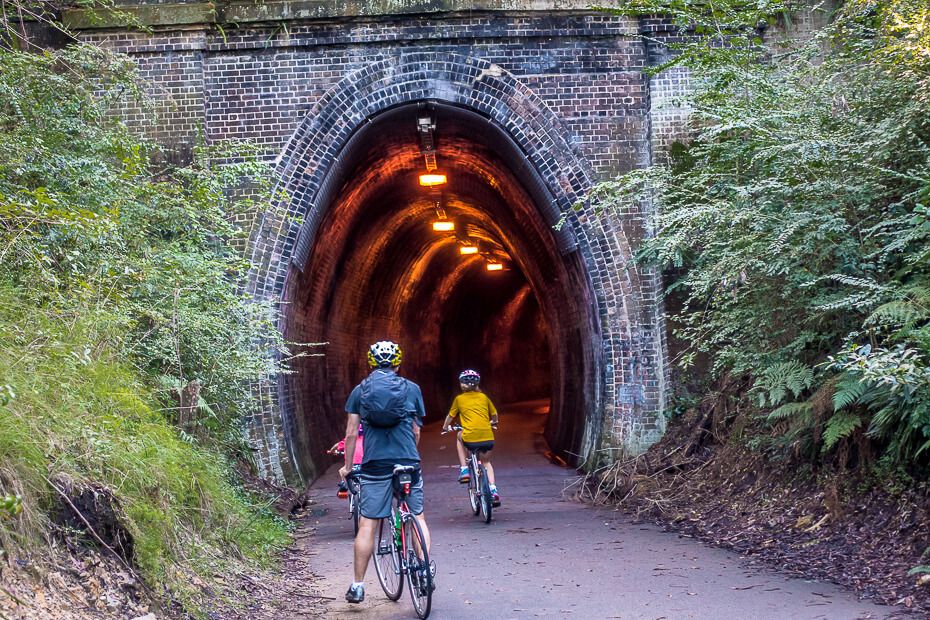 The Fernleigh Track is one of the most amazing shared paths in the region…
Fifteen kilometres of easy cycling or walking on a paved pathway through peaceful bushland and wetland between Adamstown and Belmont.

I liked this trail straight away. It's away from the roads, it runs through the forest and it's peaceful. I think great cycleways like this should be built in all towns and regions.
This post contains affiliate links. For more information, see my disclosures here. 

The Fernleigh Track was built on a former railway line and completed in 2011. It's becoming increasing popular with cyclists and day trippers.  

It's worth heading to Lake Macquarie and cycling the whole 15 km. We did it with the kids. It was relaxing, easy and fun.  

15 Km of Fun Cycling…
We started at Belmont. Belmont is a perfect place to start. There are cafes nearby, as well as toilets and a drinking fountain near the start of the Fernleigh Track.
For small kids, the hardest part is the first half. The trail slopes uphill slightly. An adult would barely notice it, but little legs do.
There are many benches along the path. You can stop at any time to eat or have a rest. They come handy with young children… we had lots of mini rests.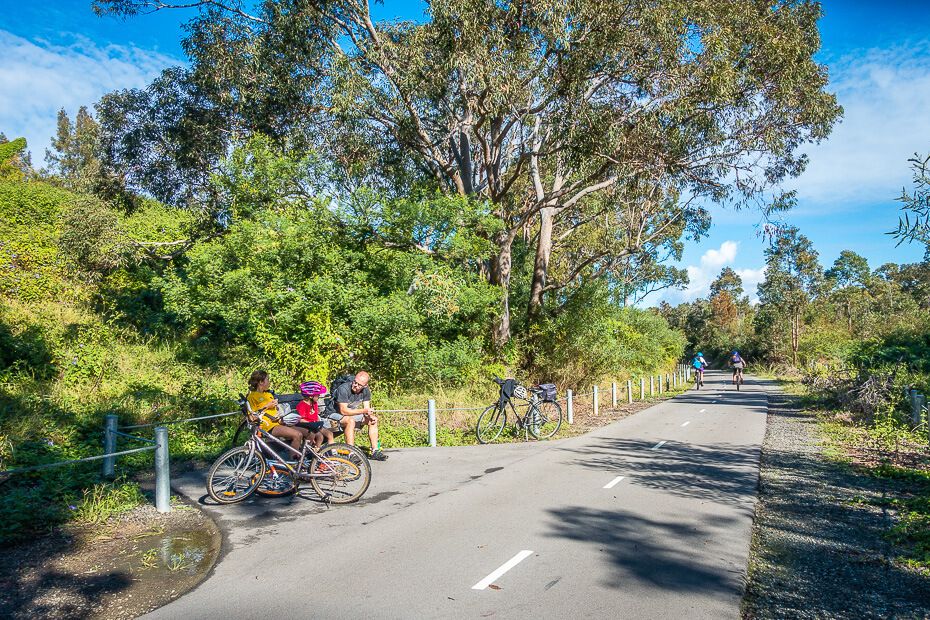 Kids can look forward to the second half...
The trail starts sloping down from the middle section to the very end. Kids can roll downhill effortlessly for ages and there's also a fun old railway tunnel to traverse near the end. 
If you don't have a bike, you can also walk or run…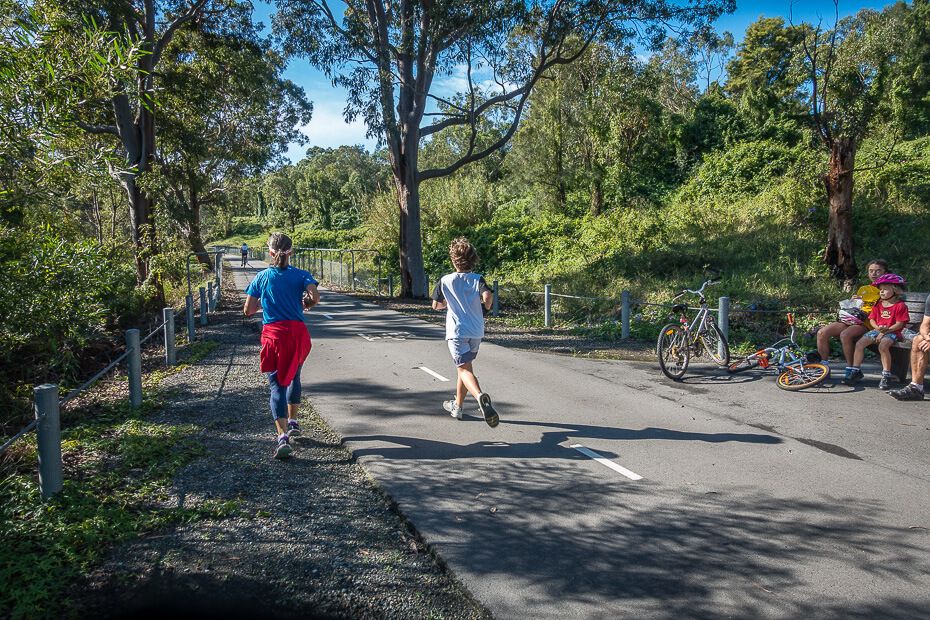 The track is used by many different users: Parents with prams. Young children with little bikes. Joggers. People with dogs. We even saw a cyclist with a dog in his backpack.
There are also serious cyclists…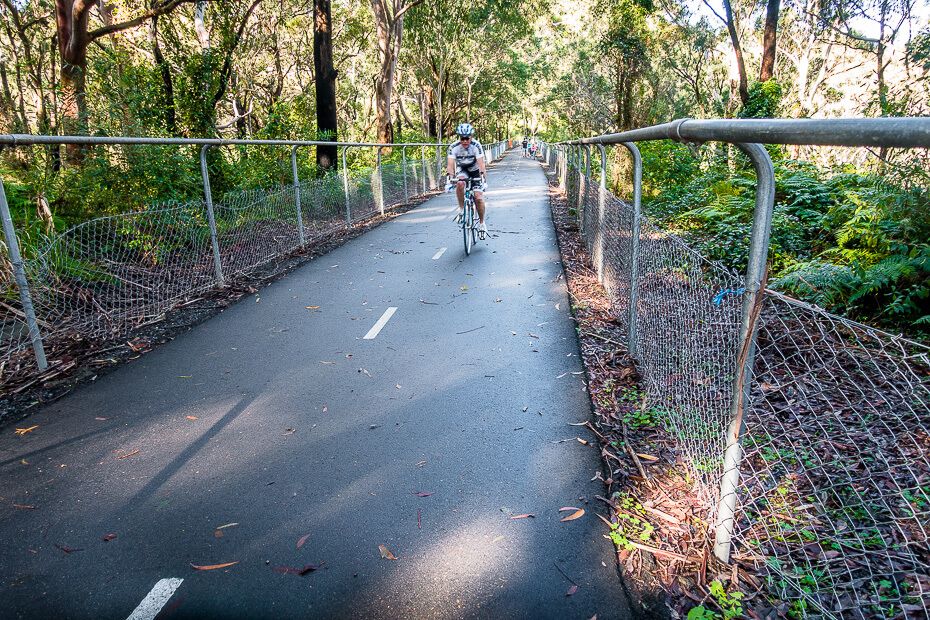 Make sure you stick to the left and stay off the path if you stop. Most cyclists are careful, but some aren't and speed past people. 
Other than that the Fernleigh Track is fabulous.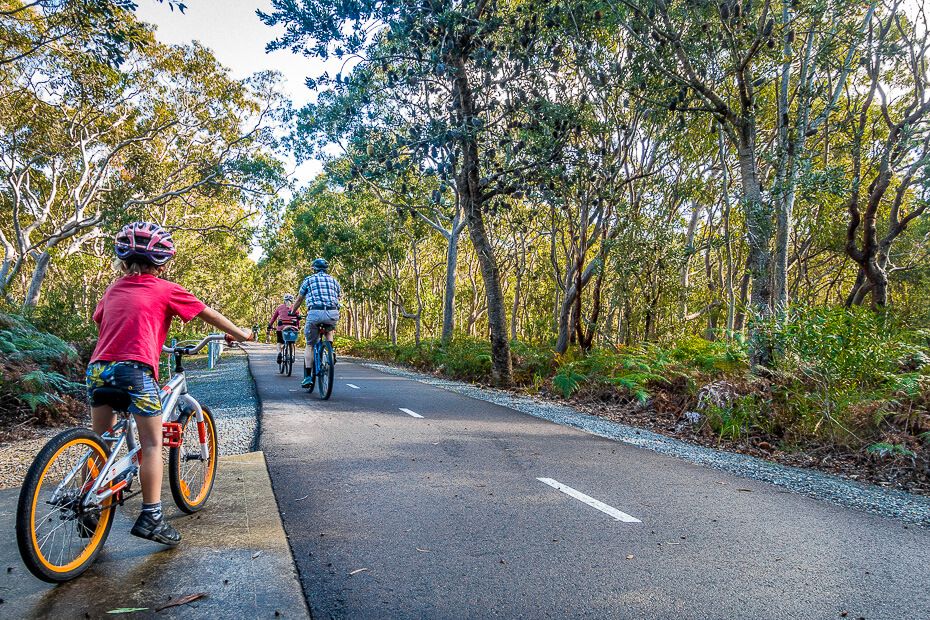 You cycle past distance markers, road signs and former railway stations that used to transport passengers and coal from Lake Macquarie to Newcastle. 
Also, the distance markers are a nice touch. They tell you how many kilometres you have cycled and how many are left. It was encouraging for the kids… "6, 5, 4, 3, 2, 1 km to go!"
And the signs along the track tell you where you are and where the off roads lead to. It's handy if you're looking for a cafe or one of the beaches that are close by such as Redhead. 
From Belmont to Adamstown
From Belmont, you first cycle through a wetland forest. There are overhanging trees and an elevated boardwalk that runs over a swamp. All you hear is the wind and and the lovely song of bell birds and other birds.
When you get to Jewel, you can refill your water bottles at the bubbler.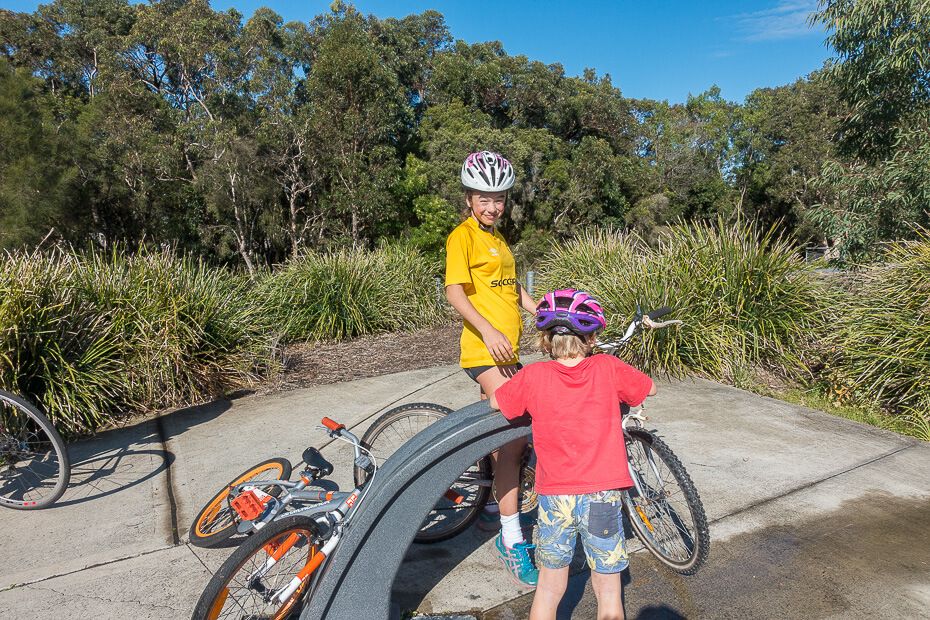 You then cross the road and cycle past a twisted scribbly gum bushland.
Further ahead a side road leads to Redhead Beach... The beach is patrolled in summer. If the weather is warm it may be tempting to take a detour to the beach.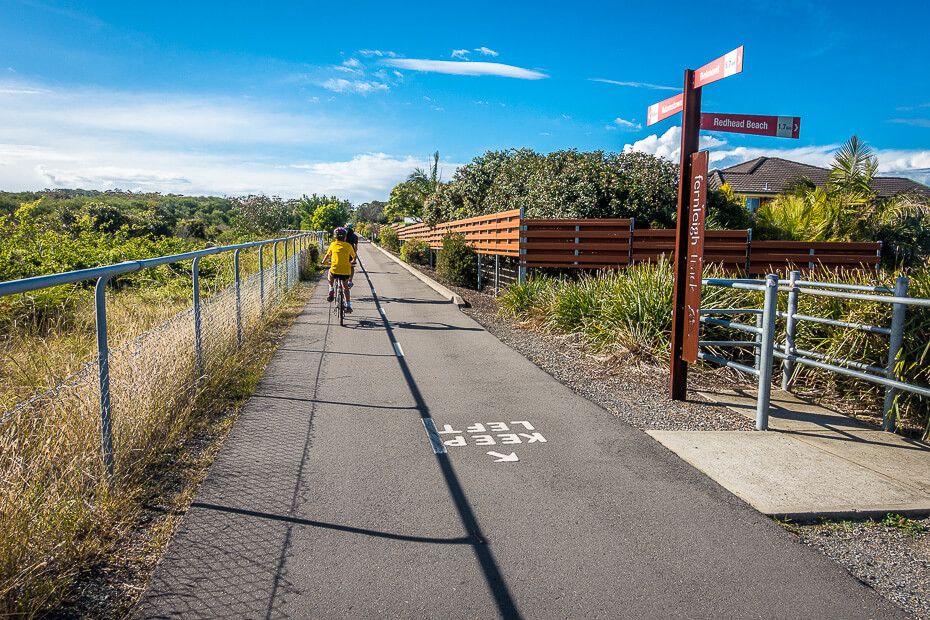 At about halfway, we realised we'd been slightly climbing from the start. It was barely noticeable to us, but our son was starting to feel tired.
It's a nice respite when the trail starts sloping downhill. Kids can roll down effortlessly without pedalling. You roll down like this until Adamstown.  
Just before the end of the path you reach the 181-metre rail tunnel that runs under the Pacific Highway...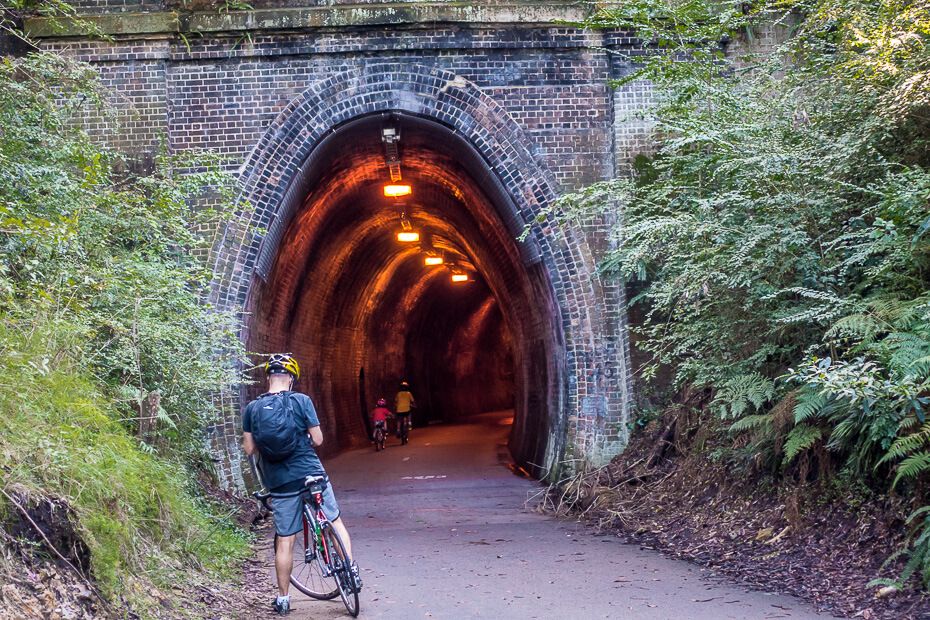 Seeing the tunnel is thrilling for kids. (It was for me, too, I must admit.) It's a curved medieval-looking brick-lined tunnel wrapped by vegetation. It's almost spooky on the outside, but it's well-lit inside with yellow ceiling lights.
Rolling down through the tunnel is good fun.
There's a sign for a cafe beside the track before arriving at Adamstown. You can head to the cafe for a bite to eat. There's at least one other sign for a cafe along the trail...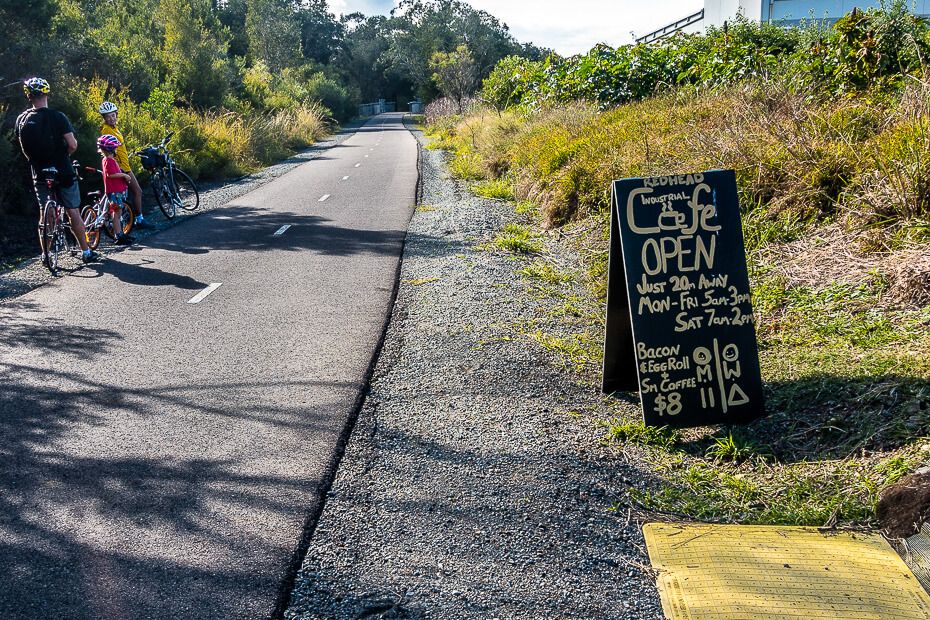 The bicycle ride took us about two hours with the kids. But we stopped for a picnic and several other times for rests. On his own, my hubby Jamie took about half an hour to get back to Belmont to get the car.
Getting to the Fernleigh Track
Parking at Belmont: Railway Parade, Belmont. Check directions on Google Maps. 
Parking at Adamstown: Adamstown Station, Park Avenue. Check directions on Google Maps. 
You can also take the train on the Central Coast & Newcastle line and alight at Adamstown Station.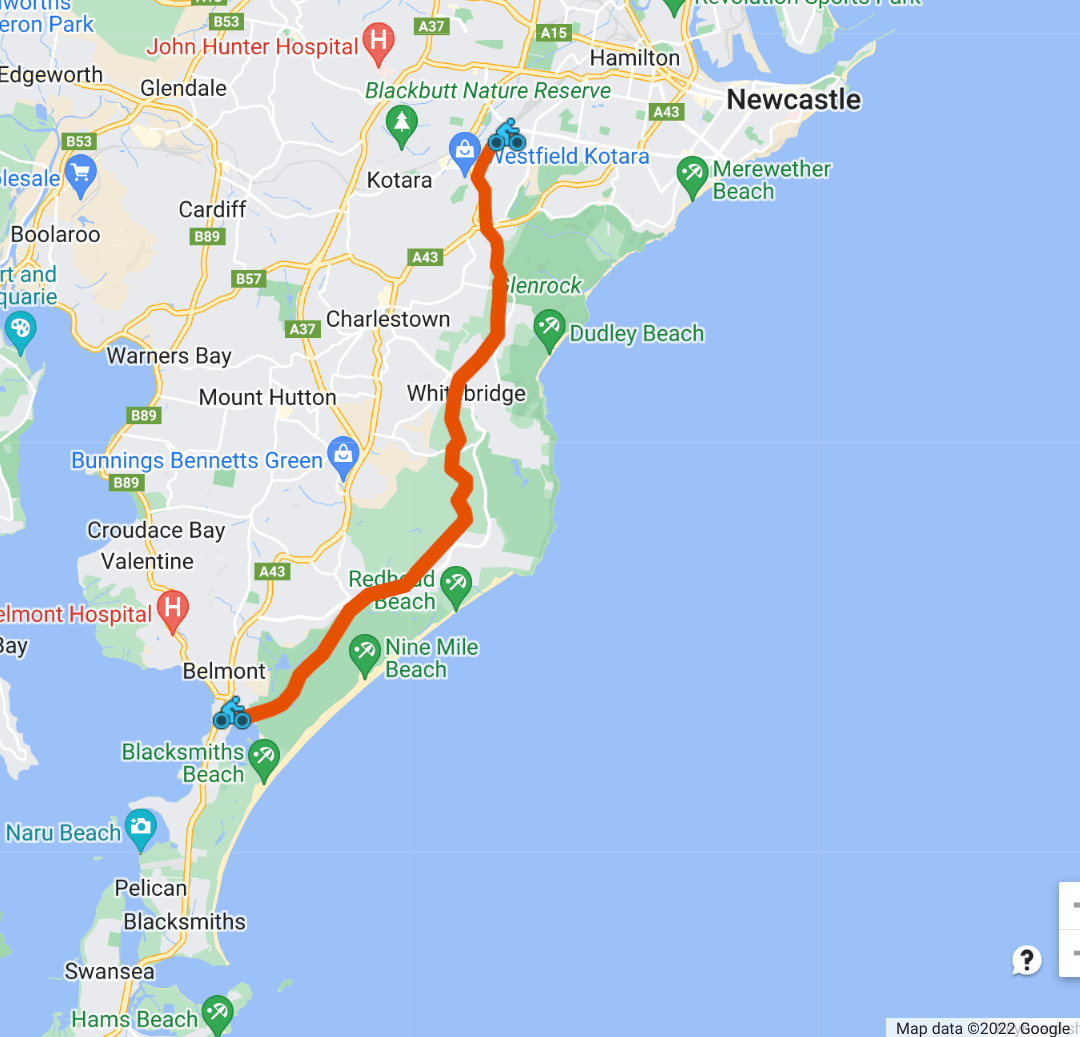 Other Fun Things to Do Nearby
Best things to do at Lake Macquarie
Playground at Speers Point Park