Macmasters Beach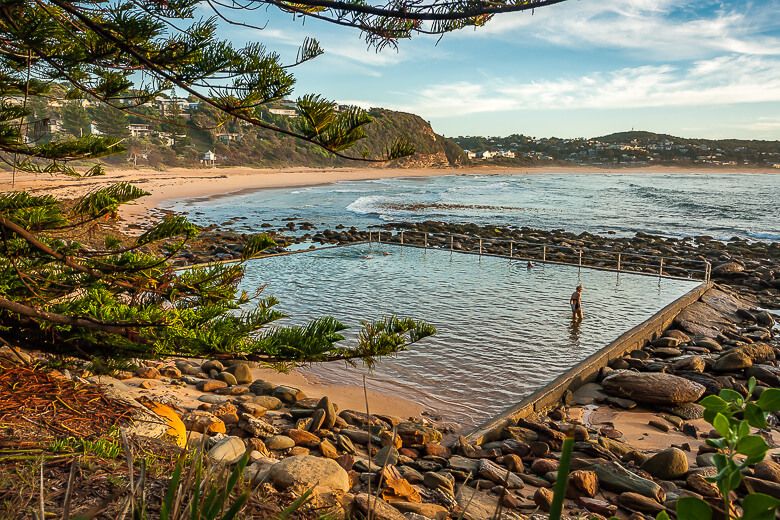 Macmasters Beach is an ideal beach for the whole family to unwind.
This cosy beach is located on the Central Coast Australia between Bouddi National Park and Copacabana Beach.
Disclaimer: I may receive a small commission from some of the links on this page. 

Here you can:  
Swim safely between the flags
Swim in the protected ocean pool
Surf
Picnic
Have a coffee beside the beach
All the above are within reach of each other.
This town is occupied by many holiday homes and 1,294 residents.
The beach is 1.4 km long – Macmasters Beach is at the southern end and Copacabana Beach at the northern end. 
You'll find all amenities beside the surf lifesaving club: cafe, pool, patrolled section of the beach, toilets and a water refill station. 
Find out more about this beach below…
The Beach
Lifeguards patrol the beach from the beginning of the September school holidays through to the end of the April school holidays.
There are rips along the beach so make sure you always swim between the flags.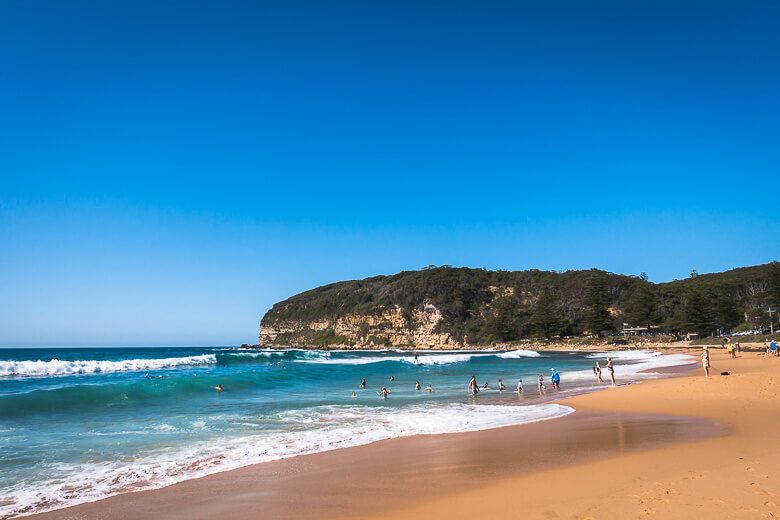 Small children like to play in the nice ocean pool – it's only small but big enough to do a few laps or splash around.
It's a good pool for preschoolers because their feet can touch the bottom, but they also can swim in the deeper parts. Our child swam for the first time here.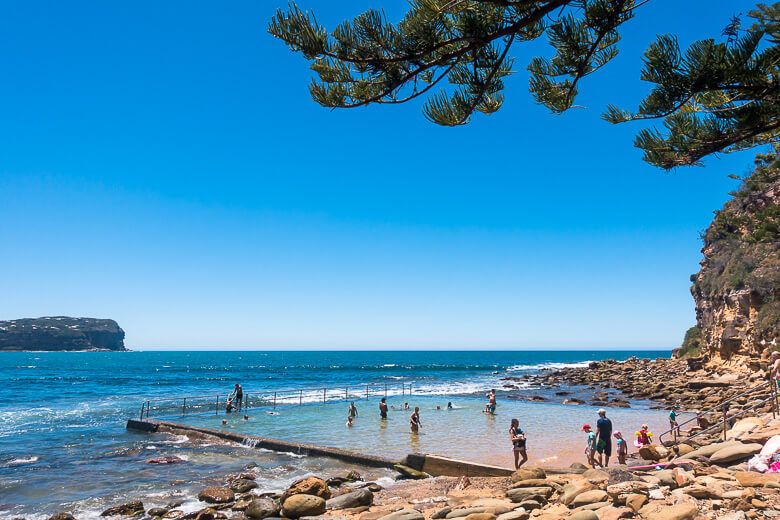 Macmasters Beach is one of the best beaches on the Central Coast for children. Kids can swim between the flags or in the pool, and they can play in the shallow lagoon with floating mats.
The picnic area and cafe are also great spots for families because it's partly shaded. 
The picnic ground is at the foot of Bouddi National Park. There are barbecues and a grassy area.
It's actually our favourite picnic spot.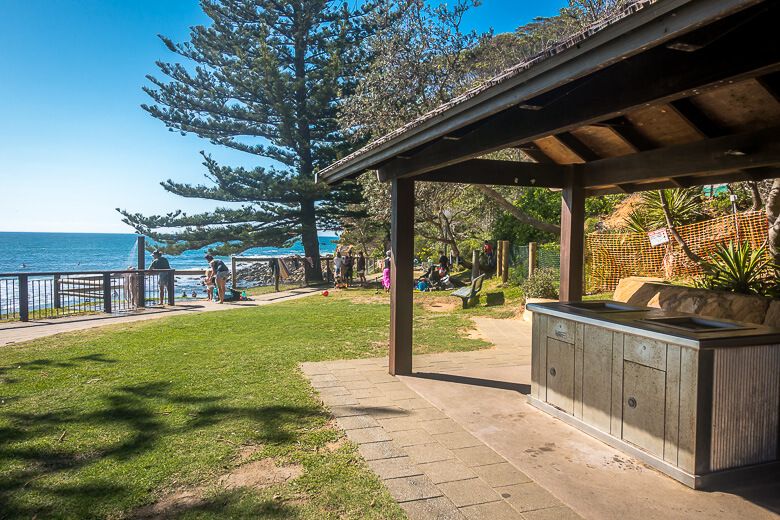 You also find good surfing spots. If you want to learn to surf, check out Central Coast Surf Academy.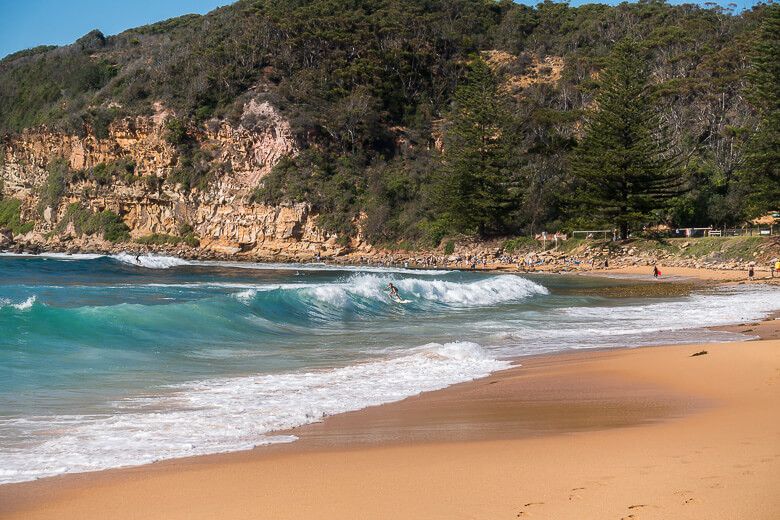 Your dog will also have a great time here. Dogs are allowed without a leash for about half a kilometre from north of the flags to just past the lagoon.

Plus you can take your pet to Barefoot Cafe before or after your walk.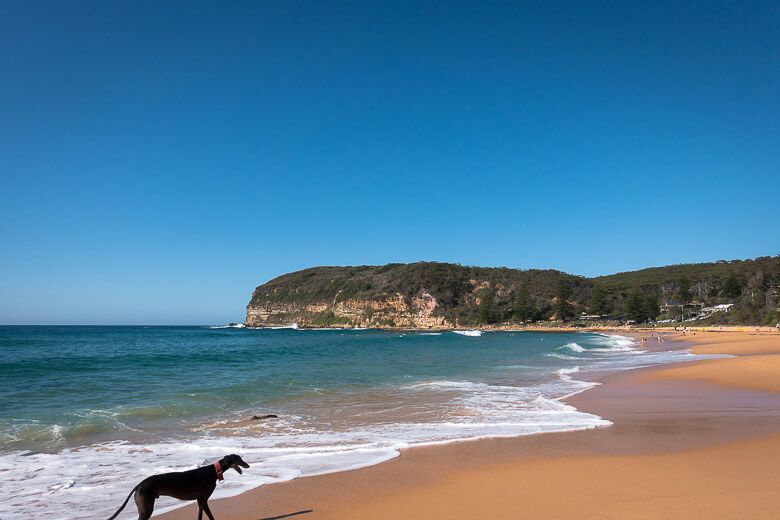 For a bite to eat, head to Barefoot Cafe. Relax in the shade underneath large trees, gaze at the beach, and listen to the waves crashing to shore.
The cafe opens every day of the week including public holidays. And the bistro opens for dinner on Friday and Sunday night from 5 pm.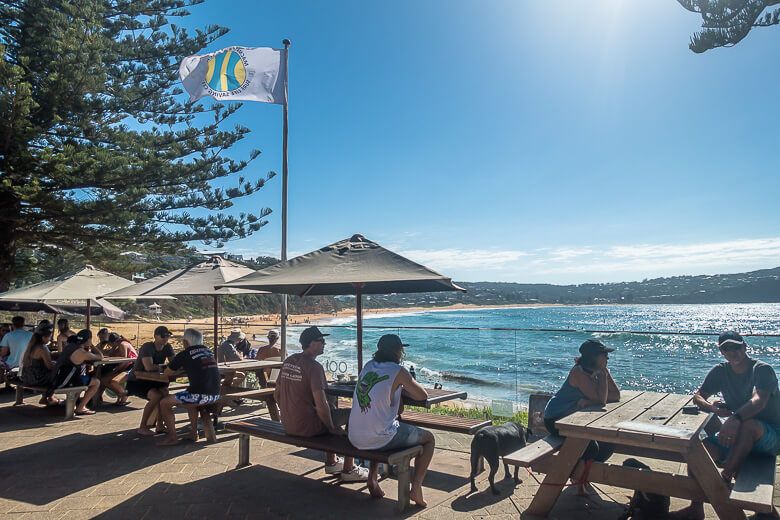 So pick this beach if you're looking to swim, picnic and relax with your family and friends.
And if you're staying here for more than a day you'll find more tips below on things to do nearby…
Since this town sits right on the edge of Bouddi National Park, there are nice bushwalks you can do.
Bouddi Coastal Walk is an epic 8-km walk along the coast from here to Putty Beach. You get incredible ocean views along the way. 
A much smaller and easier walk is Little Beach Trail – follow a cruisy 750-m trail through Bouddi National Park to a cove and camping ground.
Children can walk to Little Beach easily. And they like exploring the rocks and stream while adults can relax and have a picnic.
There are plenty of other nice walks in Bouddi National Park.

Marie Byles Lookout is another worthwhile attraction nearby. The views from the lookout are fantastic.
From Marie Byles Lookout you can see Barrenjoey Lighthouse in Palm Beach and even Sydney's skyscrapers when the sky is clear.
Marie Byles Lookout is located on the Scenic Road past Maitland Bay Information Centre.
If you like mountain biking here's a map of the trails. The trails are quite good.
And if you're here in June do not miss the 5 Lands Walk, a 10-km walk along beaches. Thousands of people take part every year. It's truly a great day.
The 5 Lands Walk walk starts at Macmasters Beach and ends at Terrigal Beach.
Accommodation in Macmasters Beach
Most visitors in Macmasters Beach stay in a holiday rental. You can search on a website such as Stayz or Airbnb.
Haven't used Airbnb before? Use our unique Airbnb referral link and receive from $20 to $70 discount on your first stay.
How to Get Here
Located 1 hr 25 min north of Sydney via the M1. Follow the directions on Google Map here. Park for free at the surf lifesaving club.